November 14, 2019 at 6:19 pm EST | by Brock Thompson
Gays seem to be Mayor Pete's worst critics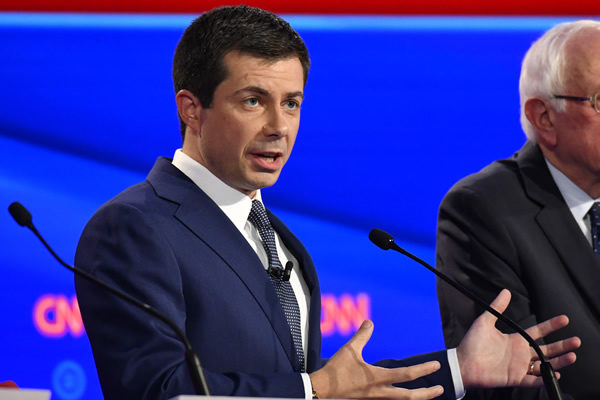 We have met the enemy and he is us.
Do we really want a gay president? I mean, really want it? Because I have to say, it really doesn't seem that way. You may remember my column from a couple of months ago, asking gays to stop telling mayor and presidential candidate Pete Buttigieg how to be gay. Then it was all getting too much. Mayor Pete was at once not gay enough, too gay, not the right kind of gay. It made no sense. It was as if many in our community thought the first gay to be a serious contender for our nation's highest office would either look like Tom of Finland or some plaid-clad gay gym bunny.
There was all that. But when I thought about this some more, I think there's a larger issue at the heart of this. A few weeks ago, watching I-forget-which-one-we're-on presidential debate at Dito's Bar on 17th Street, I was listening to Mayor Pete's answer to some policy question. Erudite, calm, collected, well-spoken — it's everything we've been missing in a president and I wondered aloud just why he isn't completely running away with the nomination. "Because he's gay," half the bar reminded me. Well, that may be. But also it seems to me when you ask around if America is ready for a gay president, it's many of our fellow gays who seem to say, "no."
Granted, my sample may be off, as I hang out with mostly gay people. But still, why exactly do we think we're not ready for primetime? Why do we think we're not ready, or don't deserve this? It's striking really. I wonder if we could all go back to, say, the year 2001, and ask around if the country was ready, or could elect, an African-American president? Would the answer be similar? "No, not right now. . . maybe in 20 more years or so." I have to say is America ready for a fill-in-the-blank candidacy, that really depends on the candidate. Barack Obama was certainly a powerhouse, and to say Hillary Clinton had her share of detractors is a gross understatement. So then is America ready for a gay president? Again, it depends on the candidate. And if we depend on Mayor Pete then the answer is decidedly yes.
This all could be simple hand-wringing from the left. This person can't win, neither can he, or she, etc. The last election and indeed the last three years have us rightfully frightened of what another Trump term would look like. I frankly believe we have a great crop of candidates to choose from. The gay one included. And America seems to be trending gay for sure. You have the gay marriage victory, but other signs point to America getting a bit more of a swish in her stride. All things gay are going both mainstream and political, from our High Heel Race now being sponsored by the mayor's office, to Speaker Nancy Pelosi appearing on RuPaul. Colorado even elected out and open Jared Polis as governor just last year. And I personally think he's a disaster. So, maybe sometimes it doesn't depend on the candidate?
I have to think, if it wouldn't have been for AIDS and evangelical Christianity, gays would have been running the show here for some time now. God, can you imagine our world without those two things? Can you imagine where our collective self-esteem would be then? Can you imagine a United States where gays are running the show? It's easy if you try. 
Brock Thompson is a D.C.-based writer who contributes regularly to the Blade.