November 18, 2019 at 4:53 pm EST | by Richard J. Rosendall
The lady vanquishes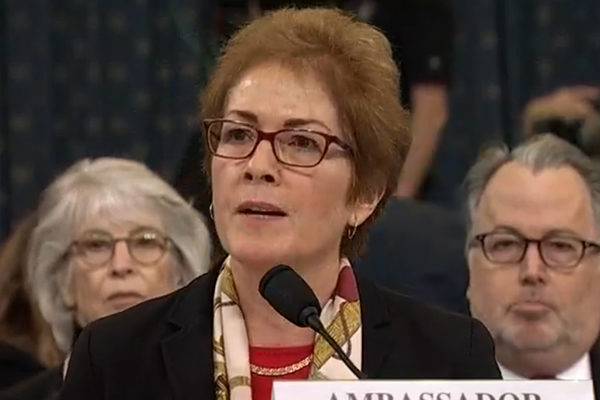 The Republicans in Congress have climbed so far up Donald Trump's posterior that they may never find their way out again. Last week's first public impeachment hearings by the House Intelligence Committee made it evident that members of the career Foreign Service are not inclined to follow their example.
Diplomats William Taylor and George Kent were unflappable on November 13 as they showed their expertise and refused to be drawn into partisan exchanges. If anything, they were outdone on November 15 when former ambassador to Ukraine Marie "Masha" Yovanovitch displayed her thirty-three years of experience with quiet resolve in the face of a president who, in his July 25 phone call with Ukrainian President Zelensky, dismissed her as "the woman," called her "bad news," and said ominously that "she's going to go through some things."
Questioned about this, Yovanovitch said, "It sounded like a threat." Trump, tampering with a witness on the same day that his advisor Roger Stone was convicted of witness tampering, live-tweeted an attack on Yovanovitch as she sat in the witness chair:
"Everywhere Marie Yovanovitch went turned bad. She started off in Somalia, how did that go? Then fast forward to Ukraine, where the new Ukrainian President spoke unfavorably about her in my second phone call with him. It is a U.S. President's absolute right to appoint ambassadors."
Trump's ability to pack so much dishonesty into a single tweet shows a real, if malign, gift. First, he absurdly blamed the ambassador for the collapse of Somalia. As she said after committee chair Adam Schiff read to her the president's tweet, she doesn't have such powers.
Second, a foreign head of state who depends on military aid to defend his country against an aggressor has no incentive to argue with his American patron. Of course Zelensky told Trump what he wanted to hear.
Third, as Yovanovitch said, after acknowledging that the president had the authority to dismiss her at will, "I do wonder why it was necessary to smear my reputation." This illustrates how to project strength without a lot of swaggering. Her brief, straightforward responses left Trump's mobster-like mien in high relief, simply by not trying too hard and by coming across not as a partisan but as the dedicated diplomat she was.
By contrast, the committee's Republicans, having chosen to hold unaccountable a man friendlier to foreign despots than to his own country or its loyal servants, resorted to raising dilatory points of order.
Schiff, himself a frequent target of Trump's attacks, remained calm and steady and firmly wielded his gavel to prevent would-be disruptors like Jim Jordan, smirking and striking an aggressive pose in his shirtsleeves, from hijacking the hearing.
Ranking Member Devin Nunes thought to give his team an advantage by reading aloud the transcript of an April call between Trump and Zelensky. What his stunt actually revealed was that Trump was far more interested in the Miss Universe pageant than in corruption or security.
Yovanovitch, stepping back from her own circumstance, explained the greater damage caused by Trump's use of his personal attorney, Rudy Giuliani, to subordinate American policy to his re-election effort:
"Which country's interests are served when the very corrupt behavior we have been criticizing is allowed to prevail? Such conduct undermines the U.S., exposes our friends, and widens the playing field for autocrats like President Putin. Our leadership depends on the power of our example and the consistency of our purpose. Both have now been opened to question."
Yovanovitch was told by Deputy Secretary of State John Sullivan after being recalled to Washington in May that Trump had lost confidence in her even though she had "done nothing wrong." Despite Secretary of State Mike Pompeo's failure to defend her, she embodied as a witness the seasoned, sober professional diplomat, in contrast to Trump donor Ambassador Gordon Sondland, whose unsecured and highly unusual July 26 call to Trump from a Kyiv restaurant provoked a media storm when revealed on November 13 by Ambassador Taylor.
Perhaps an equally bad omen for our bully-in-chief was the rare occurrence of the audience bursting into applause as Masha Yovanovitch walked out of the hearing room.
Richard J. Rosendall is a writer and activist. He can be reached at rrosendall@me.com.
Copyright © 2019 by Richard J. Rosendall. All rights reserved.