December 2, 2019 at 11:05 pm EST | by Tremenda Nota
Journalist Maykel González Vivero prohibited from leaving Cuba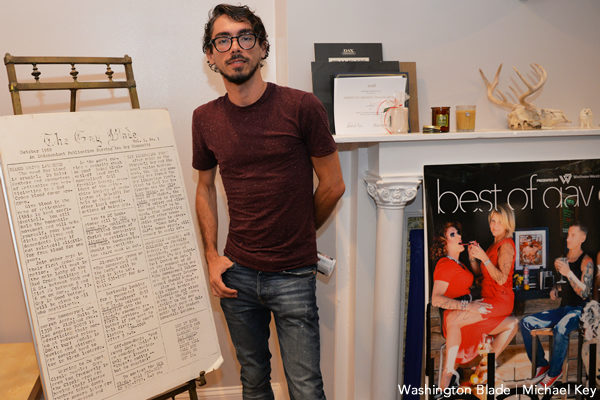 Editor's note: Tremenda Nota is the Washington Blade's media partner in Cuba. Tremenda Nota on Monday published a Spanish version of this article on its website.
HAVANA — Journalist Maykel González Vivero, director and one of the founders of Tremenda Nota, on Monday learned the Interior Ministry has decided he will not be able to travel outside of Cuba.
He learned of the decision after he inquired about his status at a ministry paperwork office in Havana. The reporter was to have traveled to Madrid tonight.
"The travel bans have become so commonplace among journalists that I decided to check beforehand to see if any measures had been imposed against me," he said.
Nelson Julio Álvarez Mairata, an LGBTI Youtuber who has recently worked as a reporter for digital publications like Tremenda Nota and ADN Cuba, this morning was also prohibited from traveling.
State security a few weeks ago detained Álvarez Mairata twice. He not only lost his work equipment, but someone hacked into his social media accounts in order to publish homophobic texts and intimate images.
The YouTuber found out that he would not be able to travel after he arrived at José Martí International Airport for a flight to Panama from where he would have continued his trip to Bogotá.
"There is no legal proceeding against me," Álvarez Mairata told Tremenda Nota.
"What has happened to me is not new, it has already happened to many colleagues. Now I am one more person with restrictions," he said.
"The travel bans have various purposes: To punish and above all to discourage, but also to force you to dialogue with state security," reflected González Vivero.
The reporter has also received anonymous messages via email or chat that contain threats, including physical violence.
"On Nov. 22 they wrote to me from a Facebook profile, probably fake, and insulted me because of my sexual orientation and threatened to hit me. The specific motivation was never made clear," recalled the journalist, who has also worked as a human rights defender for LGBTI community.
"From a Twitter profile they left me a comment that also sounded like a threat, where they said they would expose my private life in a video like the one about opposition leader José Daniel Ferrer that Cuban television broadcast," he added.
Other LGBTI reporters, like Ezequiel Fuentes, have recently been attacked on social media with references to their sexual orientation and their private life.
Cuban Foreign Minister Bruno Rodríguez in October told the Associated Press that he does not know the reasons for the travel bans. "We would have to know case by case," he said.