Same-sex couple wins final on Denmark's version of 'Dancing With the Stars'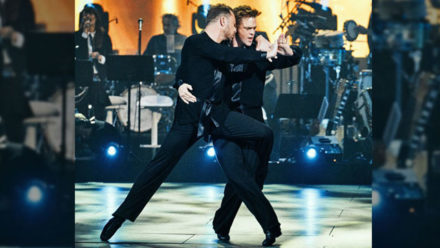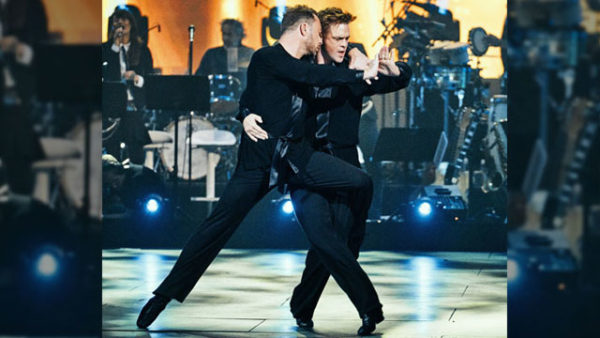 In what seems to be fast becoming an international trend, Denmark's version of "Dancing With the Stars" has made history by featuring a same-sex couple – and this time, they're not only included, they've won the competition.
Jakob Fauerby, 42, and Silas Holst, 36, were paired together on the show – which is called "Vild med dans"- after Fauerby, an openly gay actor, decided he would ask to be paired with a man if he was selected for the show.
According to The Daily Mail, the judges responded to his request by saying that it was "something they could probably talk about."
The pair are the first all-male combo in the history of the show, which has run for 16 seasons after debuting in spring of 2005. They have wowed audiences and judges with each performance, receiving the highest scores in four out of eight shows and topping it off by winning the final after what the Mail called a "show-stopping" paso doble.
Speaking with Danish news outlet BT, Fauerby said, 'It's a whole new experience. It is quite overwhelming. So many who write to me on social media with their own stories. I feel pretty privileged.'
He was quick to add praise for partner Holst, saying, "He makes sure you look good."
Previously, in an interview with LGBT Nation before the win, Fauer said, "Not in my wildest dreams did I anticipate this," and went on to discuss the inevitable controversy stirred by the same-sex pairing.
"We are a small country of only 5.6 million people, and every Friday more than a million people tune in to watch the show and many more watch it on-demand afterward," the actor said. "There are very few shows that everyone sees, and this is one of them, so there are a lot of feelings connected to it."
"For me, in my living room, when I dance at home, I dance with a man," he continued. "When I was a child, I never saw representation […] So for me if a young boy, girl, or trans person has the opportunity to see that positive representation as part of a TV show that is empowering in itself."
He also said that criticism dwindled after the couple's initial appearances, quipping, ""What happened after the first two shows is that people saw weren't going to have anal sex on stage… It is feelings. It is sensuality. But it is not sexuality. It's just two people dancing."
Holst, a former fan-favorite dancer on "Vild med dans," returned to the show after a five-year break specifically to partner with Fauerby in representing the LGBTQ+ community. He told BT he was "absolutely delighted."
Fauerby is best known as a member of the Danish satirical comedy troupe, Platt-Form. He and his husband, Anders, are fathers to two children.
Last month the UK's "Strictly Come Dancing" included a full routine between two men out of competition for the first time in its history, and just last week, a male couple on the French version of "America's Got Talent" brought audiences to their feet for a standing ovation after performing a tender dance duet together as a protest against homophobia.
The US version of "Dancing With the Stars" has yet to include a same-sex couple on the show, though Olympic skater Adam Rippon, partnered with female dancer Jenna Johnson, became the first openly gay person to win that competition in 2018.
LGBTQ youth inspired to action by "Cured" documentary and country's homophobic past
"Cured" documentary a revelation for LGBTQ youth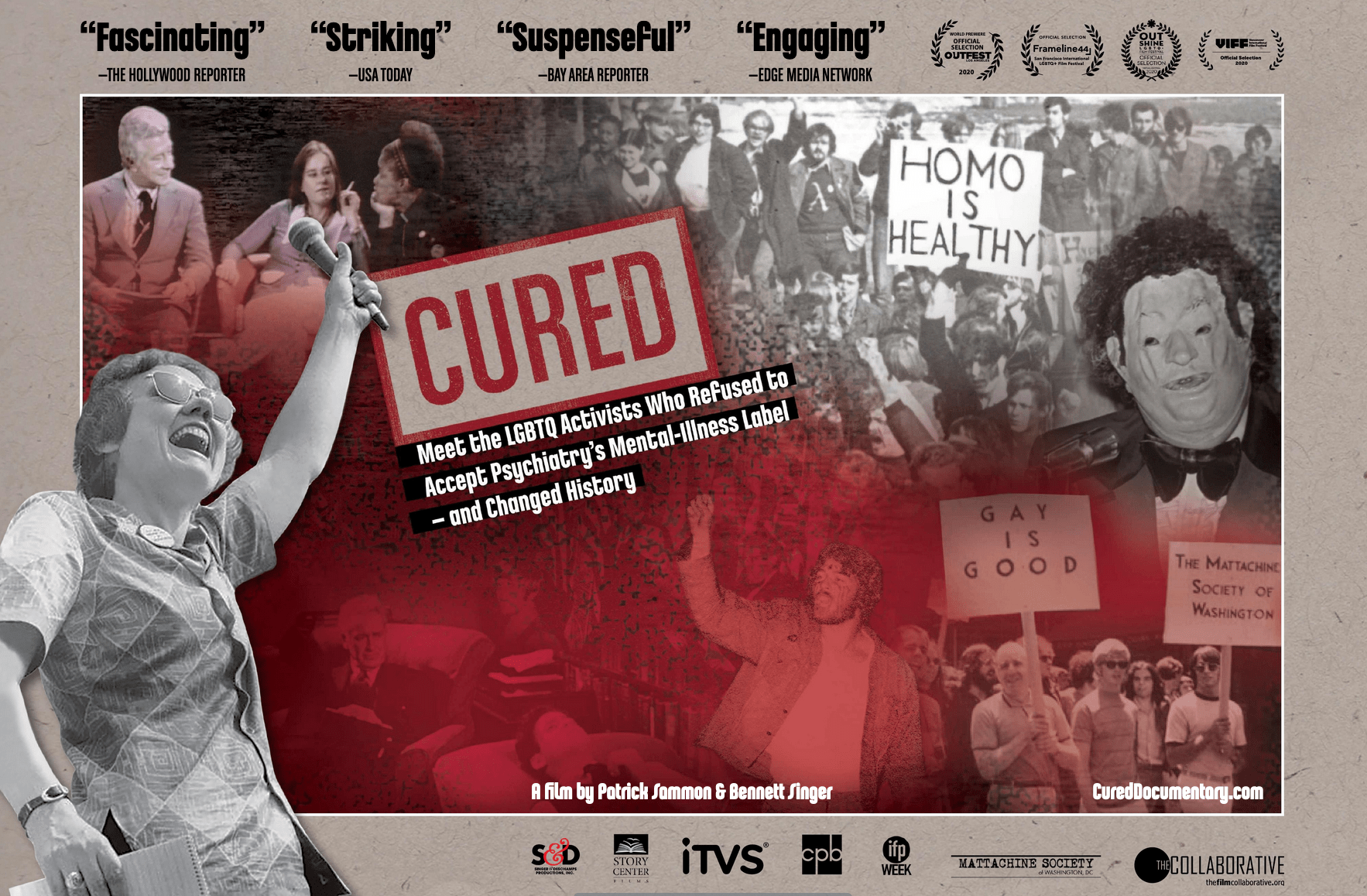 A new documentary's archival footage of the country's homophobic past opened the eyes of four young members of the LGBTQ+ community who were only dimly aware of the events the film describes.
"Cured," which aired on PBS' Independent Lens on October 11, was a revelation to the youth– who work with the D.C.-based Urban Health Media Project on multimedia health journalism.
Some of the scenes that made an impression:
At a 1966 South Florida high school assembly on the evils of homosexuality, an official warns students that "if we catch you … the rest of your life will be a living hell.''
A gay psychiatrist, appearing on a 1972 American Psychiatric Association panel, is identified only as "Dr. Henry Anonymous." He's so afraid of reprisals that he must protect his identity by wearing a Halloween face mask and a fright wig and using a distortion mic.
A series of sober, eminent psychiatrists – leaders of the profession – insist in forum after forum that homosexuality is a sickness.
For two decades, that assumption was reflected in the "Diagnostic and Statistical Manual of Mental Disorders (DSM)," the American psychiatric profession's official compendium of mental and brain diseases and disorders.
"Cured" tells the story of how a relatively small number of courageous gay activists got the "gays are sick" notion struck from the manual –a pivotal moment in the gay liberation movement.
"Being gay and trans myself,'' said Hermes Falcon, "this film meant a lot to me, because it exposed me to people that I didn't even know were part of the movement.''
Those people included Barbara Gittings and Frank Kameny, who in the mid-1960s – when most Americans still said they feared or hated homosexuals — organized some of the first public protests against employment discrimination against gays. One depicted in "Cured"took place outside the White House.
Another early activist was Dr. John Fryer, the psychiatrist who, it later turned out, was "Dr. Anonymous.''
Falcon, a college freshman, also noted the tension at the heart of the story told by "Cured": "How working together makes a big difference, but also how one person can make a big change.''
Falcon cited the example of Fryer, who testified at the APA convention in Dallas in 1972 that anti-gay bias was hurting psychiatrists, too. At that point, the DSM's entry 302.0, which termed homosexuality "a mental disorder," was two decades old. Within two years of Fryer's testimony, it had been abolished.
Another young member of the LGBTQ+ community, Adrian Gibbons, an assistant video editor at UHMP and recent college graduate, also was struck by the example of Fryer, "a real person who was risking his job to stand up for himself and the LGBTQ community.'' His example, Gibbons said, "inspires me to fight for myself and my community, no matter the risks.''
Gibbons noted that some trailblazers faced a harsh backlash from colleagues or family members. But he said their sacrifice was worth it, considering that "their efforts brought justice to LGBTQ people who had been injured or abused in mental institutions, and saved countless people from being put through that same torture in the future.''
Torture is probably not too strong a word; "Cured" shows how electroshock and even lobotomy were used as elements of "conversion therapy'' to make gay people straight.
The early activists' sheer courage also inspired Dillon Livingston, a high school student. The film shows, he said, that "it is imperative to remain true to yourself, even if everyone around you does not like the things that make you who you are.''
Even though they faced intense discrimination and disdain, he added, the gay rights pioneers "were proud about their sexuality.''
The four young LGBTQ+ viewers agreed that "Cured"made them more appreciative of the efforts of those who went before them, and more eager to emulate their example in the future.
As Livingston put it, "I must speak more about the queer community to inform heterosexuals about the problem we face.''
Jojo Brew, an aspiring filmmaker, agreed: "All those people in the sixties and seventies fought for our rights, so it's only fair that we continue to fight for the next generation's rights.''
"Cured" airs locally at 9 p.m. Oct. 21 on WHUT. After its broadcast premiere Oct. 11, the film will be available to stream for free on the PBS app and website for 30 days. The documentary will be rebroadcast a few more times over the next three years and eventually released on streaming platforms.
Camp classic 'Mommie Dearest' turns 40
Digital re-issue offers fans new insights, John Waters commentary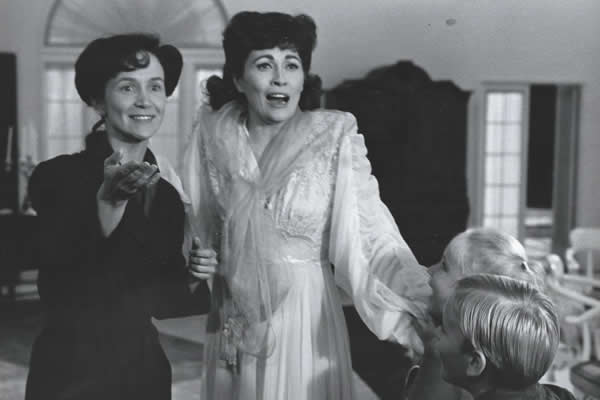 In a 2016 People magazine interview, Oscar-winning actress Faye Dunaway admitted to regretting her over-the-top portrayal of Joan Crawford in the 1981 movie "Mommie Dearest" (Paramount), newly reissued on Blu-ray and digital as part of the Paramount Presents series. Of the movie, based on the equally OTT memoir by Crawford's adopted daughter Christina, Dunaway said, "I should have known better, but sometimes you're vulnerable and you don't realize what you're getting into. It's unfortunate they felt they had to make that kind of movie. But you can't be ashamed of the work you've done."
"That kind of movie" pretty much tanked Dunaway's career after that. However, it also titillated and delighted countless fans upon its release and in the 40 years since. A multitude of lines have become iconic in the LGBTQ vernacular and classic scenes have become sources of endless entertainment. So, how good or bad is it?
From the minute the gloved hand of actress Joan Crawford (Dunaway) turns off her alarm at 4 a.m. and saunters into the bathroom to begin her morning routine, we know we're in for something out of the ordinary. Dressed to kill, she heads to the studio, reading scripts and autographing photos in the back of a limo, Crawford was nothing if not devoted to her craft and fans.
She was also devoted to cleanliness, an obsession that would become one of the contributing factors in her descent. In one iconic scene, she berates a housekeeper, "I'm not mad at you, I'm mad at the dirt."
A first-rate performer in all aspects, Crawford's annual Christmas gift-giving extravaganza at an orphanage stirs up her desire for motherhood. Unable to conceive, the twice-divorced actress discovers she is not a candidate for adoption, despite believing she can be a mother and a father, providing both a "wonderful and advantaged life." Her lawyer boyfriend Greg (Steve Forrest) pulls some strings and Crawford becomes mother to baby Christina.
It doesn't take long (OK, a few years) before the cracks start to show, beginning with a birthday party for Christina (Mara Hobel, in a thankless role), complete with a carousel, an organ grinder and monkey, and a new baby brother named Christopher. Signs of tension are present in Joan's interactions with Christina, including her bristling at her daughter's tone of voice. When Joan catches Christina mimicking her while seated at her mother's vanity, she flips out, butchering her hair.
Christina isn't the only object of Joan's aggression. Greg walks out on Joan after a disagreement, and she deals with it by cutting him out of every photo they took together. Studio head Mayer (Howard Da Silva) sends her packing, utilizing the creative differences excuse. This leads to the famous rose garden freak out (of "Tina, bring me the ax" fame). Shortly after winning the Oscar for "Mildred Pierce," Joan discovers a wire hanger in Christina's closet leading to the notorious "No wire hangers, ever!" beating scene.
Not even teenage Christina (Diana Scarwid), away at boarding school is safe from Joan's wrath. After Christina is caught getting intimate with a boy, Joan removes her from the school. Back at home, where a journalist is busy writing a story about Joan, Christina and her mother have a heated argument, resulting in the classic slap sequence and the delivery of the "I'm not one of your fans" lines.
Having almost killed Christina, Joan sends her off to convent school. After graduating, Christina returns home to discover that not only has her mother remarried – to soft drink king Al Steele (Harry Goz) – but she has put her home up for sale with plans to relocate to New York. Needless to say, the mother/daughter relationship never improves, which explains Christina's barbed-wire memoir.
Perhaps Dunaway, who worked with uneven director Frank Perry ("The Swimmer," "Diary of Mad Housewife," and "Play It As It Lays," and the bombs "Hello Again" and "Monsignor") in the past, should have known better. Regardless, "Mommie Dearest" went from shocking biopic to camp classic at light speed, and for that, we are forever grateful. Plus, with Halloween just around the corner, "Mommie Dearest" is a fab reminder of what a great (and terrifying) costume Joan Crawford can be.
In a 2015 interview with the Blade, actress Rutanya Alda, who played long-suffering maid Carol Ann in the film, talked about her surprise at first seeing the film.
"When the audience laughed, I was like, 'Oh my gosh,' I was kind of taken aback because I knew (producer) Frank Yablans and (director) Frank Perry's intention was to make this really serious drama and of course it turned into this kind of camp happening right from the get go," Alda said. "Even Paramount was caught off guard and they didn't know how to promote it because it became such an audience experience right away. … I was actually quite pleased because the audience really got into it. It was just amazing to me."
Alda added that Dunaway should have embraced the campy results of the final film.
"The audience of 'Mommie Dearest' is a great audience and I think they are disappointed that Faye has never embraced the film," Alda said. "If I were Faye Dunaway, I would have said, 'Look, I was great in the part, I did great things. OK, maybe I had an over-the-top performance, but it worked, didn't it?' … She's really deprived herself of a great audience of people who love the movie and it's a detriment to her. Look at all the joy she missed."
Blu-ray special features include commentary by drag legend Hedda Lettuce and filmmaker John Waters, "Filmmaker Focus" with Frank Perry biographer Justin Bozung, short features including "The Revival of Joan," "Life With Joan," and "Joan Lives On," as well as a photo gallery and the original theatrical trailer. Rating: B-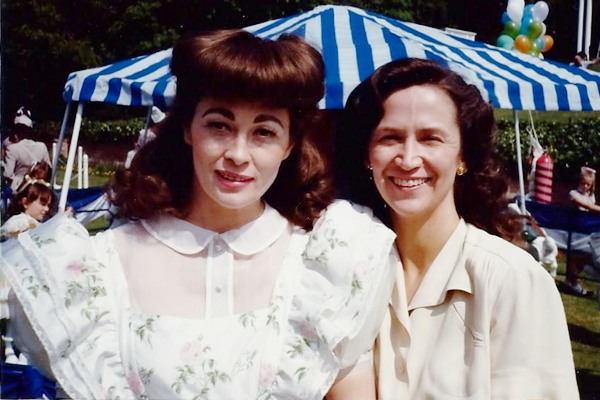 Las Vegas Raiders head coach resigns after homophobic emails surface
Discovery made during misconduct investigation into the Washington Football Team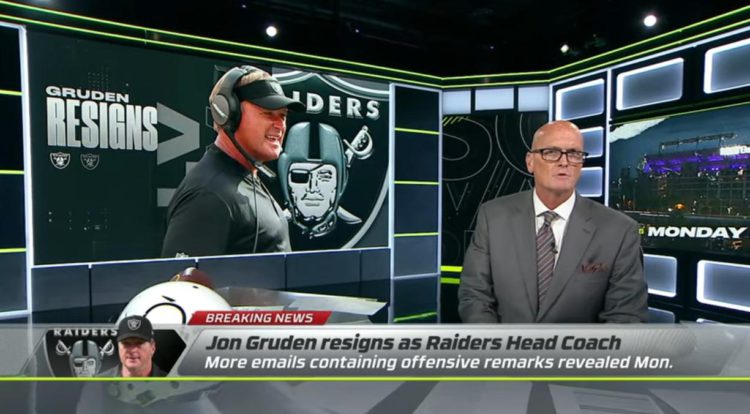 LAS VEGAS — The head coach of the Las Vegas Raiders, Jon Gruden resigned his post Monday after an article in the New York Times reported that he frequently used misogynistic and homophobic language directed at Commissioner Roger Goodell and others in the National Football League, (NFL).
The emails were discovered in a workplace misconduct investigation into the Washington Football Team the Times reported, but ended up costing Gruden his job when they also showed Gruden denounced the drafting of a gay player and the tolerance of players protesting during the playing of the national anthem among other issues.
In a statement released by the team late Monday, Gruden said; "I have resigned as Head Coach of the Las Vegas Raiders. I love the Raiders and do not want to be a distraction. Thank you to all the players, coaches, staff, and fans of Raider Nation. I'm sorry, I never meant to hurt anyone."
The sequence of events started last Friday when the Wall Street Journal reported that Gruden used a racist term to describe NFL union chief DeMaurice Smith in a 2011 email to the Washington team's former executive Bruce Allen.
According to the Associated Press, Gruden apologized for his "insensitive remarks" about Smith, saying they were made out of frustration over the 2011 lockout. But the latest emails sent from between 2011-18 when Gruden was an analyst for ESPN show his use of derogatory language went well beyond that.
A league source confirmed the accuracy of the emails to the Associated Press and said they were sent to the Raiders last week. The person spoke on condition of anonymity because the league hasn't made the emails public.
The New York Times and the Associated Press both noted that Gruden used a gay slur to insult Goodell and said he was "clueless" and "anti-football." He also said Goodell shouldn't have pressured the Rams to draft "queers," a reference to Michael Sam, who was the first openly gay player drafted by an NFL team.
Gruden's abrupt resignation was announced live on the Colts/Ravens "Monday Night Football" broadcast when the NFL ran multiple LGBTQ-inclusive advertisements, including one featuring an NFL logo wrapped in the colors of the Trans Flag and Rainbow Flag Gay City News Editor Matt Tracy reported.
Raiders owner Mark Davis issued a statement which only said that he accepted Gruden's resignation. In a separate statement the Raiders announced that special teams and assistant head coach Rich Bisaccia will serve as Interim Head Coach of the Las Vegas Raiders, effective immediately.
"Coach Bisaccia will meet with the media at the regularly scheduled media availability on Wednesday," the team said.
According to ESPN and the Associated Press, Bisaccia has been a special teams coordinator in the NFL for 19 seasons with the Raiders, Chargers, Dallas and Tampa Bay. He has no head coaching experience but his elevation will allow other assistants in the Raiders organization such as defensive coordinator Gus Bradley to stay in their current roles.
Jon Gruden resigns as Raiders head coach | SC with SVP