Shelley Morrison, beloved Rosario from 'Will & Grace,' passes away at 83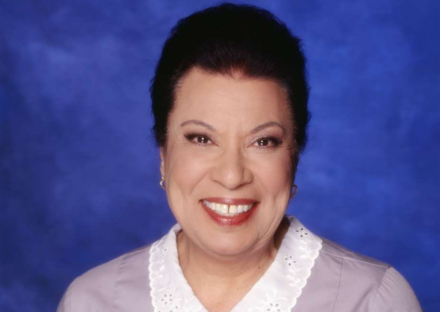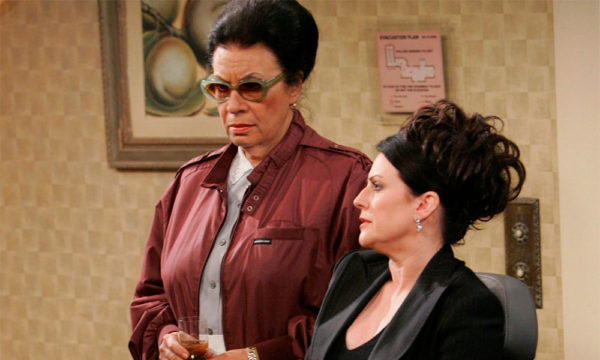 Shelley Morrison, the actress known to millions of "Will & Grace" fans as Karen Walker's fiesty maid Rosario, has passed away at 83.
Speaking to CNN, publicist Lori DeWaal said that Ms. Morrison died of heart failure on Sunday, at Cedars Sinai Hospital in Los Angeles.
Morrison, who was born in the Bronx in 1936, was the daughter of Jewish parents who had immigrated from Spain. Her first language was Spanish, and she frequently played Latina characters throughout her decades-long acting career – like Sister Sixto on "The Flying Nun," whose difficulties with the English language were a running gag on the show.
It was on "Will & Grace," however, that Morrison would reach her greatest recognition; the no-nonsense Rosaio Salazar was originally written as a one-episode walk-on, but her appearance proved so popular that she was quickly upgraded to recurring status, becoming a fan favorite for the rest of the groundbreaking series' original run.
According to a statement from her husband, Walter Dominguez, it was also the role that gave her the most satisfaction.
"Shelley's greatest pride as an actress was in playing the indomitable Rosario in a comedy series that furthered the cause of social equity and fairness for L.G.B.T.Q. people," Dominguez said. "She also took pride in portraying a strong, loving yet feisty Latina character."
He also commented, "She believed that the best way to change hearts and minds was through comedy."
In a bio released by her publicist, Morrison said of the character, "She reminds me a lot of my own mother, who loved animals and children, but she would not suffer fools."
Upon hearing of the actress' death, her former castmates took to social media to pay tribute.
Megan Mullally tweeted a photo of Morrison, with the caption:
"just got a bulletin on my phone that shelley morrison has passed. my heart is heavy. putting shelley, her beloved husband walter & their children in the light. thank you for your friendship & partnership, shell. you accomplished wonderful things in this world. you will be missed."
A Tweet from Eric McCormick read:
"Shelley was a beautiful soul & a wonderful actor. Her work as Rosario, season after season, was as nuanced and real as it was hysterical. She will be missed by everyone at #WillandGrace, she's a huge part of it. Sending so much love to Walter and Shelley's whole family. #Rosario"
On Instagram, Debra Messing posted a photo of Morrison as Rosario, with the caption:

"Oh, Shelley… what a loss. Our dear Rosario has passed on. Shelley had a career that spanned decades, but she will always be our dear Rosie. She was a kind soul with a huge heart and always had a smile on her face. All my love to Walter and the entire family. #shelleymorrison"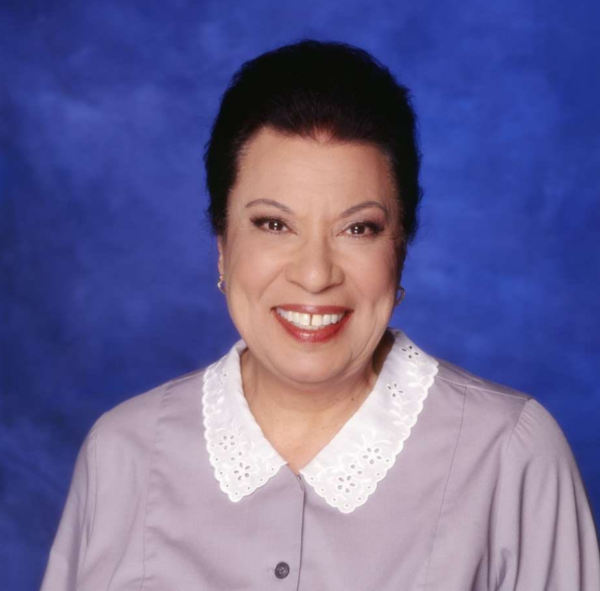 Sean Hayes, in his post of the same photo on Instagram, said:

"Such sad news. Our beloved Shelley Morrison passed away today. She was absolutely hilarious and had the biggest heart. She was a part of our Will and Grace family and will be greatly missed. My heart goes out to her entire family."
Ms. Morrison is survived by her husband and the six children they adopted together through a traditional Native American ceremony.
PHOTOS: GMCW Holiday Show
Chorus performs at Lincoln Theatre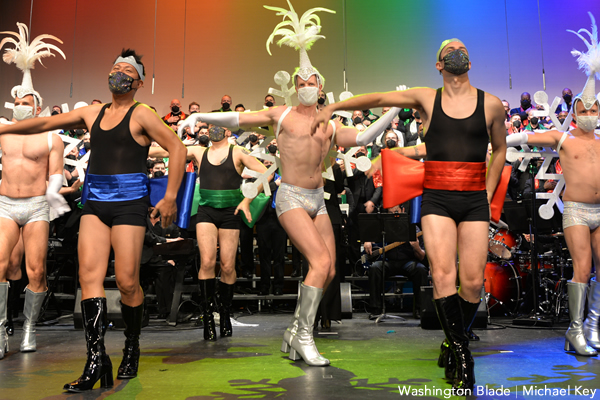 The Gay Men's Chorus of Washington performed its "Holiday Show" at Lincoln Theatre on Saturday. The Chorus has performances on Dec. 11 and 12. For tickets and showtimes, visit gmcw.org.
(Washington Blade photos by Michael Key)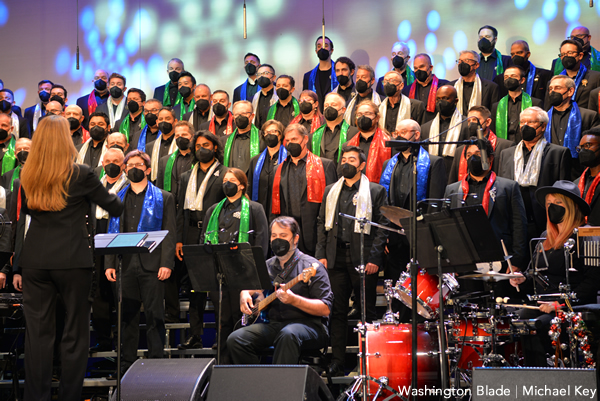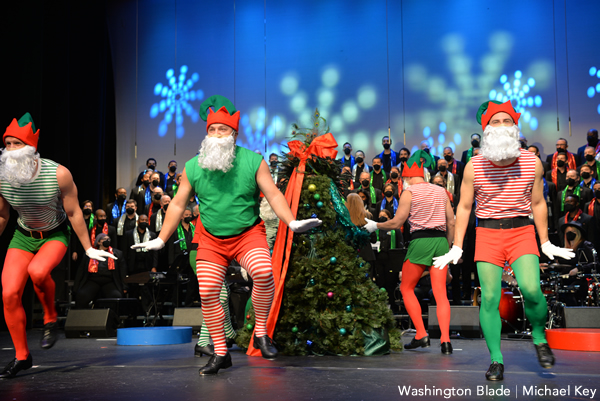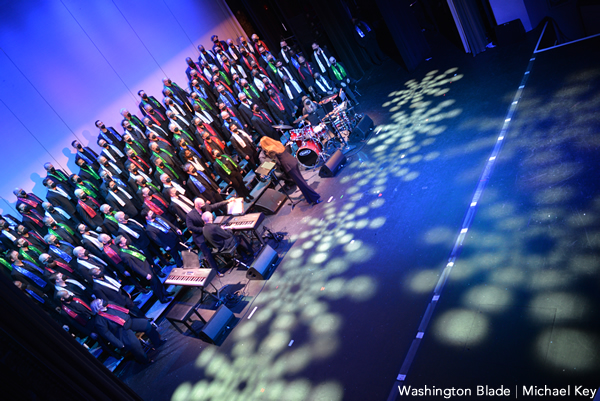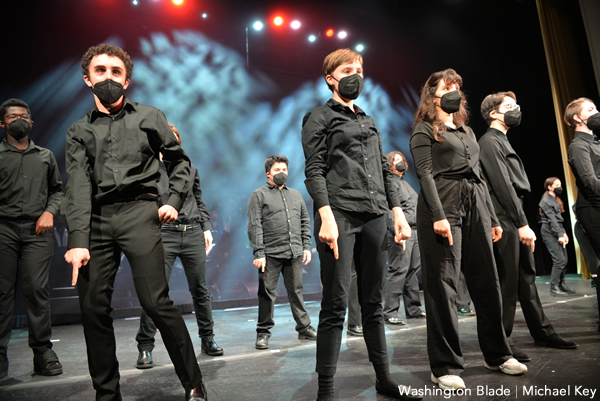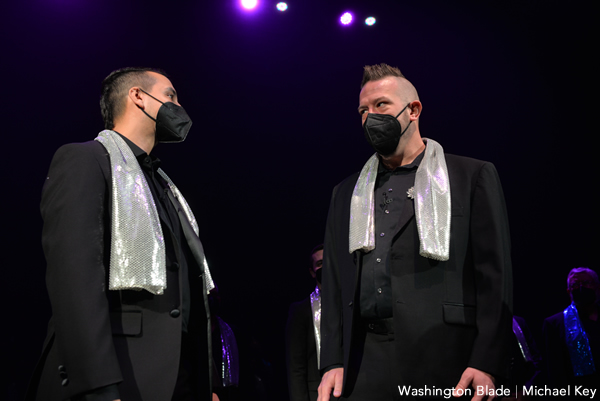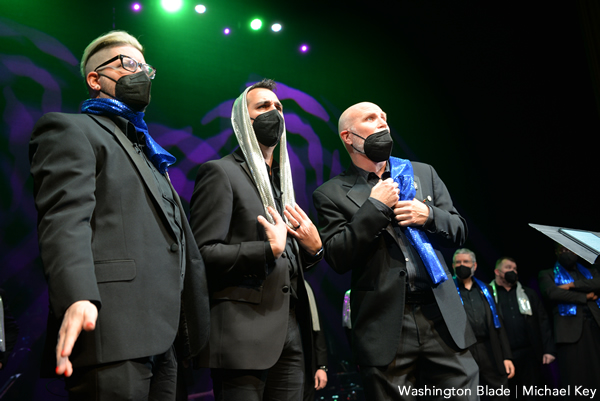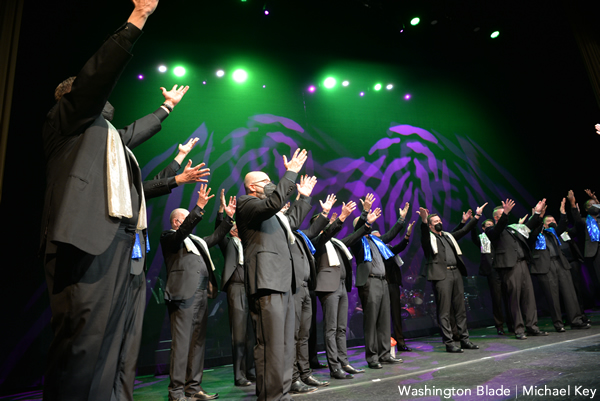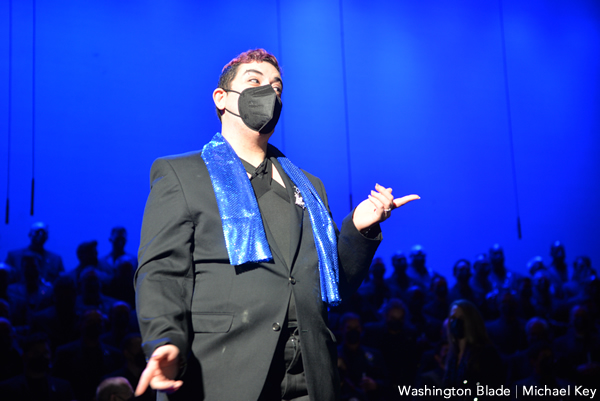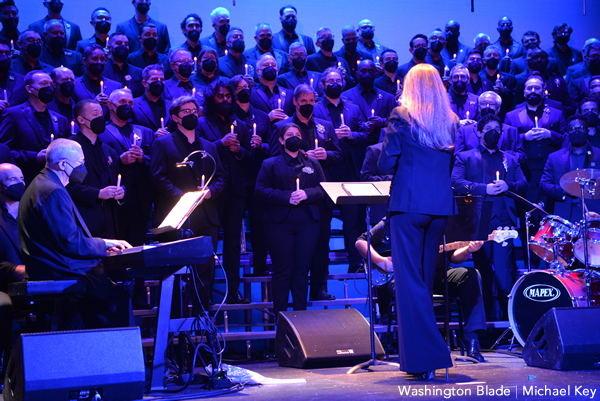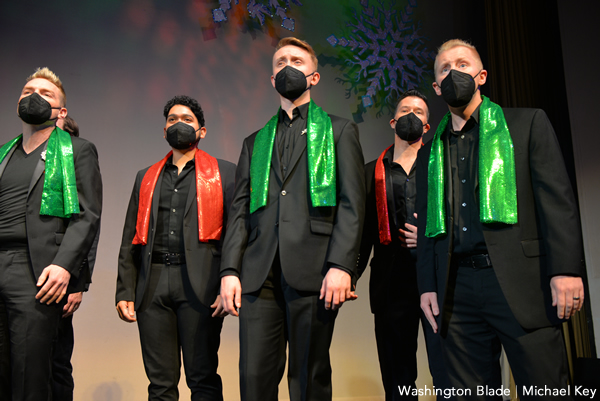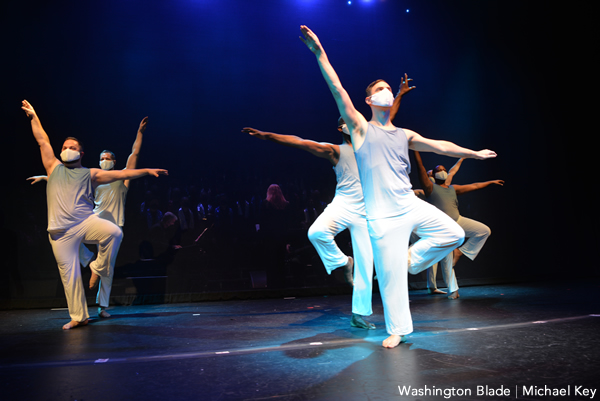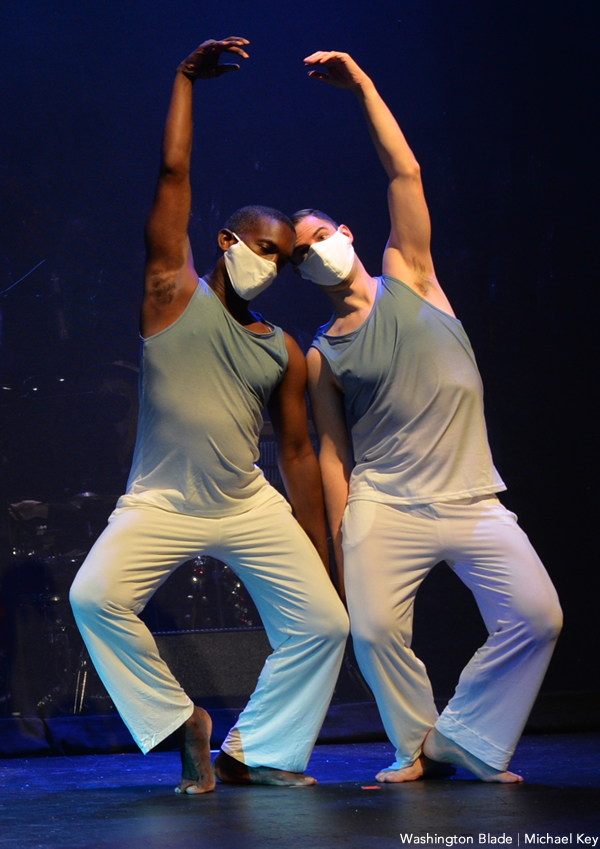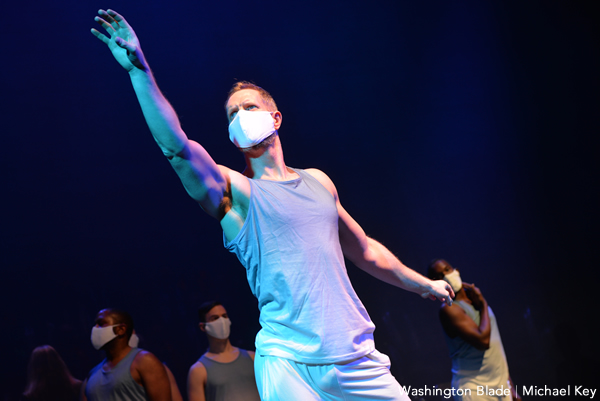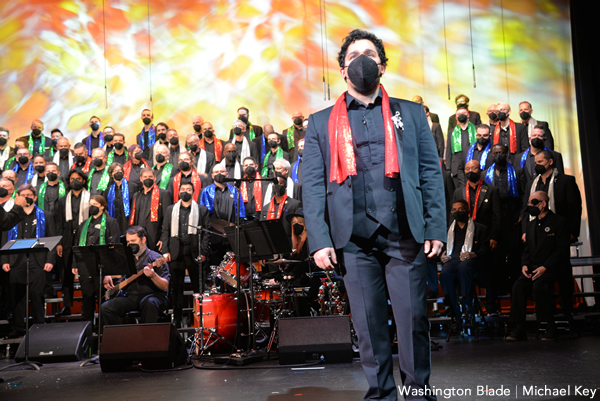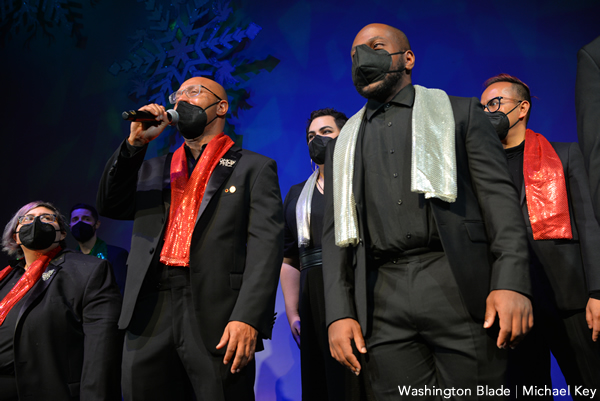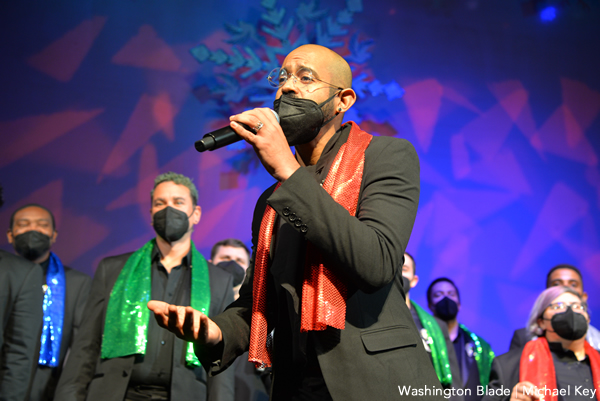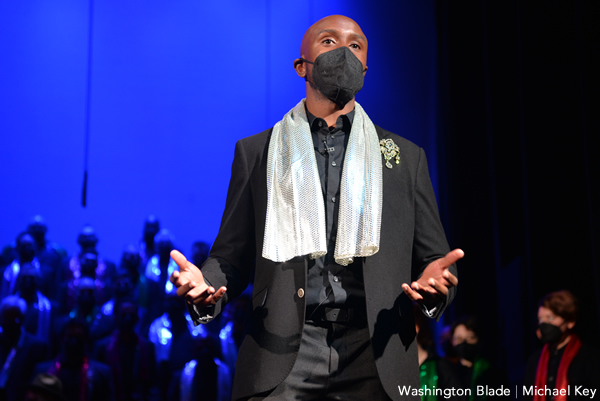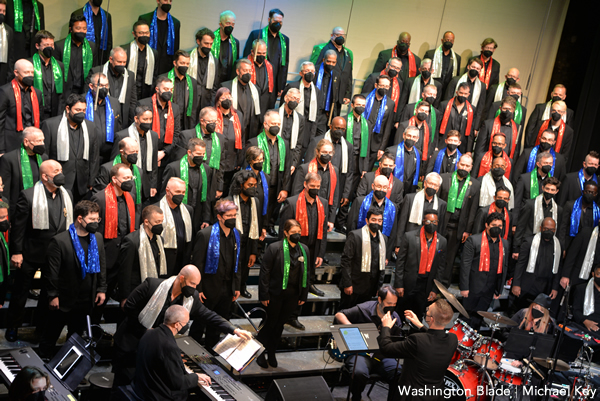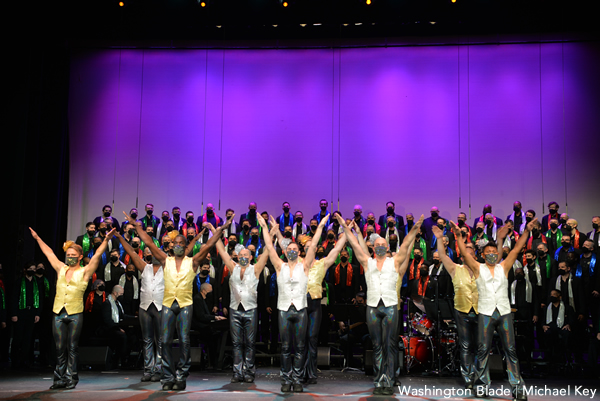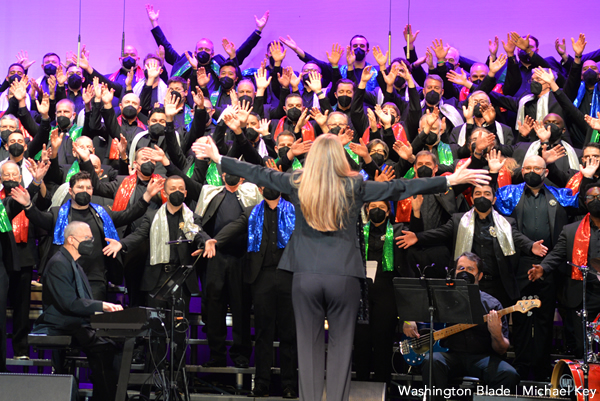 PHOTOS: International LGBTQ Leaders Conference opening reception
Politicians and activists from around the world met and mingled at the JW Marriott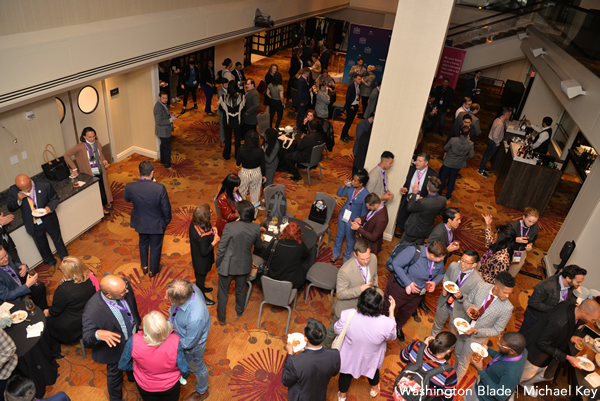 The LGBTQ Victory Institute held an opening reception for the 2021 International LGBTQ Leaders Conference at the JW Marriott on Thursday.
(Washington Blade photos by Michael Key)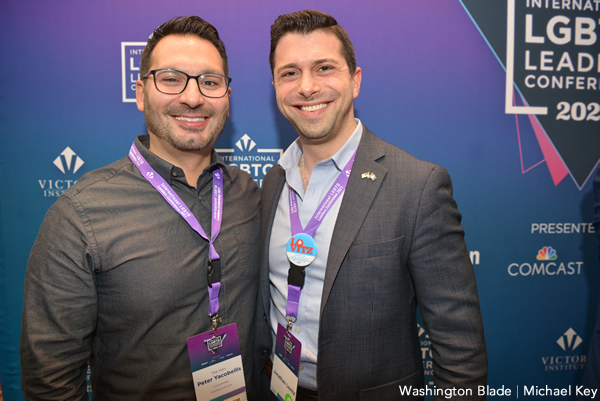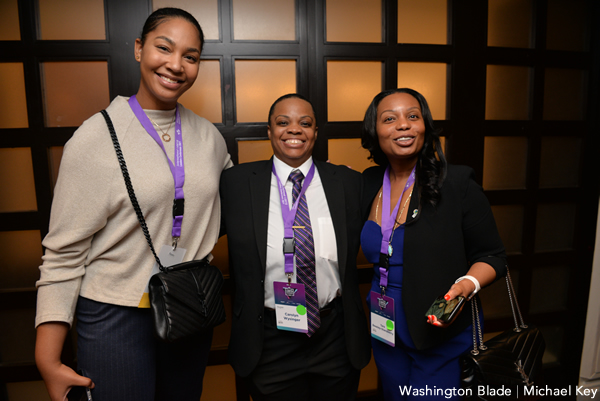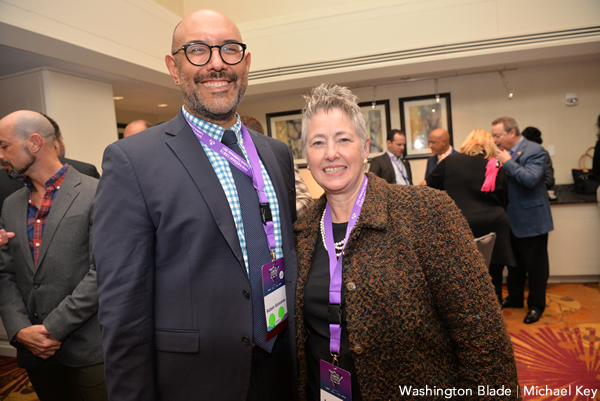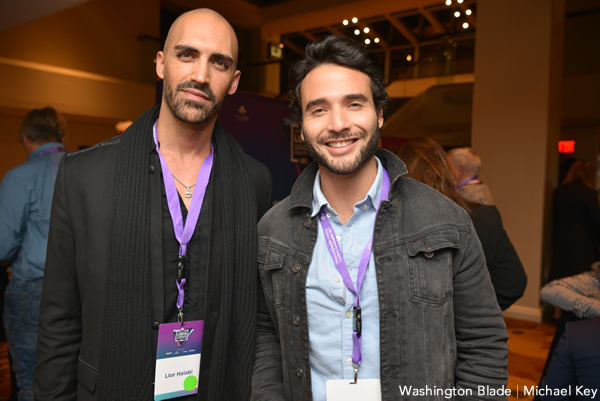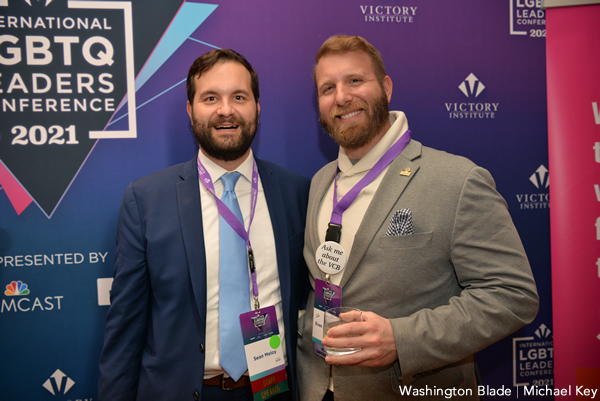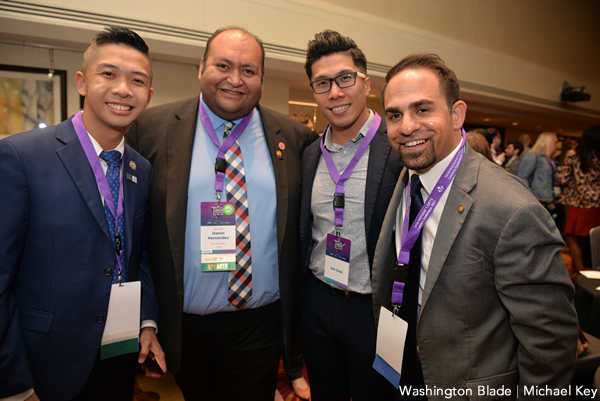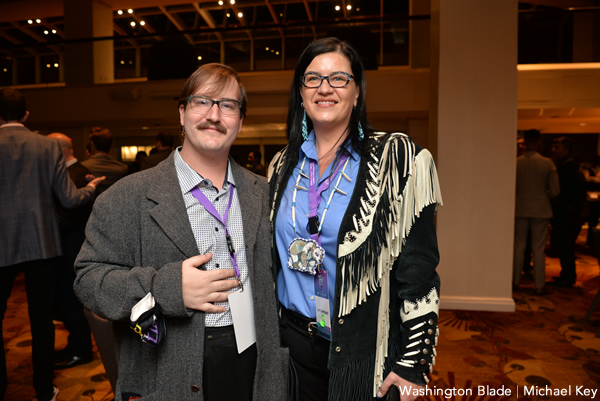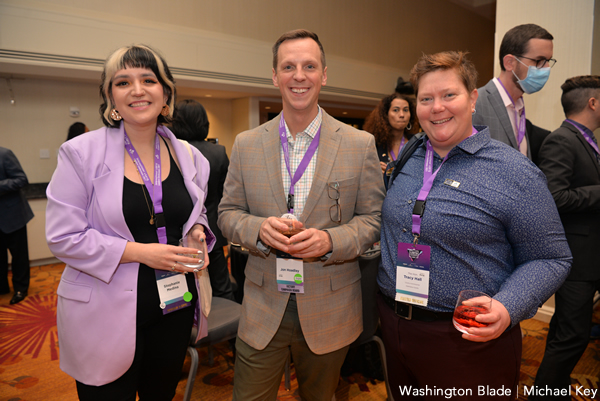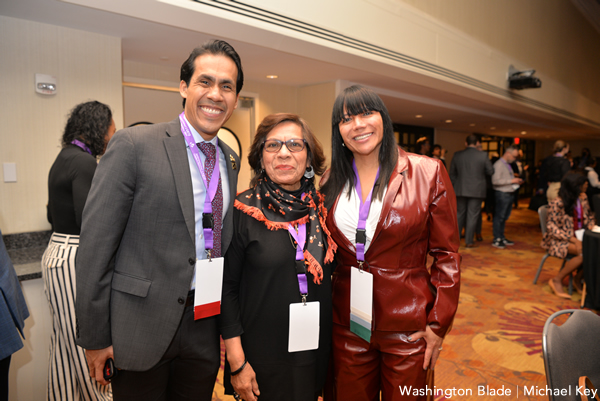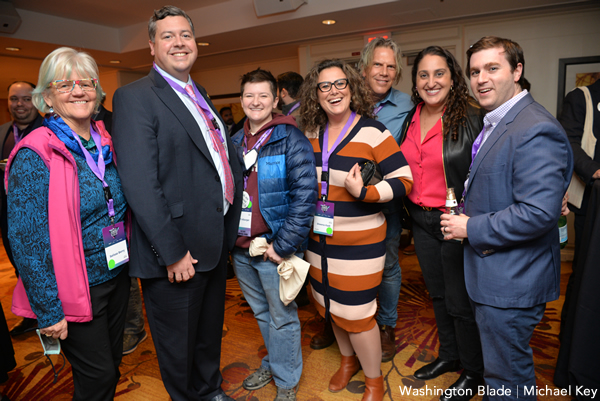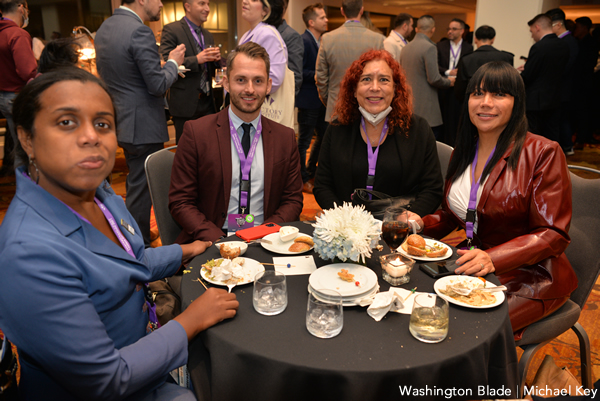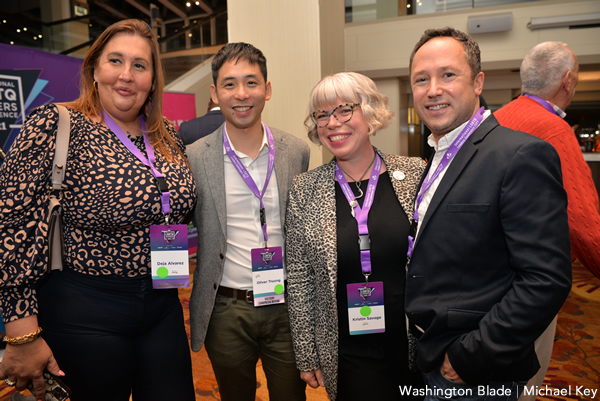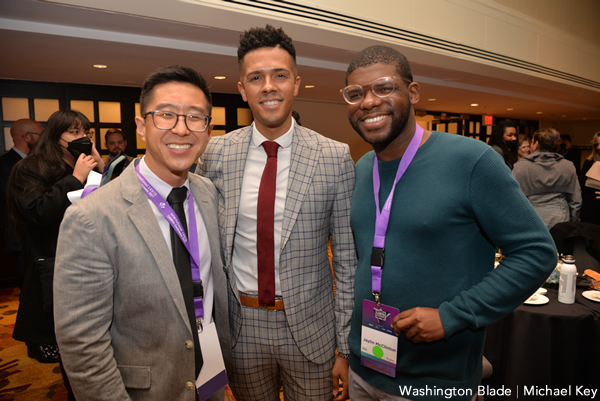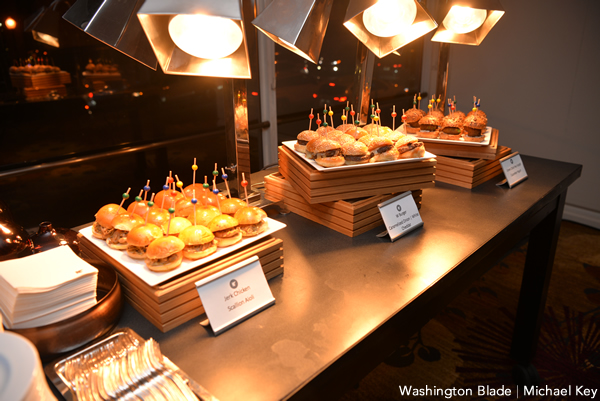 Meet the husbands and creative partners behind 'Christmas Angel'
A funny, redemptive world premiere with a diverse cast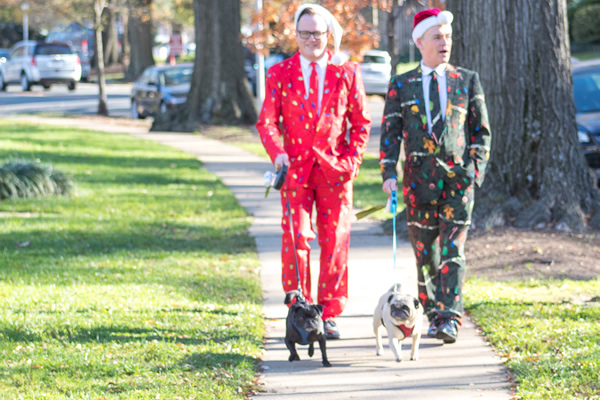 'The Christmas Angel'
Dec. 9-19
Creative Cauldron
410 South Maple Avenue
Falls Church, VA 22046
Tickets:  $35. Students $20.
Masks and proof of vaccination are required
creativecauldron.org
"Ours is like a lava lamp," says composer Matt Conner describing the collaborative creative process he shares with musical writing partner and husband Stephen Gregory Smith. "We move together in motion in a continual ebb and flow."
A couple for 23 years, married for eight, and making musicals together for 11, the talented pair's current offering is "The Christmas Angel," opening on Dec. 9 at Creative Cauldron in Fairfax.
A musical adaptation of the same-named 1910 novel by Abbie Farwell Brown, it's the story of Angelina Terry (Kanysha Williams), a wealthy embittered recluse who learns the lessons of Christmas from a box of old toys that she casts into the street. Also featured in the hour-long one-act are Ryan Sellers as Horton, Angelina's butler, and Carl Williams who plays her brother. The angel and toys are brought to life by an ensemble of a dozen teens plucked from the company's musical theater training program.
Via phone from their home in Arlington, Smith and Conner shared thoughts on their new show and working style. In attendance are pug dogs Edgar Allan Pug and Lord Byron, whom they call Eddie and Byron in public – otherwise "it's just too much," says Conner whose ultimate fantasy involves living on a pug farm where he'd write music and present the occasional show.
Rather than finish each other's sentences, the duo (both Helen Hayes Award winners – Smith for acting and Conner for directing) expound on one another's thoughts.
While Conner composes the music, Smith writes the book and lyrics, and together they co-direct. "But there's no end and beginning where my job ends and his begins," says Smith. "What we do complements each other's work."
Still, there are differences. Smith's approach is focused. He writes pages at night and edits in the morning. Conner's method is more relaxed, preferring to sit at the keyboard and talk rather than writing things down. But throughout the creative process, there's never a moment when the project isn't on their mind. They can be watching TV or buying milk when an exciting idea pops up, says Conner.
A clever nod to Dickens, the novel is more than just a female "Christmas Carol," says Smith. And in some spots, he's beefed up the 55-page book, fleshing out both storyline and characters including the toys whose shabby appearance belies a youthful confidence.
He adds, "Every holiday season you go to the attic and pull down the box, or boxes in my case, of holiday decorations and it's all old but it's new. That's the nostalgic feeling of toys from the attic that we're trying to find through the show."
The music is a combination of traditional carols performed by a hand bell chorus, and original Christmas songs that intentionally sound very familiar. The score includes songs "Don't Hide Your Light," "The Sweetest Gift," and "Yestermore" – the moment when the past, present, and future come together.
Also, there's Angelina's Bah! Humbug! number "Fiddlesticks," her great renunciation of the holidays. She believes the world a disappointing place to be, and the sooner realized the better.
Conner and Smith aren't new to Creative Cauldron. Through the company's Bold New Works project, the team was commissioned to write five world premiere musicals in just five years. The result was "The Turn of the Screw," "Monsters of the Villa Diodati," "Kaleidoscope," "Witch" and "On Air."
Judging from some of the titles and their slightly macabre content, it seems the duo was better poised to write for Halloween than Christmas, but nonetheless, they were commissioned. Creative Cauldron's producing director Laura Connors Hull brought them the obscure yet charming book that surprisingly had never before been reworked for stage or celluloid, and the pair got to work last spring.
Conner and Smith agree, "The show is a lot of things rolled up into one."
Not only is it a funny, redemptive world premiere with a diverse cast, but it's also a story largely unknown to today's audiences. Additionally, the show boasts intergenerational appeal while holding messages about Christmas, family, and finding light when you're in a darker place.
More information about Conner and Smith, including links to their music and popular podcast "The Conner & Smith Show," can be found on their terrific website at connersmithmusicals.com.