December 4, 2019 at 9:29 am EST | by Lou Chibbaro Jr.
D.C. Council recommends expulsion of Jack Evans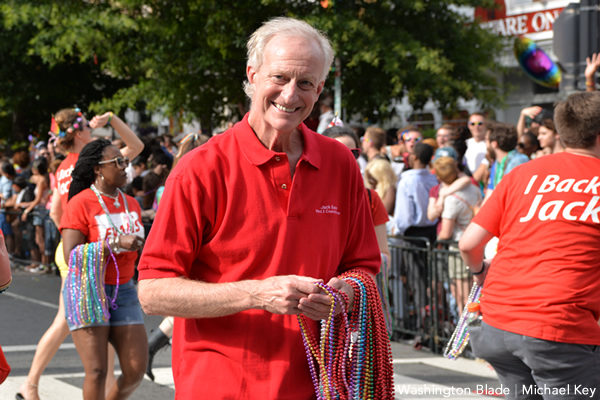 A special ad hoc D.C. Council committee open to all Council members except for Councilmember Jack Evans (D-Ward 2) voted 12-0 on Tuesday to recommend that Evans be expelled from the Council on grounds of serious ethics violations.
Evans, one of the Council's strongest supporters of the LGBTQ community during his record 28-year tenure on the Council, didn't attend the ad hoc committee session. Had he showed up he would have been required to sit in the audience.
While praising Evans for his years of support on LGBTQ issues, many LGBTQ activists have joined community leaders across the city in calling on Evans to resign.
Those calling for his resignation, many of whom are also calling for his expulsion if he refuses to resign, say they believe an overwhelming amount of evidence has surfaced showing Evans used his public office to benefit private clients, including companies doing business with the city, who paid him hundreds of thousands of dollars that Evans did not publicly disclose.
Evans has denied any wrongdoing and insists he has not violated any laws. Although a federal grand jury has been investigating allegations of possible illegal actions, he has not been charged with a crime.
Longtime LGBT rights advocate John Ralls, who worked in Evans' Council office in the past, and his husband, Michael Ramirez, are among 20 people who signed an open letter on Nov. 19 highlighting what they said was Evans' years of accomplishments on the Council on behalf of Ward 2 residents and the city's successful economic development projects.
"That is the Jack we know," the letter concludes.
Meanwhile, longtime LGBT rights advocate, Logan Circle Advisory Neighborhood Commissioner, and former D.C. government official John Fanning is among six candidates who have entered the Ward 2 D.C. Council election contest for Evans' seat in the June 2020 Democratic primary. Evans has yet to announce whether he plans to run for re-election.
Under D.C. Council rules, the expulsion of a Council member requires 11 votes. Council Chair Phil Mendelson said he expects the next step in the expulsion process to take place on Dec. 17, when the Council must give Evans an opportunity to testify at a hearing before an expulsion vote before the full Council can take place.