December 4, 2019 at 6:00 pm EST | by Michael K. Lavers
Mary Washington: It's 'time to stand up and fight for' Baltimore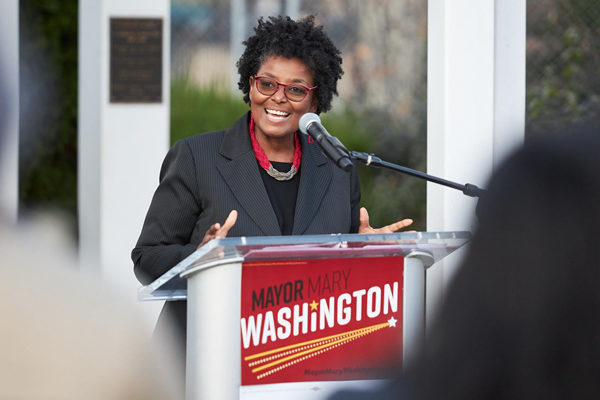 Maryland state Sen. Mary Washington (D-Baltimore City) says she decided to run for mayor of Baltimore because "it's time to stand up and fight for" her city.
"I represent the city in Annapolis," Washington told the Blade on Nov. 25 during a telephone interview. "This is my home and it's time to stand up and fight for it here. The fight is here at home."
Washington, 57, on Nov. 20 officially announced she is running for mayor.
Washington in 2018 became the first openly LGBTQ person of color elected to the Maryland Senate. Washington would be Baltimore's first out mayor if she were elected in 2020.
"It would raise the standard about what it means to be a leader, someone who leads with integrity and that I'm someone that they can trust," said Washington when the Blade asked her about the prospect of an openly LGBTQ person becoming Baltimore's next mayor.
Washington lives with her partner of 12 years, Jodi Kelber-Kaye, who is the associate director of the Honors College at the University of Maryland, Baltimore County. Washington and Kelber-Kaye have two children who are 16 and 21.
"The fact that she would be the first openly gay mayor for the city is also not lost on us as a historic thing," said Kelber-Kaye during the Nov. 25 interview. "I just couldn't be more excited about the prospect of that, of what she can do."
Pugh guilty plea 'very sad time'
Washington spoke with the Blade four days after former Baltimore Mayor Catherine Pugh pleaded guilty to federal charges connected to the sale of copies of her "Healthy Holly" children's book series to the University of Maryland Medical System while she served on its board.
Pugh resigned on May 2. Current Mayor Bernard "Jack" Young, Baltimore City Council President Brandon Scott and former Maryland Deputy Attorney General Thiru Vignarajah are among those who have announced they are running for mayor.
"It's a very sad time in our city," said Washington, referring to Pugh's guilty plea. "I feel for the people who care and love her, but I also share the deep concern that so many people looked the other way. I think that's something that we need to repair in our governance."
Washington told the Blade "repairing our relationship with our police department," reducing youth homelessness and expanding economic opportunities in Baltimore are three of the issues on which she is campaigning. Washington said her main priority is "leading with integrity and restoring honor to the office, getting people excited about working in the city again, having people want to invest in the city and live here."
She summed up this pledge as "getting back to basics."
"The grandest idea is that we pay taxes, that we're accountable to those taxes, that you have a transparent government that's accountable and trustworthy," said Washington. "Very boring … but basic things that we don't have right now."
Washington represented the 43rd legislative district in the Maryland House of Delegates from 2011 until her election to the state Senate. She noted she has worked with Republican Gov. Larry Hogan's administration on a variety of issues that include homeless youth and affordable housing for seniors.
"I've been very successful at working with the administration when we have shared values and shared outcomes," said Washington.
President Trump in July described Baltimore as a "disgusting, rat and rodent infested mess." Students who participated in the Baltimore Youth Summit on Opioid Awareness on Nov. 26 booed first lady Melania Trump when she spoke at the event.
"I'm looking forward to a different federal government," said Washington when the Blade asked her about Trump.
"We have a very strong federal team," added Washington. "I would work very closely, which I already do, with our Senate and House colleagues and I would continue to do that (as mayor.) My relationship with the federal government is working in partnership with our delegation, which is very strong."
Cummings' death a 'huge loss'
The late-Congressman Elijah Cummings died on Oct. 17.
Cummings, 68, represented Maryland's 7th congressional district, which includes portions of Baltimore City and Baltimore and Howard Counties, since 1996.
The Baltimore Democrat before his death chaired the House Oversight and Reform Committee, which is among the committees that is leading the impeachment inquiry against Trump. Cummings publicly backed Maryland's same-sex marriage law ahead of a 2012 referendum on it and supported needle exchange programs as a way to address the HIV/AIDS epidemic.
"There are no words to sufficiently convey the depth of our sorrow when we learned of the passing of this great man," wrote Washington on her Facebook page after Cummings passed away. "We in the 43rd District, Baltimore City, Maryland and worldwide have been blessed to count on him as a friend and mentor. He has been with us in every fight. A strong and steady light in what was too frequently a dull and dismal political landscape. A champion who gave a full-throated voice to our hopes and our outrage."
Cummings' widow, Maya Rockeymoore Cummings, is among those who are running for Cummings's seat alongside former NAACP President Kweisi Mfume and state Sen. Jill Carter (D-Baltimore City).
Washington described Elijah Cummings' death as a "huge loss." She added she is "very excited" that Carter has "jumped into the race."
"There are a lot of qualified candidates and a lot of people who love and care about our region," said Washington.