Young Chinese-American director/playwright explores Irish mythology
'The Infinite Tales' at 4615 Theatre Company is world premiere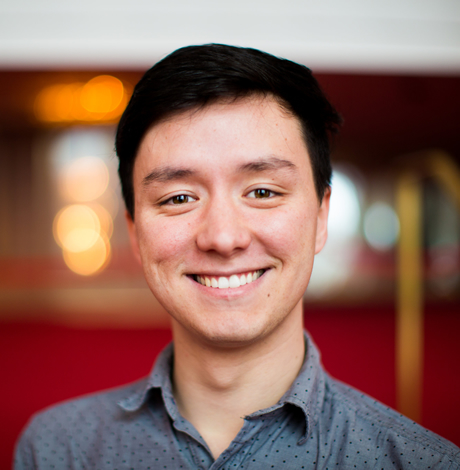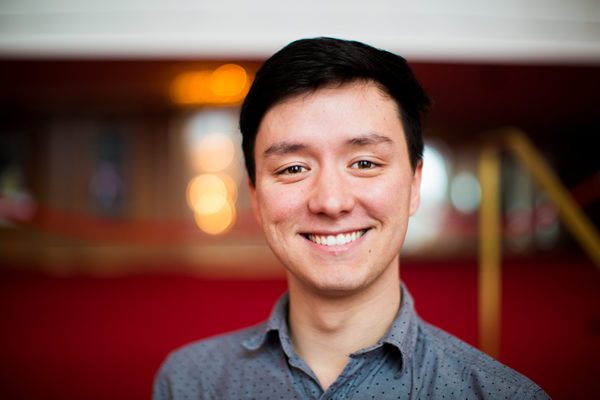 'The Infinite Tales'
Through Dec. 29
4615 Theatre Company
The Writer's Center
4508 Walsh St.
Bethesda, Md.
$16.50-20
Out director and playwright Gregory Keng Strasser palpably exudes energy, artistic ambition and curiosity. It's these traits that fuel his avid pursuit of storytelling and collaboration at home and abroad.
Strasser, 25,  grew up in Shanghai and Bloomfield Hills, Michigan. After graduating from the University of Michigan with a degree in directing, he relocated to D.C. and became affiliated with the Laboratory for Global Performance and Politics and 4615 Theatre Company. He's now the 2020 Allen Lee Hughes Directing Fellow at Arena Stage.
Besides Washington, he's had work produced Bangkok, Holstebro (Denmark), New York City, Ann Arbor and Detroit.
At age 6, Strasser was introduced to Irish mythology through a beautifully illustrated storybook. The tales impressed him deeply, prompting him to revisit the tales over the years.
Today he's directing his own adaptation of those myths titled "The Infinite Tales," now making its world premiere at 4615 Theatre Company in Bethesda.
Crossing time and space, "The Infinite Tales" follows the journey of four children cast out from their homeland and cursed to live as swans for 900 years. Facing incredible odds, they remain hopeful that one day they'll go home again. But over time, their country and its people change, creating additional challenges for the misplaced quartet. It's a story of place and the Irish diaspora.
A U Street Corridor resident, Strasser is currently single (he likes guys who wear glasses). And while he has connected with the D.C. theater scene, he's not averse to taking on additional far-flung gigs.
WASHINGTON BLADE: What is it about Irish mythology for you?
GREGORY KENG STRASSER: Initially it was that book, "The Names Upon the Harp," illustrated by P.J. Lynch. The cover features a gorgeous woman casting a spell on four swans. When I stumbled upon it, I already loved fairy tales and the Chinese myths that I'd heard from my mother. But what I liked about these Irish stories is that they weren't happily ever after. I loved how grown up they were even though they were about magic.
BLADE: When did you first incorporate these legends into your work?
STRASSER: In my senior year of college, I was tasked with writing a play. Mine was about refugee children and storytelling. I needed something to wrap it up so I finished it off with a story about home, "The Children of Lir," one of the tales from "The Names Upon the Harp." I drew from that. My play wasn't great but it had potential. Even then, I knew it was something I wanted to pursue. But I needed to graduate and do other things first, so I stored it away for a while.
BLADE: What brought you to D.C.?
STRASSER: I needed a job desperately. Shanghai Media Group saw something in me — probably foremost that I speak Mandarin — and they hired me as an assistant content producer. It was a great company to work for even though they were making propaganda, and the job allowed me stability and a way to explore the city. I only stayed with them for six months, but it was my way into D.C. where I found my way into the theater scene. My end goal was always theater. I began networking and eventually met Natsu Onoda Power and Derek Goldman, both playwrights and directors. Through them I was introduced to the Laboratory for Global Performance of Politics at Georgetown University and made connections in Europe and Asia. Also, I became connected with Rorschach Theatre. Rorschach gave me my first production, Frances Ya-Chu Cowhig's "410[GONE]," a take on the myth of Orpheus and Eurydice set in the world of Chinese mythology and technology. At the time, my family was reeling from a near tragedy, so the experience was cathartic. It was a big play to direct and I was just 23, but it was perfect for me.
BLADE Would you describe "The Tales of the Infinite" as big?
STRASSER: Yes, definitely. It's broad and expansive with music, puppetry and movement that borders on dance. It has a cast of nine. It's a gigantic adventure, an epic journey, a quest about survival and hope, as well as an internal journey of endurance and the reliance on self and a radical transformation of your heart. It's born from a deep love of these stories and our shared humanity. We're on different journeys but we intersect at some point. It's about those shared intersections.
BLADE: Is there any LGBT content or themes in what you're doing with the stories?
STRASSER: There is, but you must mine those values. The stories are about homeland, ostracization. I think the older LGBT generation might relate better because they've gone through trauma of coming out in an unwelcoming society. And that's changed a trauma free — well not for everyone everywhere.
BLADE: And how was coming out for you?
STRASSER: Actually, not easy. I was forced out at 17 when my parents caught me and my then-boyfriend together in my room. My mother is Chinese and very traditional and my father is from the conservative part of Michigan. There were a few tense months at home before I felt for college. Thankfully they didn't take away my tuition money. I used to believe that my mother was a backward-thinking Trump supporter, the antithesis of me. Then I sat down and did her oral history and realized I was wrong. She survived the Tiananmen Square protests. She was sick of government oppression and having no career opportunities as a woman. She wanted out. So, when she met my white American father and was offered a way to leave, she took it. In her view, I didn't realize how lucky I was just to be living here. Why make things difficult? My father is naturally curious. He looks for answers, asks people for advice. It's gotten better.
BLADE: Is D.C. home ?
STRASSER: It's a base where I'm building a foundation. There are great opportunities to connect and collaborate here, but I still really want to do things in other countries. I'm in love with the world and in love with international collaboration.
'Six' an empowering musical remix of English history
Wives of Henry VIII tell their own stories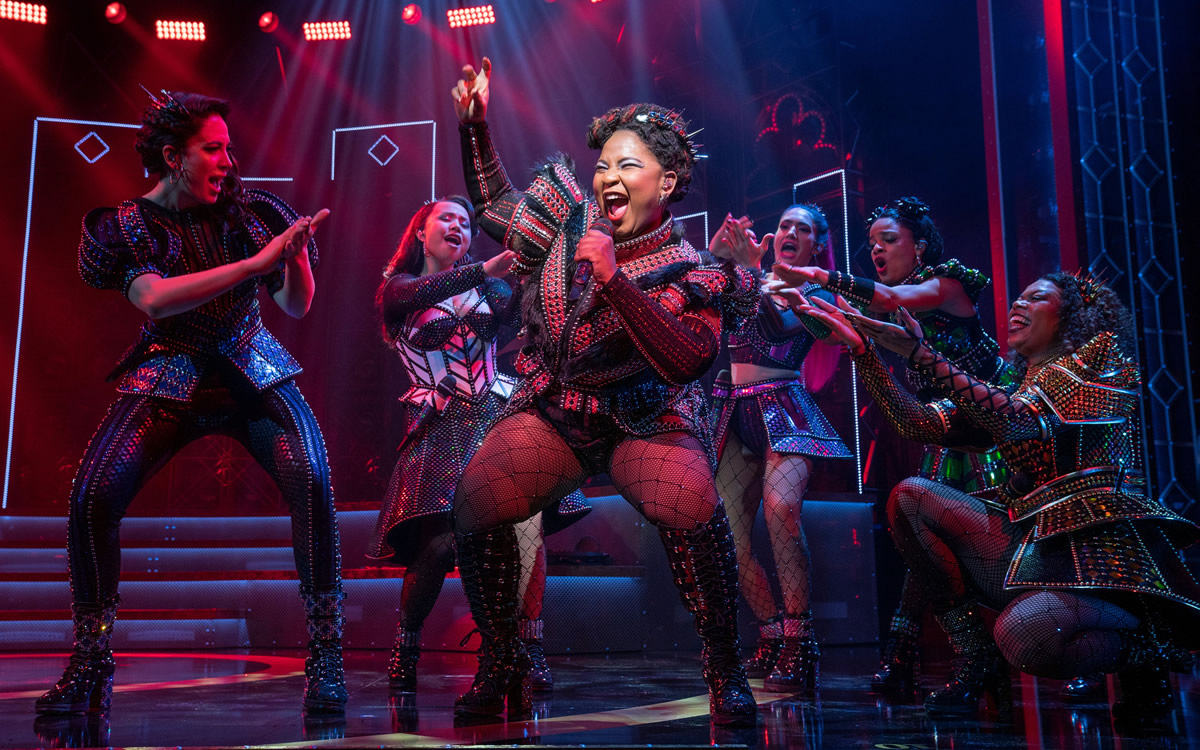 'Six'
Through Sept. 4
National Theatre
1321 Pennsylvania Ave., N.W.
$65-$150
BroadwayAtTheNational.com
Typically, the wives of Henry VIII are cast aside as headless footnotes. But in "Six," an empowering and fun musical remix of English history (now playing at National Theatre), they tell their own stories.
Conceived by Brits Toby Marlow and Lucy Moss, the Broadway hit is a fast-paced 85-minute pop rock musical presented as a contest in which Henry's wives compete for diva status by proving who's been treated the worst by the monarch, and considering Henry's vile track record, the competition is unsurprisingly stiff.
History and music unfold chronologically as the royal consorts, backed by "The Ladies in Waiting," (four musicians led by Jo Ann Daugherty), briefly but trenchantly share their experiences in a madly entertaining way.
After collectively introducing themselves and their respective fates with "Ex-Wives" ("Divorced, beheaded, died! Divorced, beheaded, survived!"), Henry's first queen, Catherine of Aragon (Khaila Wilcoxon), a devout Catholic and a true Spanish princess who despite many tries was unable to provide her philandering husband with a surviving male heir, steps out of the line and states her case with a power-pop song titled "No Way."
Then one-by-one the remaining five — fabulously costumed in glittery short-skirted concert gear with Tudor flourishes by Gabriella Slade — get their turn in the spotlight. Storm Lever, as Anne Boleyn, Henry's beguiling six-fingered second bride, wittily reminds the other women that she suffered far more than simply divorce and humiliation in "Don't Lose Ur Head."
The evening's liveliest number "Get Down," replete with a saucy costume reveal, belongs to Anna of Cleves played Olivia Donalson. Thrown over by Henry because her looks didn't live up to a Holbein portrait sent in advance (a still all-too-common problem), the German princess managed to keep her head and her money, proving you can be Henry's ex and still have a good time. Her situation was unpleasant, yes, but certainly not the worst.
In a clever move, the composers have sought "queenspiration" from contemporary artists. For instance, Jane Seymour (Jasmine Forsberg), best remembered as "the only one he ever loved" is drawn from Adele and Sia. Forsberg conveys the story's sadness with the sorrowful ballad "Heart of Stone."
Henry's victimized teenage wife Katherine Howard (Didi Romero) who was beheaded on Tower Green is drawn from Ariana Grande and Britney Spears; for Catherine Parr (Gabriela Carrillo), an independent thinker and the wife who survived Henry, inspiration comes from Alicia Keyes and Emili Sandé.
Sounds like big stilettos to fill? Don't worry, the cast is more than up for it — its six talented young women possess pipes, timing, and presence to spare.
Staged by Lucy Moss and Jamie Armitage with choreography by Carrie-Anne Ingrouille, the production is intriguing. At first look, it's everything some theatergoers might not like: really loud and very Vegas residency, but as the show opens up it proves delightfully smart, substantive, impeccably researched, and succeeds at cleverly melding the past and present.
The show has a strong following – the kind that feel it's OK to sing along with the actors onstage. But it's also appealing to history buffs and old-fashioned musical theater fans alike. "Six" is a crowd pleaser and deservedly so.
Back to the queen contest. The obvious choice for Henry's most consequential spouse is either Catherine of Aragon, the true queen, or maybe Anne Boleyn, the second wife for whom he parted with Rome and the mother England's greatest monarch, Elizabeth I. But the show gives each woman her due, and they bare their souls. Whether they were dragged into Henry's orbit because of beauty, ambitious family, or simple accidents of time and place, no one escaped unscathed. Who suffered the most? That's something you'll have to decide for yourself.
'The Playhouse' a triumphant return to live performance
Tony Cisek helps make playwright's story shine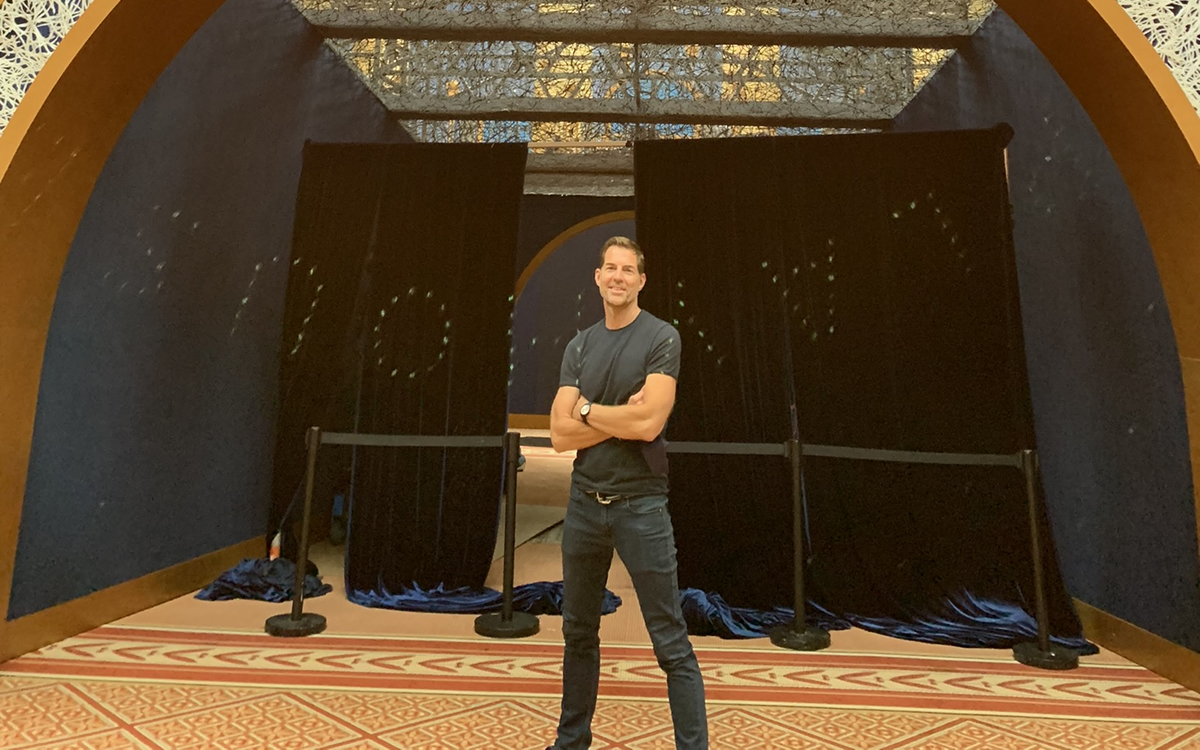 'A Midsummer Night's Dream'
Through Aug. 28
Folger Theatre at the National Building Museum
401 F St., N.W.
$20-$85
Events.folger.edu
Ordinarily set designer Tony Cisek is charged with making a playwright's story shine. His latest project was a little different.
As an integral player in Folger Theatre's return to live performance, Cisek directed the creation of The Playhouse, the National Building Museum's current Summer Block Party installation and the stage for performances of an abbreviated 90-minute intermission-less version of Shakespeare's magical comedy "A Midsummer Night's Dream."
The project comes from a moment of synergy where the University of South Carolina's idea for a pop-up theater met the Folger's need for a venue while the Folger Shakespeare Library undergoes major renovations, mostly involving public space and its closed, marble exterior, he explains. And the National Building Museum, looking for vital summer programming, was happy to join the partnership.
After pandemic-related postponements and delays, Cisek took the helm, inheriting both a set designed by University of South Carolina's Jim Hunter, cleverly made to pack up on two tractor trailers and move from stop to stop with Washington as its first stop, and exhibitions including a life-sized immersive installation based on Joanna Robson's book "A Knavish Lad," which is a part of the Folger Shakespeare Library collection.
"I'd never worked where the central aesthetic is not mine," says the out designer. "This has been more about pragmatics and logistics, and the art part really took a backseat. But that's OK. I go in wanting every show to succeed and you never at the beginning know what that's going to take but you do it."
Confronted with an admittedly challenging and slightly unfamiliar project, the four-time Helen Hayes Award winner with almost 30 years' experience in set design, soldiered forward. Building a theater in the museum's soaring atrium with its forest of mindboggling immense Corinthian columns presented possibilities and problems. His immediate tasks were how to sit Hunter's set in the space, how to surround it, how to seat the audience, and what the audience's journey would be from the moment they walk in the building.
Quickly, Cisek and team realized the work at hand was mostly about infrastructure. There was no infrastructure for hanging lights. In fact, there were no lights. They needed speakers and cables too. Everything had to be brought in and rented for 10-12 weeks at no small expense.
Fortunately, he has a long history working with lighting designers: "I like to put my nose in other designers' business. What elements are going to make this moment shine? I'm not interested in staying my little silo. That's not a formula for a successful production. My reward is that the audience finds enjoyment, is moved and provoked. Otherwise, why bother?"
Originally from Queens, New York, Cisek first came to Washington to study pre-med at Georgetown University. But increasingly, he became interested in theater, and eventually went on to study scenic design at New York University's Tisch School of the Arts. After receiving his master's in 1994, he planned to stay on in Manhattan but an onslaught of job offers brought him back to D.C. where he's worked consistently ever since.
Creating a realistic set doesn't particularly interest him unless it's specifically called for by the playwright or director. He adds, "Strict naturalism is better achieved by film. On stage, it leaves little room for the audience's imagination. And when there are naturalistic elements in the design, I like to leave air for the audience to fill in. Stories can be helped by a naturalist environment, but I move away from naturalism and try to find something poetic, or evocative, or some way to address the larger arc of the story."
Having lived and worked in the DMV for most of his life, it's no surprise he's picked up some tips from the locals. For his current project, he's utilized the idea of a zone transition, which is how Zelda Fichlander, who founded Arena Stage, referred to the journey of her audience in the original Arena – 20 feet of dim, low-ceilinged space in which in theory you left your world behind and cleansed your mind for what you were about to see.
With The Playhouse, Cisek has created a sort of tunnel through which you progress before emerging to a staggering view of the stage and columns. See it if you can.
'Hot Wing King' celebrates love between Black men
Playwright pays tribute to her brother's romance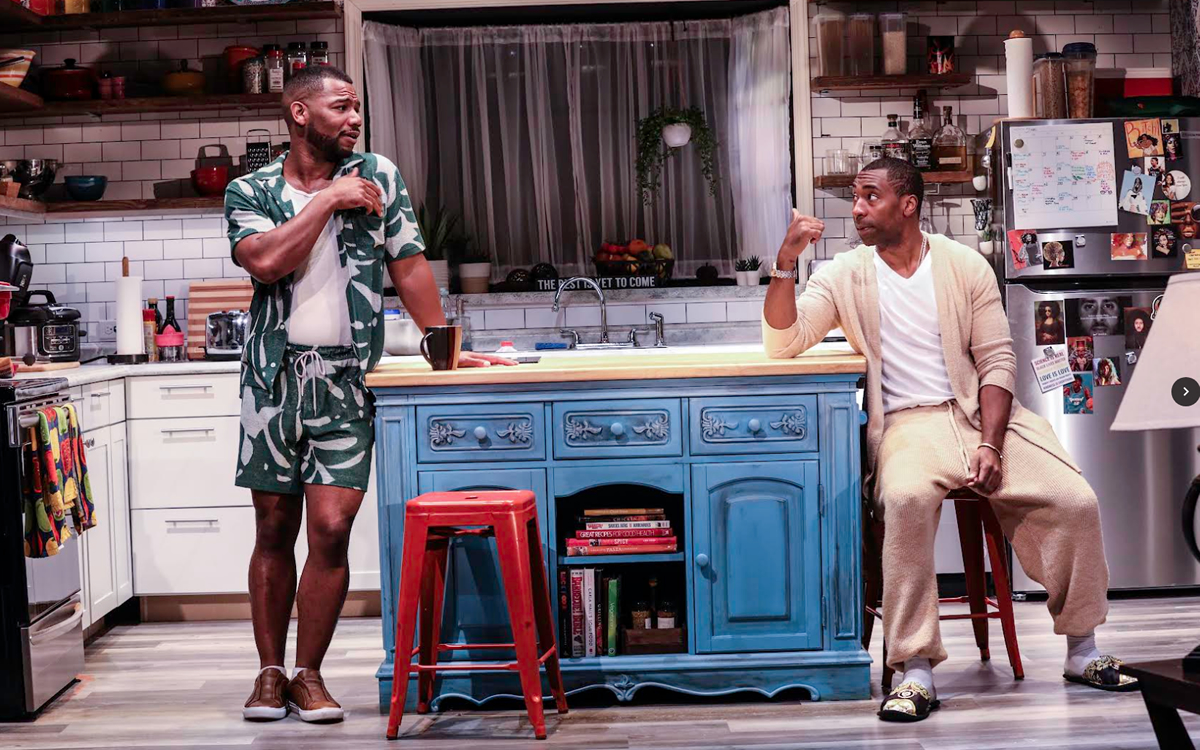 'The Hot Wing King'
Through July 31
Studio Theatre
1501 14th St., N.W.
$75-$100
Studiotheatre.org
Katori Hall's Pulitzer Prize-winning dramedy "The Hot Wing King" now playing at Studio Theatre is inspired by her gay brother's life experience.
Studio's program explains, Hall had mentioned to friend and colleague director Steve H. Broadnax III that her brother and his partner, two Black men in midlife, were starting a life together in Memphis and it wasn't an easy process. Broadnax encouraged Hall to make them her next play.
Fast-forward to Broadnax staging the 2020 New York premiere. COVID closes the show. But now it's in Washington with a new production and a different cast, again directed by Broadnax.
Like "The Mountaintop," Hall's fictionalized last night of Martin Luther King, Jr.'s life, "The Hot Wing King" is also set in her hometown Memphis, Tenn., a city known for its history of racial strife and more happily for rhythm and blues, Elvis, BBQ and hot wings.
The action unfolds over an often fun but sometimes tense 24 hours that begins on the eve of the annual World Championship Hot Wing Contest and Festival.
Cordell (Brian Marable) a former college baller turned foodie, has recently left his wife and two college-aged sons in St. Louis to be with his boyfriend Dwayne (Blake Morris) in Memphis. Living in Dwayne's house, looking for work, and newly out, Cordell feels uneasy, so when met with the opportunity to again immerse himself in the annual Hot Wing Festival and possibly win a much-needed $5,000 cash prize, he's more than eager to compete.
After transforming the tidy home's kitchen into a wing factory, Cordell gathers a dubiously competent team of helpers nicknamed the New Wing Order including Dwayne and queer friends Big Charles (Bjorn DuPaty), a level headed barber who initially brought Dwayne and Cordell together, and Big Charles' sometimes love interest Isom (Michael Kevin Darnall), a witty dedicated player and New Orleans transplant. Together they attempt to transform 280 pounds of raw chicken and a multitude of spices into the best bites in town. Well, that's the intention, anyway. 
In the kitchen, laughs and ribbing ensue. It's after the frivolity culminates with a "Boys in the Band-esque" dance line that the play really comes to life. As the group breaks off into pairs in other rooms and on the driveway basketball court, vulnerabilities and tensions come to the fore. The playwright and director give each man his moment, and the talented cast runs with it.
As Cordell, Marable gives an especially affecting performance, suggesting uncertainties beneath a strong presence. And we've all met Morris's Dwayne, a successful hotel manager who keeps his emotions in check behind an upbeat, always busy façade.
The piece's two straight characters complicate matters believeably. Dwayne's nephew EJ (Derrick Sanders III) is a good kid struggling to succeed against the odds. Dwayne would like the son of his tragically killed sister to live with him, but EJ's father, TJ (JaBen Early), a fundamentally decent guy who earns a precarious living outside of the law, isn't down with the plan. Though he respects Dwayne and his designer lounge wear, he's concerned that living with gay men will make 16-year-old EJ soft.
Set designer Michael Carnahan's realist three-room cutaway (kitchen, living room, and a guestroom with a Diana Ross poster above the bed) creates a comfortable refuge for pals, relations, and lovers. It's ideal since ultimately, "The Hot Wing King" — the playwright's fine tribute to her brother's romance — celebrates loud laughter, chosen family, and love shared between Black men.
The production inaugurates the newly designed Victor Shargai Theatre, an intimate versatile black box named for the much-missed, out champion of Washington area theater.