February 26, 2021 at 1:34 pm EST | by Patrick Folliard
'Old Soul' creates intimate exchanges via Zoom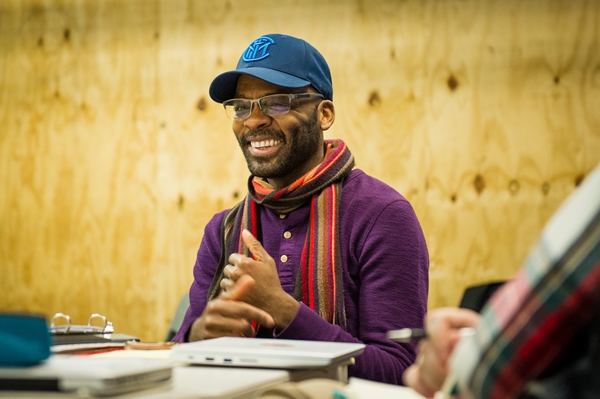 'Old Soul'
Through March 7
4515 Theatre Company
$15
4615theatre.com
Named for the house number of artistic director Jordan Friend's childhood home in Chevy Chase, 4615 Theatre Company is forging ahead with new virtual projects. Its current offering, a one-man show titled "Old Soul," uses Zoom to create an intimate, real time exchange between performer and audience.
Written and performed by Friend and directed by established out director Otis Ramsey-Zoe, the "harrowingly funny" musical unfolds in a series of revelations that take place over two years in Friend's life. Specifically, a particularly rough patch that kicked off around his 25th birthday.
Collaborators Friend, now 27, and Ramsey-Zoe first met several years ago while attending a directing class at Studio Theatre. They became pals but not so close that Ramsey-Zoe couldn't direct Friend without objectivity. And since "Old Soul" deals candidly with Friend's mental health battles, some detachment was important. Also, because Ramsey-Zoe comes to directing by way of dramaturgy — specifically new play development — he was especially right for the job.
"At this point in my career, when I'm invited to work on a project, I ask myself 'Is that a room I want to be in?'" says Ramsey-Zoe, 40. "Jordan is someone whose work I admire. His staging of 4615's "Enron" [Lucy Prebble's play based on the Texas energy corporation's scandal] was really smart. It's an ambitious production for any size company, and they had that same ambition, but on a scale that a small company like 4615 could execute well. Not an easy thing to do."
So, when Friend approached the Columbia Heights resident about working on his autobiographical project, Ramsey-Zoe didn't hesitate to accept. He knew this was a room where he'd like to spend some time.
Throughout the pandemic, in order to preserve his sanity, Friend says he "went really deep on the songwriting front" and took some virtual songwriting master classes. Writing music helped him to both reconstruct missing memories from his life crisis two years ago and reassess what happened to him during that time.
In January, when the collaboration began in earnest, Friend presented his new director with original songs and an outline. The duo's rehearsal process took place almost every night over three weeks via Zoom ("It's what the moment allows," says Ramsey-Zoe.)
Hard work ensued – script development, shaping, moving things around, cutting, making acting choices. Soon what was to be a casual cabaret with some soaring melodies and frank conversation took a turn and morphed into an increasingly structured solo musical with 25 pages of scripted monologue yet still open to informal interaction with its Zoom audience.
In his online bio, Ramsey-Zoe describes himself as a "care worker," a reference to his real-life experience caring for family members and loved ones, and also the organizing principle behind all he does.
"As a teacher, dramaturg and director, I prioritize caring for collaborators. The idea of a safe space isn't just talk. During rehearsals, Jordan [Friend] knew he was safe to go anyplace he wanted to go whether it was in gesture, utterance, or simply being silent."
Ramsey-Zoe is attuned to details related to care. When directing, he even makes sure water is strategically placed on sets to ensure his performers can pause for a sip if needed.
His last directorial connection with a live performance was Theater Alliance's "The Bitter Earth," the story of an introspective black playwright who finds his lack of activism questioned by his white boyfriend. An affinity project (everyone involved hit somewhere on the LGBTQIA spectrum), the successful production's run was cut short in mid-March due to COVID-19. Since then, Ramsey-Zoe has been busy on Zoom. In addition to teaching "Race, Power, and Performance" at Northeastern University, he has directed virtual pieces for the Kennedy Center, Round House Theatre, and more.
And while Friend wouldn't land on the LGBTQIA range except as "an ally, artist, and awesome guy," says Ramsey-Zoe, his show does ask questions about how one wants to be in the world and considers ideas of expectation "I think it will resonate with Blade readers," he says "To be LGBTQIA can be to self-determine, or not – refusing labels and binaries is equally valid."
"There's really something here for everyone."