The Bard's best villains take center stage
Shakespeare Theatre Company presents 'All the Devils Are Here'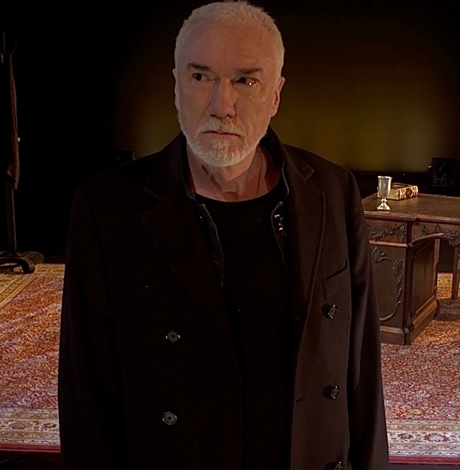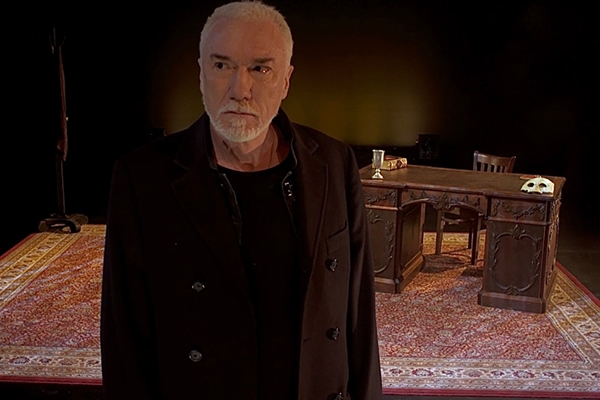 'All the Devils Are Here'
Shakespeare Theatre Company
(Now Streaming)
$25
Shakespearehteatre.org
With live performances not happening, some stage directors are rethinking their approach to theater.
"Suddenly we're becoming skilled with cameras," says Alan Paul, associate artistic director at the Shakespeare Theatre Company (STC). "It's less a choice and more something we have to do."
Currently Paul is making his film directing debut with "All the Devils Are Here," a one-man play written and performed by Broadway actor Patrick Page (now streaming at STC). In an enormously entertaining and informative 80 minutes, Page assays a chronological catalogue of Shakespeare's best villains, demonstrating the Bard's development as a playwright as his bad guys evolve from devious stock character sketches to full-fledged, complex portrayals. He starts off with Lady Macbeth, and then moves from early villains to twisted Richard III and on to evil, sociopathic Iago. Page even throws "Twelfth Night's" prim steward Malvolio and debauched Falstaff into the mix, two characters not ordinarily ascribed the bad guy descriptor, but it works.
Helming a production filmed with many cameras in STC's vast Sidney Harman Hall, devoid of audience and with only the smallest possible crew, was an entirely novel assignment for Paul. And because Page had already performed his play prior to teaming up with Paul, the process wasn't typical.
"My job wasn't the traditional play director job where you sit and work with an actor in a moment-to-moment way. Mine was to translate it from something successful on stage to what would work on your computer screen," says the two-time Helen Hayes Award-winning out director. "We had long talks about how we wanted to film it, about style, tone, music, wide shots, and close ups. It was a happy collaboration.
"Not a lot of actors can do what he does in 'All the Devils Are Here," adds Paul, 36. "Patrick brings an understanding and love for the material along with an extraordinary commitment to exploring and re-exploring Shakespeare. Plus, he has a voice you can listen to all day."
And while what you see on screen appears very natural and relaxed, behind the scenes there was nothing normal about filming, according to Paul. Strict COVID-19 procedural guidelines (testing, distancing, assigned bathrooms, etc.) were a constant stress.
Paul says, "In 10 years, when audiences watch this, I want them to know it was filmed during a pandemic. That's why I made sure the empty seats are shown at the beginning and the end of the play. I want it to serve as a sort of time capsule."
For Page, who was starring on Broadway in the hit musical "Hadestown" when theaters closed in March 2020, filming without an audience presented both challenges and opportunities. "As a creature of the stage, I feed off the energy of a live audience, so I missed that interaction. However, it was more than made up for by the intimacy one is allowed on film," he says, adding that because Shakespeare's soliloquies are often "like spoken thought, and the luxury of knowing the camera and microphone would pick up anything he did was glorious. Without the need to project to the back row, I was able to whisper, conspire, enlist, and implicate the film audience in ways one simply can't when one needs to be heard in a large theater."
Local theatergoers will remember Page from his standout performances in some stellar STC productions including "Coriolanus" and "The Tempest" at the Harmon, and others, like the Scottish Play and his electric turn as Iago in "Othello" at the Lansburgh, and "Hamlet" outdoors at Carter Barron.
Page was pleased to film his villain piece in a familiar place. "The feel, the air of the space makes me relax and feel ready to act." He says, "When you tackle Shakespeare's great roles you change on a cellular level, so the place is filled with adrenalized memories for me."
As a director, Paul is looking forward to STC once again opening its doors. Without revealing too much, he says STC has some wonderful things planned for audiences as soon as it's safe to reopen – the first offering is "Blindness," an immersive sound and light installation that is already loaded into the theater and ready to go. It will be the company's initial baby step into reopening.
In the meantime, Paul is delighted to further explore theater as film.
'Midnight at the Never Get' captures gay 1960s NYC
Virtual play from Signature tells story of young musical couple
'Midnight at the Never Get'
Streaming through June 21
Signature Theatre
$35
sigtheatre.org
Signature Theatre's latest virtual offering, "Midnight at the Never Get," a terrific backstage musical romance set against 1960s New York City, tells the story of a young gay couple struggling to succeed personally and professionally in a world where being who they are isn't always easy.
It's relayed in mostly sung flashbacks by Trevor Copeland (Sam Bolen), a sassy, campy singer who goes to New York to be gay and pursue a career in music. He finds happiness – for a while – with reserved pianist and aspiring composer Arthur Brightman (Christian Douglas).
As an Iowa farm boy, Trevor repeatedly listened to the soundtrack of Judy Garland's "A Star Is Born" in the barn. Little did he know then that "The Man That Got Away" would prove a major theme of his adult life.
Staged by out director Matthew Gardiner, the 90-minute show presents like a cabaret with two actors in black tie and baby grand on a small stage moodily lit by Adam Honoré and surrounded by small cafe tables topped with fringe shaded lamps. Filmed by Justin Chietb and produced and edited by James Gardiner, the story unfolds. There is no visible audience.
The guys meet cute. Trevor has left the Midwest for New York. After a string of hookups, he eventually cozies up to Arthur at the Checkerboard Lounge, a gay-friendly downtown bar where Arthur plays standards from the Great American Songbook as well as some of his own compositions.
From the start, Trevor and Arthur share clever banter and a frisson, but perhaps most importantly, they both love music.
The pair quickly becomes pretty much inseparable, though they don't live together. At second rate nightclubs, Trevor sings Arthur's songs, striving to make a name for themselves; and despite money being short, occasionally the couple splashes out on an evening at top notch cabarets like the Blue Angel or the Bon Soir to see headliners do their thing.
On a particular night at Café Wha? (a night spot best known as an emerging folk music space – not really Trevor and Arthur's scene), the pair decide that Trevor will sing one of Arthur's same-sex love songs without changing any pronouns.
Despite a few heckles, the song is mostly well received, and the evening leads to a standing gig at the Never Get, "a grimy gorgeous little nightclub" where gays happily gather to meet and drink. There, the guys introduce their act, Midnight at the Never Get, a sensibly named event that specifies time and place. At the Get, they're given the freedom to explore their relationship and the current day politics through music.
In the mid-60s gay clubs were illegal. A place like the Never Get was technically "a bottle club" – essentially a members' only spot run by the mafia. Typically, queer meeting places were raided twice a month, but usually paid-off cops would warn bartenders in advance who in turn would give a heads up to gay patrons who'd beat a hasty exit out the side door and find somewhere else to party.
As their act grows increasingly popular, the couple becomes more and more different. Arthur isn't into rock music or protests. His fierce ambition takes him on frequent trips to L.A. where he writes jingles and later songs for singers like Connie Francis, Eydie Gormé, and Peggy Lee. Trevor remains in New York and befriends activists.
Scored and written by the tremendously talented Mark Sonnenblick, "Midnight at the Never Get" opened off-Broadway in 2018. With its torchy tunes, ballads, and upbeat numbers, there's nothing farcical about the show. It vividly reflects an era.
At the end of the show, out actor Bobby Smith joins the cast as the older Trevor. In one beautifully sung song he captures the character's life and longings.
'Blindness' explores a terrifying new pandemic
Sidney Harman Hall production features immersive sound, light installation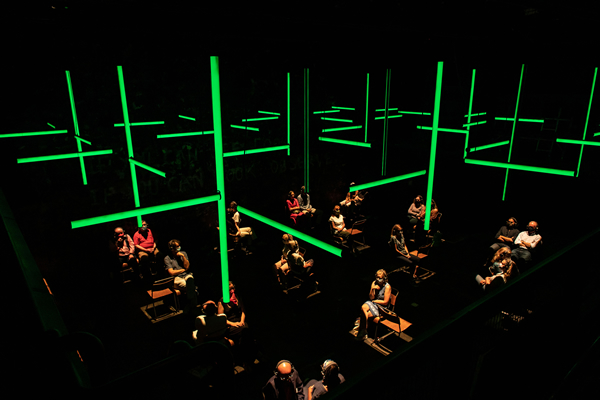 'Blindness'
Through June 13
Shakespeare Theatre Company
Sidney Harman Hall
610 F St., N.W.
$44-54
Shakespearetheatre.org
Masks and social distancing, yes, but I never expected a return to live theater to include a stage without actors and an audience seated onstage. But that's exactly how it went it down on a recent sunny Saturday morning in Washington.
We longed for something, and after a year of indisputably warranted darkness, the Shakespeare Theatre Company (STC) has obliged by reopening Sidney Harman Hall with Donmar Warehouse's terrifyingly enthralling production of "Blindness," an immersive sound and light installation anchored by Juliet Stevenson's astonishing recorded vocal performance heard — jarringly, soothingly, eerily — through binaural headphones.
Adapted by Simon Stephens from Nobel Prize winner José Saramago's same-titled dystopian novel, and staged by Walter Meierjohann ("The Curious Incident of the Dog in the Night-Time"), the London born, 75-minute tale begins with narrator Stevens matter-of-factly relaying the details surrounding the outbreak of a pandemic that causes blindness. What starts off as an alarming, isolated incident, rapidly devolves into something all-encompassing and petrifying.
Uncannily, Saramago's 1995 book, both looks back to plague stories and prophetically toward COVID-19.
In addition to narrator, Stevenson (an Olivier Award-winning stage actor also known for films like "Truly, Madly, Deeply") plays the wife of an ophthalmologist whose office is where patient zero spreads the disease to various other patients – a little cross-eyed boy, an alluring young woman hiding a case of conjunctivitis behind dark sunglasses, a thief, an older gent sporting an eye patch, and sundry others.
The doctor's wife, who is immune to the new sight-stealing disease, is doomed/blessed to become the lone eyewitness to violence, injustices, and death as the situation becomes progressively scary, primitive, and dangerous.
Rather than darkness, the afflicted are submerged into a world of milky whiteness. The pandemic – a new pathogen whose means of transmission is unknown – moves quickly throughout the city, then the nation, and beyond. Early in the outbreak, the health ministry is reluctant to get too involved, choosing instead to minimize the seriousness of what's happening. Sounds familiar, I know.
Like the story, Jessica Hung Han Yun's lighting design becomes increasingly menacing as things move along. Originally playfully colorful fluorescent tubes suspended high from the ceiling, they turn stark white and are lowered to audience members' line of sight. Then they are darkened altogether, interrupted by occasional bright colorless flashes.
Through headphones, the audience hears rain storms, harsh announcements, barricades being dragged, screams, sobs, footsteps, and gunshots. At times, Stevenson whispers in your ear. Once, I mechanically answered "Yes, I'm here."
Masked, seated often in total darkness, headphones, it's immersive, sometimes claustrophobically so. (If it becomes too much, there's a flash light attached to the leg of each metal chair. Turn it on and an usher will escort you off the stage.)
During the pandemic STC has developed health and safety measures that include masks, air filtration, social distancing, etc.
For "Blindness" only 40 patrons are allowed per viewing. No one is seated next to someone outside of their own party, and a limited number of single tickets are available for purchase by calling the box office. Headsets, seats, and flashlights are disinfected before every performance, and all bathrooms and lobby spaces will be cleaned prior to the next seating group enters the building.
Exiting the Harman, you might think how odd it is to have been on stage before the actors' union has allowed them to perform indoors before a live audience.
Outdoors, the warm wind feels invigorating against your face as you walk down the street. Still, the nearby upscale Mexican restaurant's windows remain boarded and the half dozen people around you are walking determinedly, all — except one — wearing a mask.
Theater that starts uncomfortable conversations
Theater Alliance director on 'City in Transition' — 4 plays about D.C.'s quadrants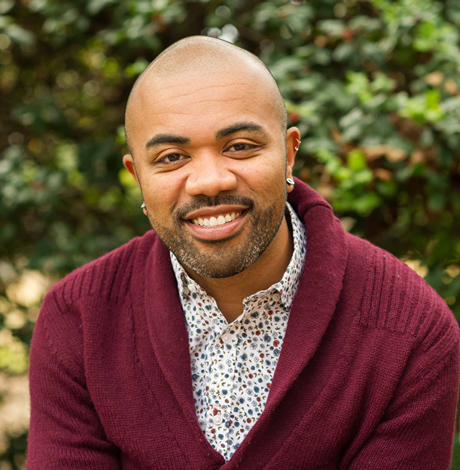 'City in Transition: The Quadrant Series'
Streaming from April 24-May 24
Theater Alliance
Recently, a Facebook post asked "Are there any activist theaters in D.C.?" A local actor quickly replied. "There's only one," she wrote. "It's Theater Alliance."
During a phone interview from his home in Anacostia last week, Theater Alliance's producing artistic director Raymond O. Caldwell, addressed the social media query: "We keep our heads down and do the work. Well before the pandemic, we were trying to have conversations about race in America. Then it seemed niche work. Now that work is in vogue. There might come a time when it's no longer stylish. But that's OK, we're ultimately doing it to transform people's lives and start conversations.
"Our plays won't change the world. Straight up. But we can start conversations that are uncomfortable and don't have easy answers. And by partnering our productions with various nonprofits, we're able to involve people in the movement whether it's on the front line or stuffing envelopes."
In residence at Anacostia Playhouse, Theater Alliance's mission is to illuminate the experiences, philosophies, and interests of D.C.'s diverse population. When Caldwell, who is gay, took helm of the company in January 2019, the organization was already steeped in diversity. He's worked to continue and expand on that, creating a cultural institution that's invited in the surrounding, mostly Black community.
The company kicked off its virtual season in December with eight pieces about protest centered around the demands of the Black Lives Matter movement. Having started off nationally, they're now moving locally with "City in Transition: The Quadrant Series," a 90-minute intersection of theater and film directed by Caldwell.
Part of the multi-Helen Hayes Award-winning company's Hothouse new play development series, "City in Transition" consists of four filmed plays about Washington's quadrants, SE, SW, NE, and NW written by local black playwrights Khadijah Z. Ali-Coleman, Avery Collins, Shalom Omo-Osagie, and Leslie Scott-Jones.
The not long pieces are set in the present, past, and future. Topics include Black nonprofits battling to get funding via a game show; the meeting of hip-hop artists and violence set against the gentrified waterfront; a wealthy Black family debating whether to transform its landmark Black property into a trendy lounge for whites; and a white census taker discussing the changing city and current protests with a Black Washington native.
"Almost 13 years ago, I came to D.C. to be in Chocolate City but to my surprise, it wasn't here," says Caldwell, 37.
"When I think about a city changing and moving through gentrification, what concerns me is the loss of history, the stories of the folks who once lived here disappear.
"And interestingly, as D.C. gentrifies, we start noticing an uptick of murals and Black aesthetic of the city. It allows liberal yuppies to feel they're in an urban environment but forgetting the rich history particularly for Black people in DC."
He initially came to Washington for a six-month fellowship but stayed on. After six years at
Arena Stage, desirous to work outside of a white space, he began teaching at Howard University.
At Howard, his work centered on the universality of storytelling. "I pitched what folks would consider white work like Lillian Hellman's provocatively lesbian-themed play, 'The Children's Hour.'"
"I'd ask my predominantly Black audience to imagine ourselves there as well, and they would.
The audience left thinking the play was written by a Black woman. It was additionally powerful because we in the Black community have trouble talking about homosexuality."
As gay, Black, and Asian, Caldwell sometimes refers to himself as third culture: "Being who I am allows more space for me to see biases. I go into work asking myself what are the opportunities for transformation within me and the ensemble of artists I'll be working with?"
Born in Germany to a German-Filipino mother and African-American father, he mostly grew up in Germany but spent summers with his father in the U.S. At 13, he went to live with his father.
"He thought I'd had enough of the European experience and wanted to teach me what it was to be a Black man in the world. And interestingly, that became the center of my activism."
Caldwell's American grandmother described him like this: "That boy can't help but livin'."
It's true, he keeps busy, says Caldwell. He doesn't turn down too many projects. "I'm honored to be creating art. There are so many ideas I want to push and propagate and now having a space and platform makes it especially hard to say no. It's a good place to be."