February 19, 2021 at 8:35 am EST | by Patrick Folliard
The Bard's best villains take center stage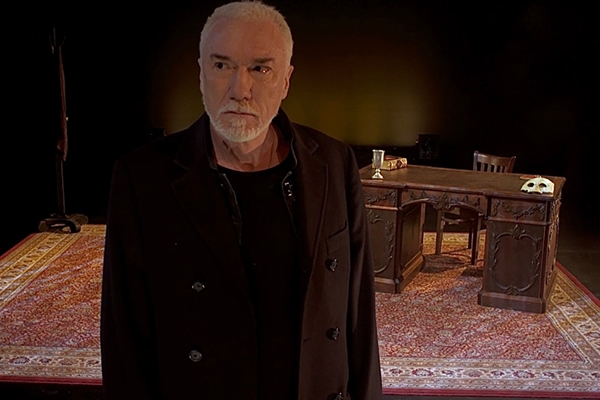 'All the Devils Are Here'
Shakespeare Theatre Company
(Now Streaming)
$25
Shakespearehteatre.org
With live performances not happening, some stage directors are rethinking their approach to theater.
"Suddenly we're becoming skilled with cameras," says Alan Paul, associate artistic director at the Shakespeare Theatre Company (STC). "It's less a choice and more something we have to do."
Currently Paul is making his film directing debut with "All the Devils Are Here," a one-man play written and performed by Broadway actor Patrick Page (now streaming at STC). In an enormously entertaining and informative 80 minutes, Page assays a chronological catalogue of Shakespeare's best villains, demonstrating the Bard's development as a playwright as his bad guys evolve from devious stock character sketches to full-fledged, complex portrayals. He starts off with Lady Macbeth, and then moves from early villains to twisted Richard III and on to evil, sociopathic Iago. Page even throws "Twelfth Night's" prim steward Malvolio and debauched Falstaff into the mix, two characters not ordinarily ascribed the bad guy descriptor, but it works.
Helming a production filmed with many cameras in STC's vast Sidney Harman Hall, devoid of audience and with only the smallest possible crew, was an entirely novel assignment for Paul. And because Page had already performed his play prior to teaming up with Paul, the process wasn't typical.
"My job wasn't the traditional play director job where you sit and work with an actor in a moment-to-moment way. Mine was to translate it from something successful on stage to what would work on your computer screen," says the two-time Helen Hayes Award-winning out director. "We had long talks about how we wanted to film it, about style, tone, music, wide shots, and close ups. It was a happy collaboration.
"Not a lot of actors can do what he does in 'All the Devils Are Here," adds Paul, 36. "Patrick brings an understanding and love for the material along with an extraordinary commitment to exploring and re-exploring Shakespeare. Plus, he has a voice you can listen to all day."
And while what you see on screen appears very natural and relaxed, behind the scenes there was nothing normal about filming, according to Paul. Strict COVID-19 procedural guidelines (testing, distancing, assigned bathrooms, etc.) were a constant stress.
Paul says, "In 10 years, when audiences watch this, I want them to know it was filmed during a pandemic. That's why I made sure the empty seats are shown at the beginning and the end of the play. I want it to serve as a sort of time capsule."
For Page, who was starring on Broadway in the hit musical "Hadestown" when theaters closed in March 2020, filming without an audience presented both challenges and opportunities. "As a creature of the stage, I feed off the energy of a live audience, so I missed that interaction. However, it was more than made up for by the intimacy one is allowed on film," he says, adding that because Shakespeare's soliloquies are often "like spoken thought, and the luxury of knowing the camera and microphone would pick up anything he did was glorious. Without the need to project to the back row, I was able to whisper, conspire, enlist, and implicate the film audience in ways one simply can't when one needs to be heard in a large theater."
Local theatergoers will remember Page from his standout performances in some stellar STC productions including "Coriolanus" and "The Tempest" at the Harmon, and others, like the Scottish Play and his electric turn as Iago in "Othello" at the Lansburgh, and "Hamlet" outdoors at Carter Barron.
Page was pleased to film his villain piece in a familiar place. "The feel, the air of the space makes me relax and feel ready to act." He says, "When you tackle Shakespeare's great roles you change on a cellular level, so the place is filled with adrenalized memories for me."
As a director, Paul is looking forward to STC once again opening its doors. Without revealing too much, he says STC has some wonderful things planned for audiences as soon as it's safe to reopen – the first offering is "Blindness," an immersive sound and light installation that is already loaded into the theater and ready to go. It will be the company's initial baby step into reopening.
In the meantime, Paul is delighted to further explore theater as film.