January 29, 2020 at 2:21 pm EST | by Staff reports
OBITUARY: Roger Bergstrom, 90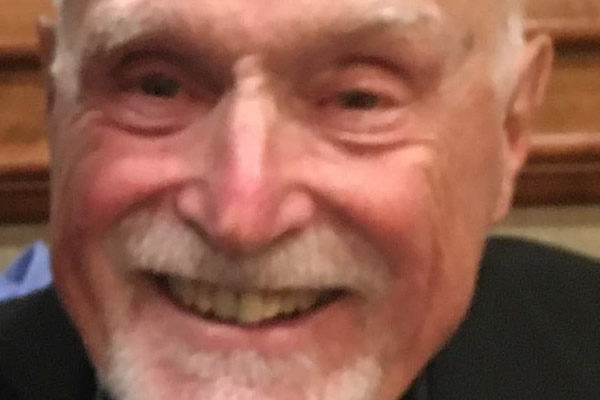 Roger "Pearl" Bergstrom died from the flu and heart disease at his home in Santa Fe, N.M., on Jan. 20. He was 90. He had retired to Santa Fe after many years in Arlington, Va. His partner of 30 years, Barry Baltzley, was at his side.
Bergstrom was born in Rhinelander, Wis., on Nov. 1, 1929, just days after the October 1929 stock market crash that ushered in the Great Depression. He was small for his age when he started school. He recalled walking to school in the winter when the snow was piled so high to either side that all he could see was the narrow, shoveled path he was walking on and the sky above.
He attended the University of Wisconsin-Superior. In the summers, he worked as an assistant cook aboard Great Lakes ore boats, which were working vessels that carried iron ore from Minnesota to the steel mills. This began Bergstrom's lifelong love of cooking and fine dining.
Bergstrom completed a bachelor's degree with college exemptions from the draft, but upon graduation, he knew it was time to enlist or be drafted, as the Korean Conflict was taking place. He decided to volunteer for the United States Air Force, and he soon shipped out to Korea. An excellent typist, he was assigned to a typing pool in Korea.
After four years of military service, Bergstrom applied to Catholic University of America in Washington to get a master's degree. He remembered being interviewed by Father Gilbert Hartke, the so-called "show-biz priest," who had founded school's department of speech and drama. Bergstrom graduated with a master of fine arts specializing in theater and film. He taught English, drama and advanced placement/accelerated courses at high schools in Virginia for many years, in both Alexandria and later in Fairfax County. Bergstrom was pleased to have the opportunity, in 2012, to congratulate former student Angus King on the occasion of his election as U.S. Senator from Maine.
During his teaching years, Bergstrom supplemented his salary by working weekends and summers as a salesclerk for the upscale men's clothier Britches of Georgetown, founded in 1967. Upon retiring from teaching, Bergstrom worked full time at Britches. At the request of the owner of the Britches stores, Rick Hindin, Bergstrom wrote a manual and set up a training program for the store's salesclerks, to meet the expectations of the kind of clientele that a high-end men's clothier attracts. This led to Hindin hiring Bergstrom to be majordomo at his home on Chain Bridge Road in McLean, Va.,, where he used his gourmet cooking skills.
He joined the Gay Men's Chorus of Washington in 1984 and remained for 22 seasons.
By the fall of 1989, Bergstrom had adopted his signature identity. At the GALA Choral Festival in Seattle that summer, a young singer from New Orleans flirted with Bergstrom by putting a string of Mardi Gras pearls around his neck. Bergstrom became "Pearl" and typically wore a string of real pearls at Chorus events for the rest of his life.
Over the years, Bergstrom landed numerous leading roles that showcased his many musical and dramatic talents. Some memorable ones include Auntie Em in the all-male version of "The Wizard of Oz"; "Pearl Ives" in a holiday show, dressed as a spitting image of the snowman portrayed by Burl Ives in a famous animated TV special; Ship of Pearl; Phyllis Diller, complete with long cigarette holder and one-liners; and a hilarious impersonation of First Lady Bess Truman. Within the chorus, Bergstrom could be counted on to be a costume hit at any party and during the fall campout retreat of the chorus. He was fun-loving, with a distinctive laugh.
At the height of the AIDS epidemic, Bergstrom volunteered to lead the Chorus Care Corps in making countless home, doctor and hospital visits to help relieve the suffering of the many chorus members who were suffering. Bergstrom was inducted into the chorus's Circle of Excellence in 1996.
Bergstrom co-chaired an ad team that persuaded more than 100 local businesses to support the chorus with program advertising. He developed the travel specifications for the chorus's first foreign tour to Copenhagen, Oslo and Stockholm. In recognition of this work, he was honored in 2005 with the Harmony Award, the chorus's highest honor for long-time outstanding contributions to the mission of the chorus.
At its year-end party, the chorus also gives out Crystal Awards for various funny, embarrassing and heroic moments in the previous year. One of Bergstrom's Crystal Awards celebrated the time he was stuck in a small elevator with fellow singers wearing his large "Pearl Ives" snowman costume.
Bergstrom and Baltzley traveled to Chile and Peru, with time at Machu Picchu; the Greek Islands and Israel; Western Europe; and most recently, a cruise vacation on the Baltic Sea with a private tour of the Hermitage Museum in St. Petersburg, Russia.
In 2006, the couple moved from the Washington area to Rainbow Vision in Santa Fe, N.M., for retirement. Rainbow Vision was the first LGBT retirement community in the country to be completed. Bergstrom continued to express his love of music by singing for a time with the New Mexico Gay Men's Chorus and by volunteering with the Santa Fe Chamber Music Festival.
In 2008, when same-sex marriage rights were beginning to be recognized in many States across the country, Bergstrom and Baltzley visited Palm Springs and exchanged vows at Palm Springs City Hall in a ceremony officiated by then-Mayor Steve Pougnet.
Bergstrom is survived by his husband, Barry Baltzley; son Eric Christopher (Anne), of Tampa, Fla.; daughter Jenni Treadwell, of Richmond, Va.; grandchildren Lindsey, Shawn and Lara; and two great-grandchildren.
Bergstrom's ashes will repose in the columbarium at Arlington National Cemetery. A military funeral ceremony at Arlington and of a celebration of life are being planned.
Donations in honor of Roger "Pearl" Bergstrom may be made to the Gay Men's Chorus of Washington, 1140 Third St., N.E., second floor, Washington, D.C. 20002. Condolences may be sent online to Baltzley via email at bwb22201@comcast.net.