January 30, 2020 at 10:17 am EST | by Patrick Folliard
Studio's 'Pipeline' is fraught character drama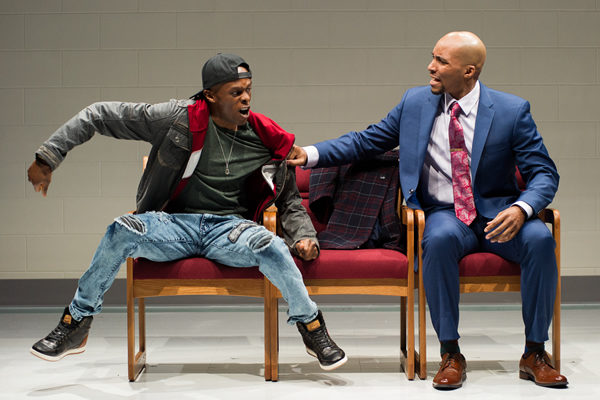 'Pipeline'

Through Feb. 16

Studio Theatre

1501 14th St., N.W.

$60-90

202-332-3300
In Dominique Morisseau's hard-hitting drama "Pipeline" (now at Studio Theatre), there's a lot happening. Characters are operating under unrelenting emotional stress, sometimes with physical manifestations. And despite their best efforts to move forward as pragmatically as possible, feelings of frustration and dread get in their way.
Nya (Andrea Harris Smith) teaches English at an urban public high school. As she explains famed poet Gwendolyn Brooks' "We Real Cool," a poem about young African-American males and the risks that surround them, she can't help but think about her own teenage son Omari (out actor Justin Weaks). While Nya speaks to the class (we, the audience), the poem's words and Omari's image are worryingly projected on to Arnulfo Maldonado's purposely blank, utilitarian white set.

"Pipeline's" title is derived from the awareness that low income children of color are channeled directly from the public education system into America's jails and prisons. It's a theory that has been explored extensively and one that would certainly be familiar to Nya and motivate her to do everything in her power to protect her son.
And though Nya and ex-husband Xavier (Bjorn DuPaty) send Omari to a private boarding school, he's not immune from certain feelings and expectations.
During a class about Richard Wright's seminal novel "Native Son," a teacher pressured Omari to weigh-in on the rage that pushed the book's Bigger Thomas, a poor black youth, to commit murder. Uncomfortable with being singled out to comment on the character's motivations, Omari lost his cool and shoved the teacher. The altercation has been recorded by fellow students and is about to go viral.
Fearful that the school will press charges, Omari plans to run away despite the protestations of his girlfriend Jasmine, an insightfully written character enjoyably assayed by Monica Rae Summers Gonzalez.
On an island of privilege, Omari and Jasmine share not only similar non-posh backgrounds and code switching, but also a certain level of alienation. Both are uncomfortable with their parents' notion that shunting them off far from home will somehow make them better people.
Back in the city, Nya and her coworkers — Laurie (Pilar Witherspoon), an angry and literally scarred-from-the-job fellow teacher, and philosophical security guard Dun (Ro Boddie) — contend with the daily challenge of keeping peace at a school rife with violence and discord.
And now with Omari in trouble, Nya's anxiety level is growing increasingly higher. As an educator, she demands that Omari have respect for her profession, insisting it's a teacher's job to provoke a student into learning. Then again, on a more or less unspoken level, as a black mother who is fearful every time her young male son leaves the house, unsure what kind of trouble might ensnare him, Nya would like Omari to suck it up and not defy figures of authority. She's in a difficult place.
Naturally, Omari feels frustrated. He's grappling with both racial and familial concerns that dramatically come to a head in a pivotal scene between Omari and his distant father in an E.R. waiting room.
Ultimately (without giving too much away) it takes a written list of requests to prompt some honest exchange and a glimmer of hope.
"Pipeline" is made up of a string of intense, lyrically penned and staggeringly intimate scenes and monologues. Here, perceptively staged by Awoye Timpo and keenly acted by a deeply invested cast.
As a playwright, Morisseau strives "to illuminate the humanity behind social issue." She succeeds, strongly.