February 3, 2020 at 12:22 pm EST | by Richard J. Rosendall
Bernie would lose. Bloomberg would win.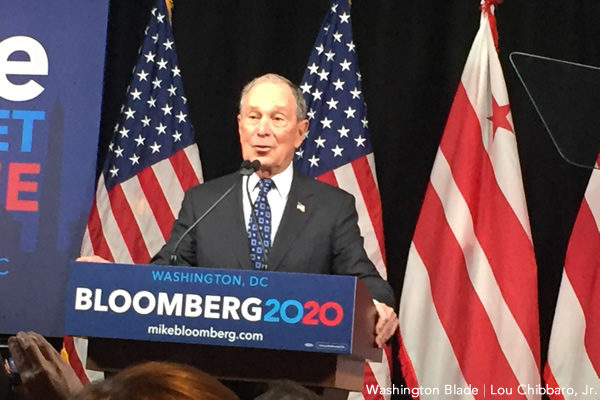 I clicked on cable news Saturday morning to find left-wing propagandist Michael Moore at a podium with a Bernie logo, screaming in outrage over the DNC's removal of the donor threshold for participation in the Feb. 19 presidential debate.
Moore and others treat this as a dastardly move to allow Michael Bloomberg into the debates, even though Mayor Mike, as of Jan. 31, had only met the polling threshold in one of the four designated polls.
I am writing this before the Iowa caucuses but after D.C. Mayor Muriel Bowser's endorsement of Bloomberg. I am a pro-reform liberal, not an anti-capitalist. I have criticized the three-term former New York mayor for his stop-and-frisk policy (which he tardily recanted) and his penchant for nanny government. I am bothered by his secretiveness regarding his finances and by the nondisclosure agreements that prevent employees at his company from discussing any discrimination complaints they filed.
The painful truth is that every candidate is flawed and our options are dwindling. Those of us who prioritize defeating Trump and his band of vandals should recognize the danger of nominating a left-wing demagogue against the right-wing incumbent, and the reality that Sanders is to the left of most voters. If Sanders wins or finishes strong in Iowa and New Hampshire and Biden falters (along with Buttigieg and Klobuchar), the self-funded Bloomberg stands to draw fresh support as the moderate alternative to Sanders.
The destructiveness of Trumpism, which has overtaken the Republican Party like a shape-shifter replacing a child, gives Democrats an extraordinary opportunity for a wave election. The greatest threat to such a victory is posed by the left's "our way or else" fanaticism.
The abusiveness of some of Bernie's social media warriors is bad enough that he himself had to scold them publicly. Many of their targets have been women. Sometimes I wonder if I have wandered into the middle of GamerGate or a testosterone-dominated sci-fi convention.
Left-wing bullying is like right-wing bullying only less popular. I think Bernie Sanders is basically decent, which is not the case with Trump. But a key part of what needs restoring after Trump is the vital center. Most of the voters we need to win in November want neither to abolish capitalism nor to give up their private health insurance.
The Republicans are massive hypocrites on deficits, which they run up like spoiled college students on their parents' credit cards and then indignantly condemn when Democrats take over. Does that make it smart for Democrats to refuse to do the math on their own ambitious proposals? No. Vital social programs deserve a plan to pay for them.
The Democratic coalition is more diverse than the Republican one. That brings greater challenges. Those of us who will vote for Bernie if he is the nominee but are not enamored of him will not be hostages to his socialism as Republican senators are to Trump's nihilism.
It is notable that Bloomberg apologized for his stop-and-frisk policy, whereas Trump never apologized for demanding the death penalty for the Exonerated Five. A black friend points out that many in that community, including the Congressional Black Caucus, supported tough-on-crime policies in past decades. We all have feet of clay, but a smart, industrious, big-city politician willing to change his mind is vastly better than an indolent, know-nothing bully who wants to be emperor. And I remember the fine day when Mayor Bloomberg defended the right of Muslims to build a mosque in lower Manhattan.
For executive experience, Bloomberg's record as an entrepreneur, philanthropist, and mayor of America's largest city far outstrips the mayoralties of Burlington and South Bend. And am I the only one who is unmoved by the spectacle of millionaires like Sanders and Warren attacking billionaires?
After three decades in Washington, Bernie Sanders shows a greater penchant for delivering satisfying rants than for governing. I would choose him over Twitler in a heartbeat, but Democrats' task at present is to choose our best standard-bearer. Bloomberg, at least, notwithstanding the "Republican" characterization by millionaire Michael Moore, changed his party registration to Democratic.
Richard J. Rosendall is a writer and activist at rrosendall@me.com.
Copyright © 2020 by Richard J. Rosendall. All rights reserved.