February 4, 2020 at 7:00 am EST | by Michael K. Lavers
My afternoon with Yariel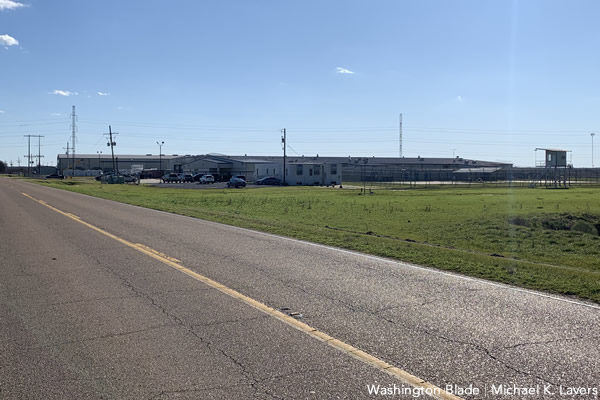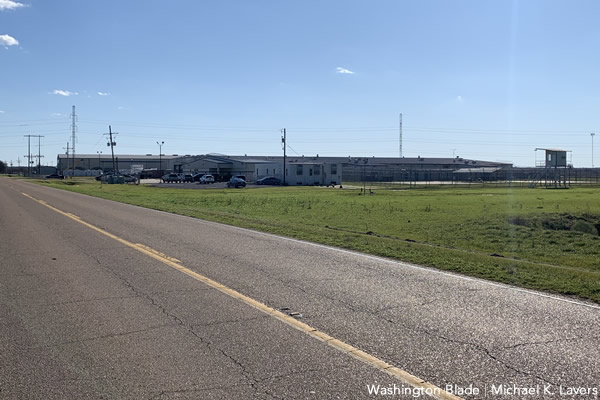 FERRIDAY, La. — It was shortly after 1 p.m. on Saturday when a male guard at the River Correctional Center, a privately-run facility in Louisiana's rural Concordia Parish, brought me into the visitor's room. I sat down at a long school cafeteria-style table and glanced at the self-empowerment murals that had been painted onto the wall. A couple of minutes later I looked over to a door with a small window in it and saw Yariel, who was wearing a green striped jumpsuit. Another male guard opened the door and Yariel entered the room. Within a couple of seconds, we were hugging each other tightly. I was nearly sobbing, but he assured me it was ok. After a couple of minutes, we sat down at the table — across from each other — and our visit began. I used one of the napkins that I took from a nearby gas station when I stopped there to use the restroom to wipe the tears from my eyes. A couple of minutes later I placed his hands into mine and he began to cry. I gave him one of the gas station napkins to wipe his eyes and tried to comfort him.
"It's ok to cry," I assured him.
I hadn't seen Yariel in person since Jan. 27, 2019. We had spent the day reporting from a lesbian-run migrant shelter in the Mexican border city of Mexicali, and I dropped him off at the small apartment in Tijuana he shared with his father. Yariel and I were almost giddy, in part, because we had sung Lady Gaga songs at the top of our lungs during the two-hour drive from Mexicali to Tijuana. Those carefree moments seem like a lifetime ago.

Yariel on Saturday gave me two presents: A bracelet made from pieces of white and black trash bags and a small shoe made out of Maruchan ramen noodles packages and coffee creamer wrappers that will make a great Christmas tree ornament. We gossiped as friends, as brothers. We talked about Cuba and President Trump's impeachment trial. I bought him a bottle of Sprite from the room's vending machine. We also shared a bag of Doritos. A female guard who speaks Spanish was in the room with us. I was initially a bit uneasy to see her writing in a notebook, but after a few minutes I forgot she was there.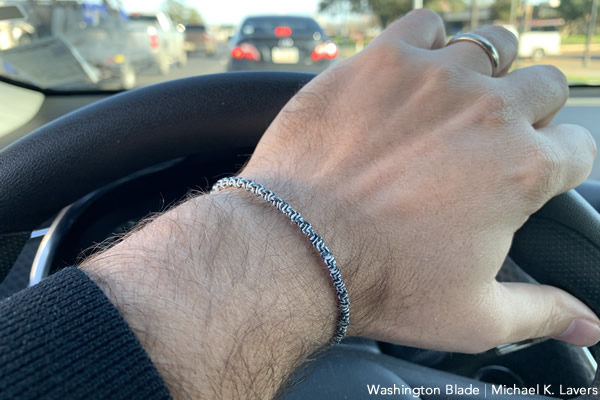 At 2:50 p.m. she told us in Spanish that our visit was going to end in 10 minutes. Yariel wanted to give me two manila folders that had his journal entry and other writing from his time in U.S. Immigration and Customs Enforcement custody, but the guard told him I could not take them with me. Yariel had already placed the bracelet around my left wrist and a supervisor told the guard I could bring the ornament with me. I placed them, along with a passport-sized picture of him from the day he arrived at the facility, in my hand. We stood up and hugged each other tightly. I told him that I love him and we then left the room through separate doors. I walked out of the facility's front door less than five minutes later and was back at my hotel in the New Orleans suburb of Kenner by 6:45 p.m.
It has been nearly a year since Yariel asked for asylum in the U.S. and entered ICE custody. The Washington Blade's readers know a judge granted Yariel asylum last September. They also know his fate is now in the hands of the Board of Immigration Appeals in Virginia because ICE appealed the ruling.
There's a certain irony in the fact Yariel began to write for the Blade in the fall of 2018, in part, because of the need to have a reporter in Tijuana who could cover the LGBTQ migrants who were arriving in the city with migrant caravans from Central America. The Blade's reporting on these issues continues, with my most recent trip to Honduras and El Salvador that ended six days before I visited Yariel. This reporting remains as important as ever as the Trump administration's hardline immigration policies continue to place LGBTQ migrants at risk.
It has also become deeply personal.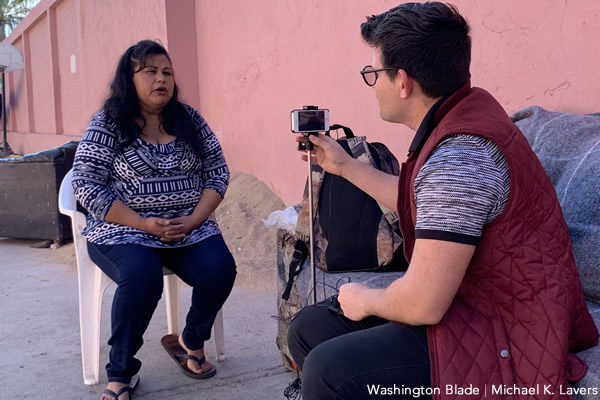 My husband and I on Friday, hours before I flew to Louisiana, attended a ceremony in Durham, N.C., where our dear friend Marcelo became a U.S. citizen. Marcelo, a dancer for the Carolina Ballet who is originally from Paraguay, worked very hard to reach that moment and we are so incredibly proud of him.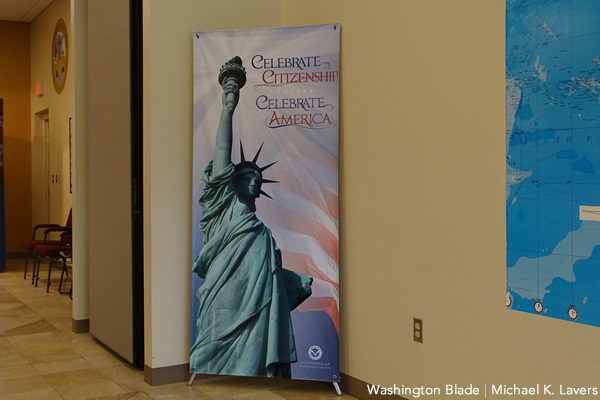 One of the more memorable moments of the ceremony was the video in which Trump congratulated Marcelo and the 56 others who had just become U.S. citizens. Not one of them clapped at the end of the video. They, along with the rest of us, know bullshit when they hear it, and we all responded in kind.
These new American citizens, along with Yariel, are exactly the kind of people who will make a positive contribution to this country and make it even better. They deserve our respect and support; not cheap rhetoric based on racism, xenophobia and white supremacy in order to appease a political base ahead of a presidential election.
One of the most heartbreaking parts of my visit with Yariel was when he told me the one thing he wants the most is his freedom that will allow him to begin a new life in the U.S. without fear of persecution. The fight to make Yariel's dream come true continues. I hope my next trip to Louisiana is to pick him up after the Board of Immigration Appeals upholds his asylum ruling and ICE finally releases him from their custody.
Siempre estaré a tu lado, Yariel.