February 4, 2020 at 9:53 am EST | by Brian Gaither
Bernie wants you in his big tent for bigots
Bernie Sanders doesn't care that comedian and podcaster Joe Rogan is transphobic, homophobic, and racist. When Rogan offered an informal, unsolicited endorsement of Sanders's presidential candidacy, the senator's campaign seized the opportunity to highlight it for his 10.4 million Twitter followers.
Prominent members of the Democratic electorate pushed back, but the Vermonter was unmoved. He has no problem with The Joe Rogan Experience offering a platform to conservative gay provocateur Milo Yiannapoulos, Proud Boys founder Gavin McIness, Alex Jones of Info Wars, or all-around bias-monger Ben Shapiro because his "movement" can't get him elected without Rogan's audience. And the campaign insists that welcoming Rogan's listeners into the Sanders coalition will reform their beliefs (ultimately, somehow) as we begin to stand together in "solidarity."
So dubious was the endorsement, and so odious its promotion, that the president of the Human Rights Campaign, Alphonso David, issued a statement that, in part, rebuked the Sanders camp. David wrote, "We should always be willing to educate individuals who operate from a place of bias but we should not directly or indirectly validate or celebrate them."
For members of marginalized communities, especially LGBTQ people, the philosophy that touts Rogan's endorsement of Sanders as a "good thing" is inherently dangerous in practice.
Sanders's supporters contend that socialism, properly deployed, will shift the anger of the white working class onto corporations and those at the top of the economic heap, moving their animus away from immigrants, people of color, LGBTQ folks, women, and other marginalized groups. For that to happen, though, they have to get Sanders into the White House where he alone can enact an agenda leading to true economic justice. Elect Sanders first; the rest will follow.
According to David Frum, who responded in the Atlantic to Rogan's endorsement, "Sanders is a Marxist of the old school of dialectical materialism. Class relations are foundational; everything else is epiphenomenal." As Frum sees it, "He is not necessarily hostile to transgender claims. He has co-sponsored the current version of the Equality Act, which includes transgender people in the classes to be provided equal public accommodation and to be protected from job discrimination. But Sanders certainly does seem to think that such concerns are secondary."
The socialist magazine Jacobin confirmed Frum's analysis as it explained the importance of Rogan's support to its readers. The authors write, "Despite the ideological flaws Rogan has on these questions, the material meaning of his announced intention to vote for Sanders is that he plans to help empower a candidate who wants medical transitions to be paid for by the only insurance program that will continue to exist after the enactment of Medicare for All." In other words, Rogan's bigotry is useful in its capacity to elect Sanders, an event that will increase the likelihood of affordable healthcare specific to trans individuals becoming more accessible to them.
Under a Sanders presidency, LGBTQ equality will only exist as a derivative of the economic equality socialism affords. Our material well-being will be dependent on our ability to withstand the solidarity defined by bigots until their own material conditions have improved sufficiently for them to quit their bigotry. Any of our political goals distinct from solidarity in the class struggle will be subordinated.
If we're forced to join a "movement" where vocally anti-LGBTQ influencers are welcomed and celebrated, then we won't survive as a distinct community. A Sanders nomination powered by a "Rogan Coalition" will strip us of our distinct identity and objectives in favor of the class-based needs of the Bigots in Bernie's Big Tent. If they insist that universal healthcare should exclude trans-related medical services, who will tell them "no"? And if Sanders says "no" whom will they blame? Take a guess.
To believe there's hope for expanding our equality under President Sanders requires us to think like socialists. But to act like socialists means making ongoing concessions to people who hate and outnumber us. Our "solidarity" will never be reciprocated.
Electing Bernie Sanders president will stop the progress toward LGBTQ equality made over the past half century. Before we become hostages in an electoral contest between Sanders and Trump, let's pick a candidate in the primary who isn't Bernie. We still have time to make a better choice.
Brian Gaither (@briangaither) is an LGBTQ activist and writer living in Maryland.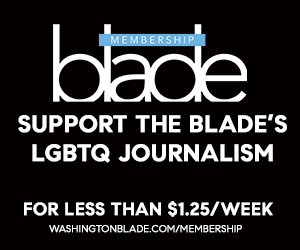 Sign Up for Blade eBlasts