February 5, 2020 at 8:07 pm EST | by Joey DiGuglielmo
Ross Mathews shares 'rossipes,' cocktails, celeb gossip and more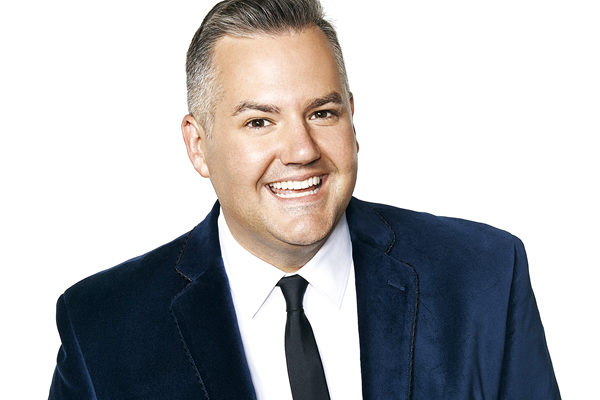 Ross Mathews 'Name Drop' Tour

Sunday, Feb. 9

7:30 p.m.

Miracle Theatre

535 8th St., S.E.

GA: $35

VIP (w/M&G): $100
Ross Mathews got his start on "The Tonight Show with Jay Leno" where he was known as "Ross the intern."
The fabulously out gay guru has since been seen on many shows such as "Celebrity Fit Club," "The Insider," "Celebrity Big Brother" and, of course, "RuPaul's Drag Race" where he's been a staple at the judge's table since season seven in 2015.
He launched his book tour for "Name Drop: the Really Good Celebrity Stories I Usually Only Tell at Happy Hour" (out Feb. 4) this week in New York and plays Washington Sunday night. Mathews, 40, dished on all that and more while driving to his second home (he lives mostly in Los Angeles) in Palm Springs last week.
WASHINGTON BLADE: How are things?
ROSS MATHEWS: Good. I feel like everyone has this sense of optimism this year that has been lacking the last couple years. People were like, "Ugh, God — this year can't end soon enough," but now, I don't know, everyone I've talked to feels great about 2020 and so far so good. Also I'm driving to my place in Palm Springs, so I'm like in heaven.
BLADE: How were your holidays?
MATHEWS: It was really nice. I got to be with my family in Washington state and it was super nice, then I got to be back here in California and I went to Puerto Vallarta, which is another one of my happy places.
BLADE: Tell us about your book. How did it come about?
MATHEWS: The idea came to me in the shower. I was just like, "Oh my gosh, I wish I could tell everybody the stories I tell my friends at happy hour," but then I thought, "But that's so name-droppy." Then I thought, "Screw it, just lean in — those are the stories people want to hear." So "Name Drop" really is filled with celeb stories I usually only tell at happy hour and since it's all about happy hour and I do cook every day, I thought why don't I include some of my original rossipes in there so people can actually have happy hour while they're reading the book, 'cause that's what the book feels like. It feels like you're sitting down with me, ordering a drink and a bite and we're just gushing over celebrities.
BLADE: So it's cocktail and food recipes?
MATHEWS: Yes, there's cocktails and rossipes for every single one and I pair them up with a chapter so for instance, I give Celine Dion "My Artichoke Heart Will Go On." For Faye Dunaway, I give you my rossipe for "Endamame Dearest," and it goes on from there.
BLADE: You had an encounter with Faye? Is she as scary as I fear she might be?
MATHEWS: I was too scared to ask her what I really wanted to ask her, but I thought it was so fascinating that I got to meet her, so I included it in the book. You know, some of these stories are when I had my dreams come true from people I'd loved forever, and some of these stories are about people who really disappointed me when I met them but I always say no celebrities were harmed in the making of this book. I tell the reader exactly what happened but I'm not out to hurt anybody.
BLADE: And these are all your own creations?
MATHEWS: Yes
BLADE: How did you get into that?
MATHEWS: So the cocktails are all sort of like my spin on cocktails that already exist and I make them original to me. The rossipes are all things I actually make. I've always loved cooking. I learned from my mom and I loved watching her. I love going to a restaurant and trying something and thinking, "Oh, I'd do it this way," and then going home and cooking. I do that with Food Network too. I watch and go, "Huh — I would make it with this," then I try it. Cooking is art — just another way to create.
BLADE: Do you have a favorite?
MATHEWS: Oh my gosh, I love them all. I make "Baked Ziti with a Z" for the Liza Minnelli story and that one's really delicious.
BLADE: Please tell me there's a chapter on Omarosa (she and Mathews were on "Celebrity Big Brother" together in 2018).
MATHEWS: Absolutely! We do an Omarosa Mimosa and then just a TV dinner because that chapter's all about reality TV. Which by the way, an Omarosa Mimosa is made with blood orange juice.
BLADE: What was going through your head in real time when she was telling you all that stuff during your little tete-a-tete on "Big Brother"?
MATHEWS: Listen, I write all about that in the book. It was so surreal being locked away from the outside world for 30 days with cameras following us 24-7 and then Omarosa walks in and this was right after she had left the White House. I was fascinated by her and knew we had to talk about it or people wouldn't think we were being real in that house. It's impossible not to be real when they're filming you 24 hours a day. So that conversation, to sit there and ask her those questions and what I was thinking and also what happened afterwards, which nobody knows about, that's all in the book.
BLADE: Do you get a clothing allowance on "Drag Race"?
MATHEWS: No. I have to get my own wardrobe and of course, you have to step it up because you're sitting next to RuPaul. I partner with Mr. Turk and I'm sucking up to friends who are designers. I've worked with Mr. Turk and Trina Turk for a long time and I've worn Tallia Orange before, so I try to find people who can partner with me so I'm not spending mazillions of dollars on these clothes.
BLADE: Is the stuff you wear on "Drag Race" the kind of stuff you wear in your private life or do you glam it up for the show?
MATHEWS: Well you have to wear something noticeable on that set. What am I going to do? Show up in corduroy or khakis? In real life, I love clothes but I'm not always in a suit. Usually I'm in like a jacket with a leopard scarf and a Gucci slide. When I go to Palm Springs, it's elastic head to toe (laughs).
BLADE: Do you do your own shopping?
MATHEWS: I've had stylists in the past. My partner all those years, Salvador (Camerna), was my stylist but lately I'm not using a stylist. It's just me partnering with various designers and trying to express myself however I feel that day. The other day I had on ripped jeans and boots and I was feeling all butch, like green Army Surplus jacket and right now I'm wearing Gucci fur slides and a leopard scarf, so I'm feeling more Nellie today. It's fun to express fashion, always a joy.
BLADE: Was there ever a "Drag Race" contestant you thought went home too early?
MATHEWS: Yes. I've never disagreed with the winner, but I have opinions on who should stay and who should go. That's part of my job, I get to argue my point to Ru who makes the ultimate decision. So I have of course thought somebody should have stayed who went home at a certain point, but the cream always rises to the top and I agree with every winner who's been chosen.
BLADE: Did you ever feel somebody who sashayed away should have won the lip sync?
MATHEWS: (long pause) Yes (laughs). But I don't want to give specific cases. Ru is the Supreme Court and I defer to Ru all the time. But there've been a couple times when someone won and I go, "Huh — I didn't see that one coming." But that's not my job to decide that. I'm just there to give my two cents.
BLADE: Do you hang out with Michelle (Visage) and Carson (Kressley) outside the show?
MATHEWS: Absolutely. Michelle and I just went to lunch in Calabasas the other day. She got gluten-free grilled cheese. She's like a sister to me and Carson's like a brother. I love them all. And we really just make each other laugh all day long.
BLADE: You're all so chummy now but Michelle had a rather prickly relationship with (former judge) Santino (Rice). Does a little tension there help the show?
MATHEWS: Well, I can't really speak to her relationship with Santino, but Michelle and I are like brother and sister. If we disagree, we're not gonna keep it in. I'll tell her she's nuts, but we laugh about it later. We have absolutely had strong disagreements where we each draw a line in the sand and we'll never agree on something but then we go to lunch afterwards. I'm not afraid of her.
BLADE: Who's been your all-time favorite "Drag Race" guest judge?
MATHEWS: Oh my gosh, there are so many. I can't believe the people we get to sit next to. I'll come home and say, "I just sat next to Lady Gaga for like 12 hours," or Miley Cyrus. I have to be careful not to say some of the names coming up 'cause they'll blow you away, but I'll get in so much trouble. It's one of the greatest gifts of the show the artists that Ru and World of Wonder allow me access to. It blows me away.
BLADE: Who would be your dream judges?
MATHEWS: Liza, Cher, Bette, Madonna — you know, the icons.
BLADE: Do you guys write all your own puns for the runway commentary or do you have help?
MATHEWS: No, we come up with it as it's happening. As we see it, we say it.
BLADE: They're pretty clever most of the time. I've always thought, "They must get some help with this."
MATHEWS: No, we just try to make each other laugh. There's no better feeling than making really funny people laugh. There are some stinkers from time to time and the editors help us out.
BLADE: About how long does it take to tape a full "Drag Race" season?
MATHEWS: Well, there's a lot going on. I don't want to ruin it for people but of course, it takes longer than just what you see. There are outfit changes and you have to stop for production and sometimes there's a lighting cue that goes wrong you have to redo. There's a lot that goes into a production of this size but as someone who loves showmanship, I don't want to give too much away.
BLADE: What's the biggest thing being behind the scenes on these kinds of shows that stands out to you that you'd never have thought about as a viewer at home?
MATHEWS: Well, like the first time I went to the Oscars, I was staring at all the stars on the red carpet then you turn to the left and see 12 portapotties. I was like, "Wow, I didn't know those were there," they cut those out of the shots for TV. Or being in the "Big Brother" house and hearing the camera operators in the wall saying, "I've got a close up on Ross's face, he's going to bed." I was like, "Oh my god, I didn't think about that." Or there's a microphone hanging over the toilet, the one toilet you share with 11 other celebrities. It's not all glamorous but it's all a piece of the puzzle.
BLADE: Have you seen Ru's new Netflix show?
MATHEWS: I have! Michelle and I went to the premiere. We were basically wearing the same red suit, it's on my Instagram. It's so great, I'm so proud of Ru. You know, Ru refuses to be put in any box. You think you know what Ru can do, then Ru goes, "Oh, I can also do this."
BLADE: When Ru was on the cover of Vanity Fair in December, the article suggested he's only knowable to a point, down to earth and candid in some ways — I'm paraphrasing — but also with a bit of aloofness, like he only lets you get so close or never totally lets his hair down. Is that your impression?
MATHEWS: Um, I can't really speak for other people's impressions of Ru, but I can tell you what Ru has been for me. Ru has been so kind and so supportive and so welcoming and you know, there's one quote on the cover of my book and it's a quote from Ru and that's on purpose because for this phase of my career, Ru's been the one who has sort of given me a platform and said, "Hey, look at this guy, he's really funny." 'Cause Ru could have picked anybody for that seat next to him and so for me, he's a mentor and a friend.
BLADE: You've made self-deprecating cracks about your sex life on "Drag Race." You gettin' any these days? Or dating anyone?
MATHEWS: (laughs) I am dating a lot actually. I never did this before. I didn't really date in my 20s because I was figuring out how to be a famous person and I felt like a clown a little bit, so I felt like I had to choose between being funny or sexual. Then I got in a relationship and we were together for 10 years and now I found myself out dating again and I'm really confident now in who I am and I've never been single and confident at the same time, so I'm having a really good time dating. I find people fascinating. I like meeting people and I like learning from people and I think if you're inquisitive and confident, you're a really good dater.
BLADE: Reality TV and media can be rather soul sapping. And Ru is always spouting great spiritual wisdom. How do you refuel spiritually yourself?
MATHEWS: Not to sound cheesy, but I'm really fueled by living my dream. I don't need anything else.
BLADE: Good luck with your book and tour.
MATHEWS: Thanks! Please come out. It's just an hour and a half where we shut the door on the world, 'cause everything's fucked right now …
BLADE: Yeah, especially in Washington!
MATHEWS: I know, right? We just shut all that out and have some laughs.