February 6, 2020 at 10:24 am EST | by Joey DiGuglielmo
QUEERY: Shae Agee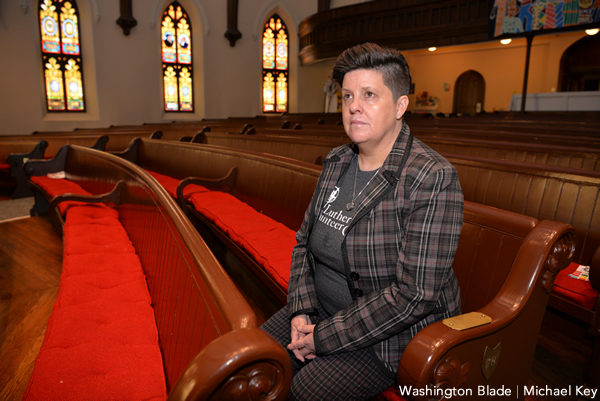 Lutheran Volunteer Corps, now in its 40th year, started as an organization targeting five cities (Washington, Baltimore, Wilmington, Del., Minneapolis/St. Paul, and Omaha, Neb.) with the goal of "building intentional community, working for social justice and living simply and sustainably."
Unintentionally, however, the group became surprisingly queer over the years with about half of its 100 or so annual volunteers identifying as queer and seven as trans or non-binary.
Shae Agee, national director of partnerships and programs for the Corps, became program director (one of seven staff members) last May. They says the queer component "grew out of the initial work."
"I'm passionate about LVC because it's the most progressive service year program that's out there," Agee says. "We celebrate diversity while fighting for justice and against oppression."
The Corps is a "community of faith that united people to work for peace and justice," according to its mission statement. "We pursue (this) by placing volunteers in full-time service positions at social justice organizations for a year or semester."
The Corps was founded in 1979 at Luther Place Memorial Church, an LGBT-affirming church in Washington. Since its inception, the Corps has placed about 2,700 volunteers in social service organizations in 13 cities. Any non-profit that does social justice work qualifies. Groups that focus on LGBT issues are especially desired. Volunteers live on a stipend provided by the Corps that covers their rent and transportation costs. Find out more at lutheranvolunteercorps.org.
Agee is a Woodbridge, Va., native and has been in the D.C. area for 27 years after a stint in Atlanta in the '90s.
They and spouse Jordan Ezzell-Agee live in Fairfax. Agee enjoys singing, tennis and basketball in their spare time.
How long have you been out and who was the hardest person to tell?
Thirty-five years, parents
Who's your LGBTQ hero?
Rev. Candice Shultis of MCC. She was such an integral person in helping men with HIV/AIDS in the 1980s. She was also my pastor for many years at MCC-D.C.
What LGBTQ stereotype most annoys you?
That we are not Christians.
What's your proudest professional achievement?
Helping establish 18 locations that address health disparities in D.C.
What terrifies you?
Having someone I love die.
What's something trashy or vapid you love?
"Keeping Up With the Kardashians"
What's your greatest domestic skill?
Cooking
What's your favorite LGBTQ movie or show?
"Queer as Folk"
What's your social media pet peeve?
When people don't like your post but share it as their own.
What would the end of the LGBTQ movement look like to you?
Our president is a transgender person.
What's the most overrated social custom?
Emojis
What was your religion, if any, as a child and what is it today?
Southern Baptist as a child; Metropolitan Community Church has been the denomination of my adulthood.
What's D.C.'s best hidden gem?
Shirli Hughes and Ovation, gospel group
What's been the most memorable pop culture moment of your lifetime?
Whitney Houston singing the National Anthem.
What celebrity death hit you hardest?
Prince
If you could redo one moment from your past, what would it be?
I would have majored in music.
What are your obsessions?
Reese's Peanut Butter Cups, fighting for justice and animals.
Finish this sentence — It's about damn time:
… we have a woman president of the United States.
What do you wish you'd known at 18?
That I should have spent more time with my parents.
Why Washington?
It's the most progressive city in the U.S.