Calendar: July 12-18
Concerts, parties and events in the week to come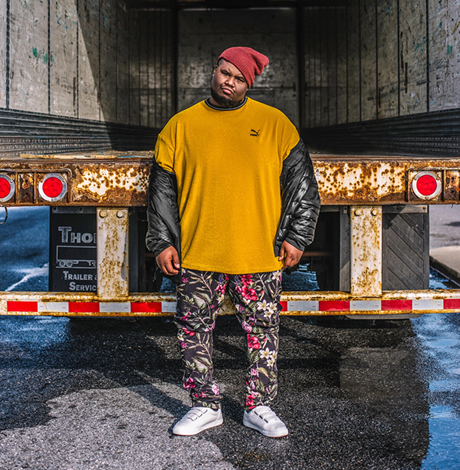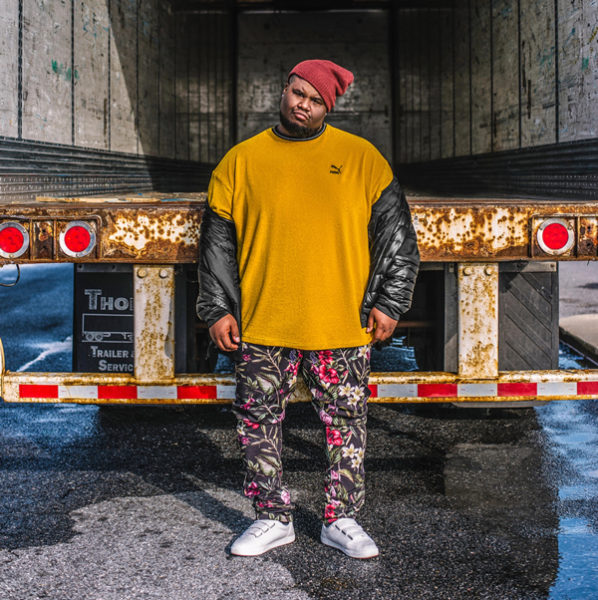 Friday, July 12
GAMMA meets tonight at Luther Place Memorial Church (1226 Vermont Ave., N.W.) at 7:30 p.m. It's a peer support group for gay and bisexual men who have been or are currently in relationships with women. The group meets every second and fourth Friday of the month. They also have meetings in Vienna, Va., and Frederick, Md. For more information, visit gammaindc.org.
The Backstreet Boys play Capital One Arena (601 F St., N.W.) tonight at 8 p.m. With the iconic boy band reuniting back in 2012 and producing a new album, the "DNA World Tour" will feature new songs along with the classics like "I Want It That Way." Baylee Littrel, son of country artist Brian Littrel, will open. Tickets start at $39.50. To purchase, visit ticketmaster.com.
Saturday, July 13
The D.C. Center (2000 14th St., N.W.) offers its monthly Arty Queers event today from 11 a.m.-5 p.m. Every month the center provides local LGBTQ artists the opportunity to showcase and sell their artwork at the indoor market with items such as paintings, pottery, jewelry and clothing. It occurs every second Saturday until December. Art space is available to purchase for $20 per table. Any interested artists are encouraged to email [email protected].
The 9:30 Club (815 V St., N.W.) presents its LGBTQ dance party BENT tonight at 10 p.m. For the first time, a rapper will be featured by the name of DDm. He is a Baltimore native whose sound includes aggressive raps, animated beats and big personality. He's opened for people such as Big Freedia and Cupcakke. Tickets are $20. To purchase, visit ticketfly.com.
Sunday, July 14
Channel Devereaux and her team of drag queens host a drag brunch today at 11 a.m at Nellie's Sports Bar (900 U St. N.W.). Participants will enjoy an all-you-can-eat brunch buffet along with a free mimosa or bloody mary. Featured brunch items will include roast pork, vegetarian pasta, cheesy grits and seasonal fruit. Tickets are $41.91. Visit eventbrite.com to purchase tickets.
The D.C. Area Transmasculine Society (DCATS) is hosting a nonbinary transition meetingtoday at Whitman-Walker Health (1525 14th St., N.W.) at 5 p.m. Members will discuss AFAB (assigned female at birth) nonbinary social and medical transitioning. Along with the discussion there will be a binder exchange and a needle/syringe exchange. These meetings are "open to those who are AFAB but believe this is inaccurate or incomplete description of themselves." For more information, visit dcats.org.
Monday, July 15
Sew Queer returns with its most popular class "My Gender Is Pockets" at the Lemon Collective (808 UpshurSt., N.W.) this evening at 6:30 p.m. This version of the class will focus on the inseam pocket which is particularly good for skirts. It's a bring-your-own-skirt event but all other materials like sewing machines and fabric will be provided. This is a beginner level class and is open to all genders. Tickets are $30. Visit eventbrite.com to purchase.
The GenderPro Summit begins today at Norma Lee and Morton Funger Hall (2201 G St., N.W.) at George Washington University starting at 9 a.m. The Global Women's Institute is in partnership with UNICEF to host the summit and will serve as the culmination of the GenderPro Capacity Building course. The week will include speakers and panelists from a variety of backgrounds and fields. This is a free event and all panels are open to the public. For more information, visit genderpro.gwu.edu.
Tuesday, July 16
A "POSE" viewing party will be held at the D.C. Eagle (3701 Benning Rd., N.E.) tonight at 10 p.m. This is a weekly event that allows attendees to watch the hit show with two flatscreens. "POSE" is a drama spotlighting the legends, icons and ferocious house mothers of New York's underground ball culture, a movement that first gained notice in the 1980s. The show was also recently renewed for a third season. To RSVP, visit eventbrite.com
The Gay and Lesbian Activists Alliance (GLAA) of Washington has its monthly meeting at the D.C. Center (2000 14th St., N.W.) tonight at 7 p.m. Visit glaa.org for more details.
Wednesday, July 17
The legendary Puerto Rican artist Jennifer Lopez performs at Capital One Arena (601 F St., N.W.) tonight at 8 p.m. Fans can expect the"It's My Party Tour" to be filled with "a nonstop party mix of Jennifer's new and classic anthems, showstopping choreography and dancers, dazzling wardrobe" and more according to a press release.This will be her first North American tour in six years and will feature some of the World of Dance stars to open and provide workshops in exclusive packages. Tickets start at $49. For information and to purchase tickets, visit ticketmaster.com.
Bookmen D.C. meets at the D.C. Center (2000 14th St., N.W.) tonight at 7:30 p.m. The informal men's gay literature group will discuss "The Gay Revolution: The Story of the Struggle" by Lillian Faderman. They meet every first and third Wednesday of the month. Participants do not have to commit to attending every meeting or reading each book the group reviews. For more information, visit bookmendc.blogspot.com.
Thursday, July 18
Thirst Trap Thursday's are back tonight at Pitchers D.C. (2317 18th St., N.W.) from 11 p.m-12:30 a.m. Hostess Venus Valhalla picks local talent to be showcased each night. Shows are held every Thursday and alcohol is available for purchase. For more information, visit pitchersbardc.com.
Goethe-Institut Washington (1990 K St., N.W.) will present its Kino-Q series tonight at 6:30 p.m. The series includes showing films from Germany and North America that highlight aspects of queer rights movements followed by an expert-led discussion. Tonight they'll be showing part one of "The AIDS Trilogy," "Silence=Death" directed by Rosa von Praunheim. Joanne Sincero and Randy Pumphrey, long-time Whitman-Walker Health staffers, will answer questions. For more details, visit goeth.de/washington.

Forget Santa Claus – Ginger Minj is comin' to town
'Drag Race' alum's Winter Wonderland Tour stops in D.C. Nov. 29 and 30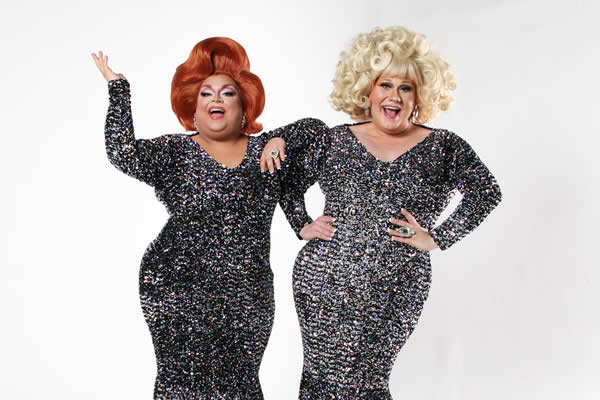 Ginger Minj is a busy little elf.
From her new country album "Double Wide Diva" to sporadic stints in TV and movies to her upcoming book, "Southern Fried Sass" (which reportedly scored her a six-figure deal), the "Drag Race" diva is everywhere these days, including a venue near you. On Nov. 29 and 30, the new queen of Christmas will perform her holiday spectacular Winter Wonderland Tour at Miracle Theatre.
We recently caught up with the multitalented actress/comedian/singer to discuss her continued success, including making friends with Jennifer Aniston while filming Netflix's "Dumplin,'" her take on the latest Dave Chappelle backlash, the best Christmas gift she's ever received, and what exactly makes her the "nicest bitch" this side of the North Pole – but first, let's take a sleigh ride back to the beginning.
BLADE: Tell me a bit about how you got started in drag and the genesis of Ginger Minj.
GINGER MINJ: Like most good show-tune-loving queers, I stumbled into drag through musical theater. I auditioned for a show that required either full-frontal nudity or drag, and I figured I would fare better in a wig and heels than nothing at all. I got the role and really took to it quickly. I felt more free and honest as a performer than I ever had before, and I realized I could make a livable income doing something that I was wholly responsible for creating.
BLADE: How has your appearance on "Drag Race" helped your career, and what are your top takeaways from your time on the show?
GM: It's an international platform that allows us to introduce ourselves to the entire world. It got me a seat at the table with people and places that refused to even open the door for me in the past. I think there was – and maybe still is sometimes – this initial assumption that drag artists are limited in their talents, but we have been able to show the world that we are just as talented and capable as any other entertainer. I don't wear a wig as a gimmick. I wear it as an accessory, and it doesn't mean I shouldn't be taken as seriously as any other actor, singer, etc. "Drag Race" is doing a great job of showing the world that – and I'll forever be grateful.
BLADE: If folks didn't catch you on "Drag Race," they might recognize you from the 2018 Netflix movie "Dumplin'" starring Jennifer Aniston and Dove Cameron. What was your experience like on set, and do you have any other TV/film projects in the works?
GM: "Dumplin'" was the single best experience of my life! Jennifer Aniston brought me coffee every morning, and Kathy Najimy had my trailer moved next to hers so we could listen to Beyoncé and play with makeup. That entire cast and crew treated all of us queens with unbelievable respect. It really gave me a passion for filmmaking and, yes, I'm happy to say there are a few more projects – big screen and small – coming your way soon.
BLADE: What makes you the "nicest bitch you'll ever meet?"
GM: It's like those good ole' southern church ladies who will give you the shirts off their backs but read you to filth for not bringing one of your own. The only thing bigger than my mouth is my heart and the "shady" things I say should never be taken seriously.
BLADE: As a comedian yourself, what are your thoughts on the latest Dave Chappelle/Netflix controversy?
GM: I've always felt like comedy and drag go hand in hand: It's an outrageous way to start a conversation and make people confront their own feelings about anything and everything. That being said, I think there's a way to do that without disparaging and discrediting an entire group of human beings. I think it's shameful that someone with that great of a platform would choose to punch down.
BLADE: Your new single "Walk Tall" is about growing up gay in the South – and it's a very good song. Radio worthy even, but a hard sell, given its content, to a country-music audience. How do you think that changes? Will LGBTQ+ country artists ever enjoy the kind of success their straight counterparts do?
GM: I think so. To be completely honest with you, I've gotten much more support for that album from the country community than I have from the drag world. The message is so universal, and we were very careful to do it in an authentic, simple way. When we stop focusing on our differences and start embracing our similarities, the world can change. I just do the things that make me happy and hope it finds the people who need to hear it.
BLADE: Christmas is just around the corner – do you prefer giving or receiving? What's your most prized Christmas present from the past?
GM: I'm definitely a giver! I drive myself crazy for months researching and planning and looking for the perfect gifts for everyone. It's my way of showing the people I care most about that while I may be busy, I'm listening. I hear them, I see them, and I appreciate them. The best Christmas present I ever got was a cheap plastic pair of ruby slippers from my mama when I was a kid. I still have them. That moment changed my life forever. It's what actually inspired "Walk Tall."
BLADE: Like Santa Claus himself, the Ginger Minj Winter Wonderland Tour 2021 is coming to town. What do you have in store for audiences this holiday season?
GM: What don't we have in store?! There are 20 costume changes, instructional videos gone terribly wrong, singing, dancing, magic tricks, fog machines, comedy, and it even snows over the audience! This is the biggest, prettiest, most ambitious show we have ever put together.
BLADE: Looking forward to 2022, what's in the works? What are a few of your New Year's resolutions?
GM: So many great things — more music, some movies, some TV, a stage production of "La Cage aux Folles" in Chicago, and my book "Southern Fried Sass" will hit the shelves. It's a great time to be the "Glamour Toad," and I am grateful every single day.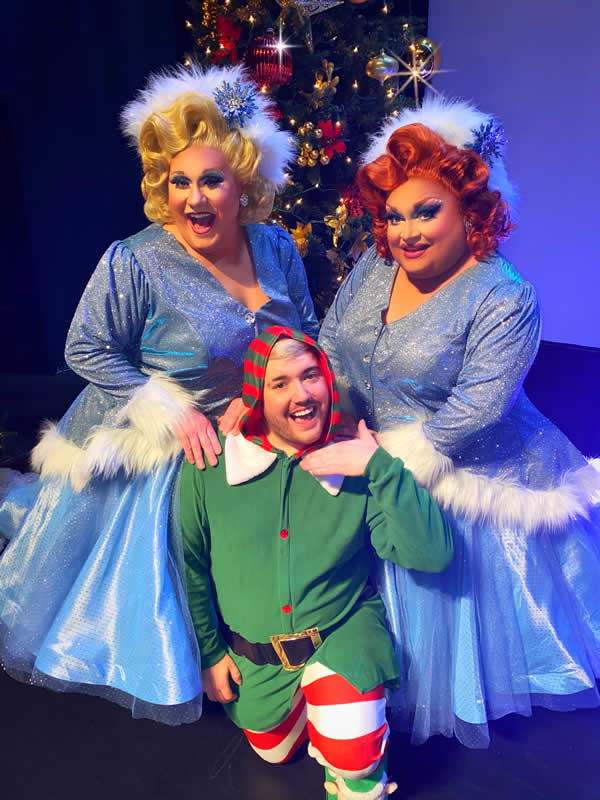 Mikey Rox is an award-winning journalist and LGBT lifestyle expert whose work has been published in more than 100 outlets across the world. Connect with Mikey on Instagram @mikeyroxtravels.
Children's Beach House to host holiday fundraiser
Music by artists Pamala Stanley and 2nd Time Around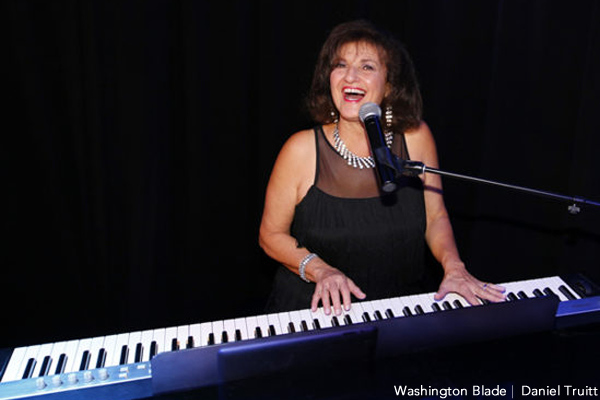 The Children's Beach House in Lewes, Del., will begin its weekend-long fundraiser with an annual holiday party on Friday, Dec. 3 at 6:30 p.m.
The event will include a live auction, cocktails, dinner by Touch of Italy and music by artists Pamala Stanly and 2nd Time Around. This fundraiser will help support CBH's work with children and families. Tickets are $150.
The celebrations will continue with a "Santa's Workshop" event on Saturday, Dec. 4 at 10 a.m. This event will include cookie decorating and making holiday crafts, among other events. There will also be a cash bar available with bloody mary's and mimosas for those 21 years and older. Tickets cost $30.
CBH will end the weekend with "Happy Hour With the Boy Band Project" on Sunday, Dec. 5 at 4 p.m. This event will be a musical performance by an electric boy band cover group, which was named "Best Group" by the 2019 Broadway World Awards that re-imagines the sound, movement, and energy of NSYNC, Backstreet Boys, One Direction, and more. Tickets are $150. Visit cbhinc.org for more information.
Clarksburg church to host Trans Day of Remembrance
Rev. Erica Saunders will be a guest speaker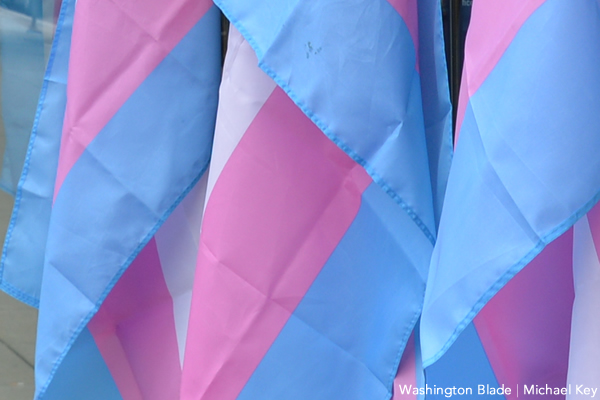 Hyattstown Christian Church will host a service of remembrance on Sunday, Nov. 14 at 2 p.m. in person at 26012 Frederick Rd., Clarksburg, Md., and on Zoom.
Rev. Erica Saunders will be a guest speaker at the event. Saunders is pastor of Peace Community Church in Oberlin, Ohio.
She is one of the first openly trans women ordained in Baptist life and serves on the executive council of Christian Feminism Today.
For more information about the service, visit [email protected].