February 5, 2020 at 5:00 pm EST | by Chris Johnson
Senate votes to acquit Trump on impeachment charges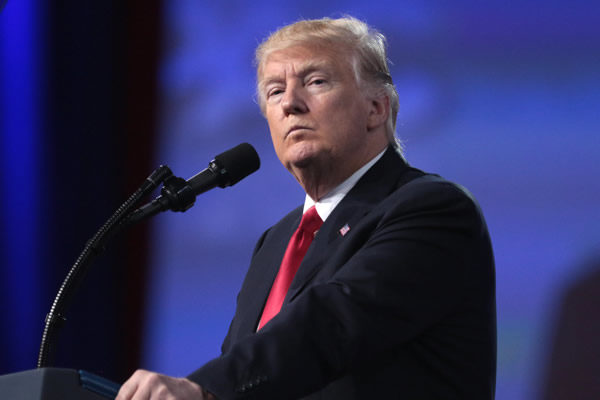 Rejecting charges from the U.S. House President Trump committed high crimes and misdemeanors that warrant his removal from the office, the U.S. Senate voted on Wednesday to acquit him in his impeachment trial.
The Senate vote to acquit Trump, which was widely expected after a vote last week to hold witnesses during the trial was defeated, was basically along party lines, with Democrats united in voting to remove Trump from office.
The vote on the charges on abuse of power — based on allegations Trump improperly withheld U.S. aid to Ukraine in exchange for investigations into his political opponent, Joseph Biden — was 52-48.

The vote on the charges of contempt of Congress — based on the White House refusal to respond to subpoenas during the impeachment inquiry — was 53-47.
The difference was the result of Sen. Mitt Romney (R-Utah), who split the baby by voting to convict Trump on abuse of power, but not contempt of Congress.
In a speech on the floor Wednesday, Romney announced he'd vote to convict Trump on the abuse of power charges because his actions warrant removal from office.
"My own view is there's not much I can think of that would be a more egregious assault on our Constitution than trying to corrupt an election to maintain power, and that's what the president did," Romney said.
The vote to convict from Romney, who has a history of being critical of Trump, robs the president of being able to say impeachment was purely a political attack on him.
Under the U.S. Constitution, conviction on impeachment charges requires a high bar of two-third of senators present, or 67 votes. Therefore, the vote the Senate fell 19 votes short of this threshold on the abuse of power articles and 20 votes short on contempt of Congress.
Sen. Tammy Baldwin (D-Wis.), the only out lesbian in Congress, echoed the sense Trump's actions required his removal from office.
"My vote is a vote to uphold the rule of law and our uniquely American principle that no one, not even the president, is above the law," Baldwin said. "I only have one of 100 votes in the U.S. Senate and I am afraid that the majority is putting this president above the law by not convicting him of these impeachable offenses. But let's be clear, this is not an exoneration of President Trump, it is a failure to show moral courage and hold this president accountable."
Question persisted going into Wednesday where the Democratic caucus be united to voting to convict Trump, but that uncertainty fell away when Sens. Doug Jones (D-Ala.) and Joe Manchin (D-W.Va.) — Democrats who represent states where Trump is popular — announced they'd vote to convict him.
Brad Parscale, Trump's re-election campaign manager, declared in a statement his candidate "has been totally vindicated and it's now time to get back to the business of the American people."
"The do-nothing Democrats know they can't beat him, so they had to impeach him," Parscale said. "This terrible ordeal was always a campaign tactic to invalidate the 2016 votes of 63 million Americans and was a transparent effort to interfere with the 2020 election only nine months away. And since the President's campaign only got bigger and stronger as a result of this nonsense, this impeachment hoax will go down as the worst miscalculation in American political history."
Tom Perez, chair of the Democratic National Committee, said in a statement the Republican who voted to acquit Trump "will be remembered for betraying the Constitution they swore to defend."
"Even without witnesses or a fair trial, the facts are clear: The president did it," Perez said. "He admitted it. His lawyers admitted it. Republican senators admitted it. And now they're letting him off the hook. Make no mistake: By voting to acquit Trump, Republicans are undermining our national security, legitimizing foreign interference in our elections, and giving a green light to future presidents who want to extort other countries for personal gain."