Woman at Iowa caucus wants to change her vote after finding out Buttigieg is gay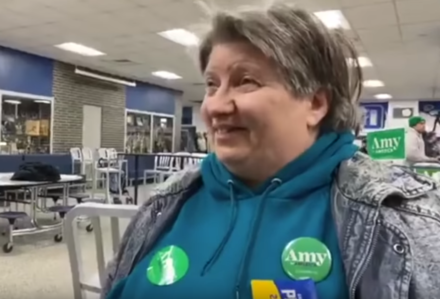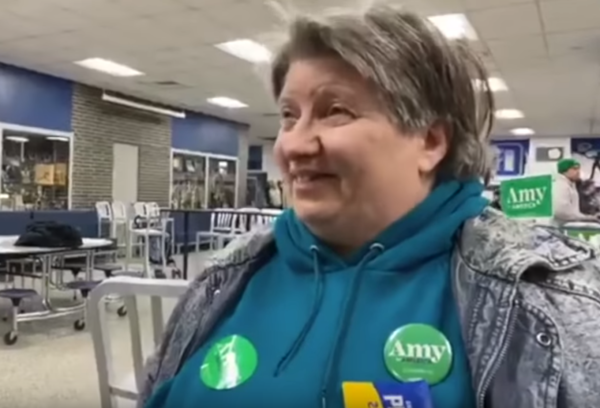 Pete Buttigieg did pretty well in Iowa this week. Though the final tally in Monday's all-important caucus had yet to be determined at the time of this writing, the first openly gay presidential candidate in US history was holding on to a narrow lead that is, frankly, a historic victory in itself.
But a video shared by TMZ on Tuesday shows that at least one of the former South Bend, Indiana, mayor's supporters might be jumping ship.
A caucus-goer spoke to Buttigieg precinct captain Nikki Heever on camera when she found out for the first time (!) that her favored candidate was married to another man after already casting her vote. The surprise was not a welcome one; the woman, who hails from the city of Cresco in Iowa's Howard County, immediately asked Heever if she could change her vote.
After being told by Heever that "she's not sure if they can do that," the disgruntled citizen launches into a display of incredulous homophobia, saying "I don't want anybody like that in the White House," and that Buttigieg "had better read the Bible."
The plucky Buttigieg staffer then attempts to talk the woman down, gently suggesting that a candidate's sexuality shouldn't matter if "you believe in what they are saying," while stressing that everybody is entitled to their own beliefs. She does an impressive job of maintaining her pleasant composure, but she and a co-worker are clearly put at a loss for words when the woman asks them, "How come none of this has been brought out before?"
After that, the conversation shifts as Heever manages the situation, telling the woman that they she can go and ask a supervisor whether the ballot can be changed. She also manages, politely but firmly, to point out that she teaches her own son (who is standing right beside her with a bewildered look on his face) that "love is love, and we're all human beings."
There's no report so far as to whether or not the bible-thumping bigot was allowed to change her vote; but either way, the video reveals the unpleasant truth that homophobia is alive and well in America – even in the Democratic Party.
International Women Club set for Jan. 24
Event at National Harbor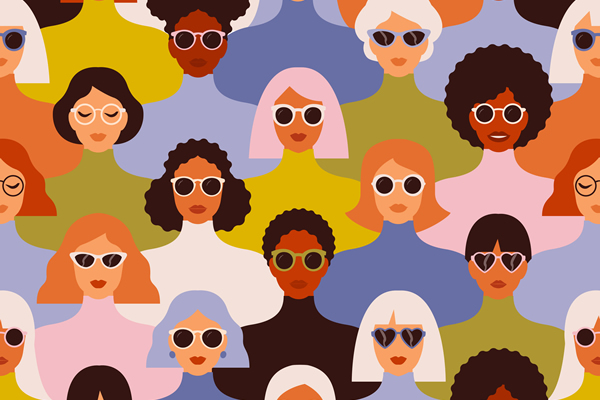 International Women United Organizer will host "Multicultural International Women Club" on Monday, Jan. 24 at 7 p.m. at National Harbor.
The goal of this event is to bring together women from different countries and cultures for friendship, support and community. Guests will get to share interesting facts about their country, talk about their culture, values, styles, and differences with others while learning from others and making friends from all over the globe. Those who speak English as a second language are welcome to attend.
This event is free and more details are available on Eventbrite.
SAG Award slate points to a not-very-queer Oscar night
'Power of the Dog' snubbed in Best Cast category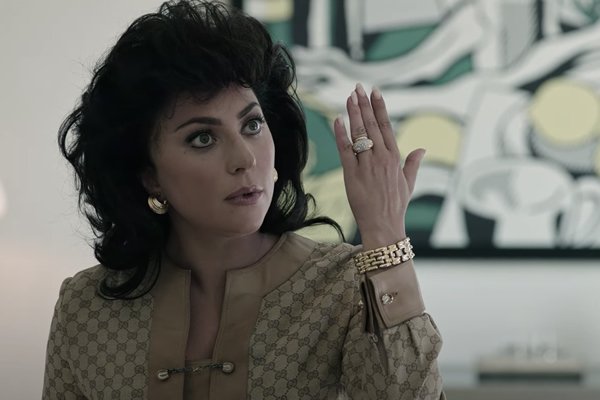 It's mid-January, and pandemic or not, Hollywood's "awards season" has kicked off in earnest.
The announcement last week of nominations for the 28th Annual Screen Actors Guild Awards means that it's now time for armchair pundits, bookmakers, and film journalists to start compiling their predictions for the Oscars, which everyone knows are the main event when it comes to Hollywood awards.
This should be a good-natured exercise in fun, driven by a love for the movies and a genuine appreciation of the artistry of the people who make them – but at a time when the film industry is under deep scrutiny for diversity and inclusion, things can get complicated.
Since they are decided by members of a union that also makes up a substantial portion of the Academy's voting body, the SAG Awards are considered a reliable bellwether for the Oscars race, though with fewer categories than the Academy, not to mention the complex interplay of personal loyalties and working relationships that undoubtedly influence their choices, they still leave room for a lot of speculation. Still, their record for aligning with the Academy's eventual choices makes it worth factoring them in as we attempt to assess the chances for our favorite contenders to earn Oscar gold.
For Blade readers, of course, the key question is likely to be about which of the year's LGBTQ movies are going to snag wins. Unfortunately, the answer to that question might be pretty bleak.
Of the 22 titles nominated within the SAG Awards' six film categories, only one – "The Power of the Dog" – could be said to have any significant queer content. Others, like "West Side Story", "tick, tick… BOOM!", "The Eyes of Tammy Faye", "Being the Ricardos", or "House of Gucci", have either LGBTQ-relevant elements in their narratives or obvious LGBTQ appeal in their subject matter, and some have both. But there is no "Moonlight" or "Call Me By Your Name" on which to hang the hope of a definitively queer winner in any category.
In the Best Performance by a Cast in a Motion Picture race – which is essentially the SAG Awards' equivalent of Best Picture – the biggest surprise is the omission of "Power of the Dog." Filmmaker Jane Campion's dark and subtle western about the toxic relationship between a domineering older rancher and his effeminate new nephew has been a fixture in the top categories at awards ceremonies so far, but despite earning nods in other categories, it was shut out of the competition for this one. That leaves little in the way of LGBTQ inclusion among the five nominees ("Belfast", "CODA", "Don't Look Up", "House of Gucci", "King Richard"), but it doesn't keep "Power" from being a front-runner at the Oscars, where the Best Picture category can include up to 10 contenders. Even if all five of the SAG choices make it into the Academy's race, Campion's movie is almost certainly going to be there, too. The same can probably be said of "West Side Story", another presumptive front-runner, but given its track record of wins so far, "Power" still stands as our favorite to take the honor on Oscar night.
For Best Performance by a Female Actor in a Motion Picture, the lineup includes several films of LGBTQ interest. "The Eyes of Tammy Faye," which earned a nod for star Jessica Chastain, is a biopic that takes time to address its real-life protagonist's surprising legacy as a queer ally; "Being the Ricardos," though it contains no directly LGBTQ material, has the obvious appeal of focusing on Lucille Ball, a show biz icon beloved for decades by the gay community, who is portrayed with delicacy and respect by nominee Nicole Kidman; Jennifer Hudson's star turn as Aretha Franklin – another legendary diva with queer appeal – snagged her a nomination for "Respect"; and finally, Ridley Scott's "House of Gucci" grabbed another nod here for Lady Gaga, the only out member of the LGBTQ community in the running. It would be great to see Mother Monster take home this prize, but she's got stiff competition; based on honors given out so far, she stands as a frontrunner, but with Hudson and Kidman in the mix, not to mention awards darling Olivia Colman (nominated for "The Lost Daughter"), it feels like anybody's race. Win or lose at the SAGs, Gaga still has a strong chance of being included in Oscar's Best Actress category – as does out actress Kristin Stewart, whose performance as Lady Diana in "Spencer" puts her solidly on the Oscar shortlist, despite being snubbed here.
Best Performance by a Male Actor in a Motion Picture might also be wide open. A few weeks ago, Benedict Cumberbatch would likely be the clear favorite to win for his towering performance as the closeted rancher in "Power of the Dog", but after fellow nominee Will Smith's win at the Golden Globes for "King Richard" his chances seem less sure. It's a category that includes two Black actors – Smith and Denzel Washington ("The Tragedy of Macbeth") – and on a slate that is otherwise dominated by white nominees it's one of the few opportunities for the SAGs to diversify its winners' circle. It's also worth mentioning that Andrew Garfield, nominated for "tick, tick… BOOM!", won the Globes prize for Best Actor in a Comedy or Musical, which combined with widespread acclaim for his performance makes him a strong contender to pull off an upset from either of the two frontrunners – a scenario likely to be repeated at the Academy Awards. In any case, Washington and Javier Bardem (nominated for playing Desi Arnaz in "Being the Ricardos") are probably the dark horses here.
In the supporting categories, things look even less promising for LGBTQ inclusion. Nominated for "West Side Story" is Ariana DeBose, who is the clear favorite to win as Female Actor, though Kirsten Dunst's quietly devastating performance in "Power of the Dog" has been accumulating considerable buzz, too. Both will likely be included at the Oscars as well. On the Male Actor side, the most clearly queer-friendly choice is Kodi Smit-McPhee, also for "Power of the Dog"; it's a wild card category, skewed by the presence of big names (Ben Affleck and Bradley Cooper, nominated for "The Tender Bar" and "Licorice Pizza", respectively) who might gain votes on the basis of star status alone, but Smit-McPhee has made a consistently strong showing throughout the awards race so far – and frankly, deserves to win just for his ability to hold his own opposite the charismatic Cumberbatch. He's our favorite in the category not just here, but also on Oscar night.
The SAG Awards, of course, also present awards for television. Those don't have much bearing on the Oscars, but it's worth mentioning that the nominees there include LGBTQ-relevant favorites like "The Handmaid's Tale", "Succession", "Hacks", "The White Lotus", and "Halston." We'll take a closer look at those when the Screen Actors Guild makes their presentation, which will air live on TNT and TBS, on Sunday, Feb. 27.
Meanwhile, it's time to start working on those Oscar predictions. Ready, set… GO!
In 'Trans Am,' a trans person telling a trans story
Lisa Stephen Friday shines in Keegan one-woman show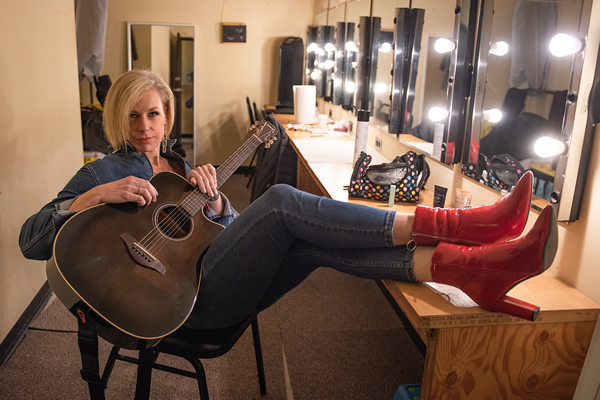 TRANS AM
Jan. 29-Feb. 26
Keegan Theatre
1742 Church St. N.W.
$55-$65
Keegantheatre.com
In the fall of 2020, Lisa Stephen Friday's one-woman show "Trans Am" premiered virtually at Keegan Theatre. "Honestly, streaming a dozen shows isn't something I want to do again. I was thrilled to do it but performing a live musical with no audience was daunting. Like performing to a black hole. Exhausting."
But now the trans woman performer is back at Keegan with a live world premiere of the same piece. "Trans Am" is 90 minutes of uninterrupted autobiographical stories and the music of Friday's cult-favorite NYC glam rock band Lisa Jackson & Girl Friday.
Her transition hasn't been easy and that's reflected in the work, but so is a happy default setting – Friday likes to laugh and make people laugh. The meat of the story is the intensity of time spent in the band, but also her youth in Georgia, other aspects of New York, and her move to D.C. "For me as a trans woman that story involves a very laborious journey to self-actualization. We live in a world that doesn't allow space for trans people. So, it's a lot," she says.
Work as a project manager for Barbizon, a leading provider of entertainment lighting systems, brought Friday to the DMV, specifically Dupont (Trump's election prompted a move from Alexandria to the gayborhood). She's currently dating a chef: "He's great at what he does and he's thrilled to see the show," she says.
BLADE: Was it tough writing a deeply personal show like Trans Am?
LISA STEPHEN FRIDAY: I wrote my story over five weekends. It was incredibly cathartic. There are fun memories with downtown queens, but also the time I went to the pharmacy and the pharmacist totally read me about getting hormones. That was jarring. It was definitely time for me to acknowledge the enormity of what it means to be trans in this country.
BLADE: Would you describe your professional experience as unique?
FRIDAY: Before transitioning, I went through the world as your typical 25-year-old cishetero male. Oblivious. I was a theater actor in New York, chasing roles like Chris in "Miss Saigon" or Marius in "Les Miz." These were my life goals. I look back and think how trite.
Coming out and transitioning meant I was no longer cast. The last time I went on an audition for musical theater was in 2003 for "Taboo" to play Boy George's friend Marilyn. The part went to a soap star. Instead, I found the downtown queer rock and roll scene. That's where I needed to be.
It took me a while to find clarity about who I was. A lot of what I talk about in the show is about finding that East Village crowd who said "honey, you're a woman." Surrounding yourself with community is the way to reach that.
BLADE: What's your history with "Hedwig and the Angry Inch."
FRIDAY: In the late '90s I asked to audition to replace Hedwig. In New York, they knew me as Steve Friday, a good rock and roll singer. I remember thinking I can't do this shit. No one knows that I sit around my house wearing women's clothes.
I cancelled those auditions because I was living in fear. For a while, I really regretted that. Then 20 some years later, I had an opportunity to do it at Keegan. But the pandemic stopped that.
The truth is I no longer feel that I need or want to play Hedwig. There is trauma in that story attached to medical transition. I'm a trans woman who has gone through all confirmation surgeries. I feel really uncomfortable standing on stage singing about an angry inch.
I know Hedwig's creators wrote that show from a loving place but it was written in 1998 and it's very dated. That said, it opened the door to a queer space in theater that didn't exist before.
Now with "Trans Am," Keegan can do something different. A trans person telling a trans story, which is a step forward from "Hedwig."
BLADE: With productions shutting down due to the Omicron surge, do you feel any trepidation about getting through the run?
FRIDAY: That fear is always there. For me it would be really disappointing. My life has been in the theater – performing or production. I'm hyper aware of everything the Keegan and all theaters are risking financially. So, I'm excited and grateful, but kind of walking on eggshells.