Blade Foundation awards two journalism fellowships
Students to spend 12 weeks learning, reporting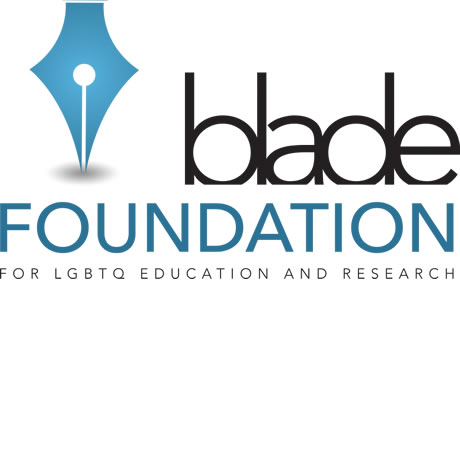 The Blade Foundation, a non-profit that works to educate the next generation of LGBTQ journalists and to fund enterprise projects into queer topics, announced this week it has awarded two $2,000 fellowships to aspiring journalists.
The first is a reporting fellowship focused on topics of interest to the D.C. LGBTQ community funded by a grant from the DC Front Runners Pride Run Foundation, which presented the Foundation with a $2,000 donation at last June's Pride Run 5K.
The fellowship goes to Michelle Siegel, who is studying multi-platform investigative journalism at the University of Maryland's Philip Merrill College of Journalism.
"I moved to the Washington, D.C. area last year in hope of finding the support system of resources, mentors and fellow LGBTQ journalists that I never had out in rural Michigan, so receiving a Blade Foundation Reporting Fellowship is, quite literally, my dream come true," Siegel said. "I am grateful to the Blade Foundation and the DC Front Runners for making this opportunity available to me, and I am excited to become a better reporter through working with the Blade."
"We are thrilled to support the Blade Reporting Fellowship through proceeds from the DC Front Runners Pride Run Foundation. We offer our warmest congratulations to Michelle upon her selection and wish her well as she pursues her journalism studies with this valuable hands-on experience at the Blade Foundation," said Pride Run Foundation Directors Rob Geremia and Ivan Cheung.
Siegel will start her fellowship in March and work for 12 weeks mentored by Blade staff.
The second fellowship is the Blade Foundation Steve Elkins Memorial Journalism Fellowship, named in honor of Elkins, a journalist and co-founder of the CAMP Rehoboth LGBT community center, who passed away in March 2018. Elkins served as editor of Letters from CAMP Rehoboth in Delaware for many years as well as executive director of the center.
The fellow covers issues of interest to the LGBTQ community of Delaware for 12 weeks during the summer months. Topics include coverage of legislative and political issues out of Dover; LGBTQ business issues in Wilmington; the summer beach season in Rehoboth and more. Stories are published in the Washington Blade online and print editions. The fellowship is funded by Rehoboth community donations at an annual summer kickoff event in May. This year's event is slated for May 15. Details to come soon.
The Elkins Memorial fellowship goes to Joshua Keller, a student at Washington University in St. Louis and native of Northern Virginia. His fellowship will commence in late May.
"I feel so honored to receive the Steve Elkins Memorial Fellowship," Keller said. "I look forward to working with the Blade and Delaware's LGBTQ community."
"I can only imagine how excited Steve would be to know the Fellowship named in his honor will continue to support young journalists," said Murray Archibald, Elkins's husband and co-founder of CAMP Rehoboth. "I look forward to congratulating Joshua in person, and sharing with him a little of Steve's passion for his life's work."
Kevin Naff, executive director of the Blade Foundation, congratulated the students and thanked donors.
"First, congratulations to Michelle and Joshua, we look forward to seeing what they can do this spring in highlighting the stories of our community," Naff said. "And thank you to everyone at Front Runners for donating to the Blade Foundation and thanks to the generous LGBTQ community in Rehoboth Beach for opening their wallets to fund this important work."
To donate to the Blade Foundation, please visit bladefoundation.org.
New campaign challenges Va. guidelines for transgender, nonbinary students
Students4Trans planning rallies, walkouts across the state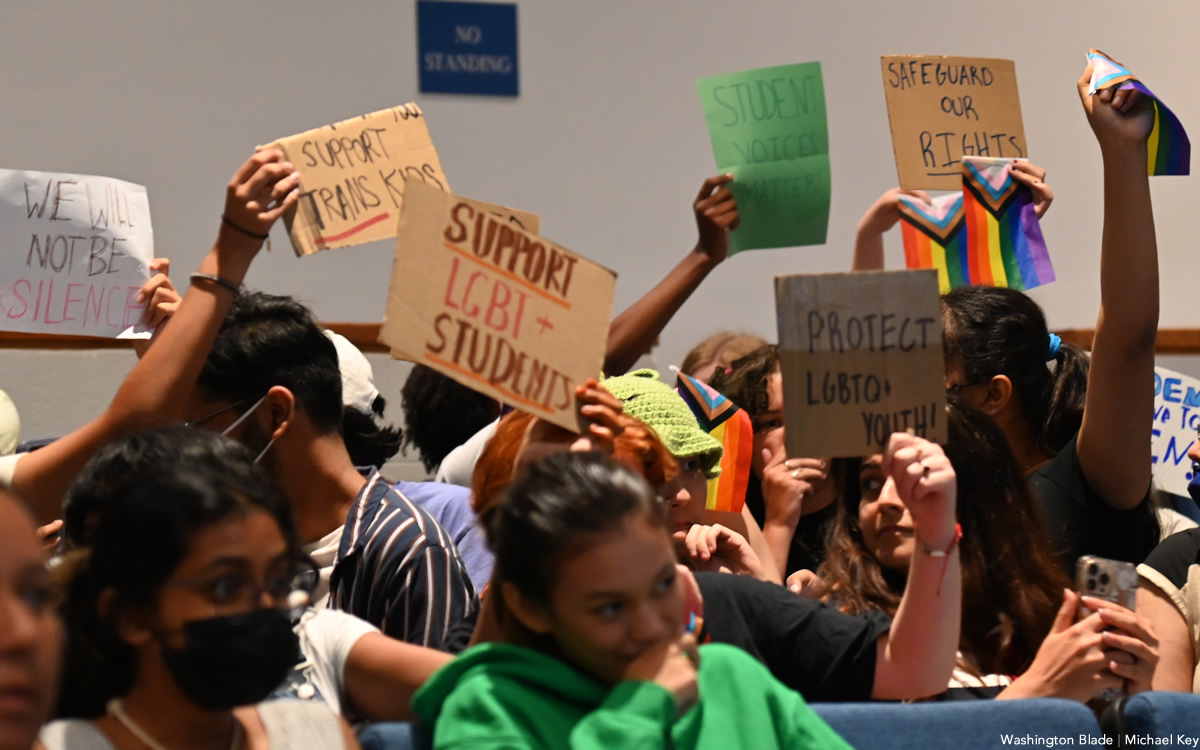 A group of Virginia students have launched a campaign that challenges the state's new guidelines for transgender and nonbinary students.
The Pride Liberation Project on Sept. 20 announced the formation of Students4Trans.
Students4Trans held a rally outside the Virginia Department of Education in Richmond on Sept. 22. Another rally will take place during the Virginia Beach School Board meeting on Tuesday.
The Virginia Department of Education in July announced the new guidelines for which Republican Gov. Glenn Youngkin asked. The regulations, among other things, require parents to be informed of a student's name and pronoun change, with the exception of "imminent risk of suicide related to parental abuse or neglect."
Arlington County Public Schools, Fairfax County Public Schools and Prince William County Schools are among the school districts that have refused to implement the guidelines.
The Spotsylvania County School Board announced last month that students are required to use the bathroom that aligs with their assigned sex, and parents could choose the names and pronouns their children use at school. Two parents in Virginia Beach have filed a lawsuit that seeks to force the city's school district to implement the new guidelines for transgender and nonbinary students.
Students4Trans has organized a student walkout on Friday to protest the Spotsylvania County School Board's new policies.
Michael K. Lavers contributed to this story.
Dignity Washington holds Catholic mass in honor of woman priest
LGBTQ group celebrates its support for ordination of women priests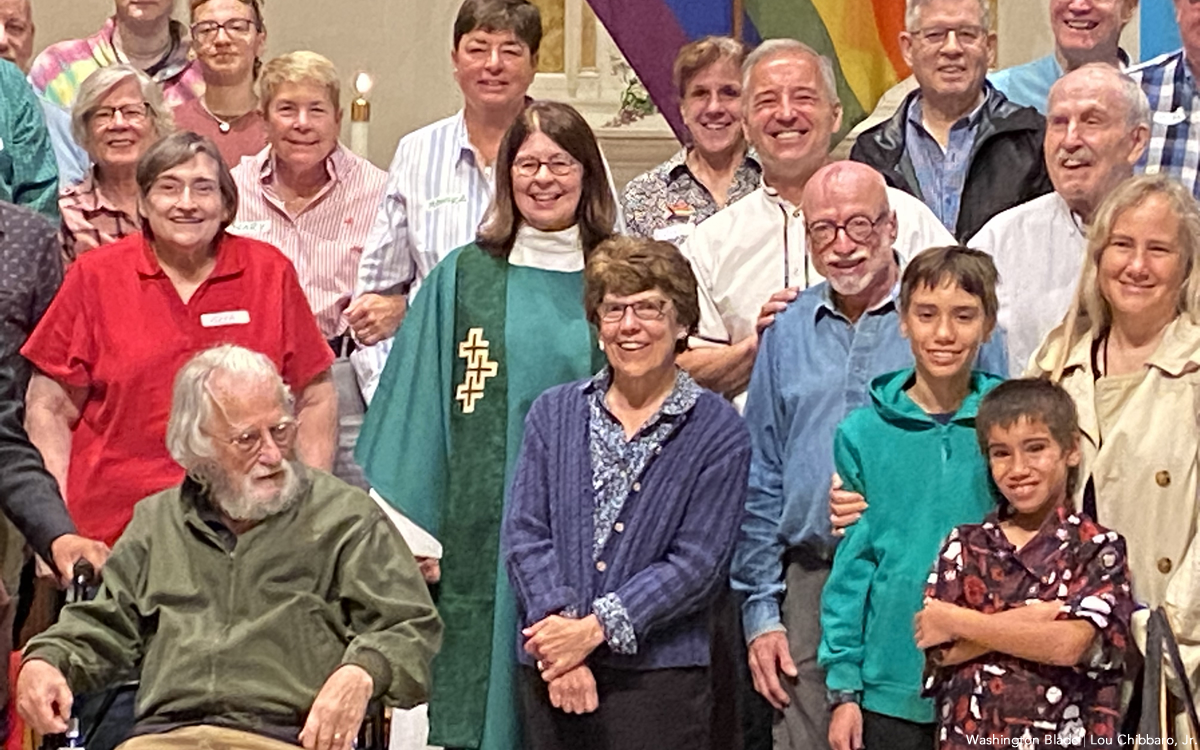 The D.C. LGBTQ Catholic group Dignity Washington says it dedicated its weekly Catholic mass on Sunday, Sept. 24, to honor a woman priest who has served as one of its priests since 2017 in a gesture of support for the women's priest movement.
"This Mass commemorates the ordination of Ann Penick as a Roman Catholic Woman Priest and celebrates the invaluable contributions of women who have served the church in various capacities," the group said in a statement.
"Rev. Ann Penick's ordination as a Catholic priest, and the ordination of female priests like her, represents a step forward in the Catholic Church's ongoing journey towards greater inclusivity and recognition of diverse vocations within its ranks," the statement says. "Dignity Washington is deeply honored to support her ministry and those of other women priests," it says.
The fact that the Dignity mass in honor of Rev. Penick, who presided over the mass, and all of its weekly Sunday masses are held at St. Margaret's Episcopal Church near Dupont Circle highlights the fact that the official Catholic church recognizes neither Dignity nor women priests.
Dignity, a nationwide LGBTQ Catholic group with chapters across the country, is banned from holding any of its masses in Catholic Churches.
Penick told the Washington Blade in an interview the week prior to her saying the Dignity Mass on Sept. 24 that she was ordained as a priest in June 2011 by a woman bishop associated with a breakaway Catholic organization, the Association of Roman Catholic Womenpriests. The organization was formed shortly after three male Roman Catholic Bishops ordained the first known women priests on a ship sailing along the Danube River in Europe in June 2002.
Two of the bishops who publicly disclosed their decision to ordain the women were excommunicated by Catholic Church officials at the Vatican in Rome. The third bishop acted anonymously and is believed to be continuing to serve as a bishop.
One of these bishops subsequently ordained female bishops who, in turn, began ordaining other women Catholic priests in Europe and in the U.S.
Information posted on the Association of Roman Catholic Womenpriests website says it and others associated with the women priest movement believe the ordination of women bishops and priests is valid under the biblical concept of 'apostolic succession."
Under that concept, the spiritual authority that Jesus bestowed on his original apostles has been handed down to subsequent generations of clergy, and the ordained women bishops and priests can pass that spiritual authority on to other female clergy.
A spokesperson for the Catholic Archdiocese of Washington, which oversees Catholic churches in D.C. and parts of Maryland, did not respond to a request by the Blade for comment on the women' priest movement.
Penick, who is married and has two stepchildren with her husband, points out that the women's priest movement has also broken with the official church over the longstanding church requirement that priests practice celibacy and cannot marry.
"The Roman Catholic women's priest movement sees celibacy as a personal calling," Penick told the Blade. "If a woman is personally called to celibacy, she follows that call," Penick said. "But a woman can also be married and have children, and that's always been a vision of the Roman Catholic Women's priest movement."
Penick notes that it was not until the early 1100s that the church put in place a celibacy requirement for its priests.
She has been active in the Catholic Church for most of her life in several states where she has lived and worked. She received a certification in lay ministry from the Diocese of Birmingham, Ala. in 1993, a master's in counseling degree from the University of Birmingham in 1995, and a master's in Pastoral Ministry from Boston College in 2008.
She and her family currently live in Alexandria, Va., and she currently works as a mental health counselor at the Counseling and Psychological Services department at George Mason University in Fairfax, Va. Penick said while living in Maryland she served as a priest for Living Water Inclusive Catholic Community in Catonsville, and currently serves as a priest for the D.C. Living Family Mass Community in D.C. as well as serving as one of Dignity Washington's rotating priests.
"We are so lucky to have her," said Dignity Washington former president Daniel Barutta, who noted that Penick and her husband are Dignity members. "She's just a shining star for women," he said. "And we really hope that Dignity Washington is leading the church, showing the church which direction to go in terms of empowering women and having them as our spiritual leaders."
Barutta said Penick has joined the Dignity Washington contingent in D.C.'s LGBTQ Pride parade and the city's St. Patrick's Day Parade and has led Dignity prayer services on various occasions.
Peter Edwards, Dignity Washington's vice president, said following its Sunday mass that the organization "certainly does affirm that women can serve as priests in our community." Edwards added, "We had a wonderful congregation tonight for a mass in celebration of Rev. Ann."
Sister Jeannine Gramick, co-founder of the Mount Rainier, Md., based LGBTQ Catholic advocacy organization New Ways Ministry, said she believes the fully approved ordination of women priests in the Catholic Church will someday happen.
"There is no theological reason, only cultural ones, why women have not been ordained priests," she said in referring to the official church. "I believe that a Catholic organization that ordains women priests is living out their sincere and deep-seated beliefs and preparing the wider community for what will eventually come to pass,' she said.
"Not all arrive at the destination at the same time, and I admire those with the courage of their convictions who lead the way," she added.
Activists, policy makers mark Celebrate Bisexual Day in D.C.
BiPlus Organizing US hosted event at HRC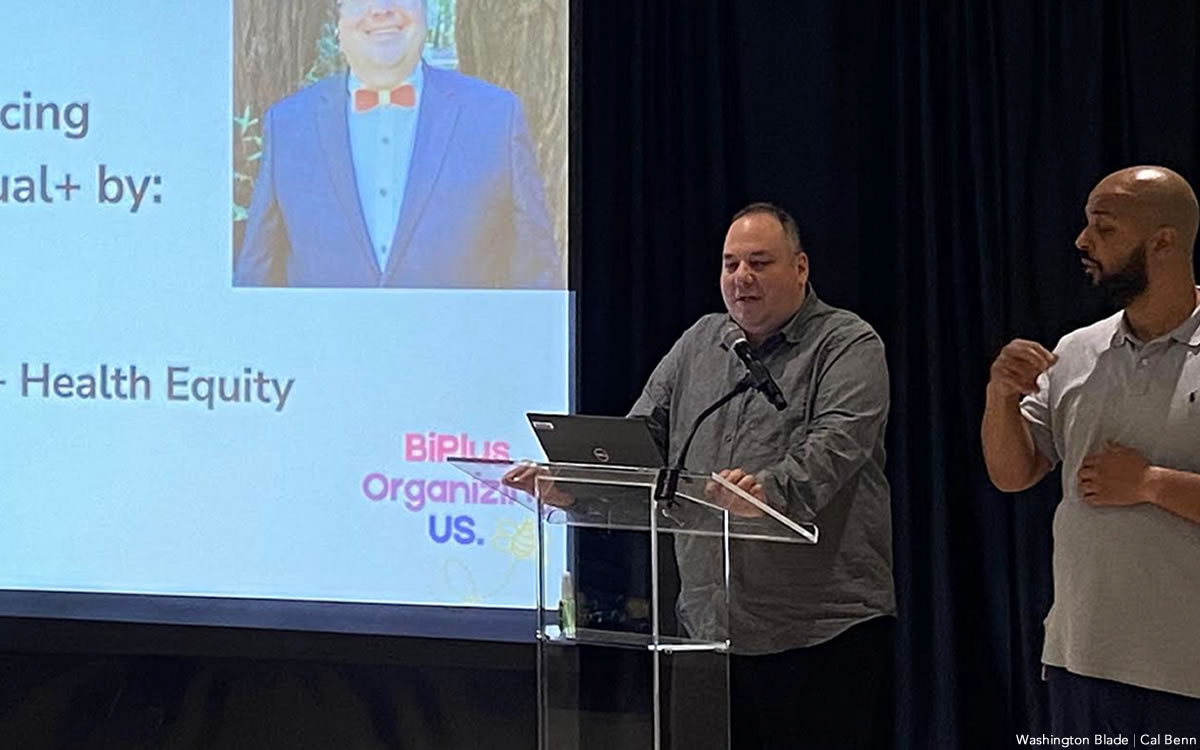 BiPlus Organizing US on Saturday hosted a Celebrate Bisexual Day event at the Human Rights Campaign.
Fiona Dawson, co-founder of BiPlus Organizing US, and Mélanie Snail, committee member of the organization, emceed the event. HRC Senior Vice President of Diversity, Equity, Inclusion and Belonging Rebecca Hershey welcomed attendees.
Heyshey discussed her journey as a bisexual, mixed race, Jewish woman. Hershey paraphrased Adrienne Maree Brown, stating "change is coming, we are creating change."
PFLAG Learning and Inclusion Manager Mackenzie Harte gave a presentation on the history of bisexual identities, defined terms surrounding gender and sexuality and went over statistics of discrimination and health disparities that bisexual individuals face.
Harte's presentation noted 48 percent of bisexual individuals reported an annual income of less than $30,000, compared to 30 percent of gay men, 39 percent of lesbians and 28 percent of all adults in the U.S.
Harte went on to say 28 percent of bisexual students report having attempted suicide; and bisexual people have a higher risk of mood disorders, substance abuse and mental illness than their lesbian, gay, or straight cohorts. Bisexual people of all genders face higher rates of sexual assault than those same peers. One reason for these statistics is isolation: 39 percent of bisexual men and 33 percent of bisexual women report not being out to any health care provider, and only 44 percent of bisexual youth report having an adult they could turn to if they were sad.
Harte also spoke about the Bisexual Manifesto, which the Bay Area Bisexual Network wrote in 1990.
"The bisexual manifesto very intentionally was not binary," Harte said.
They said the text works against the stigma and stereotypes that claim bisexuality is confined to "male, female." 
Tania Israel, a bisexual advocate and psychology professor at the University of California, Santa Barbara, shared some of her bisexual haikus, which she calls, "bikus."
Dawson moderated the next panel.
Panelists included Nicole Holmes, a bisexual advocate and public health professional, National Center for Transgender Equality Communications Director Leroy Thomas and NCTE Policy Counsel Kris Tassone.
The panel talked about how shame and stigma drive the statistics that negatively impact the bisexual community. Another word that came up as a driving force was "intersectionality."
Holmes said that when it comes to intersectionality, it's important to not just "list identities," but to look deep into "the purpose behind why we are talking about intersectional identities" in the first place.
Adrian Shanker, senior advisor on LGBTQ+ Health Equity for the U.S. Department of Health and Human Services, spoke about health equity for the bisexual community.
"Striving for health equity remains a core priority. It also remains an unmet dream," said Shanker. "Queer people have always had to be our own health advocates." While health equity may not be here yet, Shanker says there is much in the works for the LGBTQ community, bisexuals specifically.
Shanker cited a National Cancer Institute funding opportunity that invites research proposals to cancer care for sexual and gender minorities, stating bisexual specific proposals are welcome. The impending potential government shutdown may postpone it.
The Biden-Harris administration is also working to ban so-called conversion therapy at the federal level. Additionally, 988, the national suicide prevention hotline, began a program to offer specialized support for LGBTQ youth and young adults last year.
Shanker said bisexual people should prioritize preventative screenings for skin cancer, oral cancer, lung cancer, regular cervical and anal pap tests, mammograms, prostate exams and colonoscopies.
"If you have a body part, get it screened," said Shanker.
Megan Townsend, senior director of entertainment research and analysis for the GLAAD Media Institute, did a presentation on bisexual representation in the media and opportunities for advancement.
 "I want to see bi+/pan colors displayed on the White House," said Dawson. "I want every national LGBTQIA+ organization to be talking about us, to put our concerns front and center."
The data presented can be found here.