Lily Tomlin to be honored with foot and handprint ceremony at Chinese Theatre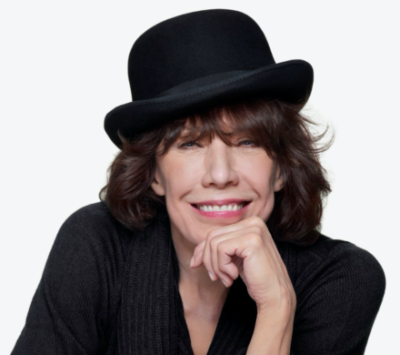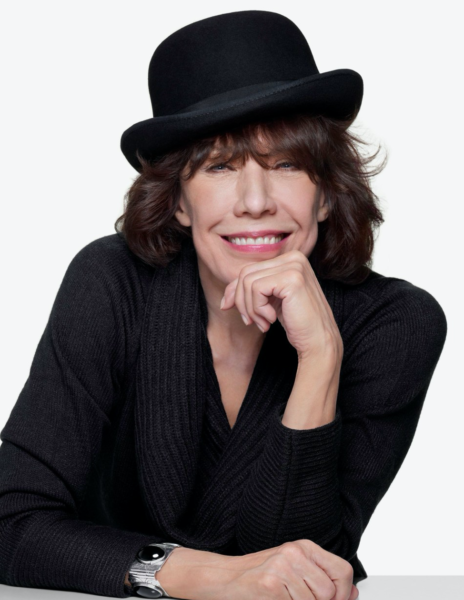 A bona fide LGBTQ icon is soon to join the ranks of some of the greatest stars in the history of Hollywood by having her hand and footprints imprinted in the world-famous courtyard of the TCL Chinese Theatre.
Turner Classic Movies (TCM) announced last week that it will honor veteran acress and comedian Lily Tomlin with a hand and footprint ceremony at the landmark movie house during the network's upcoming TCM Classic Film Festival. The Tony, Grammy, eight-time Emmy and two-time Peabody Award winner will be honored on Friday, April 7.
The hand-and-footprint tradition began in 1927, when then-owner Sid Grauman honored stars Douglas Fairbanks and Mary Pickford at the first ever ceremony. Since then, though the theater has changed owners, the ceremonies have continued, and the forecourt outside the main entrance has long been one of Hollywood's most-visited spots for fans looking to stand in the footprints of their favorite stars.
TCM began holding ceremonies at the theatre in 2011, honoring actor Peter O'Toole during their second annual Classic Film Festival. They have honored a different Hollywood legend each consecutive year since then, including Kim Novak, Jane Fonda, Cicely Tyson, and Billy Crystal.
Tomlin will be the tenth star to be honored by the network.
Ben Mankiewicz, TCM's primetime anchor and official host of the TCM Classic Film Festival, had this to say about the actress:
"Lily Tomlin's talent has endured for fifty years because she knows who she is. She's managed to play broadly drawn roles alongside more nuanced characters without a hint of falseness. Not long ago, Tomlin told The New York Times, 'I wanted people to see the characters as human beings. And see themselves in them, too.' The humanity she finds in the women she plays has enabled her to transition, seemingly with ease, from groundbreaking work on "Rowan & Martin's Laugh-In" to four Emmy nominations for "Grace and Frankie,"where she co-stars alongside another seminal artist, Jane Fonda. There's a consistent richness to her work, in comedy and drama, as well as on stage in her innovative one-woman show, "The Search for Signs of Intelligent Life in the Universe,"and on the big screen. Whether your favorite Lily Tomlin performance is "The Late Show,"or "9 to 5," or "Nashville" …wait, I'm not done… or "All of Me," "Flirting with Disaster," "I Heart Huckabees,"or "A Prairie Home Companion,"you know all of those pictures were made more memorable because Lily Tomlin was among the cast. It's hard to imagine a more deserving artist to have her hand and footprints cemented outside Hollywood's signature classic movie house."
In addition to her decades-long career as a performer, Tomlin has long been a respected and visible member of the LGBTQ community, as many LGBTQ media outlets, like LGBTQ Nation, have been quick to point out. She has been with her partner, film producer and writer Jane Wagner for nearly fifty years (the couple married in 2013), and they are staunch advocates and activists for LGBTQ rights and other causes. They are both benefactors of the Los Angeles LGBT Center. In December, the actress was arrested at "Grace and Frankie" co-star Fonda's weekly "Fire Drill Fridays" climate change protest in Washington, D.C.
The 2020 TCM Classic Film Festival takes place Thursday, April 16 – Sunday, April 19, 2020. It will feature an extensive lineup of classic movies, appearances by legendary stars and filmmakers, presentations and panel discussions, special events and more.
For more information and tickets visit the TCM website.
PHOTOS: GMCW Holiday Show
Chorus performs at Lincoln Theatre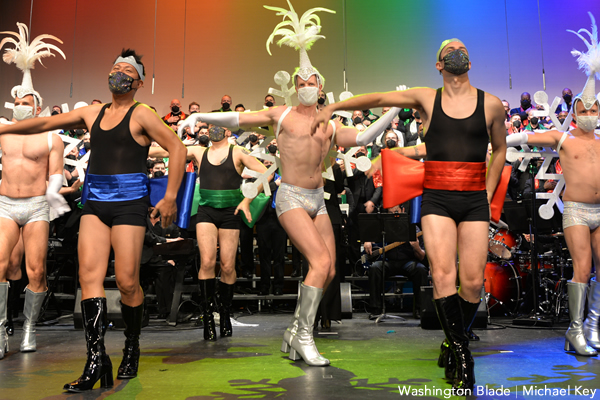 The Gay Men's Chorus of Washington performed its "Holiday Show" at Lincoln Theatre on Saturday. The Chorus has performances on Dec. 11 and 12. For tickets and showtimes, visit gmcw.org.
(Washington Blade photos by Michael Key)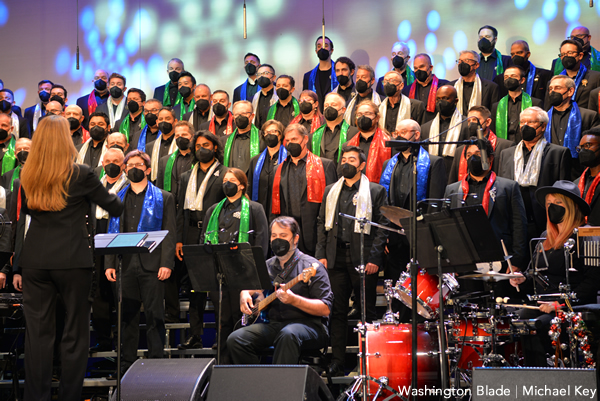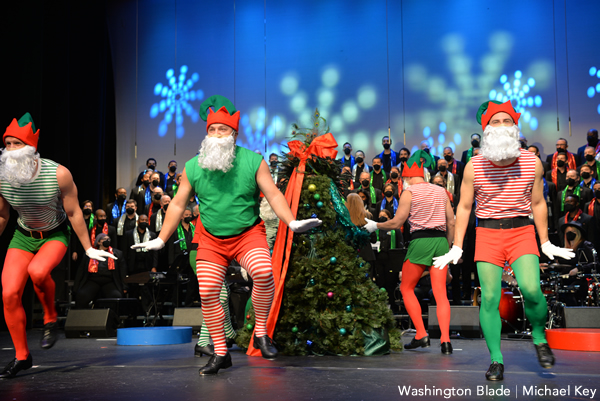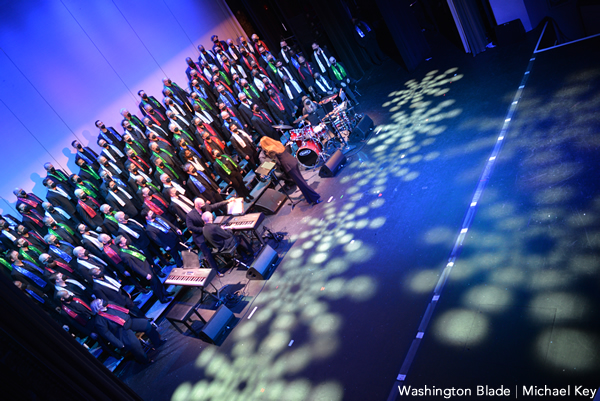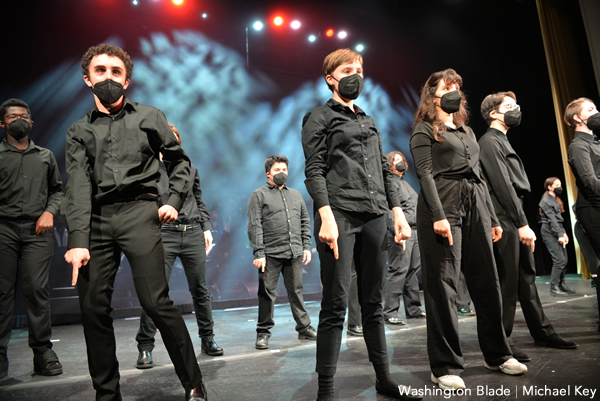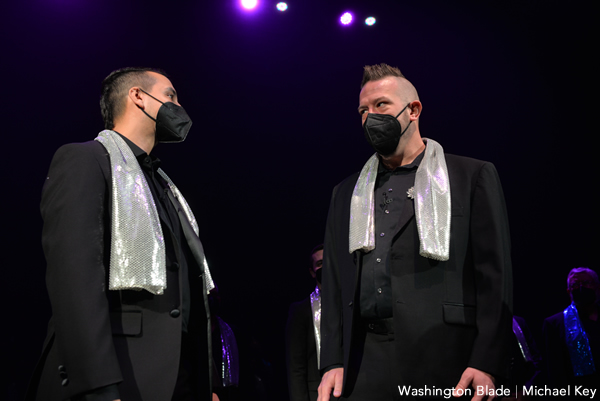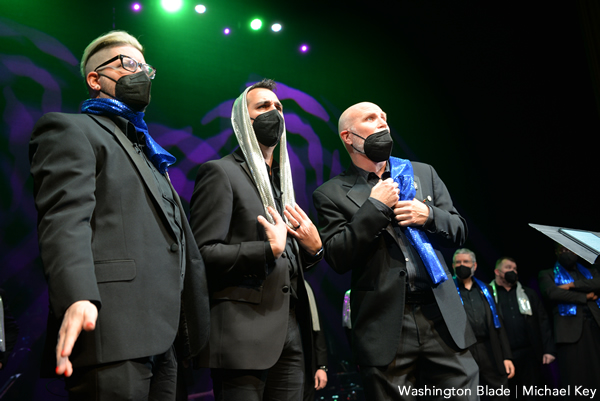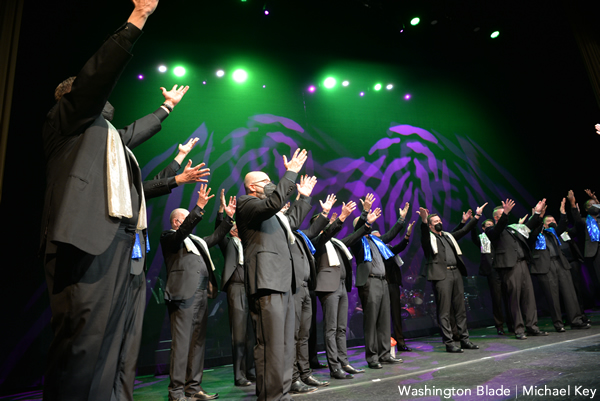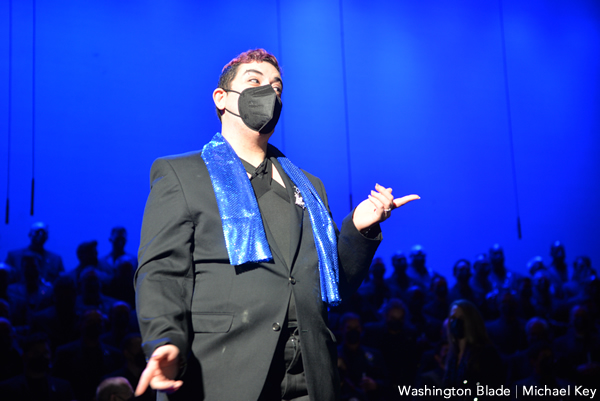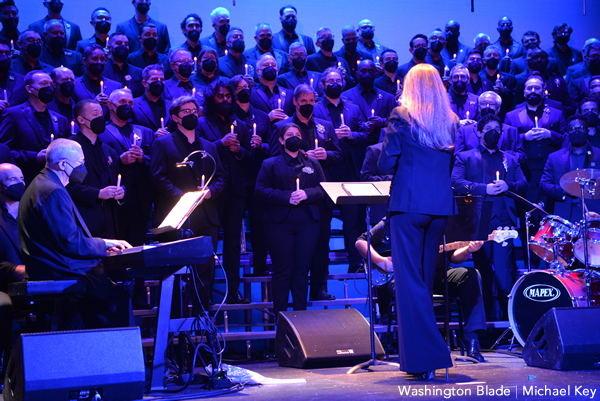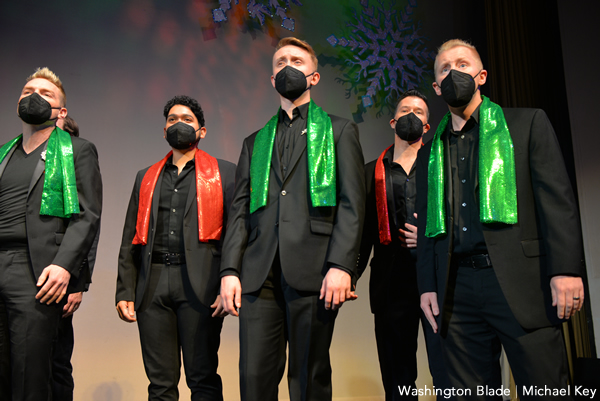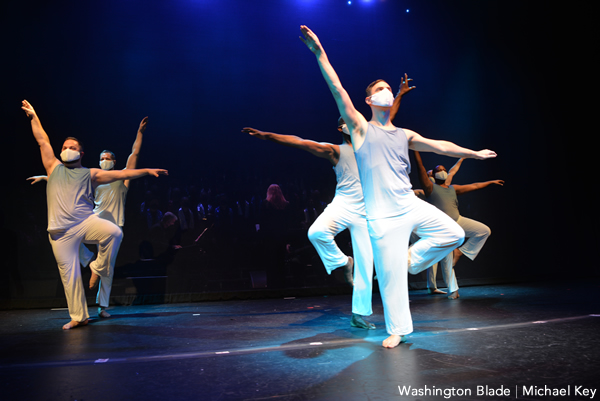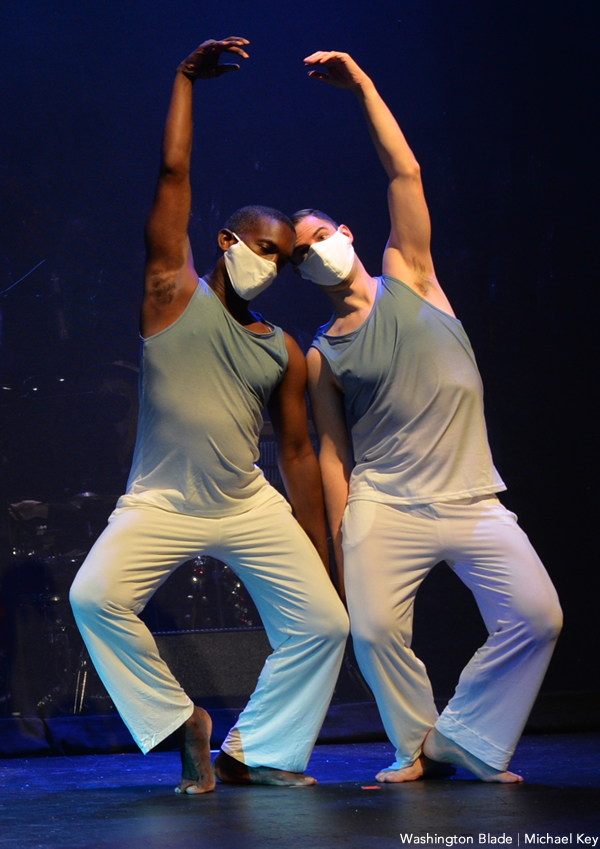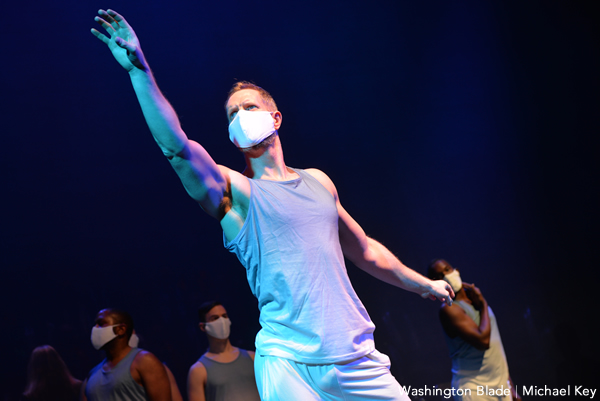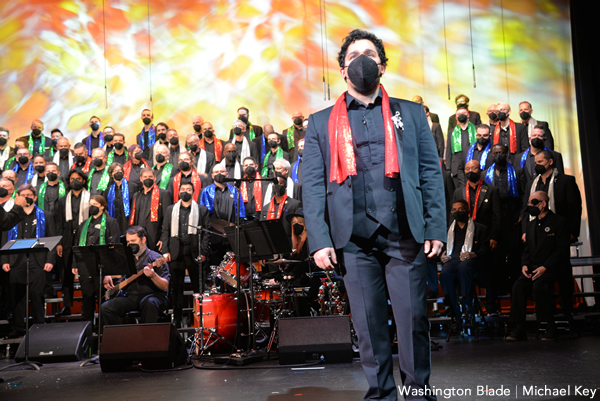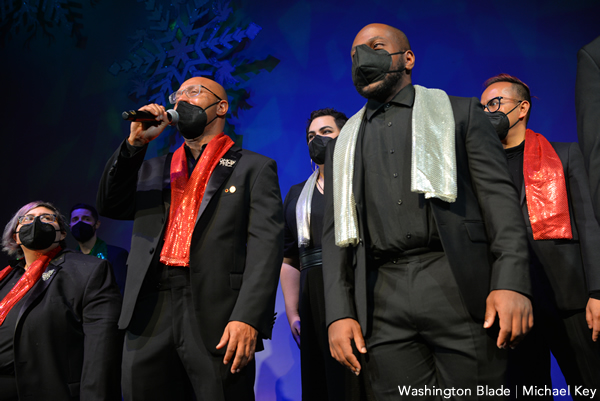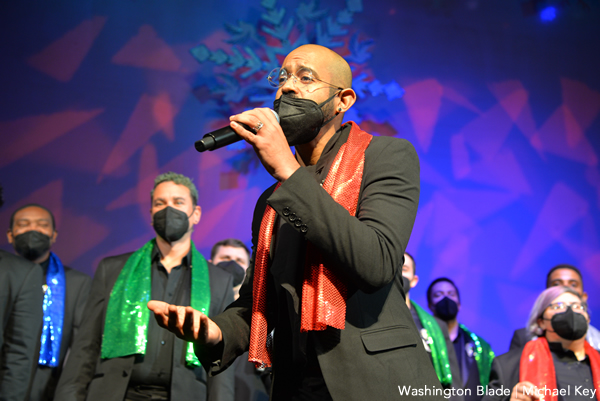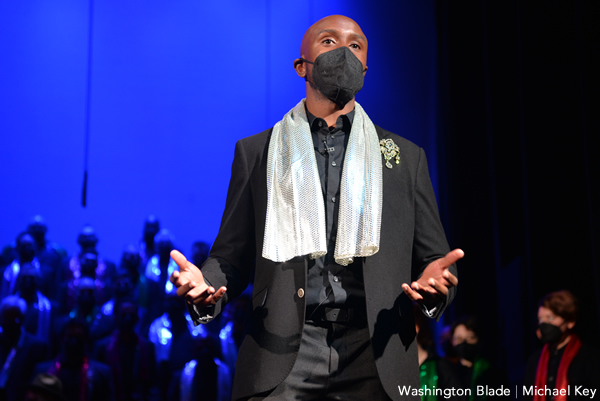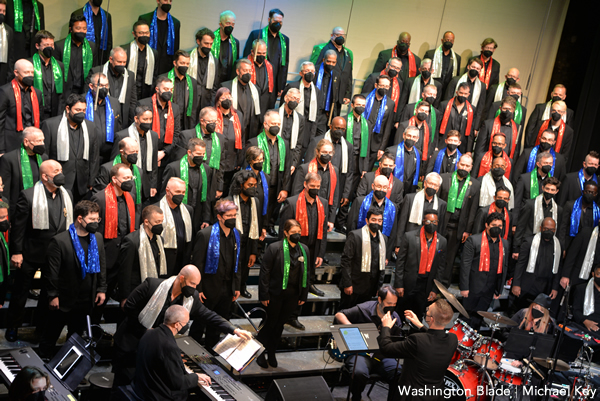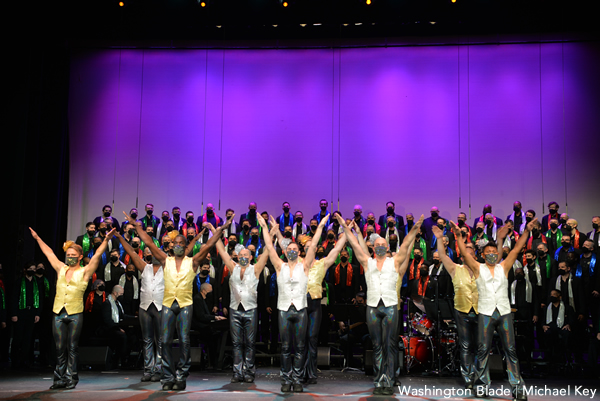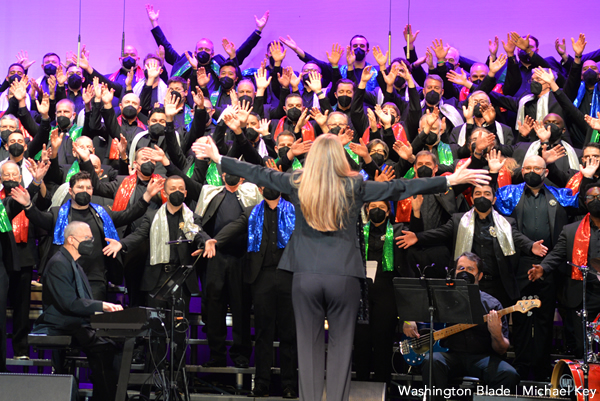 PHOTOS: International LGBTQ Leaders Conference opening reception
Politicians and activists from around the world met and mingled at the JW Marriott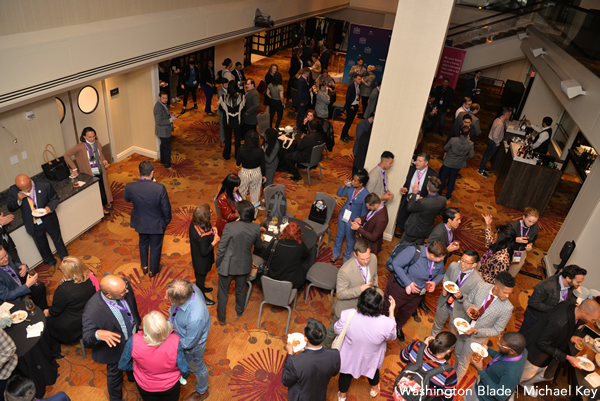 The LGBTQ Victory Institute held an opening reception for the 2021 International LGBTQ Leaders Conference at the JW Marriott on Thursday.
(Washington Blade photos by Michael Key)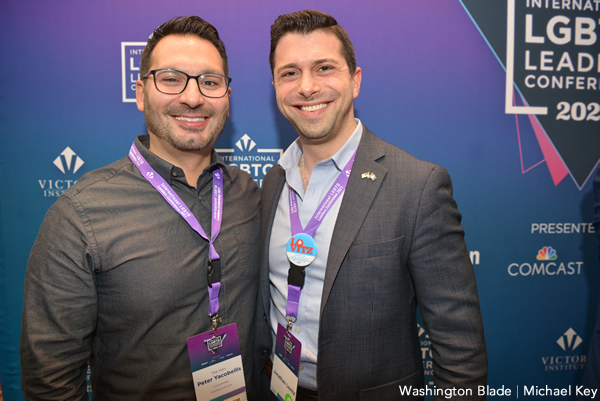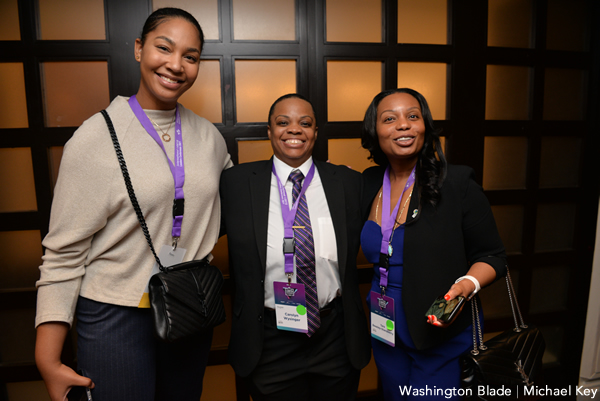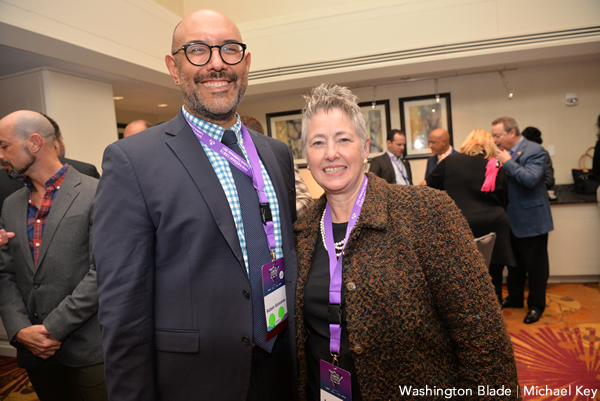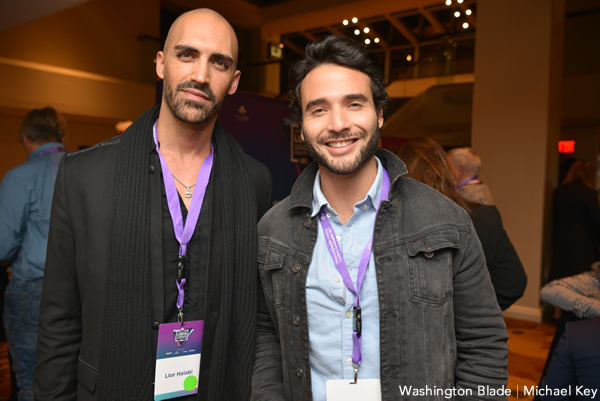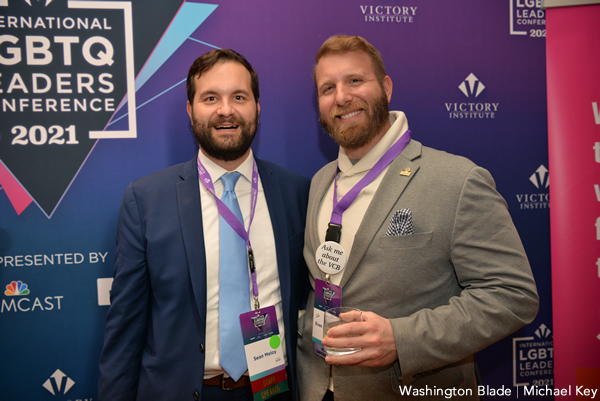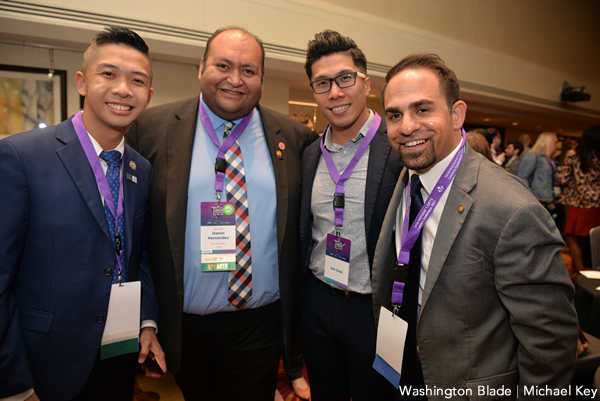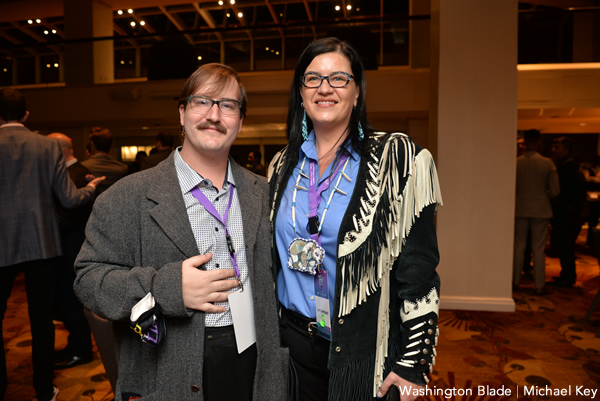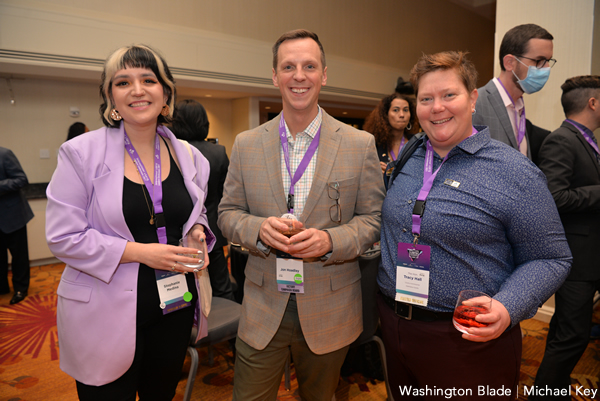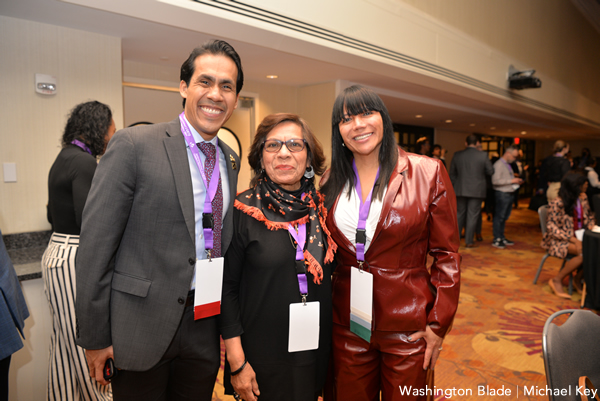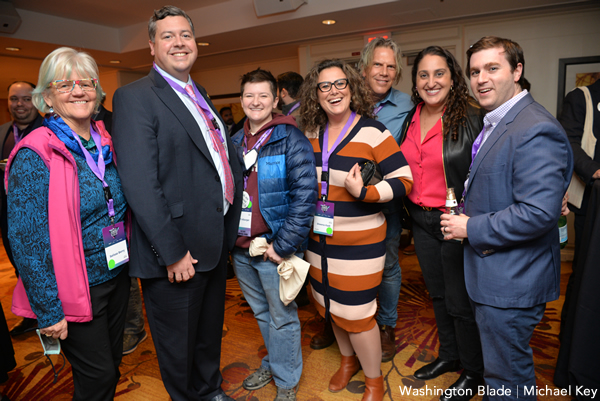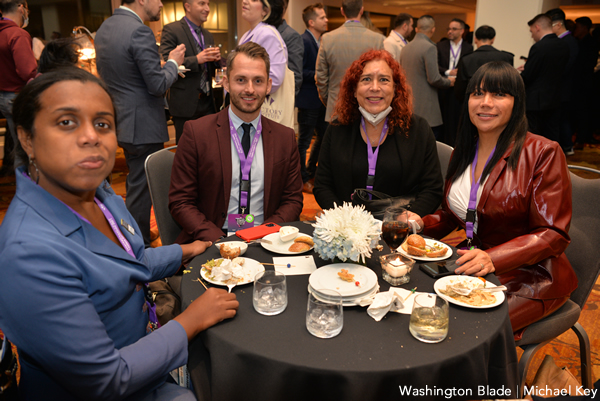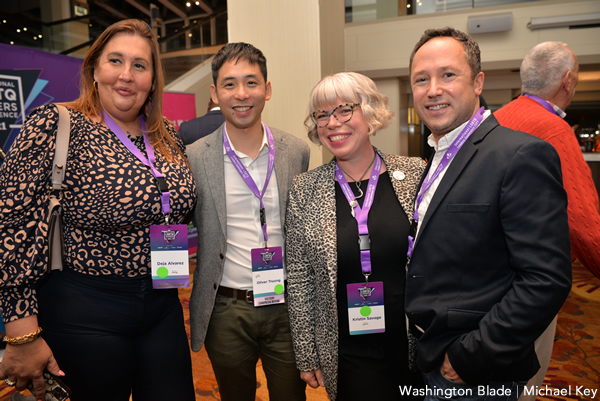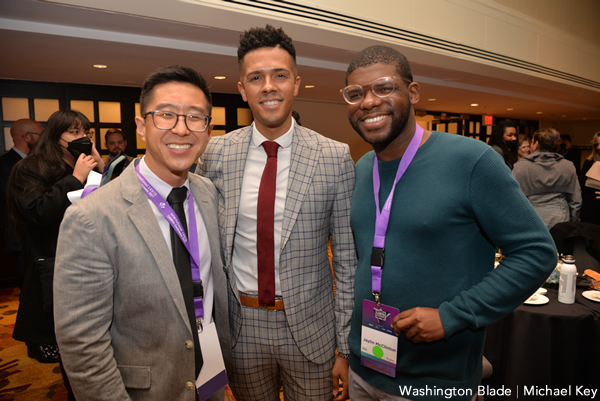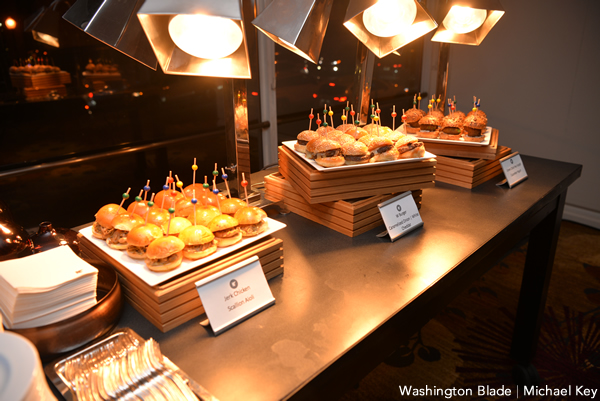 Meet the husbands and creative partners behind 'Christmas Angel'
A funny, redemptive world premiere with a diverse cast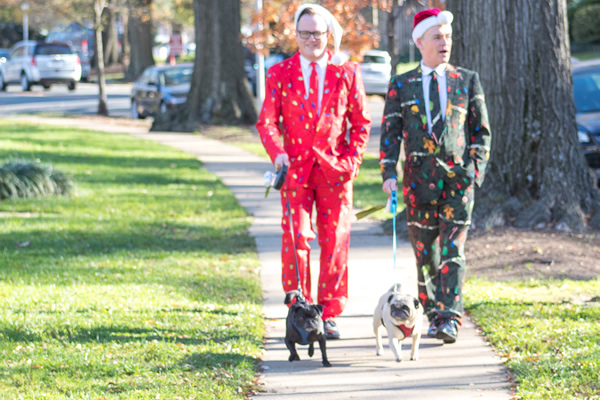 'The Christmas Angel'
Dec. 9-19
Creative Cauldron
410 South Maple Avenue
Falls Church, VA 22046
Tickets:  $35. Students $20.
Masks and proof of vaccination are required
creativecauldron.org
"Ours is like a lava lamp," says composer Matt Conner describing the collaborative creative process he shares with musical writing partner and husband Stephen Gregory Smith. "We move together in motion in a continual ebb and flow."
A couple for 23 years, married for eight, and making musicals together for 11, the talented pair's current offering is "The Christmas Angel," opening on Dec. 9 at Creative Cauldron in Fairfax.
A musical adaptation of the same-named 1910 novel by Abbie Farwell Brown, it's the story of Angelina Terry (Kanysha Williams), a wealthy embittered recluse who learns the lessons of Christmas from a box of old toys that she casts into the street. Also featured in the hour-long one-act are Ryan Sellers as Horton, Angelina's butler, and Carl Williams who plays her brother. The angel and toys are brought to life by an ensemble of a dozen teens plucked from the company's musical theater training program.
Via phone from their home in Arlington, Smith and Conner shared thoughts on their new show and working style. In attendance are pug dogs Edgar Allan Pug and Lord Byron, whom they call Eddie and Byron in public – otherwise "it's just too much," says Conner whose ultimate fantasy involves living on a pug farm where he'd write music and present the occasional show.
Rather than finish each other's sentences, the duo (both Helen Hayes Award winners – Smith for acting and Conner for directing) expound on one another's thoughts.
While Conner composes the music, Smith writes the book and lyrics, and together they co-direct. "But there's no end and beginning where my job ends and his begins," says Smith. "What we do complements each other's work."
Still, there are differences. Smith's approach is focused. He writes pages at night and edits in the morning. Conner's method is more relaxed, preferring to sit at the keyboard and talk rather than writing things down. But throughout the creative process, there's never a moment when the project isn't on their mind. They can be watching TV or buying milk when an exciting idea pops up, says Conner.
A clever nod to Dickens, the novel is more than just a female "Christmas Carol," says Smith. And in some spots, he's beefed up the 55-page book, fleshing out both storyline and characters including the toys whose shabby appearance belies a youthful confidence.
He adds, "Every holiday season you go to the attic and pull down the box, or boxes in my case, of holiday decorations and it's all old but it's new. That's the nostalgic feeling of toys from the attic that we're trying to find through the show."
The music is a combination of traditional carols performed by a hand bell chorus, and original Christmas songs that intentionally sound very familiar. The score includes songs "Don't Hide Your Light," "The Sweetest Gift," and "Yestermore" – the moment when the past, present, and future come together.
Also, there's Angelina's Bah! Humbug! number "Fiddlesticks," her great renunciation of the holidays. She believes the world a disappointing place to be, and the sooner realized the better.
Conner and Smith aren't new to Creative Cauldron. Through the company's Bold New Works project, the team was commissioned to write five world premiere musicals in just five years. The result was "The Turn of the Screw," "Monsters of the Villa Diodati," "Kaleidoscope," "Witch" and "On Air."
Judging from some of the titles and their slightly macabre content, it seems the duo was better poised to write for Halloween than Christmas, but nonetheless, they were commissioned. Creative Cauldron's producing director Laura Connors Hull brought them the obscure yet charming book that surprisingly had never before been reworked for stage or celluloid, and the pair got to work last spring.
Conner and Smith agree, "The show is a lot of things rolled up into one."
Not only is it a funny, redemptive world premiere with a diverse cast, but it's also a story largely unknown to today's audiences. Additionally, the show boasts intergenerational appeal while holding messages about Christmas, family, and finding light when you're in a darker place.
More information about Conner and Smith, including links to their music and popular podcast "The Conner & Smith Show," can be found on their terrific website at connersmithmusicals.com.