February 19, 2020 at 5:00 pm EST | by Chris Johnson
Exclusive: Steyer says Bloomberg calling trans people 'it' was 'unbearable'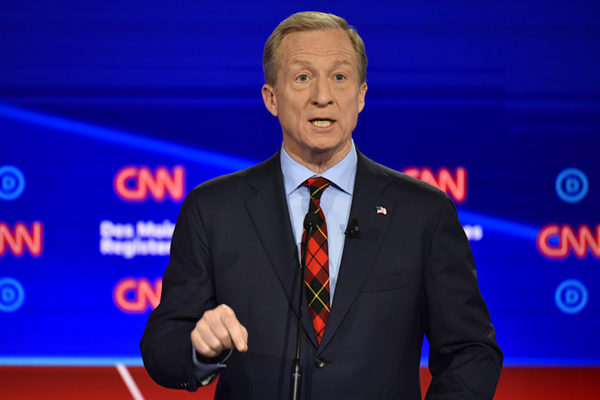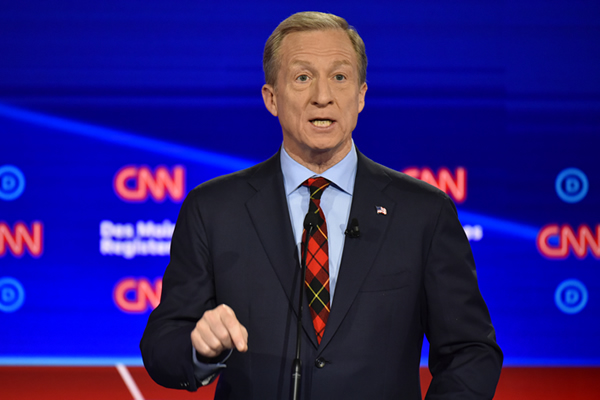 Democratic presidential candidate Tom Steyer, in a wide-ranging interview with the Washington Blade on Wednesday, said a recently unearthed video of Mike Bloomberg referring to transgender people as "it" was "unbearable" to watch and made him "very sad."
"It hurts me to hear it, to be honest, and I'm sure he regrets it," Steyer said of the video, in which Bloomberg also blamed transgender people for Democratic losses in 2016.
When the Blade asked Steyer if he had the seen the video, which was first reported by Buzzfeed News, the candidate replied, "I simply was told that he referred to a transgender person as 'it' and I almost couldn't look."
Bloomberg is facing intense criticism for referring for the anti-transgender remarks, which were made at the Bermuda Business Development Agency in March 2019 in New York City.
"If your conversation during a presidential election is about some guy wearing a dress and whether he, she, or it can go to the locker room with their daughter, that's not a winning formula for most people," Bloomberg said.
Steyer told the Blade he regularly attends galas hosted by the LGBTQ Equality California, where the executive director, Rick Zbur (who's also Steyer's college classmate), seeks to have transgender speakers.
One of the things Steyer said he learned from those speakers was half of transgender people under age 21 try to commit suicide.
"I have always felt ever since that anyone whose heart doesn't go out to that community, does not go out to every one of those people must have a heart of stone," Steyer said. "That's a level of suffering that nobody can fake."
Steyer added Bloomberg's words hit close to home for him because in San Francisco, 10 percent of the homeless population is transgender youth, which he said was "grossly disproportionate."
"I know that there's a reason that's true and I know what they're going through on the street and the level of violence associated with that it, and the sex trafficking," Steyer said. "So in that context, to use that word is really almost unbearable."
Steyer said his belief is to push back on prejudice against minority groups, so that "other people know that not everybody goes along with it, that other people feel really strongly the other way, and I try to do with regards to every kind of person."
"Specifically, if I know that people are suffering, I think it's important they know there are people on the other side pushing back hard," he said.
Steyer concluded on Bloomberg's remarks, "That just made me sad. Very sad."
The Blade will published the interview with Steyer in full within a week.