February 21, 2020 at 10:45 am EST | by Joey DiGuglielmo
QUEERY: Jade Jones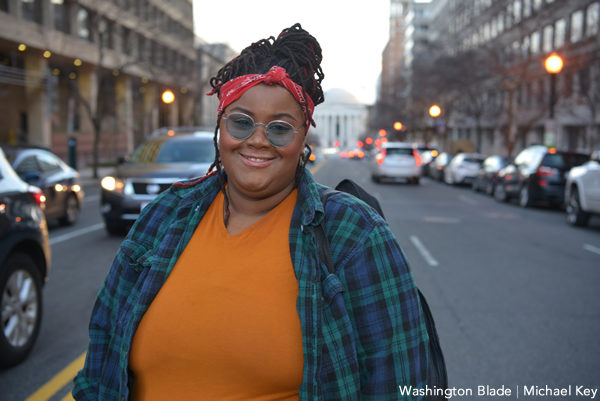 Many who folks who end up on stage dream of it for a long time before getting there. Jade Jones was the opposite.
Though she'd always wanted to do something in theater, her low self confidence had her thinking she could never be an actor. Planning to teach, she got a theater degree but after a few months of unemployment, she auditioned for "Hair" at Keegan Theatre in 2014.
"I've been here ever since," the Reston, Va., native, who identifies as queer, says.
She's starring now as Sister Rice in 'The Amen Corner" at Shakespeare Theatre Company. The James Baldwin-penned plays tells of a 1950s storefront church in Harlem where a gospel choir sings of redemption in one room while Pastor Margaret Alexander's on bonds with his ailing father over their mutual love of jazz in the next. It runs through March 15 in Sidney Harman Hall (610 F St., N.W.) and features a dazzling cast of local actors such as Mia Ellis, Harriett D. Foy, Antonio Michael Woodard, Lauryn Simone, Nova Y. Payton and more. Details at shakespearetheatre.org.
Jones discovered the work during a reading at STC last year and says, "It hit me hard."
"I love Baldwin's use of gospel music throughout the piece," she says. "It definitely resonated with me and brought me back to my roots in gospel music."
Jones has been in about 10 Equity shows here in Washington. Her favorite so far was "School Girls: or the African Mean Girls Play" at Round House. She dreams of doing theater around the country and abroad.
Jones is single and lives in the Sixteenth Street Heights. She enjoys theater, jam sessions, playing the ukulele, French pressing coffee and exploring.
How long have you been out and who was the hardest person to tell?
I came out to my parents when I was 21 and they were definitely the hardest people to tell. I grew up in a very religious household.
Who's your LGBTQ hero?
Tiffany "New York" Pollard
What LGBTQ stereotype most annoys you?
That all bisexual people are promiscuous.
What's your proudest professional achievement?
Getting to perform "The Wiz" for Michelle Obama at Ford's Theatre in 2018.
What terrifies you?
Being late. Not saying I'm never late. Just terrified of it.
What's something trashy or vapid you love?
Trashy TV — "Flavor Of Love," "Real Housewives." The more drama the better.
What's your greatest domestic skill?
I make a mean margarita.
What's your favorite LGBTQ movie or show?
"Paris Is Burning"
What's your social media pet peeve?
When people post fake news.
What would the end of the LGBTQ movement look like to you?
Not sure — we have a long way to go and I hope we don't forget the trans community. I hope we fight for them as hard as we fought for our basic human rights.
What's the most overrated social custom?
Shaking hands. Yikes.
What was your religion, if any, as a child and what is it today?
I grew up in the United Church of Christ. I consider myself a spiritual person, not religious.
What's D.C.'s best hidden gem?
Looking Glass Lounge in Georgia Ave. I guess it's not so hidden, but it's always a vibe. Good music and drinking are straight to the point.
What's been the most memorable pop culture moment of your lifetime?
Britney/Madonna/Christina kiss at the 2001 VMAs. I must've rewatched it 500 times.
What celebrity death hit you hardest?
Kobe Bryant, just because it was so shocking. It definitely shook me into living every day like it's my last.
If you could redo one moment from your past, what would it be?
Taking out student loans, for sure.
What are your obsessions?
Pineapples on pizza, "RuPaul's Drag Race," Rosé, Drake, Cold Brew, Flannels, Vinyls, a good play, Oreo Mcflurries, and honestly a nice butt.
Finish this sentence — It's about damn time:
…we get this administration out of Chocolate City.
What do you wish you'd known at 18?
How to properly do my own taxes.
Why Washington?
For the culture. If you don't understand that, we ain't meant to be friends.