February 21, 2020 at 10:10 am EST | by Philip Van Slooten
New web series 'These Thems' explores the queer spectrum through comedy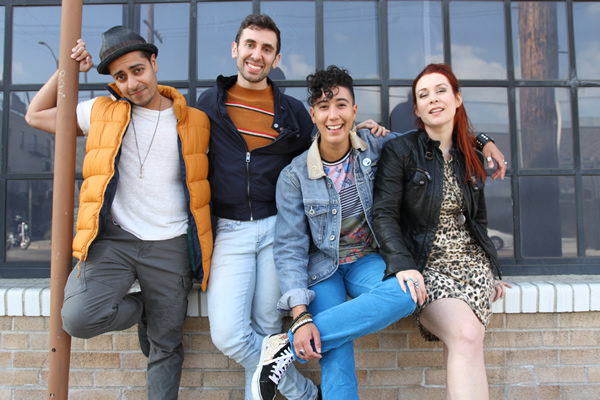 An episodic romantic comedy about a newly out lesbian journeying with nonbinary and transgender friends through New York City's vibrant queer scene streams Feb. 27 on YouTube's OML channel.
"These Thems" follows 30-year-old Gretchen and her nonbinary friend and LGBTQ educator Vero as they navigate the increasingly-complex-yet-still-inclusive world of colorful queer community.
Similar to "Pose," this series features a multitude of transgender, nonbinary and queer characters portrayed by actors who are the same. It's run by crew members who identify across the queer spectrum.
Series writer, creator and star Gretchen Wylder, who identifies as a queer cisgender femme, and director Jett Garrison, who identifies as transmasculine, recently spoke with the Washington Blade about this show, which both called a "comedy with heart."
"These Thems" was listed in GLAAD's "Top Trans Creatives and Stories to Watch in 2019" and has received awards at film festivals in Chicago, Austin, North Carolina and Kansas. It was also screened at Toronto's Inside Out festival, Atlanta's Out on Film and Los Angeles' Outfest.
The series is set to stream Thursdays on OML through mid-April.
WASHINGTON BLADE: Gretchen, can you tell us a little about the show? How would you describe it?
GRETCHEN WYLDER: The show is a queer comedy series that follows four main characters in New York City. We follow a newly out lesbian who is trying to make up for lost time, and a nonbinary/wannabe queer educator who takes Gretchen under their wings. Their best friend is a trans man who is deciding whether or not to out himself at work, and he quickly falls for Gretchen's best friend who is a cis gay man who is lovelorn and doesn't really have any experience within the queer world. The audience follows Gretchen's perspective through her lens of exploring the queer world for the first time.
BLADE: You also named the lead character Gretchen. Was there any special reason?
WYLDER: There's a lot of actor/writers whom I look up to who have named lead characters after themselves. Lucille Ball, Issa Rae. … And a lot of it is based off my own personal experience. Some of it is based on my own coming out experience, even though I came out 13 years ago. The first episode is inspired by a similar situation.
BLADE: Would you say you're similar to your character?
WYLDER: Oh, Lord! We're very similar, ha! I'm a Pisces and I've had my run of heartbreak, so we kind of see Gretchen going through the wringer a little bit. But near the end we see Gretchen reclaiming herself, her individuality and her sexuality.
BLADE: What inspired you to create a newly out lesbian navigating the queer world?
WYLDER: I like to think our show draws from and was inspired by "The L Word," and it was so important to queer representation. But something that we deliver that "The L Word" doesn't have is a more broad scope of what the queer community looks like. I feel like as enjoyable as it is, it for the most part it seems to focus its lens on cisgendered and conventionally attractive characters facing relationship troubles, and this show focuses more on the broadness of the New York queer community. One thing I never related to with "The L Word" was the predominantly white, feminine, lesbian circles. One thing that I wanted to reflect was queer intersectionality and to show that sometimes it is really difficult to navigate. We all don't have the answers and we're all learning and we're all growing and the characters are just trying their best and experiencing life together — even if it looks different depending on the character.
BLADE: Was it a challenge writing for nonbinary cast members?
WYLDER: Many of my friendships and relationships are with people who identify as nonbinary or trans and I was very active in the queer community in New York City.When I was writing the show, I had four table readings in New York City. I come from a theater background and it comes immediately across from the audience when something is working or isn't working. I tell you what, there have been so many rewrites of the script because so much of the language was clunky at first. I would get feedback and something wouldn't work. It was a lot of trial and error.
BLADE: Jett, what drew you to this project?
JETT GARRISON: I read the script and fell in love with the characters, fell in love with the story — the humor. One of the things that drew me to the project was how beautifully Gretchen wrote all of these characters. Gretchen, the character, is having her coming out of sorts, but this is not a coming out story, per se. It is a coming out for folks who are already in the queer community. We have been over the past maybe five years learning a whole new vocabulary that didn't exist for some of us in our 30s, 40s or 50s. We didn't have words like nonbinary or trans, so Gretchen gets a new vocabulary and is excited and overwhelmed and she's trying her best to figure it out. And I feel like everyone, whether they are a straight cis ally or part of the queer community, has had some kind of moment where they are trying to navigate and honoring somebody's sexuality, identity or humaness in a way that is foreign to them.
BLADE: How did you become involved?
GARRISON: I've been a filmmaker for almost 20 years, and primarily as a queer, feminist, female-forward type of storyteller. Gretchen was reaching out to transmasculine, trans male directors because of a central storyline that she knew she wanted to have an extra set of eyes and an extra heart to pay attention to. And I really connected to our transmasculine character, Asher. I knew that I wanted to develop those stories because we haven't been seen in these storylines or characters.
BLADE: Did being a transmasculine director help with developing the authenticity in those scenes?
GARRISON: When you are a director working with your actors, whether it is in theater or film, you have to build this trust. … We (two of the transmasculine actors) were able to work in my apartment and have a discussion about what each of their identities mean to them and where they come from. Shaan (Dasani) happened to be a good friend of mine and we talk a lot about different experiences and where safety comes into play about being out — whether it's at work or in public — so we're constantly in dialogue. So, when you're on set, you just develop the shorthand. And when you're asking for subtle changes in a delivery, or maybe a shading of a line, it also incorporates the writer and Gretchen knew she could trust me and our actors to collaborate and make sure it all worked together.
BLADE: As a transmasculine director, what challenges did you face in the industry prior to this project?
GARRISON: I directed quite a bit. I got my MFA at the University of Texas and one of my shorts was nominated for a student Academy Award. But I haven't done much directing since I transitioned, which was just a few years ago. It's been a challenge for me because I identified as a butch lesbian and was a member of many female directing initiatives. But once I transitioned, I kind of transitioned myself out of those communities. I transitioned at a time when our trans sisters were doing a good job of elevating their visibility in the media. For us trans masculine folks, that wasn't the case for a multitude of reasons. Now, a lot of it is coming out and meeting each other and helping try to elevate one another. "These Thems" came along at a perfect time. Episodic directing has been a goal of mine for a while.
BLADE: Does the show include cisgender heterosexual cast and characters? Are there any funny moments that stand out?
GARRISON: We wanted this to be participatory to see how cis-het connect with us and are a part of this world that we all live in. Our gender reveal party episode is hilarious and we didn't want our cis-het people to come off as dumb or unknowing but learning about this new world along with Gretchen and the rest of us.
BLADE: Gretchen, how did cisgender heterosexual audience members feel about the show? Did they get what you were trying to say?
WYLDER: Cis-het friends who watch the show enjoy it and so did older lesbians and cis-gay men who are not within the trans spectrum and don't understand it. So, this is a way to watch and learn in a fun comedic way. The character of Gretchen represents anyone, regardless of how they identify, who is new to this new world and faces its challenges in a funny, relatable way. Humor is something that everyone can relate to.