February 28, 2020 at 8:51 am EST | by Joey DiGuglielmo
QUEERY: Rheadrea Monet (aka PoetRaeMonet)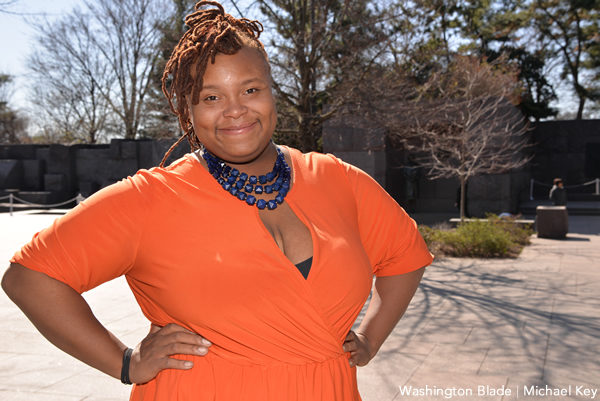 Rheadrea Monet (aka PoetRaeMonet) is one of the rare folks who has pretty much built a career out of her passion — poetry.
She remembers discovering it in school around sixth grade.
"All it took was one assignment to get me hooked," says the native Washingtonian (she grew up in Ward 8). "I'm a self starter so by the time I was in high school, I had written over 100 poems."
Monet describes herself as "an erotic poet" and uses her poems to "open the discussion about sex and sexual education," a topic she says is often "shunned and overlooked."
"It's so massively important to me because I suffered sexual trauma as a child," she says. "So now, I can use my experiences to help others."
Monet is this year's poet laureate for "The Ask Rayceen Show," which has its season premiere on Wednesday, March 4 at 7 p.m. (reception/happy hour at 6) at HRC (1640 Rhode Island Ave., N.W.). It's free. KIDe, Ganja Kitty, Kent Black, DJ Mim, Monet and Krylios are this month's guests. The show continues the first Wednesday of each month through November. Details at askrayceen.com.
Monet was smitten with Rayceen the first time she met her as a show volunteer.
"I jumped right in helping to stuff the goodie bags," she recalls. "When Rayceen came gliding in, welcoming us and thanking us all for our time, she came over and gave me a hug and a smile and that was it — I knew I needed to be a part of whatever she was doing."
Monet has published four books of her poetry, an erotic fiction novel and is working on a workbook called "Expose Your Inner DIVA." Find out more about her at whichrae.wordpress.com.
Monet is single ("and not looking") and lives in Clinton, Md. She works full time "building her brand" and on the side as a Big Bus D.C. tour guide. She's a mom to daughter Brookelyn Rayven. She enjoys performing, writing, TV, creating art and catching up on sleep in her free time.
How long have you been out and who was the hardest person to tell?
I didn't really tell anyone. One day I just showed up with a girlfriend.
Who's your LGBTQ hero?
Probably RuPaul. When I was growing up, I didn't really have access to the lifestyle. So seeing him in "To Wong Foo" and "But I'm A Cheerleader" were game changers. Ellen is another big one. Watching her come out on her show was incredible. It just gave me the warmest feeling. I remember being so excited I literally screamed and jumped around the room!
What LGBTQ stereotype most annoys you?
I don't know if I'd call it a stereotype, but the whole "you're going to hell" thing is pretty whack.
What's your proudest professional achievement?
My proudest achievement is the publishing of my first book, "The Birds, the Bees and the Boudoir." I have done some truly awesome things as a result of following my dream and I would not be where I am if I never took that first step.
What terrifies you?
Spiders and mold! Gross!
What's something trashy or vapid you love?
4Loko! Ha! It's terrible, I know, but it's effective.
What's your greatest domestic skill?
Cooking, I guess. But only if I'm in a good mood. Good mood equals good food. Bad mood — you don't want that food.
What's your favorite LGBTQ movie or show?
"But I'm A Cheerleader"
What's your social media pet peeve?
Spelling and grammar! Yes, I'm one of those people! It irks me the most when it's a "professional" person posting these mangled messages that take forever to decipher. They lose credibility, in my mind.
What would the end of the LGBTQ movement look like to you?
World peace. Because by that point, everyone will have learned to mind their business and their tongue.
What's the most overrated social custom?
Sending thank you notes. I've thanked you in person, via text and twice at the door already. Do you really need it written down as well?
What was your religion, if any, as a child and what is it today?
I grew up Baptist. I'd say I still am at heart, but it's 2020 and I'm more spiritual than I've ever been. I pray more. I try to tap into the universe more. I think I'm evolving above just religion. It's about the whole universe working toward good.
What's D.C.'s best hidden gem?
The Lounge of III on U Street! It's tiny, but they have amazing drinks and awesome DJs who spin from the golden era of hip hop.
What's been the most memorable pop culture moment of your lifetime?
Justin Timberlake "revealing" Janet Jackson at the Super Bowl.
What celebrity death hit you hardest?
Aaliyah. That one hurt. I cried for days.
If you could redo one moment from your past, what would it be?
Nope. No regrets. No do-overs. I love who I am and any change might drastically alter everything that I am. I have to take the good with the bad and I have to accept me for all of my flaws.
What are your obsessions?
I'm only obsessed with two things right now: my daughter and my brand. Building and shaping those two is all that matters to me.
Finish this sentence — It's about damn time:
… all of this hard work pays off.
What do you wish you'd known at 18?
I wish I knew that I didn't have to wait to become an "adult" to start following my dreams.
Why Washington?
D.C. is home. It's that electrical feeling you get when you hit the streets downtown. It's power. The humming of traffic. Everyone is busy. Moving with a purpose. I have a tattoo of the D.C. flag on my back. The flag is inside of a heart that has been broken, bruised, bandaged and stitched. It's because this city will always be a part of me. It IS me. Imperfect, but resilient as hell.