February 28, 2020 at 9:22 am EST | by Joey DiGuglielmo
'Queer Eye's' Bobby Berk offers dishy, celeb-heavy Q&A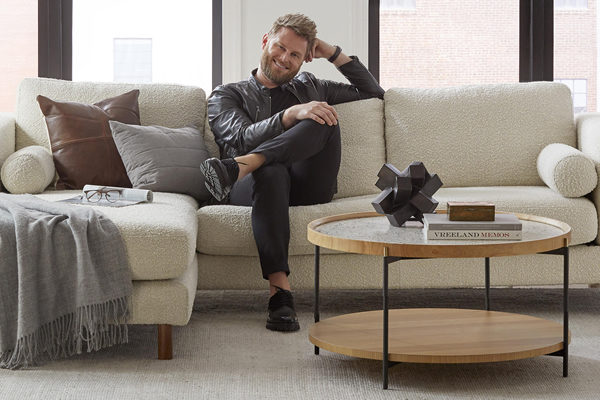 Bobby Berk

'Conversation on Design'

Sunday, March 1

2 p.m.

Free

Building 3

22250 Shaw Road
Dulles, VA

RSVP to online@belfortfurniture.com
Bobby Berk, one of the "Queer Eye" Fab Five, will give the regional unveiling of his new furniture collection Bobby Berk for ART Furniture this weekend at Belfort Furniture in Dulles, Va. He spoke to the Blade Tuesday afternoon by phone from his home in Los Angeles about his designs, his costars, his gal pal Taylor Swift, his Hollywood adventures and a whole lot more.
WASHINGTON BLADE: How's 2020 been for you so far?
BOBBY BERK: 2020's been great, very busy. Just wrapped up shooting a podcast a few minutes ago, I've got your interview, then I'm running to do a live interview with Channel 9 in Sydney Australia. Been filming some additional shows, been doing a lot of stuff with "Queer Eye," a lot of great things with my furniture lines, so 2020 already feels like it's been a full year.
BLADE: Tell us what you'll be showing at Belfort Furniture this weekend.
BERK: So my new furniture line with ART, it's great because you know people ask me, fans from the show all the time, you know, "I wish you could decorate my house, I with you could pick out furniture for me," and obviously I can't with everyone so I wanted to create a line that was accessible to almost anyone. I think it would have been kind of a dick move of me to talk on "Queer Eye" about how changing your home and help change your life and then go out and make a super expensive furniture line that nobody could afford. So I wanted to make sure I partner with a company like ART who is really good at finding that perfect happy medium on price points to where you're getting good quality furniture but you're also getting it at a price point that most people can afford.
BLADE: What was the production timeframe roughly?
BERK: I believe we started the process when I was filming season three and four so that would have been late 2018, I think. … We launched it by spring of 2019 … (which) that was for stores to be able to come look at it like Belfort. Then by the time fall hit, it was in a lot of stores. And now this spring … additional stores are getting it that we weren't able to fulfill in the very beginning first order. We're dong 10 in about two months, then we're going to be launching the second collection as well.
BLADE: How has the reaction been so far?
BERK: It's been a very great reaction. We have had to stage out when retailers like Belfort start to carry it simply because there was such a great response to it, that we couldn't open up all the stores that were wanting it. When we launched online, back in the fall, a lot of items instantly went out of stock, so it's been a really great response. You know, it was a line that inspired by things that I would want in my own home so nice, cool, clean aesthetic that can really go with anyone's decor. When I design, I always try to make sure I think about the ways a piece can not just look good in a home where people like modern, but also a traditional home. My sofas, for example, can bridge the gap between traditional, transitional and modern.
BLADE: To what degree do you curtail or adjust your creative impulses into something you think will sell? Is there conflict in your own head between art and commerce?
BERK: Uh, yeah, 'cause for me personally, I would go very minimalist and modern, that's more of my personal aesthetic, so I would always have to kind of find the happy medium between too modern and cold and still keeping it warm where more people will love it.
BLADE: Are you doing other markets?
BERK: I've already done a few in other markets, so Belfort will be my first one in the D.C. area, the only one. We're very specific about only allowing certain retailers to carry it so we're not competing against each other. I have another presentation in Orange County next week as well, then an event in Austin, Texas as well. I think it's next week.
BLADE: How do you have time to keep all this stuff going with the TV show as well?
BERK: I don't know (chuckles). I'm never home. I'm sadly gone probably 90 percent of the year the last few years so yeah, I'm just constantly on the road.
BLADE: Is this pace sustainable? What if "Queer Eye" goes another 10 years? Will you rip your hair out?
BERK: Uh, probably (laughs). No, this pace absolutely is not sustainable, I think all five of us feel that way but we also know that you know there's not always a chance that things will be going this well, so we all need to, not take advantage of it, but utilize the recognition we've gotten from "Queer Eye" to do other things. Because of course "Queer Eye" could go on for 10 more years or it may go on for one more year. We never know, so we all want to make sure we've found those certain things in our wheelhouse that we're able to continue to focus on. Before "Queer Eye," I had a design firm and retail stores so, "Queer Eye" has just opened up more doors for me to be able to do more things with that like my collection at ART. So yeah, is this sustainable how much we travel and work? No, it's not. But all five of us know that we're not always going to have the amount of opportunities we have right now, so we need to take advantage of all the opportunities that present themselves and then, you know, in five years — I have a four-five year plan of moving to Santa Barbara and having kids and not working as much.
BLADE: On "Queer Eye," the other guys spend a lot more face time with the heroes because you're so busy remodeling. Do you ever feel left out?
BERK: Yeah, yeah, you know. With the other boys, they're part of the show, they're literally physically with the hero. You know, Jonathan is cutting their hair, Karamo is having a great conversation and helping them with self help, Antoni is teaching them to cook, Tan is helping them with their clothes — they have to physically be there with them whereas what I'm doing the hero can't actually see, it's actually against the rules for them to see it, so I'm often kept away from them simply because they're not able to see what I'm dong and we want to see a surprise. So we have, I'm sure you've noticed in newer seasons, I am with the heroes more, but season one and two, I was barely with them at all. When I would be asked by producers if I wanted to go on a shopping trip wth Tan and help with clothes, I'd be like, "No I'm busy, working, that makes no sense," but then the show came out and it was like, "Oh, I'm so busy working I'm not on the show." So, newer seasons, I have a bit more interaction with the heroes than in the past.
BLADE: How did you like Japan and what was challenging about taping there?
BERK: I loved Japan, I've spent a lot of time in Japan before, it's one of my favorite places, especially Tokyo. I love it there just because it's so organized and clean and it's such a respectable society. Some of the challenges filming there was space. People would sometimes think it's easier to design a small space than a large space but it's actually harder, especially in Japan where in rental spaces, you're not allowed to hang anything on the walls, you're not allowed to paint, you're not allowed to do anything to the floors, so we had to get really creative on building functional loft furniture that we were able to make the space look super different than before without even painting or hanging a piece of art on the walls.
BLADE: There's obvious camaraderie between you and your co-stars. Were you concerned at first whether your personalities would jell? To what do you attribute that camaraderie?
BERK: You know, the five of us from the start in casting, in final casting, there probably was between 40-50 guys around the various different design, fashion, food — what have you, and at first Karamo, Tan and I we just kind of gravitated to each other and were always hanging out. Then Antoni and Jonathan kind of came into the fold and none of us really thought, "Oh this is the Fab Five," we just kind of naturally liked each other and I think the casting directors and executives from Netflix and Scout and ITV kind of saw that we had a natural chemistry, that we really naturally enjoyed each other and instead of it kind of being a competition, we were always in there telling each other what was going on and helping each other. So I think our camaraderie definitely helps. It's not always a natural thing, you put five perfect strangers together who are with each other 24-7, but it's grown definitely into kind of a sibling relationship. We're brothers, we're best friends, there are some moments where we want to wring each others necks, but the great thing about it is, we've spent so much time together, we really have developed a feeling of a sibling with each other. We can get mad at each other, but at the end of the day, we're family, we're brothers so we get over it and we're very protective of each other. Sometimes it's easy, most of the time it's easy, but sometimes it's hard. But I think that's the thing with every relationship.
BLADE: Are you going to Karamo's wedding?
BERK: Of course.
BLADE: You helping with any of the design?
BERK: Uh, a little bit, but I definitely can't share what he's shared with me.
BLADE: What did you think of Jonathan's decision to come out as HIV-positive? Had he shared that with you previously?
BERK: I was the first one that he told even before we started filming "Queer Eye," he and I both lived in L.A. at the time and so after casting, we became very close very quickly and he was over at my house all the time and he shared it with me even before we started filming, so I've known about it for probably a couple years before he publicly came out about it, so it wasn't a shock to me. I was happy that he had the strength to do that and that he's able to help other people by being very public about his status.
BLADE: Have you had many chances to get to know the original "Queer Eye" cast?
BERK: Yeah, I was actually out with them all of them in L.A. two weeks ago. I've known Thom Filicia for years, again, before I was on "Queer Eye" as a designer, I really am a designer, so he and I have been in the same industry, we're always at the same events, we're always at the same trade shows. And then Carson (Kressley), I've known for years. All the others I had met throughout the years, but I'm definitely closest to Thom simply because we're in the same industry and we've known each other so long. But they're all so amazing, they're all so lovely, it's amazing hanging out with them and seeing just how individually unique they all are, just like the five of us are, and how no matter how many years they've been apart since the original, when they get together, it's like they've never skipped a beat, it's cute.
BLADE: So you'd be totally down to do a crossover special of some kind?
BERK: Oh absolutely.
BLADE: Do you like Thom's design aesthetic? (Filicia, too, has presented at Belfort Furniture.)
BERK: I think it's beautiful. I think we have a very different design aesthetic. He's definitely more transitional and traditional, I'm definitely more modern and minimalist, although I would say that both him and I design for the client or for the home. So where my home is very minimal and there's not a whole lot of stuff in it, for heroes on "Queer Eye," I can be maximalist for people who want a lot of stuff. So his personal aesthetic is beautiful, he's done some amazing homes, some amazing condo buildings. But yeah, I love it.
BLADE: Did it bother you that Taylor Swift was, some would argue, rather late to the game in terms of being an LGBT ally?
BERK: You know, of course we always wish somebody would be vocal from day one but I also can very much understand the pressure that she's been through being basically owned by a record label and being told by a publicist and record labels what you need to say and shouldn't say, what you shouldn't get involved in. You know as quote-unquote celebrities, we're always told, "Oh be as neutral as possible, you don't wanna offend people on the left or the right, stay out of politics, stay out of issues," which some of us find much easier than others. You know, I often get myself in trouble because I have a hard time keeping my mouth shut. Jonathan's the same way and so I can understand why she felt pressured to not be an ally, to not get involved publicly, you know what I mean? … I don't hold it against her, all I can do is be as very happy that she is using her power to make a difference now and I couldn't love her more. She's one of the most sweet, humble, down-to-earth people I've met. … You never really know what to expect when you meet somebody like her because a lot of people I've met in Hollywood and entertainment come across as one thing and then you meet them in person and they are not at all that thing and it can be very sad and disappointing, so it was a great feeling when I got to meet her and hang out with her and realize that she really is what she portrays out there, she really is this sweet, loving girl who just wants to make the world a better place.
BLADE: Who's somebody you met who's markedly different from his or her public persona?
BERK: Hmmm, so yes. So RuPaul, I actually met in 2003, I was a manager at Restoration Hardware in New York and she came in looking for some knobs for some dresser she was doing and he was just the kindest, sweetest most lovely person and then after I had my own stores, he started coming in and shopping in my stores and he would come in and just the sweetest, warmest person. And again, on the show he's the same way and I'm not saying that he's not sweet and warm, but one thing I was surprised about when I see him for example at the Emmys, the first time I saw him at the Emmys, he wasn't very warm, and I was like, "Huh, fame has changed him." But our publicist at Netflix used to work on "Drag Race," so he's very close to Ru, he knows Ru very well, and I mentioned it to him I was like, "Wow, you know, I've met Ru multiple times and he's always like the sweetest, kindest person, I don't get that from him anymore." He was like, "No, he just doesn't like being in the spotlight at events like this so he gets very shy and quiet," so sometimes you think somebody is some way and they're not and like. … I thought Ru had gotten cold, 'cause this industry can do it to you, but then I find out that no, Ru is just as shy and terrified as the rest of us.
BLADE: What was it like filming (Taylor Swift's) "You Need to Calm Down" video? Surely all those celeb cameos — you were not all there at the same time I imagine?
BERK: All of us were but Tan. He was filming the season finale of "Next in Fashion" that day, so Jonathan and I went from watching the runway show of Tan's finale directly to Taylor's set and we met Antoni and Karamo there, so four of us were there together but Tan filmed his separately.
BLADE: Was Ellen or Adam Rippon or any of those people there that day?
BERK: Adam was there, he and I are actually friends. Hannah Hart was there, um — who else was there that day? They're the only ones I remember being directly around us. The set was so massive and they filmed it over I think a week, so different celebs would come in at different times. Some would film in a studio in front of a green screen, for example Tan's was shot in a studio, so yeah, we weren't always there at the same time, that would have been chaos. Oh Todrick Hall was there as well.
BLADE: How is (husband) Dewey? Do you guys get enough time together?
BERK: No, we never get enough time together. He is definitely a very private, very introverted, shy guy. He couldn't care less about any of the Hollywood stuff, which is actually great. I actually prefer it that way because when I'm at home, I'm back in my normal life. But yeah, no, we can never get enough time together. He's a surgeon. We've been together for 16 years and since "Queer Eye," he's just started working less. He's in private practice, so luckily he's been able to take a step back a little back. He usually only works about two days a week then meets me wherever I'm filming.
BLADE: Do you know Nate Berkus? Do you like his stuff?
BERK: I love Nate Berkus. His stuff is great. Both he and Jeremiah. Their taste is impeccable, they're handsome as hell, they're the best dads. Yeah, I like them a lot.
BLADE: Do you miss your anonymity?
BERK: Absolutely (laughs).
BLADE: Give me an example.
BERK: I miss just being able to go to the grocery store. Or to Starbucks. You know, I miss being able to just roam around and just do regular things. There's so many positive things about this and I'm not complaining about the loss of it at all, but, you know, sometimes I wish I could just go to the grocery store and go through all the fruit and shop around but I can't really do that without getting stopped over and over, so I just pretty much order everything online. Sometimes I'll go into a Starbucks and a fan will be there and there'll be a moment of the show that's really touched them or helped somebody in their family, so they'll start telling me a story in Starbucks and then be crying, then I'll be standing there in line holding them and hugging them thinking in my mind, "Oh this is amazing, this is so wonderful, but I really just wanted to get my coffee." You know, it's a double-edged sword. Sometimes I wish I could just run in, run out like I used to be able to.
BLADE: Please don't think I'm asking this because I think you look fat — I truly do not. This is just something I've been meaning to ask someone who's done a lot of TV. Does the camera add 10 pounds?
BERK: The camera adds 10 pounds of gay (laughs). Um, sometimes, yeah. But also when I started filming season five I was 210 pounds and now I'm like 183 so I went from being in very good shape before the show, to putting on a bit of weight during the show because our lives have just been so crazy to now really doubling down and focusing on fitness and not letting myself eat crap on set all the time and not work out.
BLADE: What did you mean 10 pounds of gay? Are gestures magnified?
BERK: Oh yeah, I'm always like, "Damn, do I sound that gay?" Yeah, and I also think it's because the five of us together, we're so comfortable together and able to be our true selves that sometimes we really queen out and not give a damn. It's funny watching yourself.
BLADE: Was it hard to summon the courage to be so open about your past? Leaving home at 15 and all that.
BERK: It was hard because, you know, for quite a few years, I didn't have a good relationship with my parents …
BLADE: It's better now?
BERK: Oh yeah, it's great now. But that's why it's a little hard because publicly talking about it, you know, it definitely made my mom sad, it definitely opened up old wounds, it took me a while to be OK talking about it. Sometimes I'm still not OK. Sometimes I'll get asked about my relationship with my parents in interviews, not in this, but people will really pry and they'll be like, "Oh well you know, on the show you talked about how horrible they were to you and blah blah blah blah blah, why are you talking to them now?" I'm just like whoah — if I'm able to say I've been able to reconcile with my family and we have a good relationship now, why would you try to open those wounds? Why would you try to hurt my mama?
BLADE: Thanks for your time and good luck with your line.
BERK: Thanks!