March 30, 2020 at 4:36 pm EDT | by John Paul King
Bright Light Bright Light announces album, drops single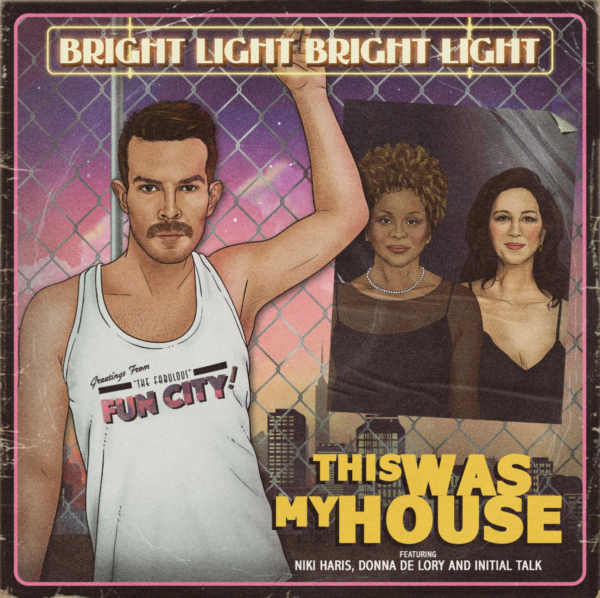 Bright Light Bright Light (aka Rod Thomas) celebrated the announcement of his upcoming album "Fun City" over the weekend with the release of its first single, "This Was My House."
The Welsh international pop star has been a staple of the international LGBTQ+ music scene for over a decade, with three previous albums under his belt – as well as numerous tours, both a solo artist and has support alongside pop royalty like Elton John, Cher, Erasure, Ellie Goulding and The Scissor Sisters. He curates, hosts and serves as the DJ for regular afternoon dance parties in Brooklyn and Manhattan, and uses his music as a platform for equality, raising fund for organizations such as The Trevor Project, Ali Forney Center, Hetrick-Martin Institute, ACLU, and Elton John AIDS Foundation.
The new single is described by the artist as "a sugar-rush of dancefloor pop" and features longtime Madonna backing vocalist duo Niki Haris and Donna De Lory. Produced by Initial Talk (known for his recent reimaginings of Dua Lipa, Janet Jackson and other pop artists), "This Was My House" was originally written as a "banner-waving ode to LGBTQ+ safe spaces" but "should ring universally true to individuals worldwide who are struggling to find peace and refuge during the current political climate and public health situation."
"The song is about how the safe spaces for the LGBTQ+ community have been fractured of late with a palpable uprising of anti-LGBTQ+ and xenophobic rhetoric, which is scarily even more real now as these public spaces are closed for the foreseeable future due to the COVID-19 pandemic," explained Bright Light Bright Lightabout the origins and evolution of the song. "LGBTQ+ people – most notably trans women – are attacked and killed at an alarming rate, and so this song is a fierce statement that every living person deserves to feel safe in the place they call home, whoever you may be."
As for "Fun City," the artist calls it a "meticulously crafted collection of '80s-inspired disco-pop" that he "built as a statement of perseverance during restless times." Drawing sonic inspiration from the legacy of iconic LGBTQ+ artists like Sylvester, Erasure, Scissor Sisters, and Hercules & Love Affair, the album "aims to capture the spirit of the queer trailblazers" that came before him, and examines "the ways marginalized people stay strong, focused and creative through times of social and political hardships."
"The idea of a deeply flawed but still beautiful world is what the album is about, so I thought it was a fitting image for how the LGBTQ+ world has had to find laughter and solidarity in face of prejudice through history, dancing through pain and living for love in spite of hate," he says.
With vocals recorded on the empty dancefloor of East Village gay club Bedlam, "Fun City" will be released by Bright Light Bright Light's own label YSKWN!, in partnership with Megaforce Records and The Orchard, and will include collaborations with a yet-to-be-announced "who's who" of LGBTQ+ icons and musical trailblazers.
It drops on September 18. You can listen to the new track below.