April 28, 2020 at 1:13 pm EDT | by Lou Chibbaro Jr.
LGBTQ candidates flock to Biden in D.C. delegate election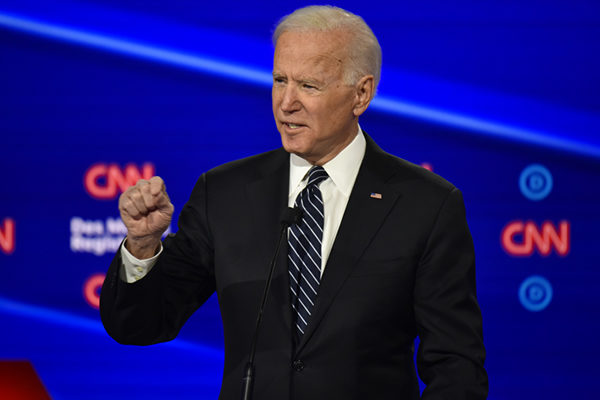 Eleven LGBTQ candidates are among a total of 65 Democrats backing presidential candidate Joseph Biden who are competing for 13 of D.C.'s 46 allotted delegate seats at the Democratic National Convention in Milwaukee scheduled for Aug. 17-20.
Another three LGBTQ candidates are among the 33 D.C. Democrats competing for the same 13 delegate positions that are supporting former presidential contender Bernie Sanders. Sanders suspended his campaign earlier this month and endorsed Biden but remains on the ballot in D.C.'s June 2 presidential primary.
The LGBTQ candidates and all the others are running in a little-noticed D.C. Democratic Party delegate election taking place online that began April 25 and continues until May 21. The election is open only to registered D.C. Democrats who can access a ballot on the local party's website, dcdemocraticparty.org.
Under longstanding D.C. Democratic Party rules, the number of delegates allocated to a presidential candidate is determined in proportion to the percentage of the vote they receive in the city's Democratic presidential primary. Although Sanders's name will be on the June 2 primary ballot, most political observers expect Biden to capture the overwhelming majority of the vote following Sanders's announcement that he was endorsing Biden.
The party rules also require a presidential candidate to receive at least 15 percent of the vote in the primary in order to obtain any delegates, a development that party observers say will make it difficult for Sanders to meet that threshold.
That means the 13 candidates running as Sanders delegates that "win" delegate positions in the D.C. Democratic Party election ending May 21 could not be seated as delegates if Sanders doesn't receive enough votes in the June 2 primary to obtain any delegates.
Among the LGBTQ candidates running for a Biden delegate position is transgender activist Monika Nemeth, a Ward 3 Advisory Neighborhood Commissioner and former president and current vice president of the Gertrude Stein Democratic Club, the city's largest local LGBTQ political group.
Nemeth is one of three LGBTQ candidates competing in a field of 32 delegate candidates running in District 2, one of two imaginary "congressional districts" the D.C. Democratic Party created to organize its delegate elections every four years. District 2 consists of the city's Wards 3, 4, 5, and 7.
The remaining eight LGBTQ delegate candidates are running in District 1, which includes Wards 1, 2, 6, and 8.
Similar to all other states, additional delegates to the Democratic National Convention are selected by the D.C. Democratic Party Committee. Others, such as certain elected officials, including Mayor Muriel Bowser and D.C. Council Chair Phil Mendelson, become automatic delegates.
Longtime D.C. gay Democratic activist Earl Fowlkes, who is a member of the Democratic National Committee and chair of the DNC's LGBT Caucus, will become an automatic "super" delegate from D.C. in his role as a DNC member.
Following is a list of the LGBTQ candidates running for D.C. delegate to the Democratic National Convention by district.
District 1 candidates pledged to Biden: Andrew McCarthy-Clark, Ward 6; Brian Romanowski, Ward 2; Bryan Michael Lassiter, Ward 1; Hansen Mak, Ward 2; Jessica Dohmen, Ward 2; Mark Nichols, Ward 2; Richard Lum, Ward 1; Thaxton Blaise Springfield, Ward 1
District 2 candidates pledged to Biden: Larry Allen, Ward 5; Monika Nemeth, Ward 3; Matthew J. Kilboy, Ward 5
District 1 candidates pledged to Sanders: Christopher T. Bangs, Ward 2; Mazen Aljutaili, Ward 6
District 2 candidates pledged to Sanders: Kendall Bryan, Ward 7
Additional information about how to vote for a delegate candidate can be accessed via dcdemocraticparty.org.
Self-identified D.C. LGBTQ candidates running for election as delegates to the Democratic National Convention
Candidates pledged to Joe Biden:
District 1:
Andrew McCarthy-Clark, Male, Young Democrat (<36 years), LGBTQ+, Caucasian, Ward 6
Brian Romanowski, Male, Young Democrat (<36 years), LGBTQ+, Caucasian, Ward 2
Brian Michael Lassiter, Male, Young Democrat (<36 years), LGBTQ+, Caucasian, Ward 1
Hansen Mak, Male, LGBTQ+, Asian/Pacific Islander, Ward 2
Mark Nichols, Male, LGBTQ+, Caucasian, Ward 2
Jessica Dohmen, Female, Young Democrat (<36 years), LGBTQ+, Asian/Pacific Islander, Ward 2
Richard Lum, Male, LGBTQ+, Asian/Pacific Islander, Ward 1
Thaxton Blaise Springfield, Male, Young Democrat (<36 years), LGBTQ+, Caucasian, Disabled, Ward 1
District 2:
Larry Allen, Male, LGBTQ+, African American, Ward 5
Monika Nemeth, Female, LGBTQ+, Caucasian, Ward 3
Matthew J. Kilboy, Male, LGBTQ+, Caucasian, Ward 5
Candidates Pledged to Bernie Sanders:
District 1:
Christopher T. Bangs, Male, Young Democrat (<36), Labor, LGBTQ+, Caucasian, Ward 2
Mazen Aljutaili, Male, Young Democrat (<36), LGBTQ+, Ethnic, Ward 6
District 2:
Kendall Bryan, Male, LGBTQ+, African American, Ward 7
(Compiled by the Washington Blade from official D.C. Democratic Party candidate lists)