GLAAD's 'Together in Pride' raises $225,000
Online fundraiser featured dozens of LGBTQ celebrities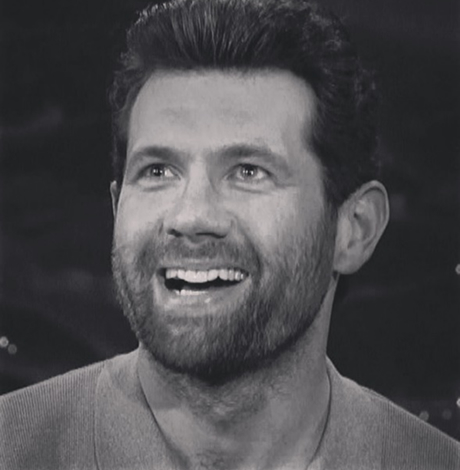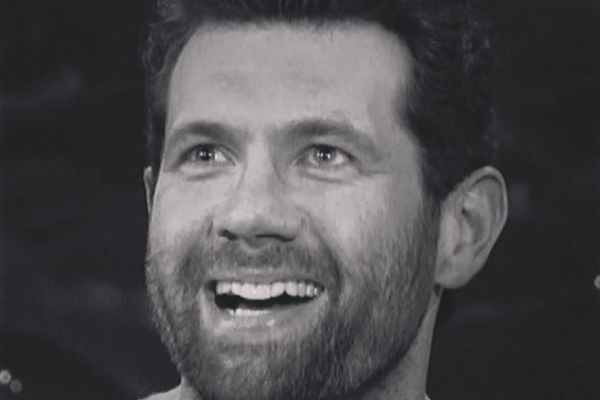 After weeks of social distancing, connecting with the rest of the world only from a screen is starting to wear a little thin.
With that in mind, it's even more remarkable that GLAAD last weekend managed to pull off an impressive show of solidarity and support for the LGBTQ+ community with a virtual gathering that actually felt – almost, at least – like the real thing.
"Together in Pride: You Are Not Alone," which streamed live on GLAAD's YouTube channel Sunday evening, brought together dozens of celebrities to participate and perform from the safety of their living rooms, in an event that was intended to highlight the LGBTQ response to the COVID-19 pandemic, to bring the LGBTQ community together with messages of acceptance, to honor LGBTQ heroes providing direct services during COVID-19, and to raise much-needed funds for local LGBTQ centers affected by the crisis.
The livestream was presented by GLAAD to benefit CenterLink, a coalition of more than 250 LGBTQ community centers from 45 states, Puerto Rico, and the District of Columbia, as well as Canada, China, Mexico, and Australia.
If you were not one of the thousands who watched live or have since viewed it on YouTube, it won't be a spoiler to say that the event succeeded in raising over $225,000 in initial funds ($150,000 of which was gifted by the Ariadne Getty Foundation), all of which will go to CenterLink, and that number is still rising as donations continue to be accepted.
The livestream event, at just under two hours, never seemed to drag. Juxtaposing interviews, performances, and discussions of topics surrounding the impact of the virus on the queer community, the slickly produced show maintained – for the most part – a healthy balance between entertainment, advocacy, and passing the hat. Much of that is thanks to Billy Eichner and Lilly Singh, who split hosting duties for the evening and provided a welcome upbeat energy to the whole affair.
Eichner started things off on a light note that prevailed throughout the livestream without undermining the importance of its underlying purpose. In several engaging interviews, interspersed throughout the show, he spoke with LGBTQ trailblazers like "Schitt's Creek" creator and star Dan Levy, former presidential candidate Pete Buttigieg and his husband Chasten, "American Idol" star and Queen front-man Adam Lambert, and (as Eichner introduced him) "the hideous" Matt Bomer.
Alternating with Eichner was Singh, who matched his good-natured presence with her own infectious joy, gleefully changing outfits from one segment to the next. Among her interviews were "Will & Grace" star Sean Hayes and his husband Scott Icenogle, LGBTQ ally and "Orphan Black" star Tatiana Maslany, and "Queer Eye" star Jonathan Van Ness, who talked about the importance of breaking down the stigma around people living with HIV.
There were a lot of highlights. Other interviewers included Rosie O'Donnell, Wilson Cruz, Brian Michael Smith, and Michelle Visage; there were appearances from Tony and Emmy Award-winner Billy Porter, Gigi Gorgeous and Nats Getty, Ross Mathews, "Hamilton" star Javier Muñoz, Bebe Rexha, Patrick Starrr, and D.J. "Shangela" Pierce, as well as longtime ally and GLAAD supporter Sharon Stone. There was even a special message to the LGBTQ community from beloved superstar Barbra Streisand.
The standout moments of the livestream, however, were undoubtedly the performances. Headliners Kesha and Melissa Etheridge delivered performances – Kesha sang "Rainbow" while Etheridge gave renditions of "Everybody Has a Pulse" and the classic "Come To My Window" – that were as committed and polished as if they had been executed on any concert stage, and were made all the more affecting by the intimate setting.
Their efforts were matched by a stunning performance from gender non-conforming actor Alex Newell, whose powerful delivery of "Stand Up for Love" surely moved more than a few sheltered-at-home viewers to stand up from their couches in ovation, and by the cast of Broadway's "Jagged Little Pill," whose multi-split-screen performance of "You Learn" reminded us of both the complex and inclusive humanity layered into the lyrics of Alanis Morrisette and the irrepressible talent of the professional theater community – a segment particularly hard-hit by the economic impact of the coronavirus shutdowns across the nation.
Each of these performances could be called a stand-out, but the livestream's show-stopping moment came with the duet "Suddenly, Seymour," from "Little Shop of Horrors," performed by actor George Salazar and "Pose" star Mj Rodriguez. The two performers, who last year starred in an acclaimed Pasadena Playhouse production of the Howard Ashman/Alan Menken-penned musical, brought an intensity of feeling to the screen that made us forget, for a few precious minutes, that they were separated from each other, and even from us – we might have been watching from the front row. It was an outstanding performance, by any standard, and proof that each of these gifted actors deserve to be taken seriously as members of a diverse new wave of talent in the entertainment industry.
Of course, throughout "Together in Pride," in between all the "fun stuff," were the reminders of why we were gathered virtually to begin with – the plight of LGBTQ centers, cornerstones of the queer community and important providers of much-needed services to under-served segments within that population, that are struggling to stay open long enough to survive into a still-uncertain future. GLAAD is a powerful ally, but even having the world's largest LGBTQ media advocacy organization on your side is no guarantee of survival.
There are also the inevitable questions about the future of our culture that arise from the vague, indefinable dissatisfaction many of us feel when watching these kinds of entertainment experiences, patched together remotely from disparate places and assembled, hopefully, into something that can help us escape, just for awhile, the day-to-day drudgery of life during lockdown. Is this what we have to look forward to for the foreseeable future? Will we ever be able to be in the same room with our favorite performers again? Will they ever be able to be in the same room with each other?
Fortunately, "Together in Pride: You Are Not Alone" succeeded not only in raising money and awareness, it succeeded in raising consciousness. Through its sincerity, its welcoming spirit, and its dedication to elevating the efforts of those in our community who are playing the role of helpers throughout this crisis, the GLAAD livestream event reminded us that we are, indeed, all together in this, even if we're far apart, and if we are going to make it through it will be because we have each other's backs.
The hope that springs from that recognition is more than enough to dispel any doom-and-gloom feelings you might have going into the show, and that's as much a win for GLAAD, in its own way, as its success at bringing in donations.
You can watch the event in its entirety on GLAAD's YouTube channel.
10 LGBTQ events this week
It is Black LGBTQ Pride and Memorial Day Weekend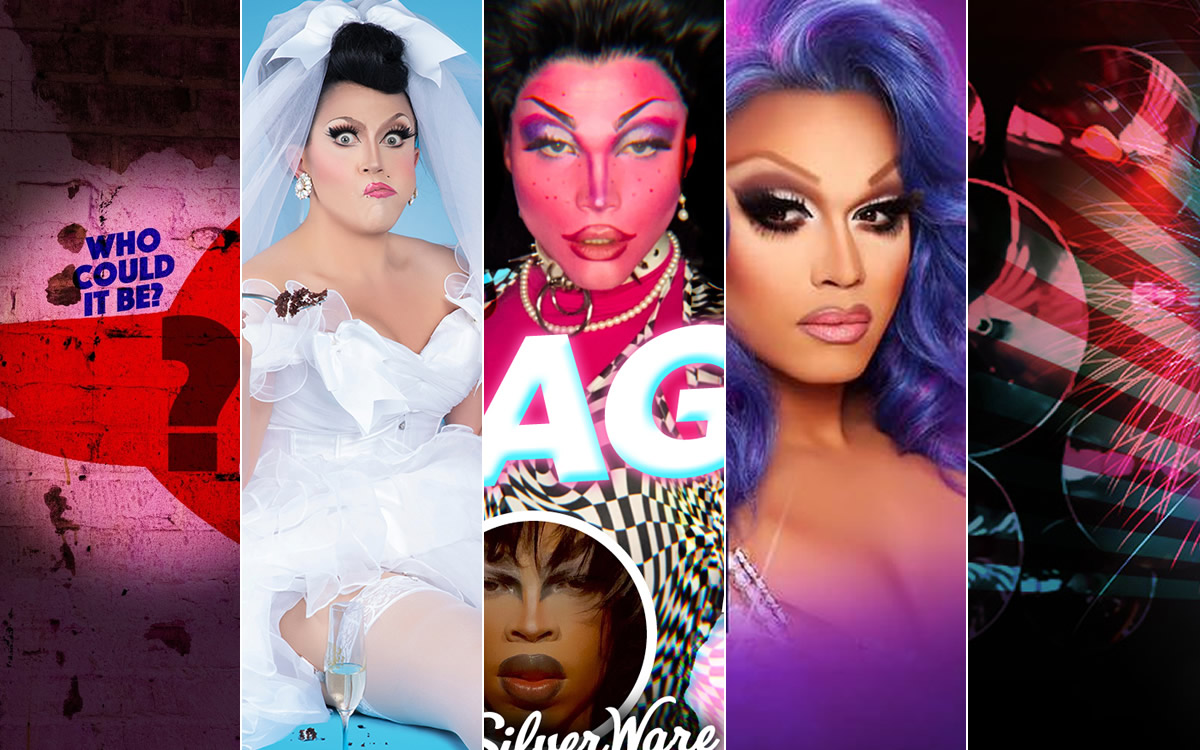 Below are our picks for some of the most fun and creative things to do this week in D.C. that are of special interest to the LGBTQ community.
BenDeLaCreme "Ready to be Committed"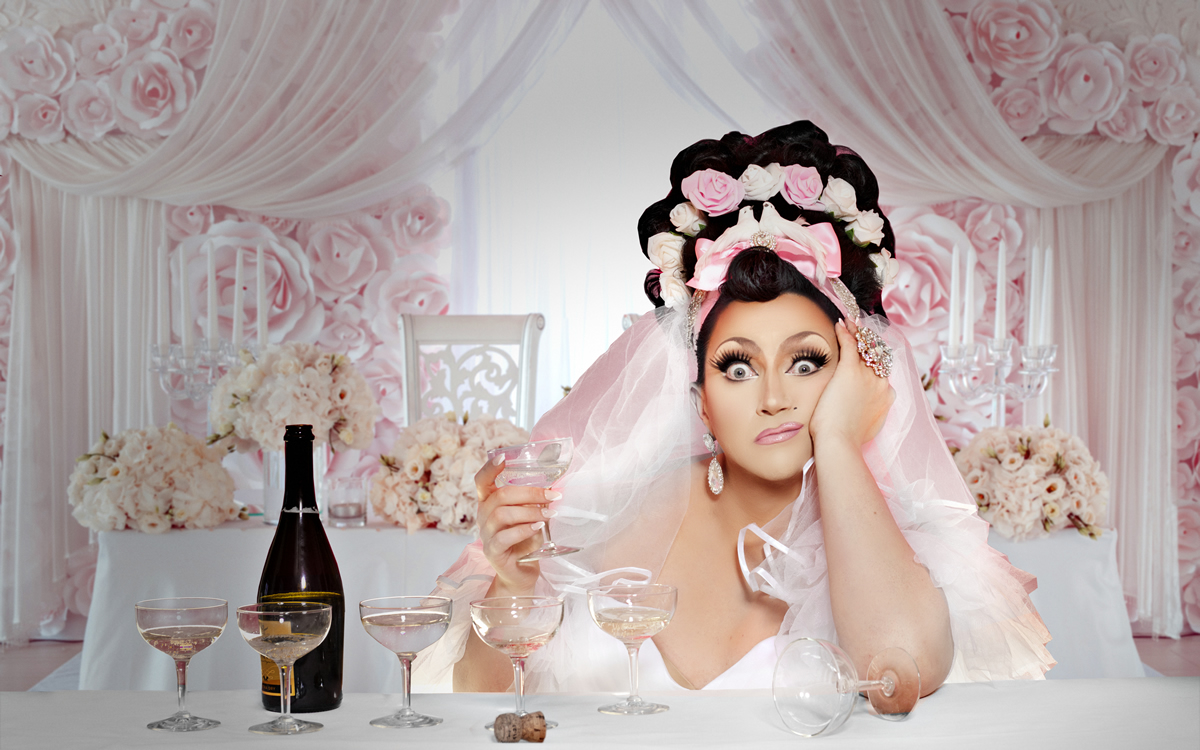 Monday, May 23
7 p.m.
9:30 Club
815 V Street, N.W.
$45
Facebook | Website | Ticketmaster
"RuPaul's Drag Race" alumni BenDeLaCreme performs "Ready to be Committed" at the 9:30 Club Monday. Doors open at 7 p.m. Seating is first come, first serve.
Mystery Reveal Party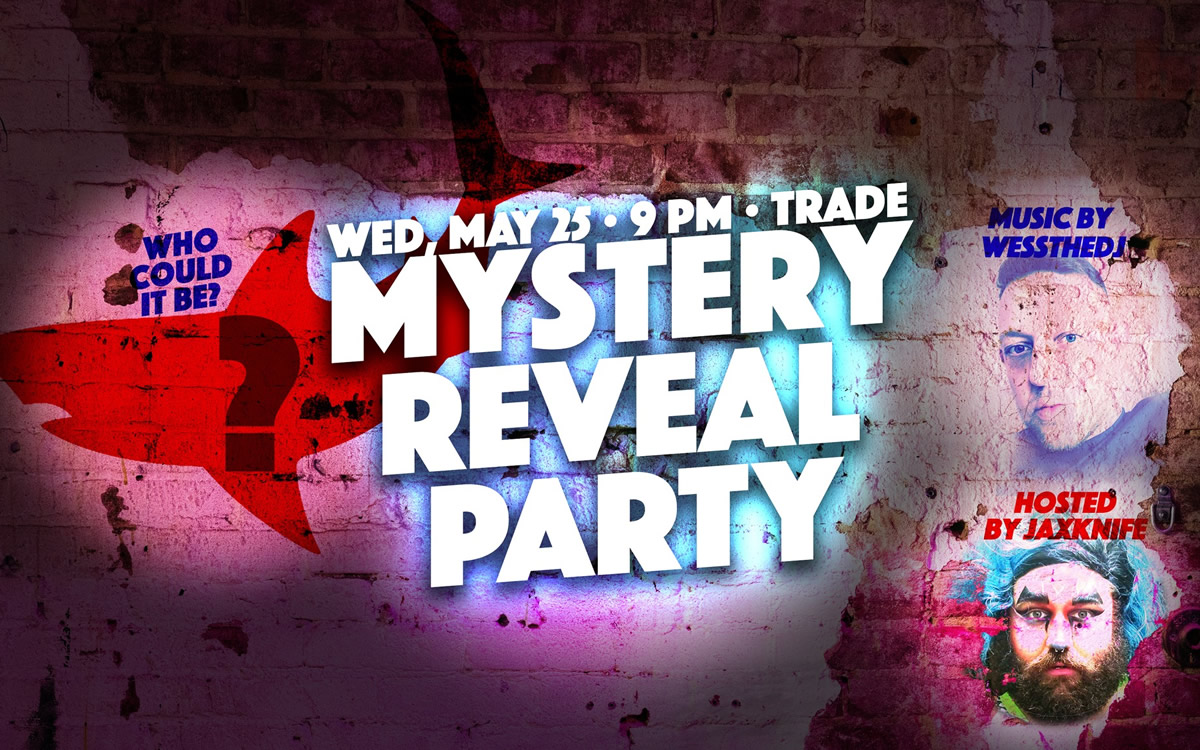 Wednesday, May 25
9 p.m.
Trade
1410 14th Street, N.W.
Facebook
Meet the mystery guest at a mystery reveal party hosted by Jaxknife on Wednesday. Mystery drink specials include $3 shots and $7 beer/shot combos.
Black, Gay and Thriving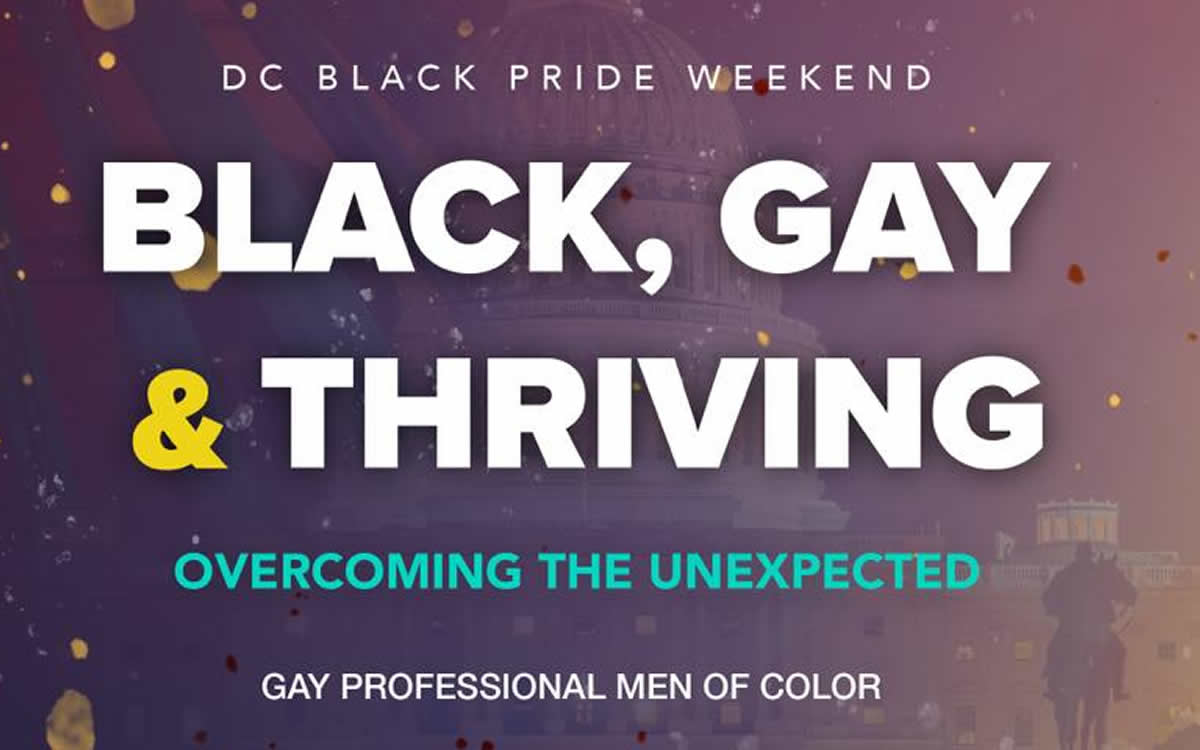 Thursday, May 26
5:30 p.m.
ANC 5D Community Meeting Room
371 Morse Street, N.E.
Facebook | Eventbrite
Gay Professional Men of Color (GPMC) holds a networking event on Thursday at the beginning of Black Pride Weekend in D.C.
LGBTQ+ Evening Out in Del Ray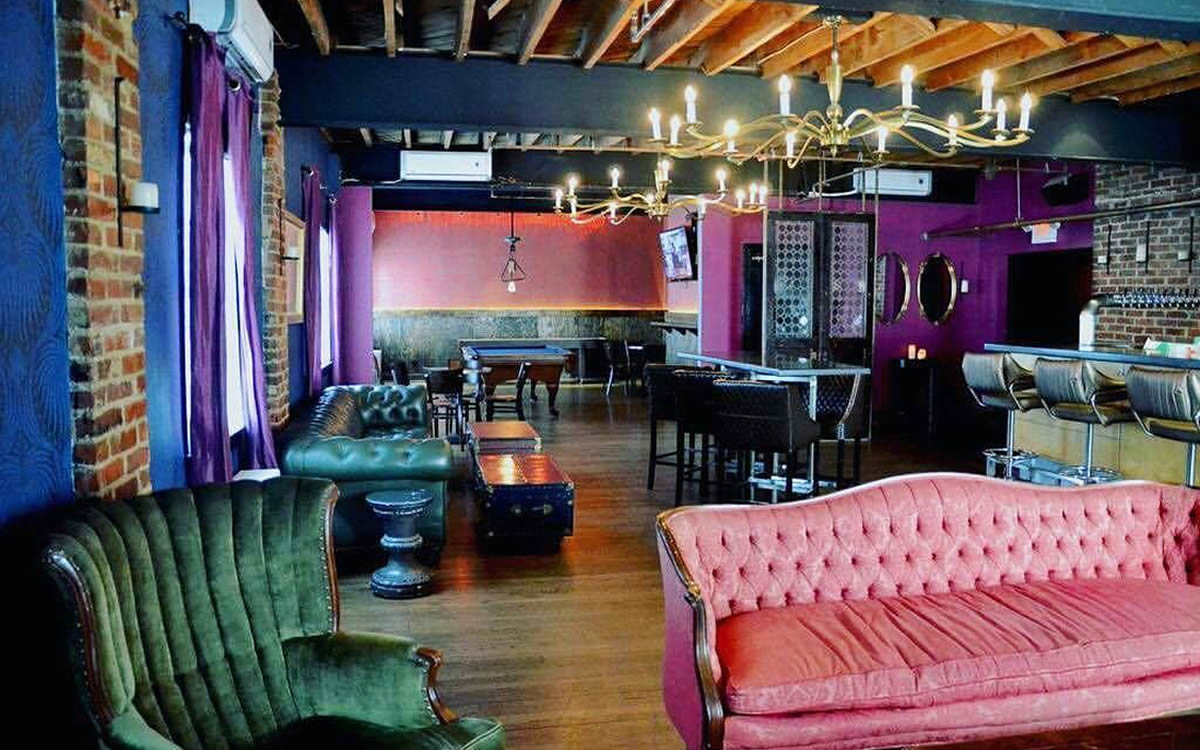 Thursday, May 26
7-10 p.m.
Bar No. 9 Lounge at the Evening Star
2000 Mt Vernon Avenue
Alexandria, Va.
Facebook | Eventbrite
Join a free gathering and make some new friends at the Bar No. 9 Lounge (upstairs) in the Del Ray neighborhood of Alexandria, Va. on Thursday.
Trans Agenda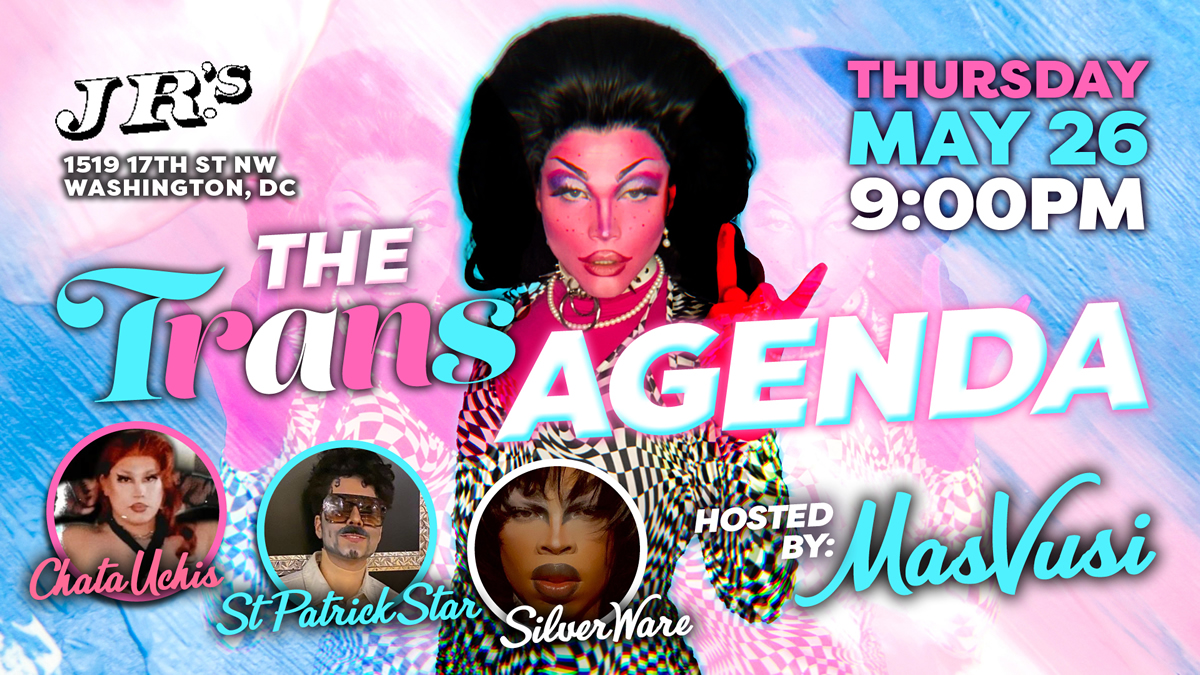 Thursday, May 26
9 p.m.
JR.'s
1519 17th Street, N.W.
Facebook
A show featuring all trans performers at JR.'s includes host MasVusi, Silver Ware, Chata Uchis and St. Patrick Star.
RuPaul's Drag Race British Invasion Tour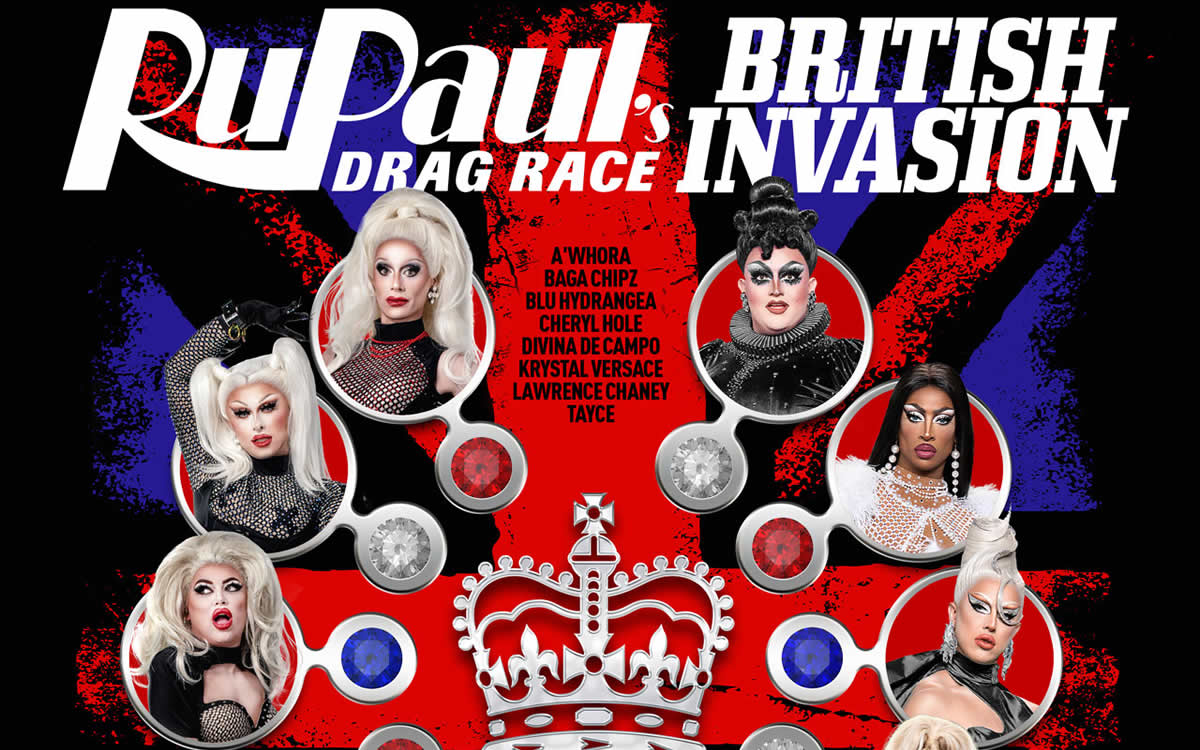 Friday, May 27
8 p.m.
Warner Theatre
513 13th Street, N.W.
$45-$153
Facebook | Live Nation
See the queens of RuPaul's Drag Race U.K. as the British Invasion Tour makes its Washington, D.C. stop at the Warner Theatre on Friday.
GLOW/CRAZY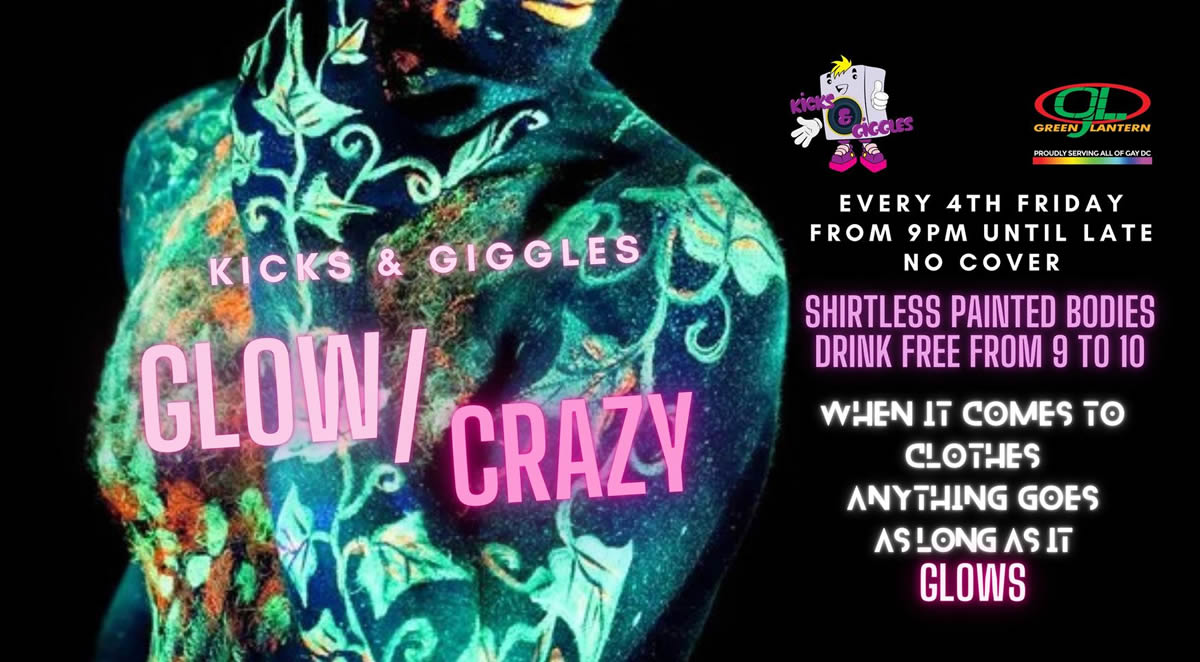 Friday, May 27
9 p.m.
Green Lantern
1335 Green Court, N.W.
no cover
Facebook
Enjoy a Kicks & Giggles dance party at the Green Lantern complete with DJs and glow paint. From 9 to 10 p.m., if you're wearing body paint on your chest or back, you drink for free!
Anything But Clothes Party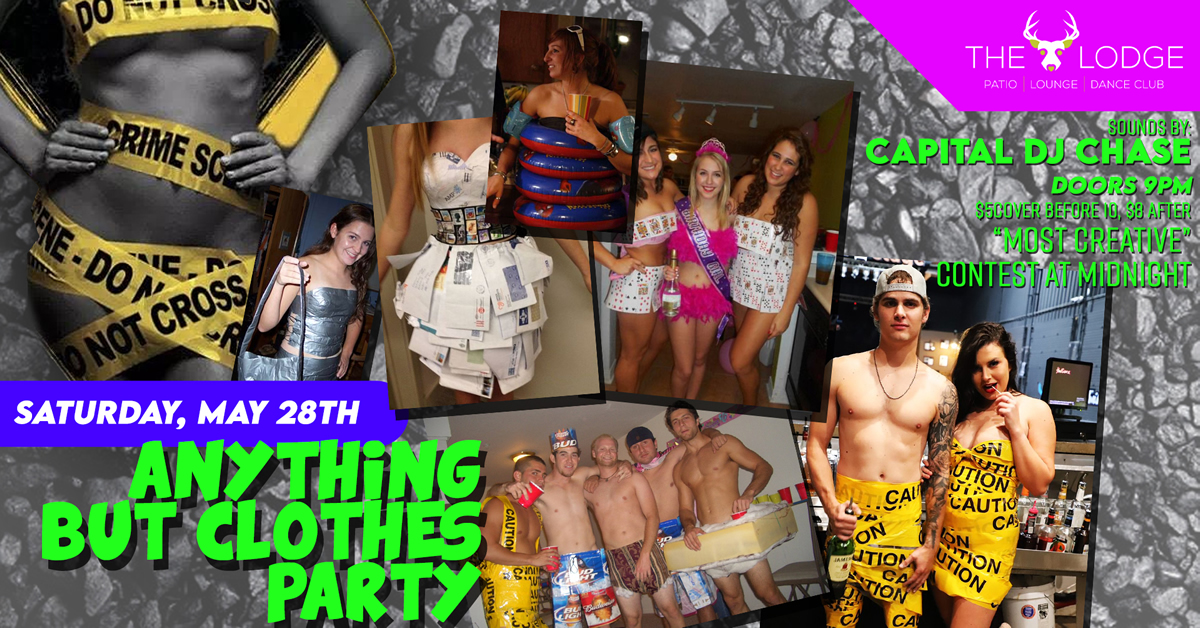 Saturday, May 28
9 p.m.
The Lodge
21614 National Pike
Boonsboro, Md.
$5 cover before 10 p.m. / $8 cover after 10 p.m.
Facebook
Join Capital DJ Chase for the "Anything But Clothes Party" at The Lodge on Saturday. There will be a most creative outfit (not clothes) contest at midnight.
Black Pride Brunch & Babes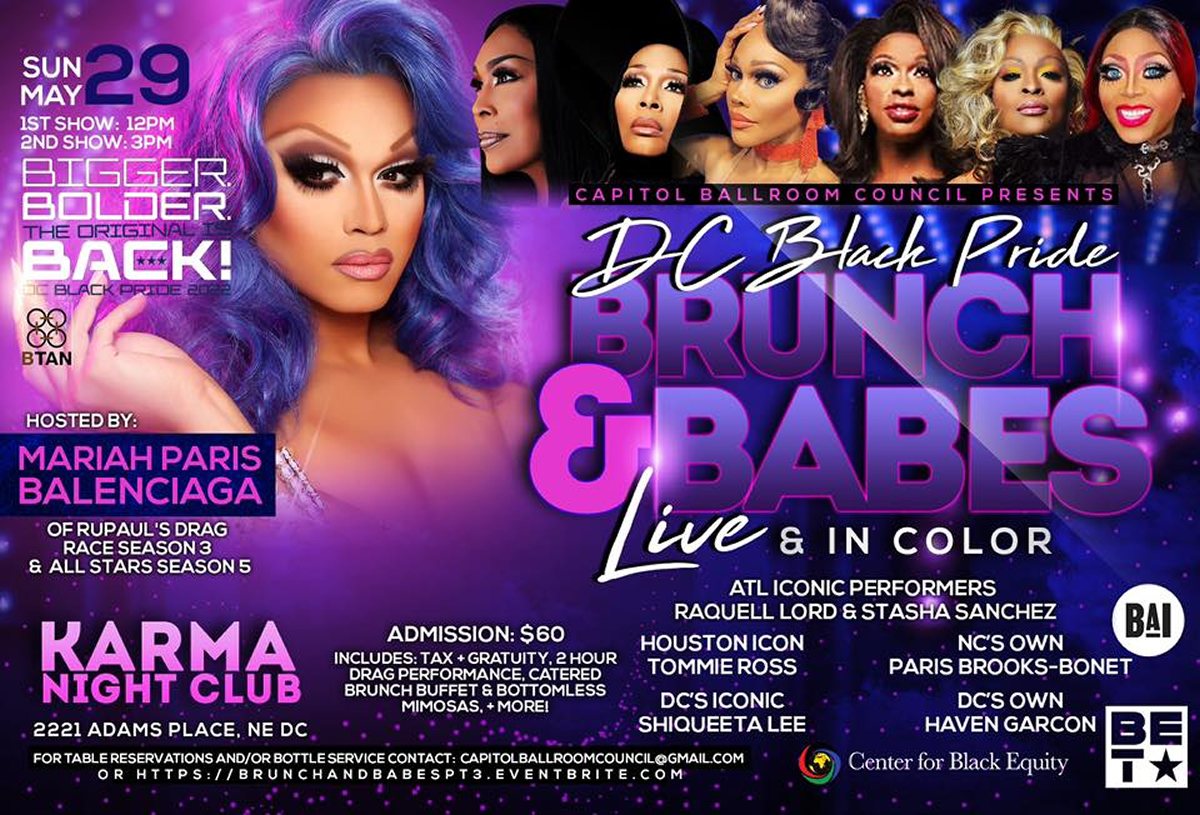 Sunday, May 29
11:30 a.m.-6 p.m.
Karma Night Club
2221 Adams Place, N.E.
$60
Facebook
Celebrate Black Pride with the Capitol Ballroom Council at a ballroom performance with a catered brunch buffet and bottomless memosas- Sunday, May 29, 11:30 a.m.-6 p.m. Black Pride Brunch & Babes at Karma Night Club.
Flashy Memorial Day Weekend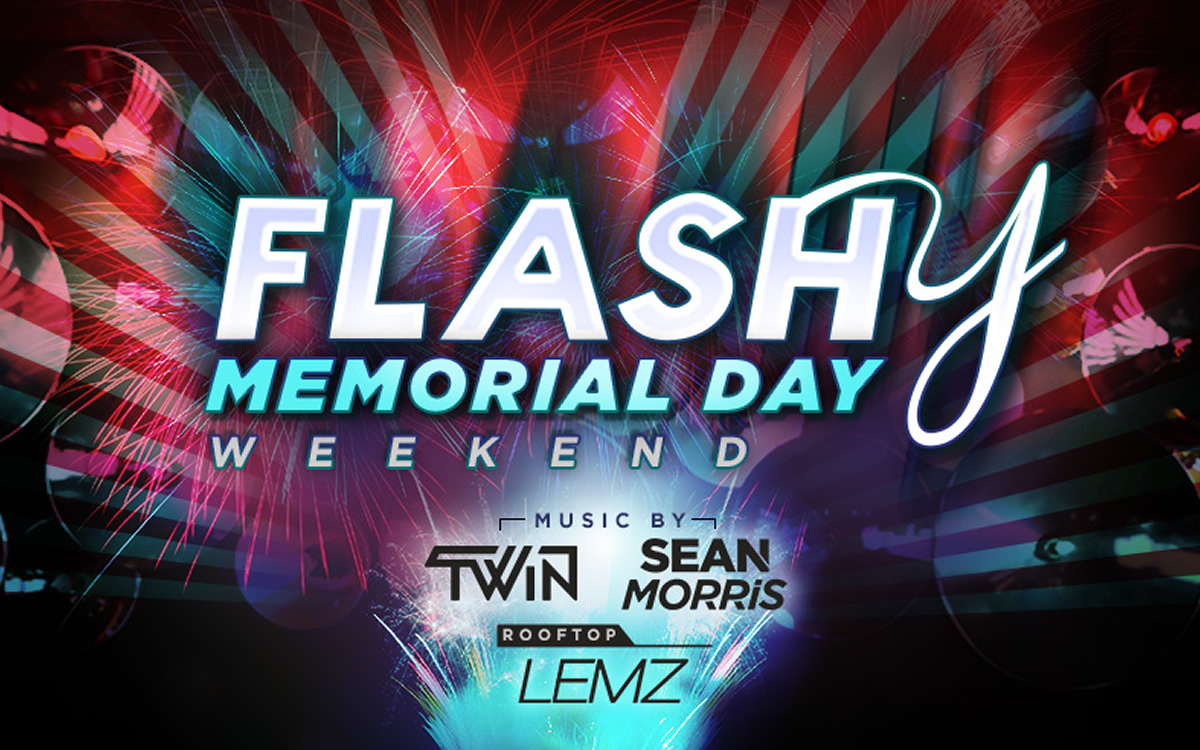 Sunday, May 29
10 p.m.-5 a.m.
Flash
645 Florida Avenue, N.W.
$30 advance / $40 door
Facebook | Eventbrite
Celebrate Memorial Day Weekend Sunday night into the wee hours of the morning at Flash. Music by DJ Twin, DJ Sean Morris and DJ Lemz.
If you would like to let us know about an upcoming event, email [email protected] with details.
PHOTOS: Summer Kickoff Party
Washington Blade holds annual event at The Pines in Rehoboth Beach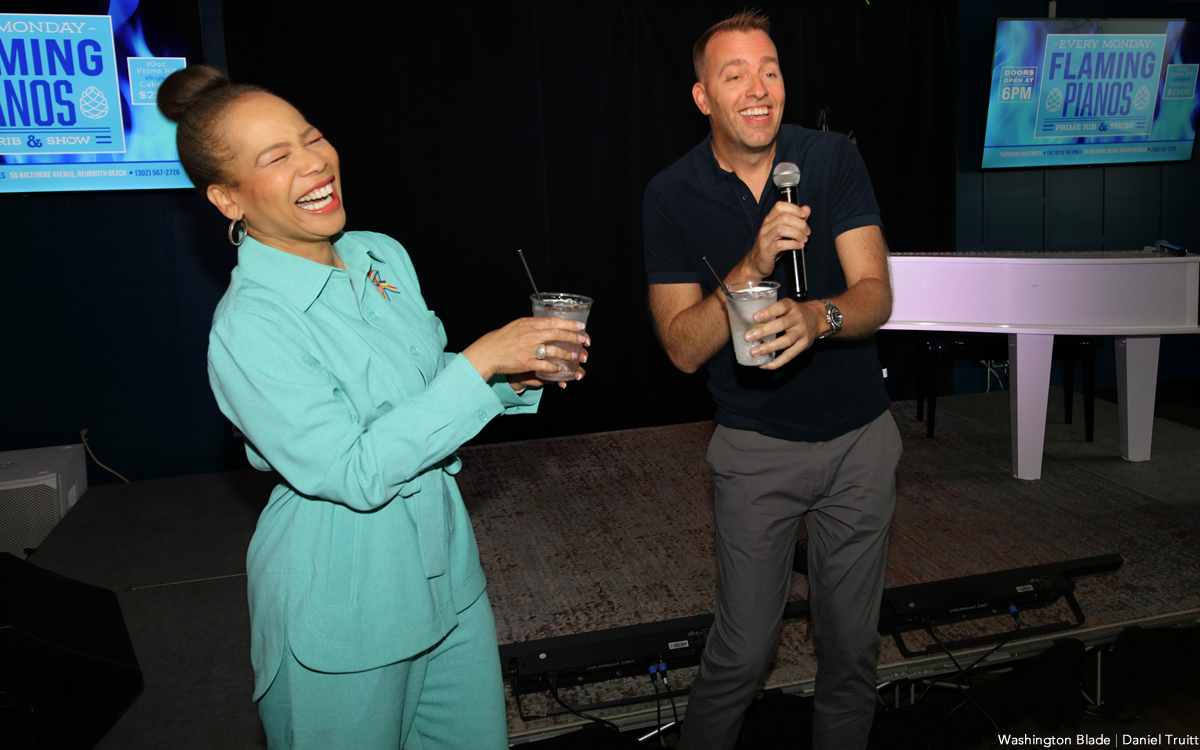 The Washington Blade held its 15th annual Summer Kickoff Party at The Pines in Rehoboth Beach, Del. on Friday, May 20 with special guest Congresswoman Lisa Blunt Rochester (D-Del.).
(Washington Blade photos by Daniel Truitt)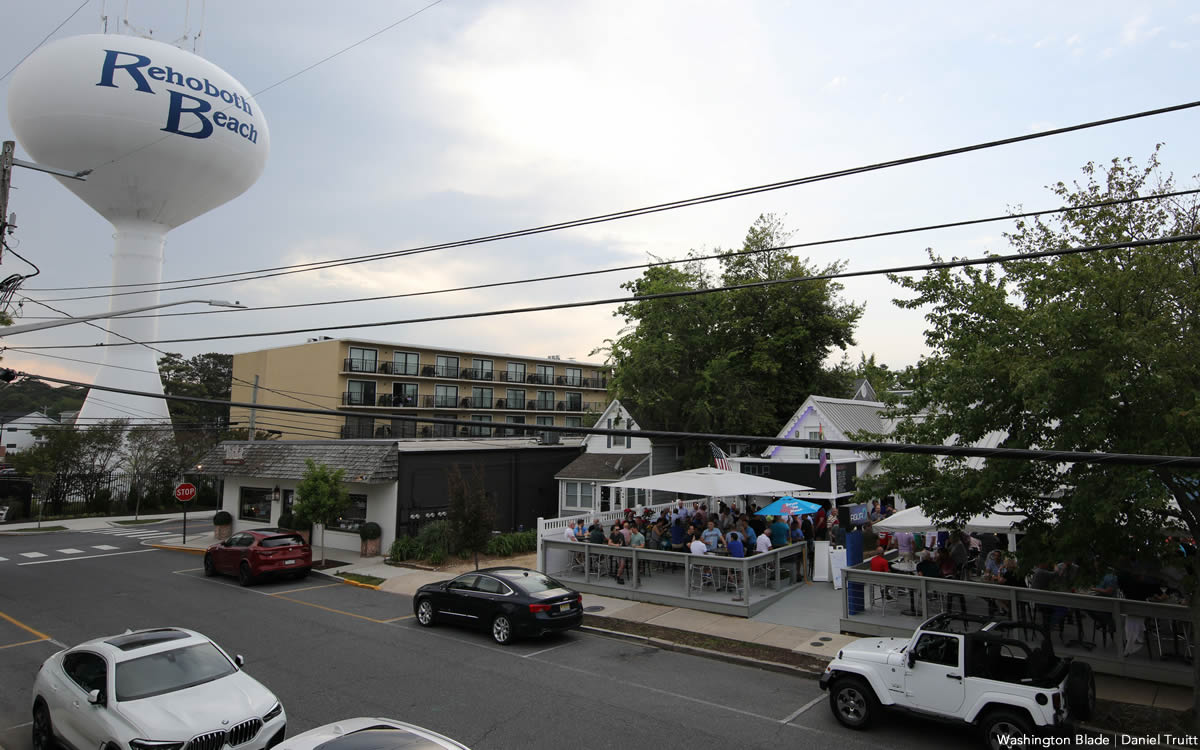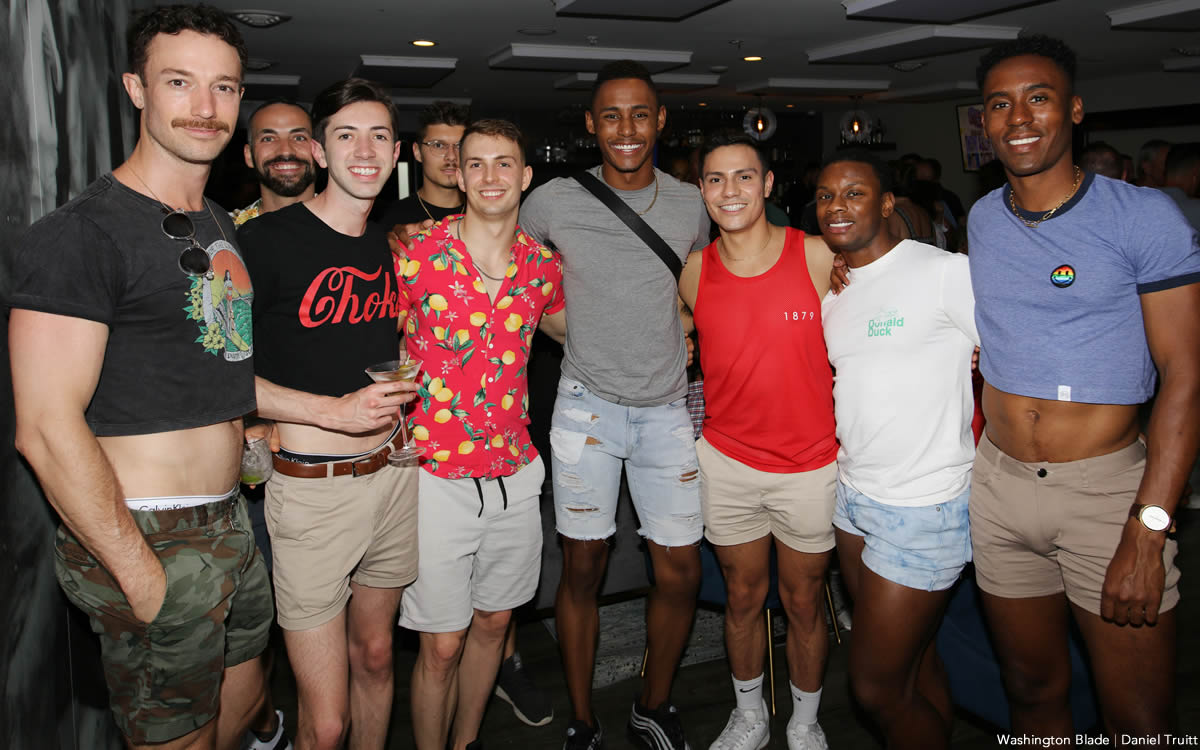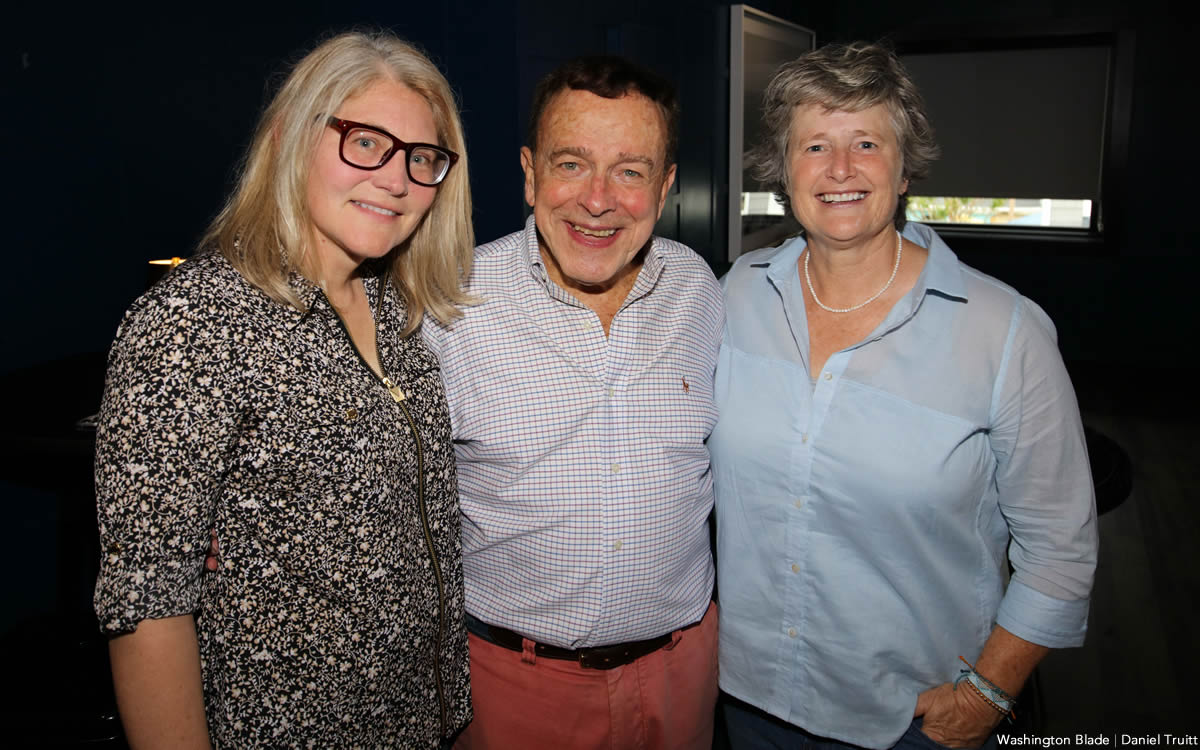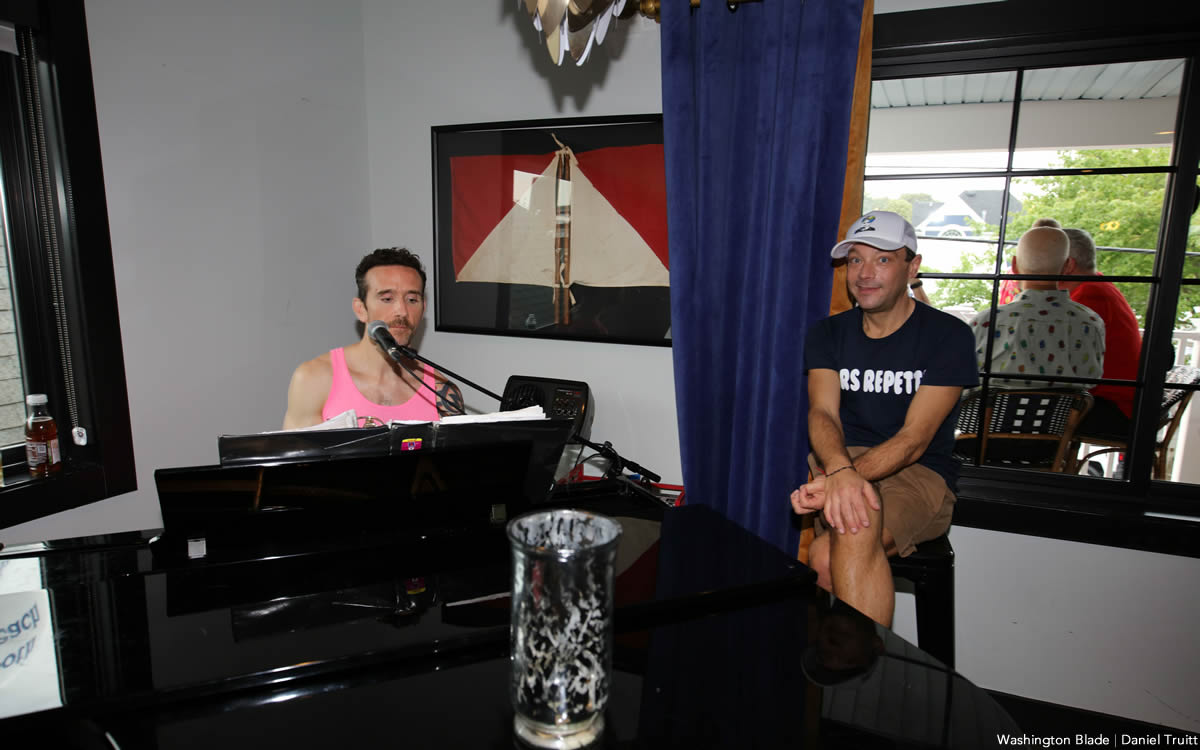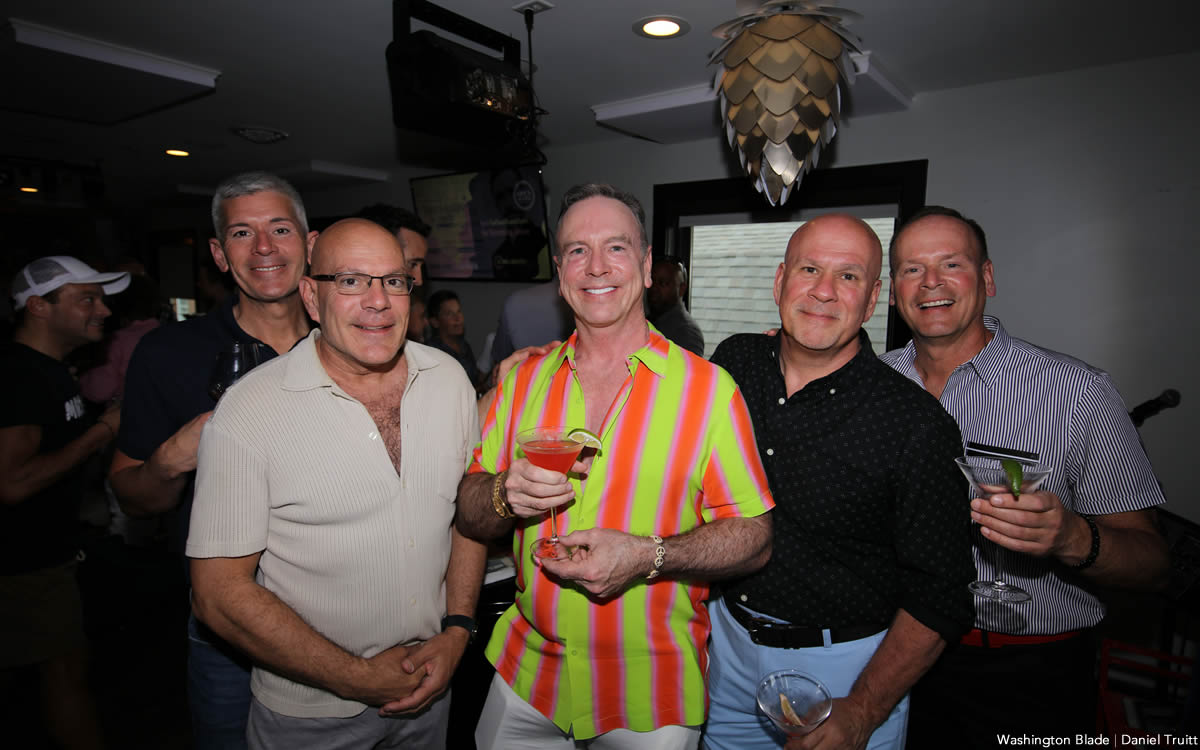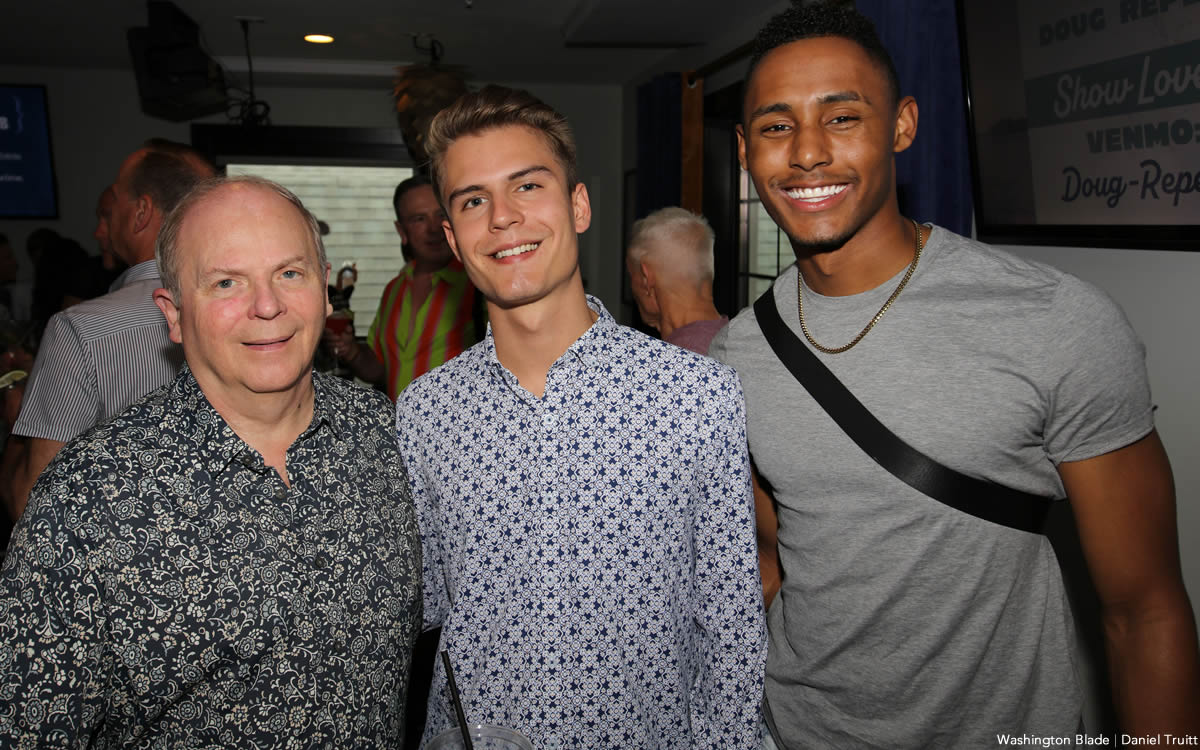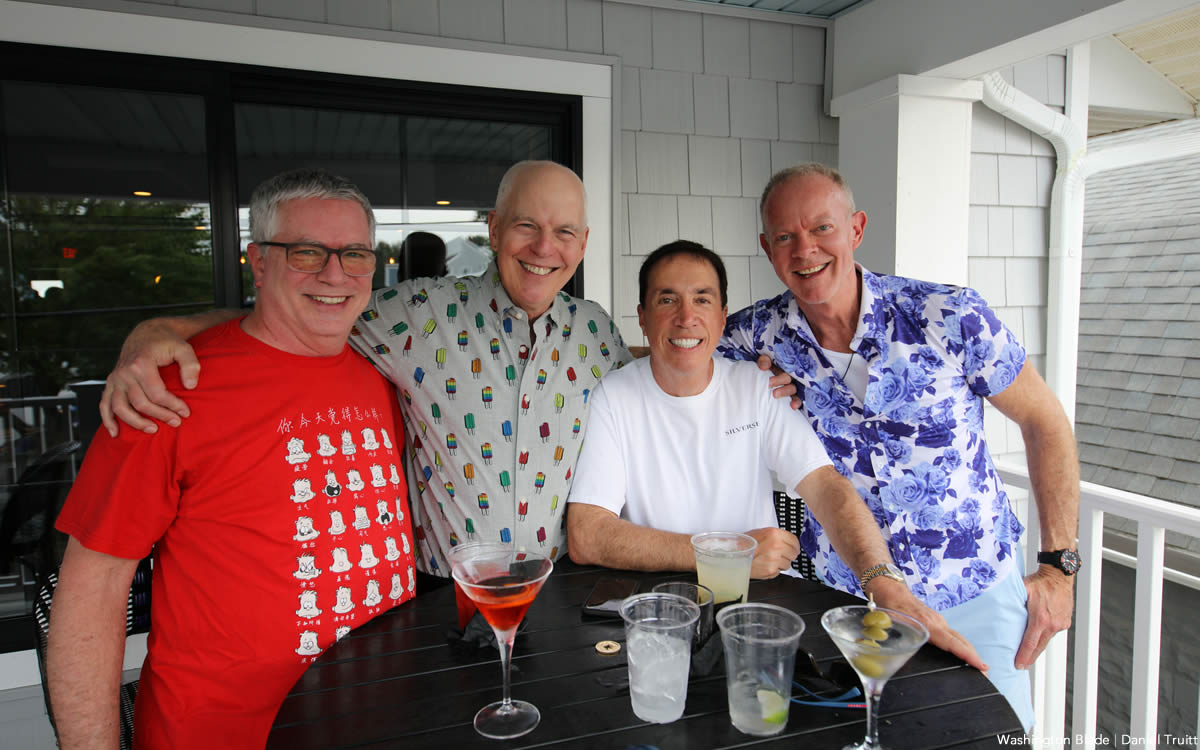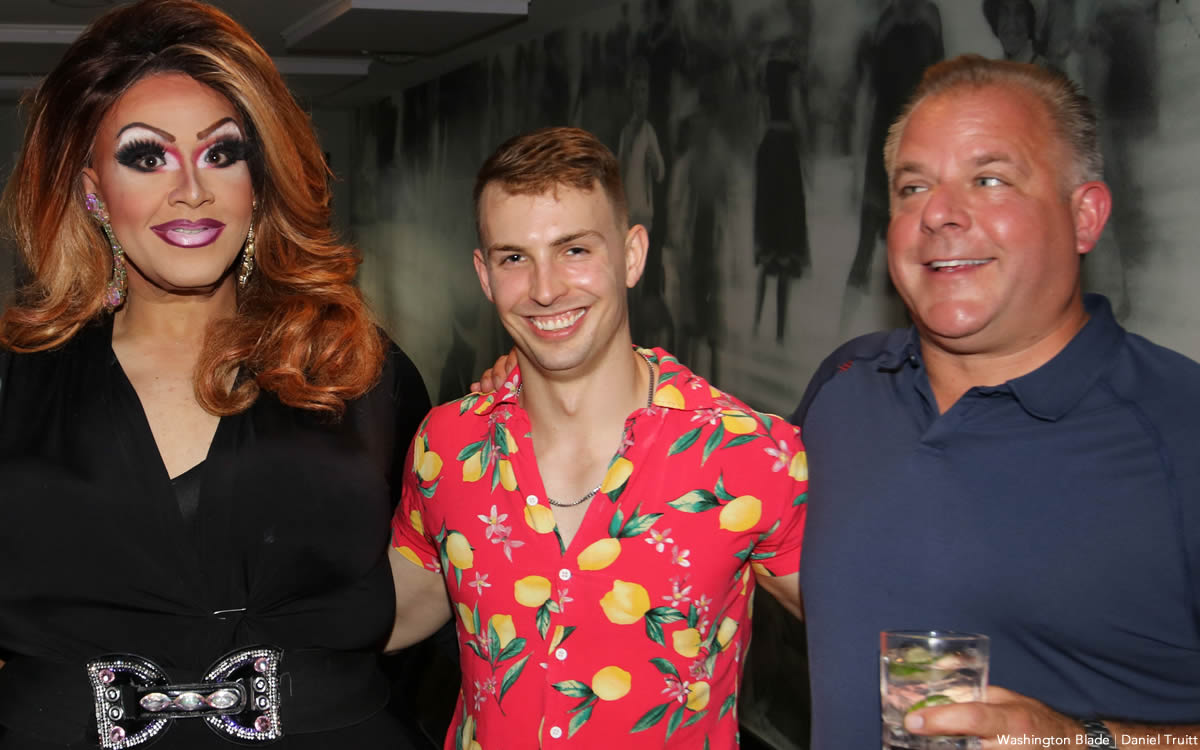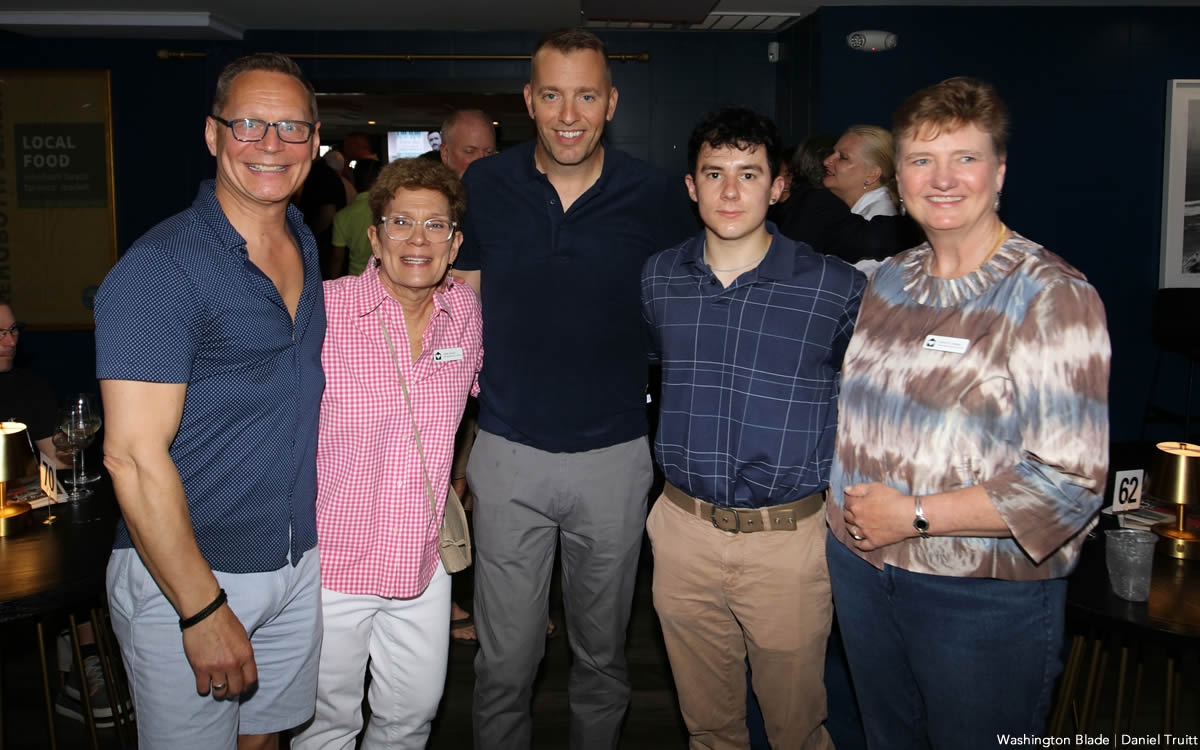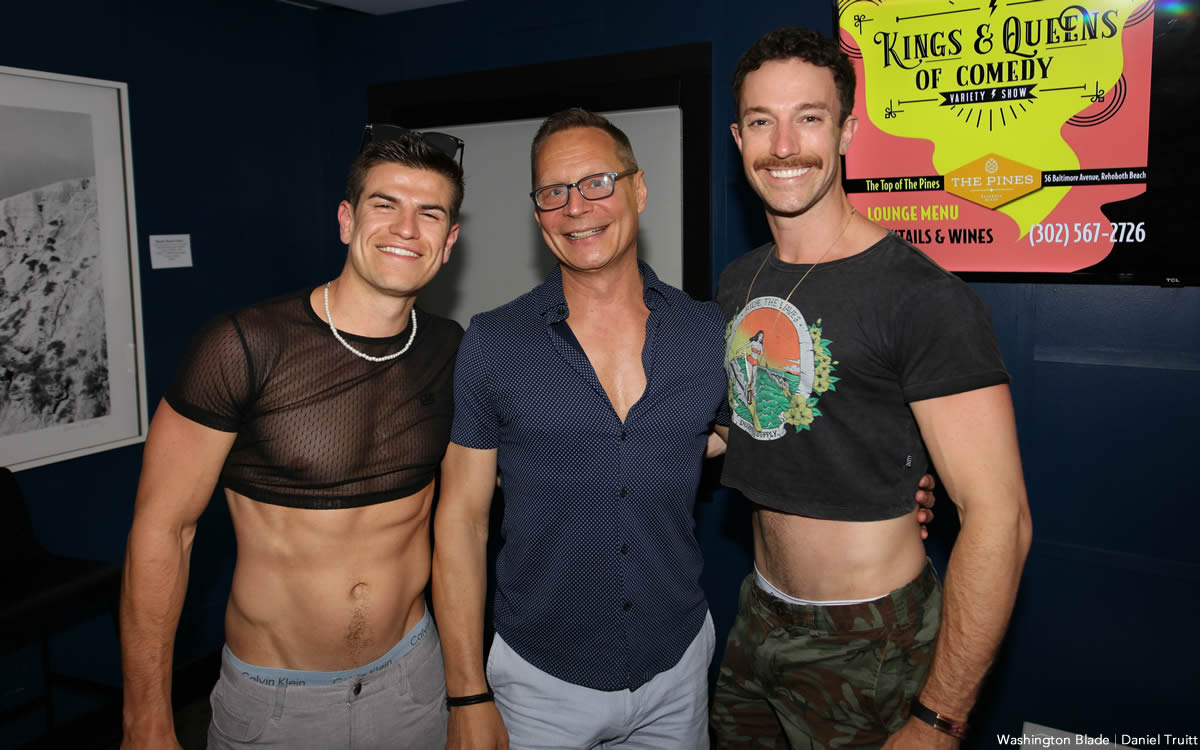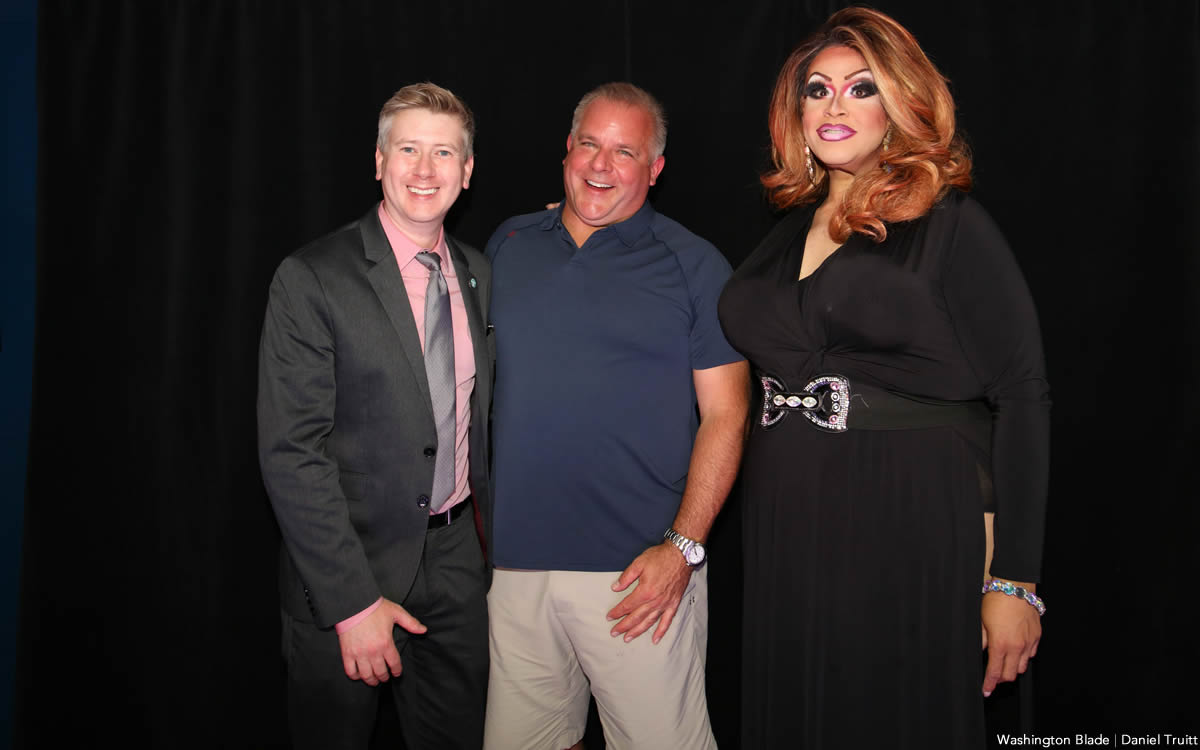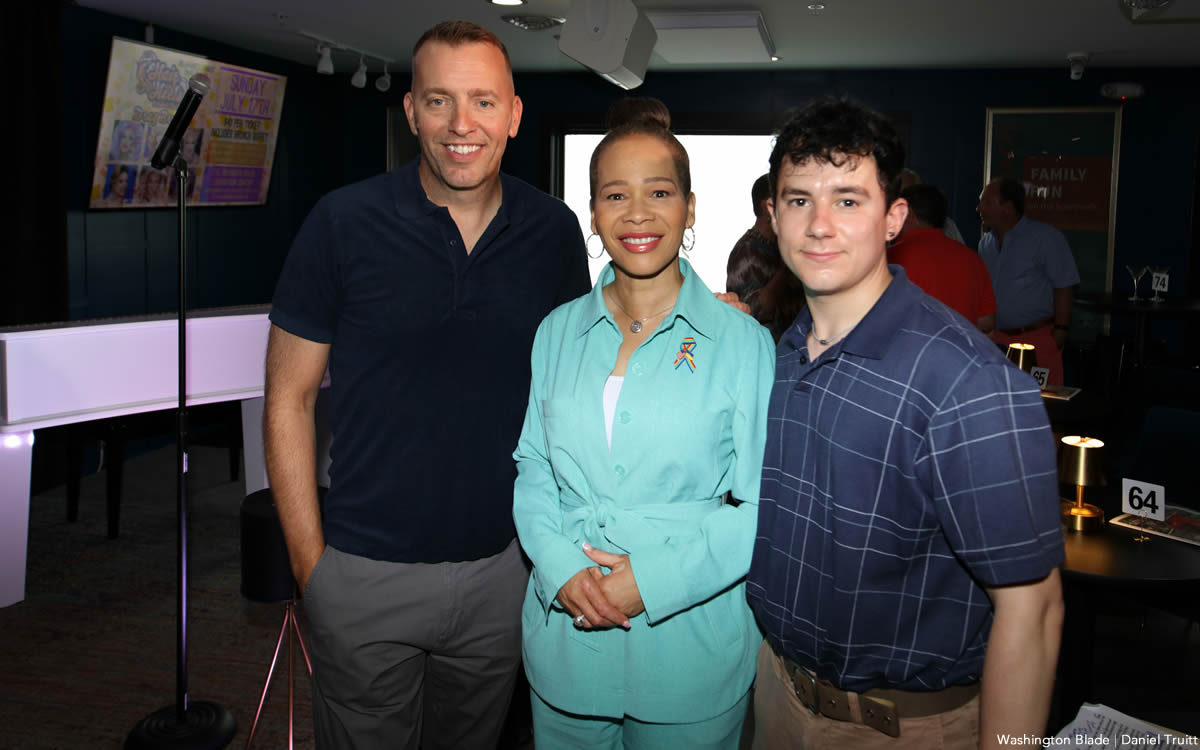 PHOTOS: Worthy Mentoring Pride Brunch
Carson Kressley serves as emcee for LGBTQ fundraiser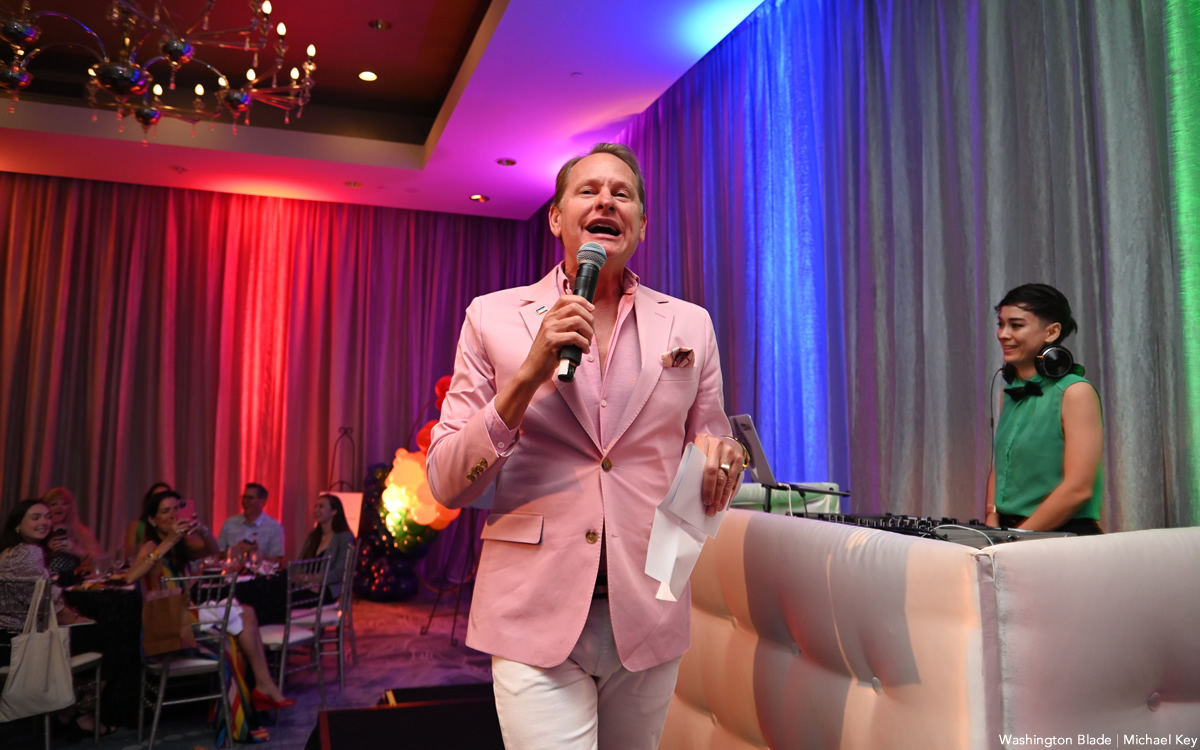 Carson Kressley of "Queer Eye for the Straight Guy" and "RuPaul's Drag Race" served as the emcee for the Worthy Mentoring Pride Brunch at the Four Seasons Washington Hotel on Sunday, May 22. Worthy Mentoring is a nonprofit that connects mentors and mentees in the LGBTQ+ community through a mobile iOS and Android App.
(Washington Blade photos by Michael Key)