Local gay student blocked from making blood donation despite FDA easing policy
Red Cross acknowledges delays, study to examine further change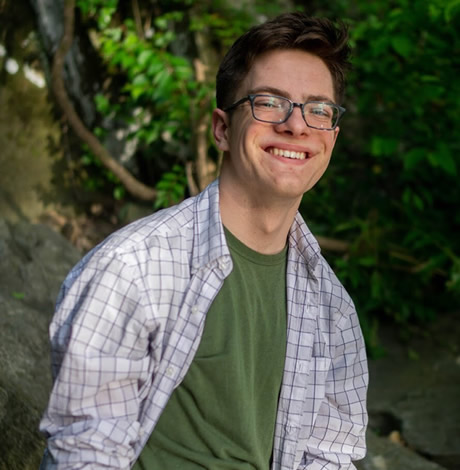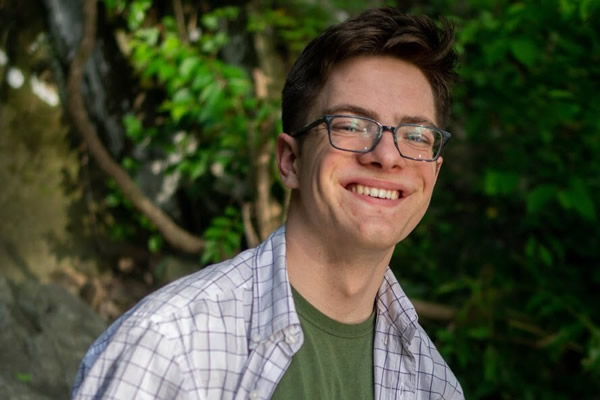 A gay D.C. native otherwise qualified to donate blood was denied that chance at a local hospital, demonstrating that obstacles remain after the FDA eased its ban on gay donations — even as the agency has set up a pilot study to assess lifting the blanket policy altogether.
Aubrey Lay, a 19-year-old student at the College of William & Mary, told the Washington Blade after the FDA eased its policy last month he registered with his family at Children's National Hospital, a D.C.-based pediatrics center, in hopes of making a contribution under the belief he'd meet the new requirements.
"As a gay man, I was very excited that the FDA had relaxed its guideline restrictions on MSM donating blood, however imperfect this change may be," Lay said. "This meant that for the first time since graduating high school, I would be able to donate blood."
Lay said he would have been ineligible to donate under the former rule requiring 12 months of abstinence for gay men, but believed he would have been eligible under the new rules requiring only three months. Although the hospital's website had the old information online, Lay said he proceeded to his appointment on April 29 under the "wishful thinking" the hospital would accept him.
But Lay was ultimately blocked from making a donation.
"It turned out I was giving them the benefit of the doubt where I shouldn't have," Lay said. "I signed in and had my intake interview during which I explained my sexual history, and that I had last had sexual contact in early January, over the three-month limit. After answering all these questions, I got my finger pricked and iron levels checked, and height, weight, [blood pressure] taken. Only then was I told that I would not be able to donate because the hospital's policy has not yet caught up to national standards."
Lay said he was "shaken" by the experience, having wanted to make a blood donation to help out as the nation battles the coronavirus crisis.
As evidence going to the hospital was a risk he didn't take lightly, Lay said it was the first time he'd left his house in a month because he and his family took the Virginia stay-at-home order "very seriously."
"I certainly would not have risked my own health, and that of others, had I known I would be turned away," Lay said.
Amid the blood shortage during the coronavirus pandemic, the FDA last month announced it would ease the ban on blood donations for various groups, including men who have sex with men.
The earlier ban, established in 2015, required gay men to be abstinent for 12 months before making a donation, but the new policy eased those restrictions, requiring a deferral period of three months.
Before 2015, the FDA had a lifetime ban on blood donations from men who have had sex with men. The policy was implemented in 1983 at the height of the AIDS epidemic based on fears donations from gay men would allow HIV to enter the blood supply.
Lay, upon being denied the ability to donate blood, said he found the office of the hospital's president next to the blood donation room and sought an audience.
The president, Lay said, apologized for the confusion and connected him with the doctor in charge of the blood bank. The doctor, Lay said, told him the hospital's computer systems were interlaced with the new policy and — in normal times without coronavirus — it would take a month to disentangle them and make them consistent with the new policy.
The website for the Children's National Hospital has been updated and no longer indicates it follows the earlier 12-month policy, but is in the process of making a transition to conform to the new guidance by June 2020.
A Children's National Hospital spokesperson confirmed the center is still in the process of updating its policy for gay donors and expects resolution next month.
"We have the deepest appreciation for all our blood donors and see every day how their donation saves lives," the spokesperson said. "We take every step to adhere to all regulations around blood donation and are working to update our policies, donor questionnaire and computer systems to align to the new FDA regulations. The FDA just approved the donor questionnaire for sites to use and we are hoping to have all policies in place in June. We encourage anyone who would like to donate to make an appointment and double check on the eligibility before coming in."
Lay's story isn't unique as other gay men have reported being unable to donate blood after the FDA eased its ban. Whether or not each of these men expected to meet the requirements under the new deferral period of three months is unclear.
Gay TV personality Andy Cohen says he was denied the chance to donate, even though his plasma would be rich in the antibody for COVID-19. Lukus Estok, a young gay man who recovered from COVID-19, also told his story about being denied the opportunity to make a donation at the New York Blood Center. His Facebook post went viral on social media and was featured in a Good Morning America article.
Mathew Lasky, a spokesperson for the LGBTQ media watchdog GLAAD, which has been leading calls for a change in blood policy, said more and more stories are emerging of LGBTQ people being blocked from making donations despite the recent change.
"GLAAD is continuing to pressure the FDA to put science above stigma, and to remove any time-based deferral on gay and bisexual men, and others in the LGBTQ community, donating blood," Lasky said. "In the meantime, it's critical for individual blood centers to begin adhering to the new FDA guidelines as not to continue needlessly discriminating against LGBTQ people, and to address the critical blood supply shortages we're seeing during COVID-19."
The American Red Cross, which had called for the FDA to shorten its deferral period from the 12 months to three months before the new policy was implemented, cautioned via a spokesperson the implementation of updated rules "will take time."
"As the largest blood provider in the country, we are working to implement the updated FDA eligibility changes and will provide an update on timeline in the near future," the spokesperson said. "It's important to note that the implementation process includes potentially thousands of individuals and involves complex system updates that do take time. We are working to develop a reinstatement process to share with potential donors in the near future."
UPDATE: A Red Cross spokesperson after publication of this article told the Blade a June 1 target date has been set for full implementation of the FDA policy change.
"The American Red Cross is working to implement the updated FDA eligibility changes on June 1," the spokesperson said. "We just want to emphasize that this process includes potentially thousands of individuals and involves system updates that will take time to implement."
Even as blood centers work to update their system to conform to the new policy, LGBTQ advocates have said the change is insufficient and the FDA should scrap its deferral requirements entirely for men who have sex with men and instead implement a policy based on individual risk assessment. Such a policy could enable, for example, monogamous gay men or gay men with safe sex practices to make blood donations.
Among those calling for this change is California Attorney General Xavier Becerra, who last month led a letter to the Department of Health & Human Services with 19 other attorneys general urging the Trump administration to abandon the deferral period, citing the success of other countries, such as Spain, Italy and Portugal, that have implemented gender-neutral policies.
Many voices have emerged calling for any and all obstacles to gay men making blood donations being lifted because testing could determine whether a blood donation has HIV. Experts, however, say some caution is necessary as a window exists between donation and testing in which the test wouldn't be able to determine if a donation was free of the virus.
Scott Schoettes, counsel and the HIV Project Director at Lambda Legal, articulated that warning in a conference call last month with reporters.
"People believe that it catches all new cases of HIV or new cases of Hepatitis B, Hepatitis C, other blood borne infections," Schoettes said. "That is not the case. There is still a window period during which that testing would not uncover a newly acquired infection."
But in a rare situation of hitting both the gas and brake at the same time amid a policy change, the FDA has indicated the agency also is in the early stages of a pilot program to determine whether or not the ban can be changed further in favor of a risk-based assessment.
Megan McSeveney, an FDA spokesperson, confirmed the agency is set to begin the study with "about 2,000 men who have sex with men and who would be willing to donate blood."
"This study, being conducted at community health centers in key locations across the United States, could generate data that will help the FDA determine if a donor questionnaire based on individual risk assessment would be as effective as time-based deferrals in reducing the risk of HIV," McSeveney said.
The Red Cross is participating in the efforts to ensure a new risk-based policy as opposed to a deferral period will keep the blood supply safe, a spokesperson for the non-profit said.
"We are very early in the study – we are currently finalizing the content of the new questions, and developing the specifics of the protocols, including site selection, which then will require government and ethical review board approval," the spokesperson said. "The results of testing in combination with the responses to the questionnaire will be used to determine the value of the questions in interdicting new HIV infections."
Based on the limited information of the study, there's no indication a change will, in fact, follow eliminating the deferral period for gay men entirely in favor of a risk-based assessment.
Sarah Kate Ellis, CEO of GLAAD, said in a statement the pilot study was wholly necessary given medical experts who say any kind of deferral period is "stigma, not science."
"During the current crisis, the FDA is wasting time and money on a pilot study when all the scientific research and medical authorities plainly state that gay and bi man should not be restricted from donating blood," Ellis said. "All blood donations, regardless of sexual orientation, are screened to ensure healthy samples and now the American Medical Association, leading elected officials, and more than 600 medical professionals have all done the work for the FDA and unequivocally state that this ban needs to end."
Lay, caught in the middle of reconsideration of the policy, said he awaits the day when the restrictions are changed so LGBTQ people can finally donate blood at a time when their help is needed.
"Because of this crisis, blood donation centers should not be turning people away at the door who are by all measures qualified donors, risking their health and the health of those around them by their very presence in these spaces," Lay said. "It is so important that we make this discrepancy between policy and practice known so that we can push for more transparency in blood donation, and hopefully full implementation of the new policy, albeit imperfect."
Missing gay man found 'alive and well'
Police say Richard 'Rick' Woods found in good health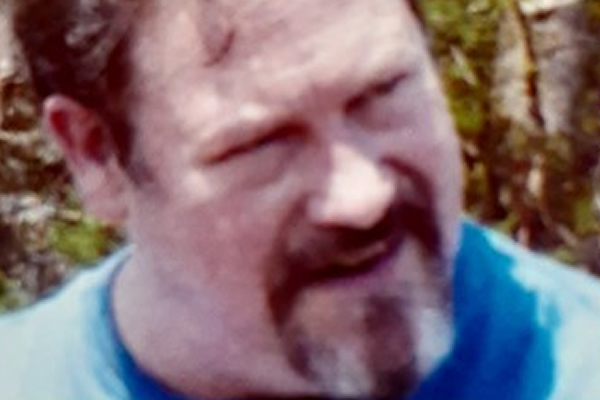 D.C. police announced on Friday that Richard G. 'Rick' Woods, a 65-year-old gay man who police said was reported missing and last seen on July 14, has been located. But the announcement doesn't provide information on where he was found or why he went missing.
Friends who know Woods say he operated for many years an antique wood furniture restoration business in various locations in D.C. The most recent location of his business, friends said, was in Georgetown a short distance from where police said he was last seen on the 1600 block of Wisconsin Avenue, N.W.
"MPD does not publicly disclose the circumstances surrounding a missing person and how they are found, however we do release their flyer as well as a notification when they are located," said D.C. police spokesperson Brianna Burch. "Mr. Woods was found in good health," Burch told the Blade.
Police sought help from the public in their initial announcement that Woods was missing. The announcement said he was reported missing to police on Friday, July 23.
Logan Circle Advisory Neighborhood Commissioner and LGBTQ rights advocate John Fanning, who said he has been friends with Woods for many years, said he was delighted to hear Woods was found in good condition.
"Rick is known by many in our community," Fanning told the Blade at the time Woods was reported missing. Fanning said he and others who know Woods stand ready to provide support for him should he be in need of such support.
The Blade couldn't immediately reach Woods for comment.
Some D.C. gay bars to require proof of COVID vaccination
Action prompted by mayor's order reinstating masks indoors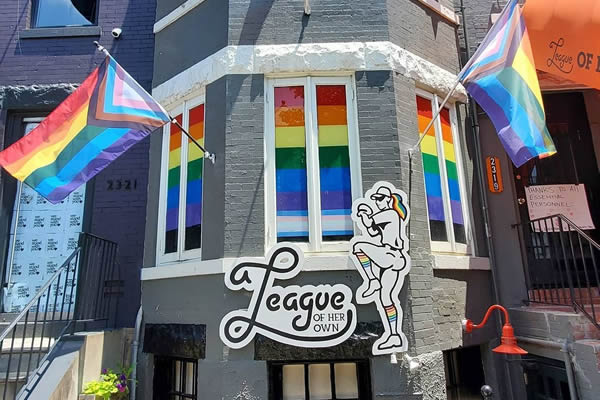 At least four D.C. gay bars announced this week on social media that they will require patrons to show proof that they have been vaccinated for COVID-19 as a condition for being admitted to the bars.
They include the Logan Circle area gay bars Number Nine and Trade, which are operated by the same co-owners, and the Adams Morgan gay sports bars Pitchers and A League of Her Own, which are also operated by the same owner and share the same building.
The four bars, which also offer dining service, announced their proof of vaccination requirement shortly after D.C. Mayor Muriel Bowser on Thursday issued a new order reinstating the city's requirement that facial masks be worn inside all businesses and other public establishments.
The mayor's order applies to all vaccinated and unvaccinated people over the age of two. It was scheduled to take effect 5 a.m. Saturday, July 31.
At a July 29 news conference, Bowser pointed to a new U.S. Centers for Disease Control and Prevention guidance issued two days earlier recommending that fully vaccinated people resume wearing masks indoors in places where transmission of the coronavirus is considered "substantial" or "high."
The mayor said that, at the advice of her public health experts, she decided to issue the new order to help curtail the rising number of COVID cases in D.C. over the past month or more due to the rapid spread of the virus's delta variant, which is surging throughout the nation. Like other parts of the country, Bowser and D.C. Department of Health Director Dr. LaQuandra Nesbit said people who are unvaccinated in D.C. make up nearly all of the newly infected cases.
"I know D.C. residents have been very closely following the public health guidelines, and they will embrace this," Bowser said in referring to the new mask requirement.
The four-page order released by the mayor's office, similar to the city's earlier mask requirements, allows indoor patrons of restaurants and bars to remove their masks while "actively" eating or drinking.
But some representatives of restaurants and bars have pointed out that other jurisdictions, including Maryland and Virginia, have followed the CDC's initial policy of making mask wearing a recommendation rather than a requirement.
"Mayor Bowser's announcement that nightlife hospitality patrons must wear a mask indoors when not 'actively eating or drinking' renders the reinstated mandate essentially unenforceable and results in the rule being reduced to a largely theatrical requirement," said Mark Lee, director of the D.C. Nightlife Council, a local trade association representing bars, restaurants, nightclubs, and other nightlife related businesses.
"The greatest disappointment for many venue operators and staff, however, is that the mayor's decision does not allow an option for establishments to admit only fully vaccinated patrons and be exempt from the mandate, as a number of other jurisdictions across the country have done," Lee said.
John Guggenmos, co-owner of the bars Trade and Number Nine, told the Washington Blade he and his co-owners adopted the proof of vaccination policy as an added means of protecting the safety of both patrons and employees of the two bars.
"We're hopeful that this will be in effect for just a few weeks or a month or two," Guggenmos said. "Our patrons have always been very supportive," he said in referring to the city's public health directives last year and early this year in which masks were required up until May of this year.
Guggenmos said Trade and Number Nine will allow an alternative to the vaccination requirement if patrons provide proof of a negative COVID-19 test conducted within the previous three days of their admission to the bars.
In its social media postings, Pitchers and A League of Her Own said their proof of vaccination requirement was based on the concern for the health of their patrons and staff.
"We will require proof a COVID vaccination until further notice at Pitchers/ALOHO and masks per the mayor," a Facebook posting says. "We take guidelines and the health of our patrons and staff very seriously. We will accept a picture or hard copy of your COVID vaccination card," it says. "No exceptions, no arguing, no talking to the manager."
Tammy Truong, owner of the gay bar Uproar Lounge at 639 Florida Ave., N.W., told the Blade the bar has no immediate plans to require proof of vaccination as a requirement for admission, but Uproar will fully comply with the mayor's order requiring indoor masks.
Justin Parker, co-owner of the nearby gay bar The Dirty Goose at 913 U St., N.W., told the Blade he and his staff decided on Friday to also put in place a requirement that patrons show either proof of vaccination or proof of a negative COVID-19 test within the past five days. He said a 5-day window for the COVID test, which the CDC allows in some cases, was chosen rather than a three day requirement to accommodate people who may not be able to get tested during weekends.
Owners of other D.C. gay bars couldn't immeidately be reached. But the Blade could not find any announcements by the other gay bars as of Friday afternoon that they planed to put in place a proof of vaccination requiremenet.
Judge dismisses lawsuit against Va. school guidelines for transgender students
Christian Action Network and other conservative groups filed suit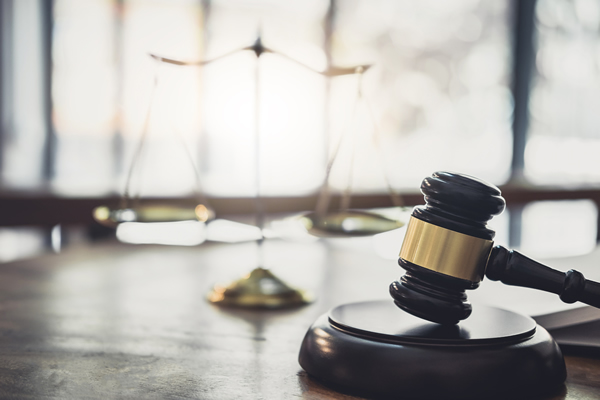 Lynchburg Circuit Court Judge J. Frederick Watson on Tuesday dismissed a lawsuit that challenged the Virginia Department of Education's model policies for transgender students that are to be implemented for the 2021-2022 school year.
The VDOE introduced the policies in March to better protect and affirm trans and non-binary students in schools, considering they are more likely to face discrimination and harassment from their peers and students. The directives would require Virginia schools to allow them to use school bathrooms and locker rooms that conform to their gender identity and pronouns and a name that reflects their gender identity.
Several conservative organizations, including the Christian Action Network, and families whose children attend Lynchburg public schools had sought to overturn the VDOE's policies. The groups cited their need to protect their right to free speech and religion under the First Amendment.
Challenging the enactment of non-binary and trans-inclusive school policies in Virginia is not a new occurence.
Tanner Cross, a Loudoun County teacher, was suspended in May after stating he would not use trans students' preferred pronouns. Circuit Judge James E. Plowman, Jr., who invoked Pickering v. Board of Education, a 1968 U.S. Supreme Court ruling in favor of a teacher that stated they have the right to provide commentary on issues of public importance without being dismissed from their position, reinstated Cross after he filed a lawsuit,
Equality Virginia on Tuesday a statement celebrated what they described as "a win for Virginia schools and students."
"This ruling is important progress and emphasizes the continued need to protect transgender and non-binary youth in Virginia," said Executive Director Vee Lamneck. "These policies will create safer classrooms and will reduce bullying, discrimination and harassment. It's imperative school boards adopt these policies as soon as possible because the lives of transgender students are at risk."
Equality Virginia, ACLU of Virginia, and more than 50 other organizations and school board leaders across the state filed an amicus brief earlier this month encouraging the court to deny the lawsuit.
The brief's arguments included references to historic lawsuits like Brown v. Board of Education and Grimm v. Gloucester City School Board that specifically addressed inequalities in schools for minority students.
While Tuesday's ruling is a win for LGBTQ rights advocates in education and their respective students, there still remains a final barrier to ensure that the VDOE's policies are sanctioned in the fall.
"The dismissal clears one statewide hurdle for the guidelines and limits future challenges," reports the Virginian-Pilot newspaper. "But it leaves the fight to continue at local school boards, which are currently debating how or if to implement policies before the start of the school year."