Top 10 national news stories of 2020
A pandemic, depression, racial reckoning — and a presidential election, too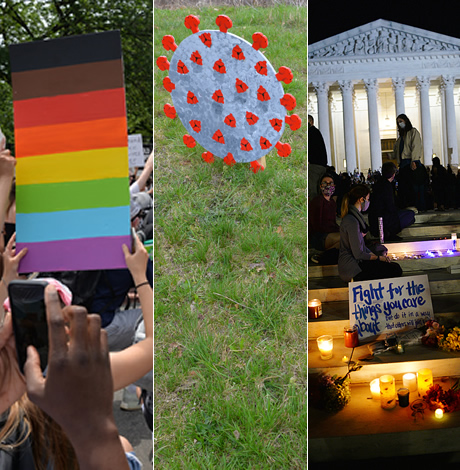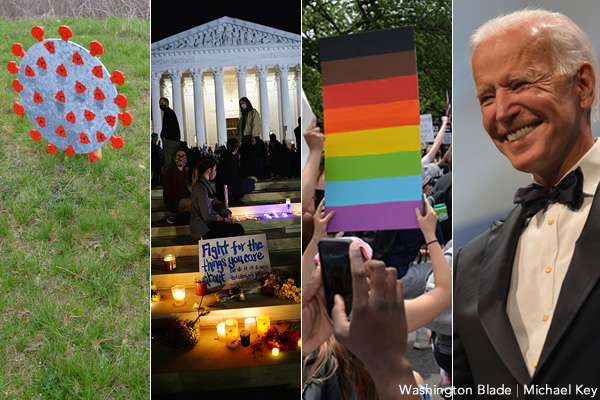 Newsrooms around the world were stretched to the limit in 2020, as journalists, including those at the Blade, struggled to cover multiple once-in-a-lifetime crises at once: a pandemic, the worst financial crisis since the Great Depression, a reckoning over racial justice and police brutality, and the 2020 presidential election.
Here are the Blade staff picks for the top 10 national news stories of 2020.
10: Methodist Church faces split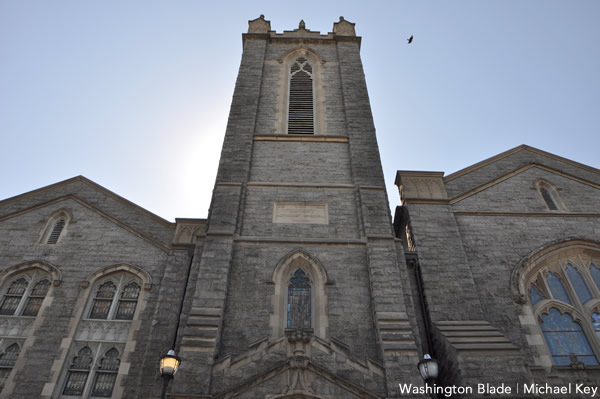 Amid division in the denomination over LGBTQ clergy and same-sex marriage, the Methodist Church proposed a formal plan this year to separate on the lack of agreement on religious views toward LGBTQ people.
The Methodist Church agreed to adopt a more LGBTQ-inclusive doctrine while allowing a coalition of conservative congregations in the United States and Africa who objected to change to separate. The "Protocol of Reconciliation and Grace through Separation" would allow the departing congregations to keep their property and give them $25 million to form a new denomination.
The plan would have needed approval in May 2020 in General Conference for ratification. The vote, however, never took place and was postponed until 2021 during the coronavirus pandemic.
9: Trump campaign stages Pride events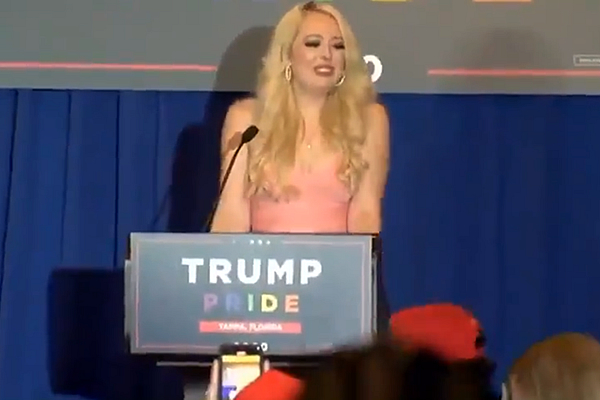 Upon stepping down from the Trump administration, Richard Grenell took on a new role as senior adviser for the Trump campaign on LGBTQ outreach and was made co-chair of the Trump Pride coalition, marking the first time a Republican presidential nominee had an LGBTQ political coalition.
Trump Pride held events in states deemed competitive in the election, including Arizona, Michigan, Pennsylvania, and Florida. Tiffany Trump, who had heretofore kept a low profile during her dad's administration, participated in Trump Pride events in full support of her father, although she was mocked on Twitter during her public appearances.
Arguably, the Trump Pride coalition found success in convincing some LGBTQ voters to come to their side. Exit polls revealed 61 percent of LGBTQ voters backed Biden, the lowest percentage of support ever for a Democratic nominee, while 28 percent backed Trump, doubling his LGBTQ support from 2016.
8: Ric Grenell named acting DNI, 1st out gay Cabinet official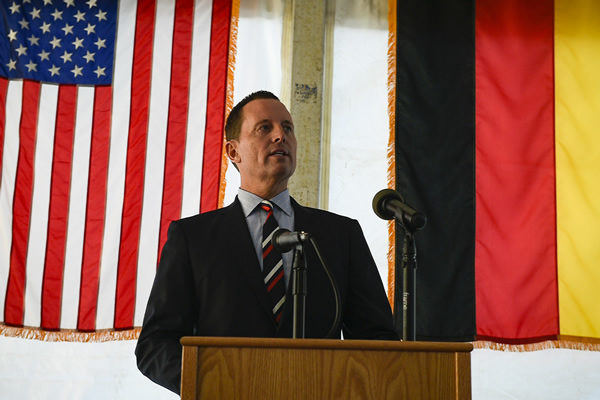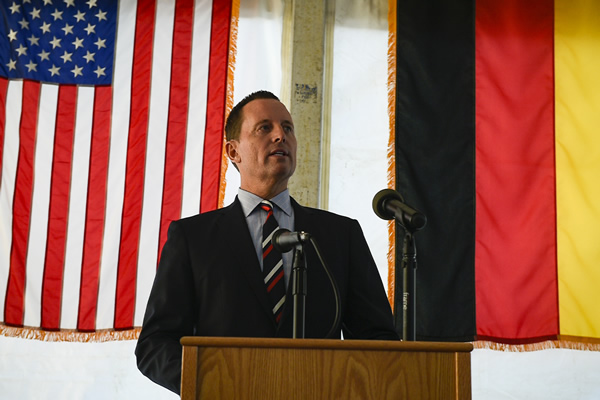 A Republican administration made the historic first of appointing the first openly gay person to a Cabinet post when President Trump named Richard Grenell, who had been serving as U.S. ambassador to Germany, as acting director of national intelligence.
Critics pointed out Trump never sought or won Senate confirmation for the role. Grenell also used the position as a political tool to declassify documents, seeking to impugn Biden for unmasking individuals caught up in surveillance during the Michael Flynn investigation.
But Grenell also used the position to highlight the global initiative to decriminalize homosexuality he spearheaded, threatening to cut off U.S. partners overseas from shared intelligence if they didn't respect LGBTQ human rights.
Upon his departure, Grenell posted a photo to Instagram asserting President Trump gave him his Cabinet chair because being the first openly gay person to serve at that level was a "big deal."
7: LGBTQ candidates win big on election night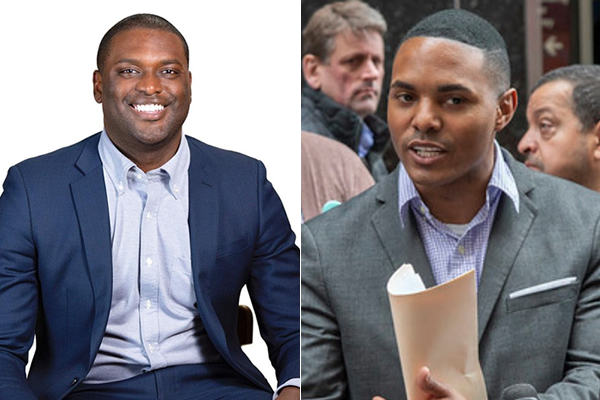 LGBTQ candidates in the 2020 election achieved historic firsts, breaking barriers and demonstrating political aspirants in marginalized communities have no limit in winning public office.
The LGBTQ Equality Caucus in the U.S. House will be expanded and diversified with the addition of Ritchie Torres and Mondaire Jones of New York, who will be the first Black, openly gay men elected to Congress. Torres is also the first openly gay Afro-Latino elected to Congress.
Sarah McBride, a transgender advocate famous for her speech at the Democratic National Convention in 2016, was elected to a seat in the Delaware State Senate, setting her up to become the highest-ranking openly transgender legislator in the United States. Other transgender candidates, Taylor Small in Vermont and Stephanie Byer in Kansas, won seats in state legislatures, nearly doubling the number of transgender legislators in the United States.
6: FDA eases gay blood ban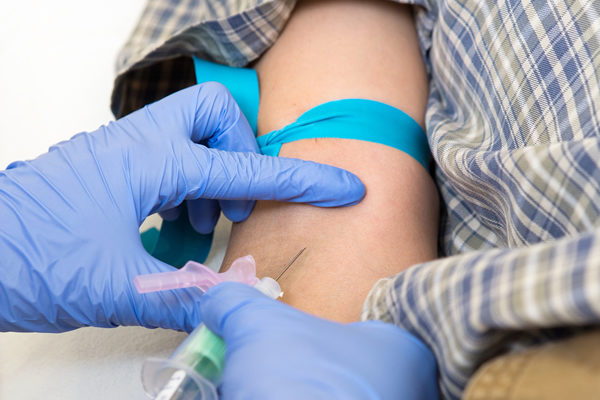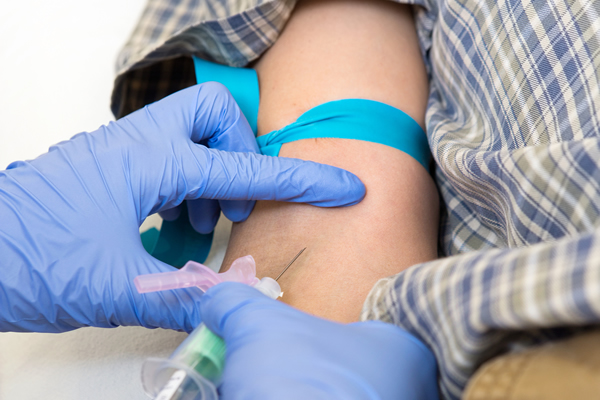 In a move uncharacteristically positive for the LGBTQ community from the Trump administration, the Food & Drug Administration this year eased the ban on blood donations from gay and bisexual men.
The previous policy, set up by the Obama administration, required men to abstain from having sex with men for 12 months before making a donation. The FDA, amid a blood shortage during the coronavirus pandemic, shortened the deferral period to three months. The 12-month wait instituted during the Obama administration was a drastic change from the lifetime ban on blood donations from gay and bisexual men instituted in 1983.
President Trump said he had no hand in the FDA decision. When asked by the Blade about the change during a White House news conference, Trump replied, "No. I didn't know anything about that. That was done by the FDA, very capable people at the FDA."
5: RBG dies weeks before election
Ruth Bader Ginsburg, known as a champion of LGBTQ rights as an associate justice on the U.S. Supreme Court, died after 27 years on the bench. Hundreds gathered at the Supreme Court on the night of her death to adorn the ground with memorabilia in mourning over her passing.
Ginsburg had joined each of the milestone rulings in favor of LGBTQ rights and same-sex marriage, including Romer v. Evans, Lawrence v. Texas, Windsor v. United States and Obergefell v. Hodges. Most recently, Ginsburg joined the Bostock decision finding anti-LGBTQ discrimination is illegal under federal civil rights law.
President Trump, however, chose to fill Ginsburg's seat with Amy Coney Barrett, a jurist who's a favorite among the Christian right. Shortly after confirmation, Barrett participated in arguments for the case of Fulton v. City of Philadelphia, which will determine whether a Catholic foster care agency has a First Amendment right to reject LGBTQ families over religious objections.
4: Landmark SCOTUS ruling on LGBTQ workplace rights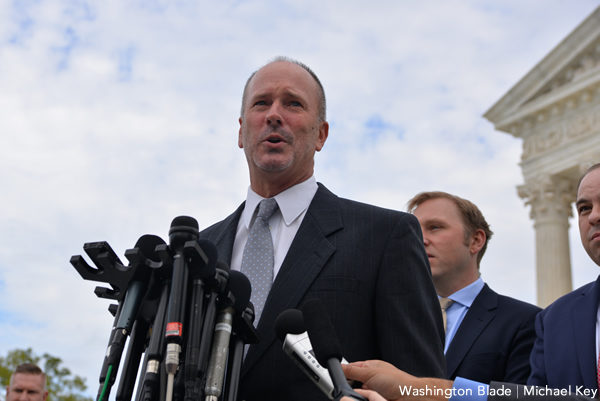 In a historic ruling ending a long fight to prohibit employment discrimination against LGBTQ people in federal law, the U.S. Supreme Court ruled in the consolidated case of Bostock v. Clayton County that anti-LGBTQ discrimination constitutes a form of sex discrimination.
Although the ruling pertained to employment discrimination under Title VII of the Civil Rights Act of 1964, the decision has broad applications to all laws banning sex discrimination, including civil rights law in housing, health care, education, and credit.
The litigation came about after Gerald Bostock was fired from his job as a municipal worker after expressing interest in a gay softball league and Aimee Stephens, a funeral home director in Michigan, who was fired for being transgender. Stephens died shortly before the decision was handed down.
The Trump administration, however, never fully implemented the decision, and outright flouted it with regard to access to sex-segregated spaces for transgender people. Biden is expected to recognize Bostock fully upon taking office.
3: Calls for racial justice after George Floyd killed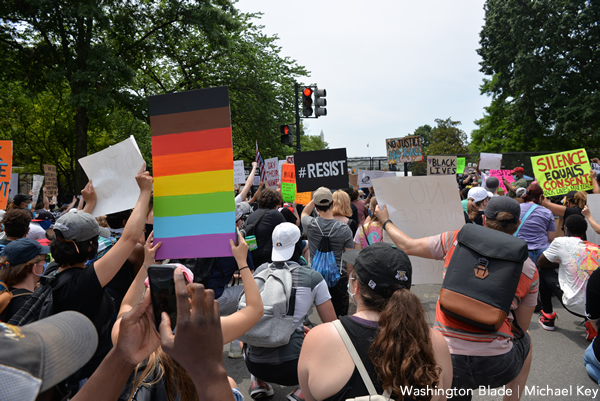 The death of George Floyd at the hands of Minneapolis police ignited a firestorm of protests and energized the Black Lives Matter movement, bringing calls for police reform, if not to outright defund the police, and end systemic racism.
LGBTQ Pride events, which had been cancelled amid the coronavirus epidemic, were in some cases back on with a renewed focus on anti-racism. (Drama followed, however, when LA Pride planned a solidarity march and sought cooperation with police. Organizers ended up handing over the reins to All Black Lives Matter, an advisory board of Black LGBTQ activists.)
Much of the outrage was directed at President Trump, who reportedly hid in a bunker amid protests that became violent outside the White House. Afterwards, Trump went to St. John's Church near Lafayette Square with Cabinet officials to hold up a Bible in a controversial photo-op.
2: Biden wins; Kamala Harris makes history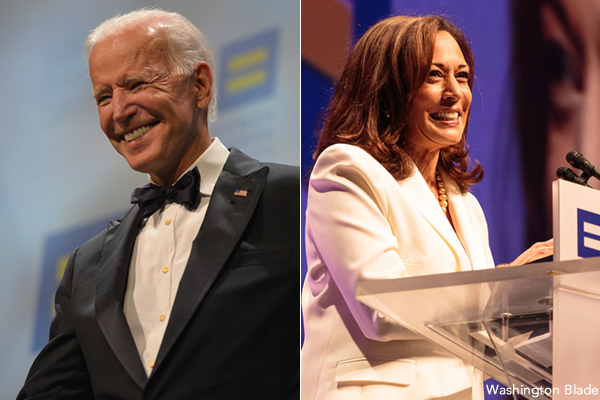 Joe Biden won the presidential election this year, ensuring Donald Trump would be a one-term president and bringing an end to an administration with a record of anti-LGBTQ policies.
Biden, whose comments in favor of same-sex marriage on "Meet the Press" in 2012 are still remembered for their impact, has long-standing connections to the LGBTQ community and issued a detailed policy plan for LGBTQ initiatives he'd pursue in his administration. Biden has pledged to end the transgender military ban and sign the Equality Act into law within 100 days.
Vice President-elect Kamala Harris, who made history as the first woman of color elected as part of a presidential ticket, also has deep ties to the LGBTQ community. As California attorney general, Harris declined to defend California's ban on same-sex marriage on Proposition 8 in court and raised LGBTQ issues as U.S. senator.
In another historic move, Biden tapped Pete Buttigieg for Transportation Secretary. He would become the first openly gay Senate-confirmed Cabinet official if approved in 2021.
1: Coronavirus ravages U.S. public health, economy
The coronavirus pandemic left hundreds of thousands dead, disrupted lives and threw the economy into a tailspin, stoking fears in a way no other public health crisis has done since the HIV/AIDS epidemic as the virus continued to spread. The outbreak is the Washington Blade's top national news event of 2020.
COVID-19, which originated in China, had killed by mid-December an estimated 300,000 people in the United States and infected 16 million. Although states kept tabs on racial, ethnic, and gender demographics on the disease, few recorded data on LGBTQ casualties.
An estimated 100,000 businesses across the nation closed their doors as governors ordered residents to remain at home, much to the consternation of conservative activists who said the directives were unconstitutional. The annual Pride month celebrations and parades were among the events cancelled.
The downturn in the economy forced many small business to close and put many workers on unemployment. Hospitality workers, many of whom are LGBTQ people, were hit especially hard. The Paycheck Protection Program saved many jobs, but as of late December, Congress had not come to an agreement on additional stimulus.
President Trump, who continued to insist the coronavirus would simply "go away," faced heavy criticism for failing to contain the epidemic, leading to major change in the 2020 election.
Honorable mention: Blade reporter refuses to move seat in WH briefing room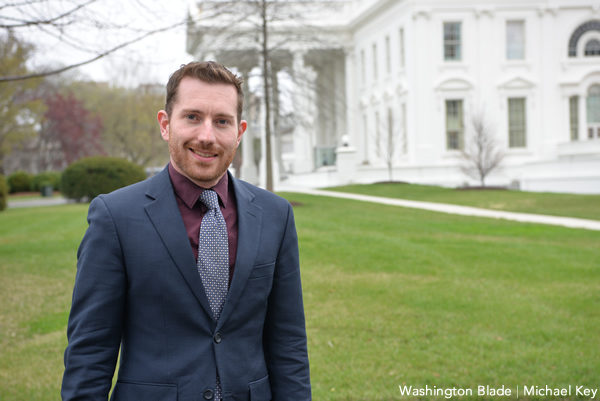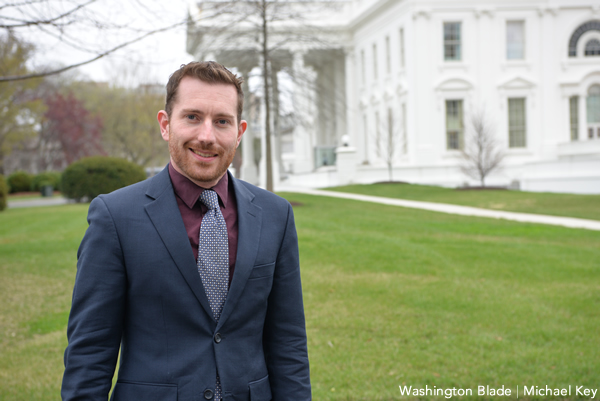 When Blade reporter Chris Johnson was fulfilling his role in the pool rotation for the White House press corps, the White House press office sought to humiliate CNN's Kaitlan Collins by ordering Johnson to switch seats with her. Collins had an assigned seat in the front row of the briefing room, while the seating arrangements had the Blade toward the back.
Johnson refused to move, pointing out the White House Correspondents Association controls the seating assignments, not the White House. Johnson held firm even though he was told the Secret Service was involved in wanting the switch. Secret Service later denied any involvement. Johnson won widespread praise from mainstream media colleagues for his cool-headed, brave handling of the situation. (By Kevin Naff)
Bill to ban conversion therapy dies in Puerto Rico Senate committee
Advocacy group describes lawmakers as cowards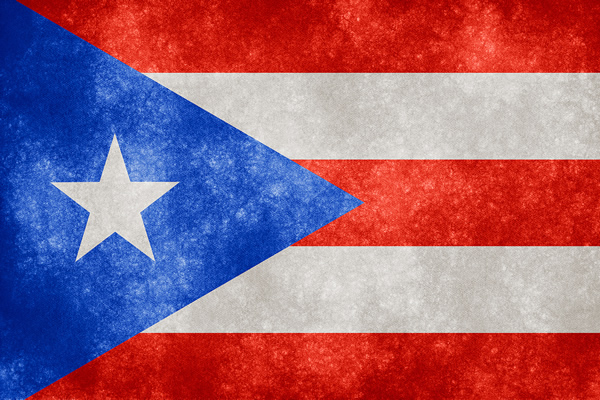 A Puerto Rico Senate committee on Thursday killed a bill that would have banned so-called conversion therapy on the island.
Members of the Senate Community Initiatives, Mental Health and Addiction Committee voted against Senate Bill 184 by an 8-7 vote margin. Three senators abstained.
Amárilis Pagán Jiménez, a spokesperson for Comité Amplio para la Búsqueda de la Equidad, a coalition of Puerto Rican human rights groups, in a statement sharply criticized the senators who opposed the measure.
"If they publicly recognize that conversion therapies are abuse, if they even voted for a similar bill in the past, if the hearings clearly established that the bill was well-written and was supported by more than 78 professional and civil entities and that it did not interfere with freedom of religion or with the right of fathers and mothers to raise their children, voting against it is therefore one of two things: You are either a hopeless coward or you have the same homophobic and abusive mentality of the hate groups that oppose the bill," said Pagán in a statement.
Thursday's vote comes against the backdrop of continued anti-LGBTQ discrimination and violence in Puerto Rico.
Six of the 44 transgender and gender non-conforming people who were reported murdered in the U.S. in 2020 were from Puerto Rico.
A state of emergency over gender-based violence that Gov. Pedro Pierluisi declared earlier this year is LGBTQ-inclusive. Then-Gov. Ricardo Rosselló in 2019 signed an executive order that banned conversion therapy for minors in Puerto Rico.
"These therapies lack scientific basis," he said. "They cause pain and unnecessary suffering."
Rosselló issued the order less than two weeks after members of the New Progressive Party, a pro-statehood party  he chaired at the time, blocked a vote in the Puerto Rico House of Representatives on a bill that would have banned conversion therapy for minors in the U.S. commonwealth. Seven out of the 11 New Progressive Party members who are on the Senate Community Initiatives, Mental Health and Addiction Committee voted against SB 184.
"It's appalling. It's shameful that the senators didn't have the strength and the courage that our LGBTQ youth have, and it's to be brave and to defend our dignity and our humanity as people who live on this island," said Pedro Julio Serrano, founder of Puerto Rico Para [email protected], a Puerto Rican LGBTQ rights group, in a video. "It's disgraceful that the senators decided to vote down this measure that would prevent child abuse."
Undocumented LGBTQ immigrants turn to Fla. group for support
Survivors Pathway is based in Miami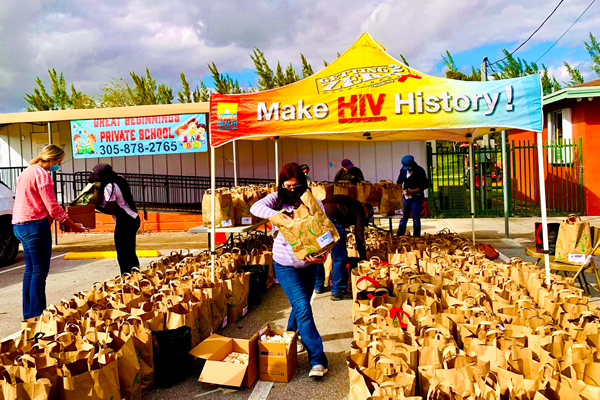 MIAMI – The CEO of an organization that provides support to undocumented LGBTQ immigrants says the Biden administration has given many of his clients a renewed sense of hope.
"People definitely feel much more relaxed," Survivors Pathway CEO Francesco Duberli told the Washington Blade on March 5 during an interview at his Miami office. "There's much hope. You can tell … the conversation's shifted."
Duberli — a gay man from Colombia who received asylum in the U.S. because of anti-gay persecution he suffered in his homeland — founded Survivors Pathway in 2011. The Miami-based organization currently has 23 employees.
Duberli said upwards of 50 percent of Survivors Pathway's clients are undocumented. Duberli told the Blade that many of them are survivors of domestic violence, sexual assault and human trafficking and victims of hate crimes based on their sexual orientation and gender identity.
"Part of the work that we have done for years is for us to become the bridge between the communities and law enforcement or the justice system in the United States," said Duberli. "We have focused on creating a language that helps us to create this communication between the undocumented immigrant community and law enforcement, the state attorney's office and the court."
"The fear is not only about immigration," he added. "There are many other factors that immigrants bring with them that became barriers in terms of wanting to or trying to access the justice system in the United States."
Duberli spoke with the Blade roughly a week after the Biden administration began to allow into the U.S. asylum seekers who had been forced to pursue their cases in Mexico under the previous White House's "Remain in Mexico" policy.
The administration this week began to reunite migrant children who the Trump administration separated from their parents. Title 42, a Centers for Disease Control and Prevention rule that closed the Southern border to most asylum seekers and migrants because of the coronavirus pandemic, remains in place.
Duberli told the Blade that Survivors Pathway advised some of their clients not to apply for asylum or seek visa renewals until after the election. Duberli conceded "the truth of the matter is that the laws haven't changed that much" since Biden became president.
Survivors Pathway has worked with LGBTQ people in U.S. Immigration and Customs Enforcement custody in South Florida. American Civil Liberties Union National Political Director Ronald Newman in an April 28 letter it sent to Homeland Security Secretary Alejandro Mayorkas called for the closure of the Krome North Service Processing Center in Miami, the Glades County Detention Center near Lake Okeechobee and 37 other ICE detention centers across the country.
Survivors Pathway responded to trans woman's murder in 2020
Survivors Pathway has created a project specifically for trans Latina women who Duberli told the Blade don't know they can access the judicial system.
Duberli said Survivors Pathway works with local judges and police departments to ensure crime victims don't feel "discriminated, or outed or mistreated or revictimized" because of their gender identity. Survivors Pathway also works with Marytrini, a drag queen from Cuba who is the artistic producer at Azúcar, a gay nightclub near Miami's Little Havana neighborhood.
Marytrini and Duberli are among those who responded to the case of Yunieski "Yuni" Carey Herrera, a trans woman and well-known activist and performer from Cuba who was murdered inside her downtown Miami apartment last November. Carey's boyfriend, who had previously been charged with domestic violence, has been charged with murder.
"That was an ongoing situation," noted Duberli. "It's not the only case. There are lots of cases like that."
Duberli noted a gay man in Miami Beach was killed by his partner the same week.
"There are lots of crimes that happen to our community that never gets to the news," he said. "We got those cases here because of what we do."
Patrick O'Connell, acclaimed AIDS activist, dies at 67
Played key role in creating red ribbon for awareness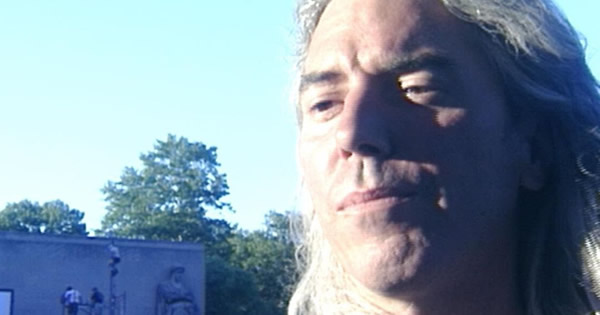 Patrick O'Connell, a founding director of the New York City-based AIDS advocacy group Visual AIDS who played a lead role in developing the internationally recognized display of an inverted, V-shaped red ribbon as a symbol of AIDS advocacy, died on March 23 at a Manhattan hospital from AIDS-related causes, according to the New York Times. He was 67.
Visual AIDS said in a statement that O'Connell held the title of founding director of the organization from 1980 to 1995.
During those years, according to the statement and others who knew him, O'Connell was involved in the group's widely recognized and supported efforts to use art and artist's works to advocate in support of people with HIV/AIDS and efforts to curtail the epidemic that had a devastating impact on the art world.
Thanks to a grant from the Art Matters foundation, Visual AIDS was able to retain O'Connell as its first paid staff member in 1990, the group said in its statement.
"Armed with a fax machine and an early Macintosh computer, Patrick helped Visual AIDS grow from a volunteer group to a sustainable non-profit organization," the statement says. "A passionate spokesperson for the organization, he helped projects like Day Without Art, Night Without Light, and the Red Ribbon reach thousands of people and organizations across the world," the group says in its statement.
"We were living in a war zone," the statement quoted O'Connell as saying in a 2011 interview with the Long Island newspaper Newsday. "But it was like a war that was some kind of deep secret only we knew about," O'Connell said in the interview. "Thousands were dying of AIDS. We felt we had to respond with a visible expression," he told the newspaper.
With O'Connell's help, Visual AIDS in 1989 organized the first annual Day Without Art in which dozens of galleries and museums in New York and other cities covered art works with black cloths to symbolize the mourning of those who died of AIDS. Among those participating were the Brooklyn Museum, the J. Paul Getty Museum in Los Angeles, and the Metropolitan Museum of Art in New York, which replaced a Picasso painting with a "somber informational placard," according to the New York Times.
In 1990 O'Connell helped Visual AIDS organize the first Night Without Light, which was held at the time of World AIDS Day. New York City's skyscraper buildings, bridges, monuments, and Broadway theaters turned off their lights for 15 minutes to commemorate people who lost their lives to AIDS, the New York Times reported.
In the kickoff of its Red Ribbon Project in 1991, McConnell helped organize volunteers to join "ribbon bees" in which thousands of the ribbons were cut and folded for distribution around the city, the Times reports. Those who knew McConnell said he also arranged for his team of volunteers to call Broadway theaters and producers of the upcoming Tony Awards television broadcast to have participants and theater goers display the red ribbons on their clothes.
Among those displaying a red ribbon on his label at the Tony Awards broadcast was actor Jeremy Irons, who was one of the hosts. In later years, large numbers of celebrities followed the practice of wearing the red ribbon, and in 1993 the U.S. Postal Service issued a red ribbon stamp.
The Times reports that O'Connell was born and raised in Manhattan, where he attended Fordham Preparatory School and later graduated from Trinity College in Hartford, Conn., in 1973 with a bachelor's degree in history. According to Visual AIDS, O'Connell served as director of the Hallwalls arts center in Buffalo, N.Y. from 1977 to 1978 before returning to New York City to work for a gallery called Artists Space.
The Times reports that O'Connell learned in the middle 1980s that he had contracted AIDS and began a regimen of early AIDS treatment with a cocktail of over 30 pills a day. His involvement with Visual AIDS, which began in 1989, ended on an active basis in 1995 when his health worsened, the Times reports.
As one of the last remaining survivors of his New York contemporaries who had HIV beginning in the 1980s, O'Connell continued in his strong support for AIDS-related causes through 2000s and beyond, people who knew him said.
Visual AIDS says it is gathering remembrances and photos for a tribute post for O'Connell on its website. It has invited people to share their memories of him by sending written contributions and images via email to: [email protected].