Supreme Court leans toward new religious carve-outs in LGBTQ-related case
Justices hear arguments from schools seeking expanded ministerial exemption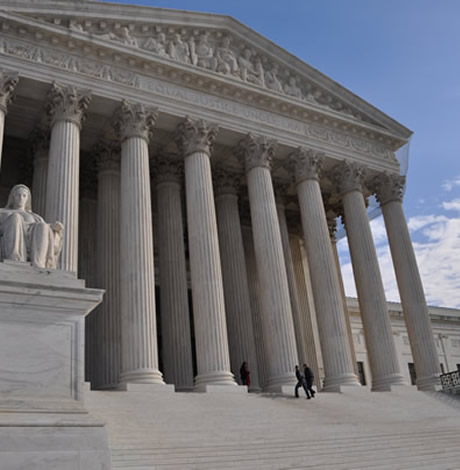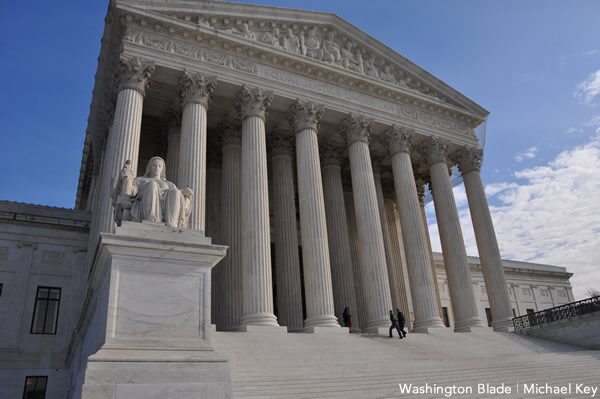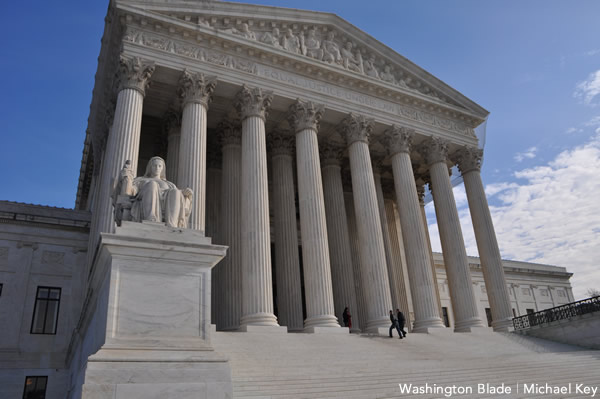 The U.S. Supreme Court seems poised to grant religious schools an expanded ministerial exemption in employment decisions based on oral arguments Monday in litigation that could have significant bearing on LGBTQ teachers at these institutions.
The cases, Our Lady of Guadalupe School v. Morrissey-Berru, Agnes and St. James School v. Darryl Biel, were brought by Catholic schools seeking immunity under the law to conduct employment practices for non-ministerial jobs — such as the hiring and firing of teachers — consistent with their religious beliefs under the exemption granted by the First Amendment.
The schools raised the claims in response to a lawsuit from teachers alleging wrongful termination. One alleges she was terminated based on age discrimination, the other based on disability after having to request time off to treat cancer. The schools have maintained the termination was the result the teachers not fulfilling their ministerial roles at the schools.
Predictably, the five conservative justices on the bench seemed amenable to the idea of an expanded ministerial exemption, while the four liberal justices were against it.
U.S. Associate Justice Ruth Bader Ginsburg was blunt in her questioning about the possible implications of a ruling in favor of Catholic schools, calling it "staggering."
"Suppose a teacher who does everything the two teachers in these cases do as a faith leader also reports a student's complaint of sexual harassment by a priest and is terminated," Ginsburg said. "She has no remedy?"
U.S. Associate Justice Clarence Thomas, on the other hand, appeared to justify a decision for the Catholic schools by indicating the work of teachers there would be considered a violation of the Establishment Clause at a public schools.
"It's my understanding they actually led them from time to time in prayer or took them to service, things like that," Thomas said.
The cases have broad implications for workers at religious schools, including LGBTQ teachers. The ruling could impact whether gay teachers have a legal right to sue a Catholic school if they're terminated for entering into a same-sex marriage, or transgender teachers if they're fired for undergoing a gender transition.
Shannon Minter, legal director for the National Center for Lesbian Rights, said based on the arguments the court seems ready to grant Catholic schools the considerable leeway they're requesting.
"It seems likely there are enough votes to broaden the scope of the so-called 'ministerial exception' for religious employers, which would give religious schools and other religious employers more leeway to fire workers without regard for anti-discrimination laws, including those that protect LGBTQ people," Minter said.
Jeffrey Fisher, an attorney with the Menlo Park, Calif.-based law firm O'Melveny & Myers LLP, represented the teachers who were terminated and estimated hundreds of thousands of lay teachers across the country may be affected.
"The schools' argument would strip more than 300,000 lay teachers in religious schools across the country of basic employment law protections — and necessarily included in this number are teachers who teach so-called secular classes," Fisher said.
The Trump administration backed the arguments from the religious schools during oral arguments by sending — completely on a voluntary basis because the U.S. government isn't a party in the litigation — a high-level attorney to argue in favor of an expansive ministerial exemption.
Assistant to the U.S. Solicitor General Morgan Ratner maintained a ruling in favor of an expanded ministerial exemption would be consistent with Supreme Court precedent.
"Under Hosanna Tabor, those teachers are ministering to their students by teaching them how and why to be Catholic, so this should fall within the ministerial exemption regardless of what the school calls them," Ratner said.
Much of the argument in favor of the expanded ministerial exemption rested on the Supreme Court's 2012 decision in Hosanna Tabor v. EEOC, the 2012 ruling that determined federal discrimination laws don't apply to religious organizations' selection of ministerial leaders. However, that decision didn't specify which employees are considered ministers and which aren't.
Eric Rassbach, an attorney with the Becket Fund for Religious Liberty who represented the Catholic schools before the court, said the court's decision in Hosanna Tabor compels to rule in favor of an expanded ministerial exemption.
"Eight years ago in Hosanna Tabor — the pretext inquiry, the notice requirements, the idea that freedom of association makes freedom of religion entirely unnecessary — all were raised in Hosanna Tabor and rejected unanimously," Rassbach said. "Eight years later, respond to arguments are not any more convincing. In short, there's no reason for government to get into business of teaching religion."
U.S. Associate Justice Elena Kagan sought to clarify the implication of what Rassbach was seeking by peppering with questions on hypothetical jobs for which he thinks the ministerial exemption should apply.
A math teacher who is told to teach something about Judaism for 10 minutes a week? "Probably not." A press or communications staffer who prepares press release for a religious institution? "That should fall within it." An employee at a soup kitchen who distributes religious literature and leads grace before meals? "My guess is that that would be de minimius." A church organist who provides musical accompaniment and selects hymns for religious services? "I think that would fall within it because that's an important religious function."
A nurse at a Catholic hospitals who prays with sick patients and is told otherwise to tend to their religious needs? "I think a nurse doing that kind of counseling and care may well fall within the exception."
Fisher seized on Rassbach's admission nurses at Catholic hospitals would have no recourse under non-discrimination law with an expanded ministerial exemption as evidence of the breadth of such a decision.
"If you write an opinion that says all important religious functions trigger the ministerial exception, I don't think there's any way to escape — you're going to have the cases with the nurses, you're going to have the cases with the football coaches, you're going to have the cases with the summer counselors," Fisher said. "The only thing the other side says to that in our brief is, 'Well, those cases haven't been brought so much,' but my answer to that is that just shows how revolutionary their case would be, because there's no good answer to those cases and Mr. Rassbach himself said nurses would be covered."
U.S. Associate Justice Sonia Sotomayor also expressed fear about the potential ruling for an expansive ministerial exemption because the two teachers in the cases "are not claiming that they were fired because the school thought they were teaching religion wrong."
"You're asking for an exception to the Family & Medical Leave Act, to wage and hourly laws to all sorts of laws, including breach of contract, because at least one of the schools here, contract with the teacher says they won't discriminate because of the teachers age or disability," Sotomayor said.
The conservative justices, nonetheless, devised scenarios in their questioning that appeared to justify having an expanded ministerial exemption for employment at religious schools.
U.S. Associate Justice Neil Gorsuch raised the possibility of a religious school with limited funds that hires a full-time teacher, but asks the teacher to act as a religious leader part-time, or a religion that believes all its members are leaders of the faith.
"You said we shouldn't focus on their sincerely held religious beliefs, but that is what we do elsewhere in First Amendment jurisprudence," Gorsuch said. "We don't second guess those sincerely held religious beliefs. Why would we do it here?"
Although the issue of titles was brought up as a way to distinguish between ministerial and non-ministerial positions, U.S. Associate Justice Samuel Alito said that would be insufficient because titles don't always give a clear indication of role.
"How does it even help to understand the person's role?" Alito said. "Suppose you have two people who do exactly the same thing in two different religiously affiliated schools but one has a title and the other one doesn't have a title, other than the title of the teacher. Why should the presence or absence of this title make any difference?"
It's true LGBTQ people, as of now, have extremely limited explicit non-discrimination protections under federal law, but the Supreme Court will soon issue a ruling on the Title VII of the Civil Rights Act of 1964 that will determine whether the law covers LGBTQ people. A ruling for Catholic schools in these cases would undercut an LGBTQ-inclusive in the Title VII litigation.
Further, a ruling in favor of an expanded ministerial exemption would undermine the laws in 21 states and D.C. that bar anti-LGBTQ discrimination in the workforce. Not just LGBTQ people would be affected. A ruling for Catholic schools would also allow them to discriminate based on race, national origin, disability or any other category in non-ministerial jobs.
U.S. Associate Justice Stephen Breyer noted various categories of people with histories of discrimination against which a religious institution could lawfully terminate if the ruling came out in favor of the Catholic schools.
"This case has to do with a religious organization might dismiss someone on the basis of race or religion or national origin…where that isn't related to the carrying on of the religious activity, for example, a person who's handicapped," Breyer said.
Minter echoed that concern in his assessment of the oral arguments based on the way judges appeared to lean in favor of an expanded ministerial exemption.
"If the schools win today's cases, religious schools would be able to fire many more LGBTQ teachers based purely on anti-LGBTQ animus or for any other reason, regardless of whether they have a religious reason for doing so," Minter said.
A decision in the case is expected before next month at the end of the term for the Supreme Court.
IDAHOBiT events to promote intersectionality, resilience, allyship
HRC president to participate in virtual panel in Canada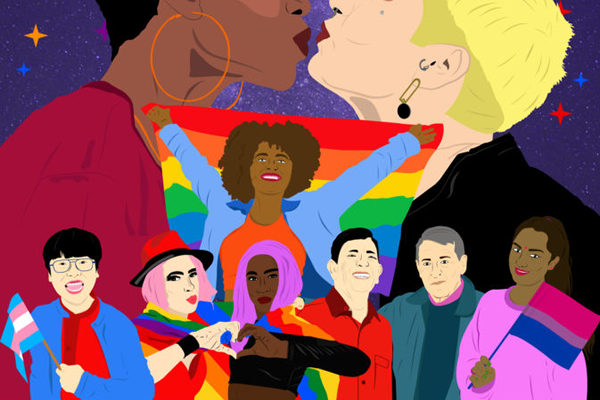 Intersectionality, resilience and allyship are among the themes that this year's International Day Against Homophobia, Biphobia and Transphobia events will highlight.
Dignity Network Canada and the Black Coalition for AIDS Prevention on May 17 will hold a virtual panel that will feature Human Rights Campaign President Alphonso David, Canadian Center for Gender and Sexual Diversity Executive Director Debbie Owusu-Akyeeah, Kaleidoscope Trust Executive Director Phyll Opoku-Gyimah, COC Nederland Executive Director Marie Ricardo and Rainbow Railroad Executive Director Kimahli Powell. The British High Commission and the Dutch Embassy in Canada have co-sponsored the event.
"We hope that this will be a really interesting and important conversation on intersectionality and transnational solidarity — and what it means for these leaders and their organizations during these times," reads a description of the event.
The U.N. LGBTI Core Group on May 17 will host a virtual IDAHOBiT event that will focus on ways to develop an "inclusive and diverse post-pandemic world." The World Bank Group, the International Monetary Fund, the European Bank for Reconstruction and Development, the Inter-American and Asian Development Banks host a similar IDAHOBiT commemoration.
"In order to heal from the economic, social, and public health dire impact the pandemic has had and still has, every plan of recovery must take into account a human-rights based, intersectional and gender responsive approach that addresses the specific needs of LGBTI persons in order not to leave them further behind," reads a description of the U.N. LGBTI Core Group event.
Several Russian LGBTQ rights groups on May 17 will hold a "Vaccine for Acceptance" event that seeks to bolster allyship in the country.
Retired South Africa Constitutional Court Justice Edwin Cameron on May 16 will moderate a virtual panel that will focus on religion and anti-LGBTQ violence.
Workplace Pride and the Dutch Embassy in Budapest on May 17 will host a symposium on LGBTQ-inclusive workplaces in Hungary. M.V. Lee Badgett, an economics professor at the University of Massachusetts, on the same day will participate in a webinar the U.S. Embassy in Singapore is hosting with Oogachaga, a local LGBTQ advocacy group.
Haver Srbija, a Serbian NGO, on May 15-16 will hold Falafel, a film festival that seeks to build "bridges and promotes Israeli, Jewish and LGBTQI culture and communities" and highlight "various social issues in the context of the fight against prejudice, discrimination, anti-Semitism, homophobia and xenophobia and encourages the audience to develop critical thinking on the issue of these topics." Proud Lebanon is slated to hold a series of six webinars between May 17-22 that will focus on feminism, LGBTQ rights and other topics.
The National Center for Sexual Education in Cuba will hold a series of virtual forums and other events through the month to commemorate IDAHOBiT.
CENESEX Director Mariela Castro, whose father is former Cuban President Raúl Castro, during a May 4 press conference in Havana said the IDAHOBiT events are part of the process of amending the country's family code to make it more equitable for LGBTQ Cubans. Mariela Castro said a bill to amend it will be introduced in the Cuban Parliament in July.
"I was able to appreciate that the majority of the population … is in favor of recognizing the rights of LGBTI+ people and especially the rights in the family sphere that include the possibility, the option, of marriage," said Mariela Castro during the press conference, according to Tremenda Nota, the Washington Blade's media partner in Cuba.
IDAHOBiT commemorates the World Health Organization's 1990 decision to declassify homosexuality as a mental disorder.
This year's events will take place against the backdrop of a pandemic that continues to exacerbate existing inequalities for LGBTQ people and other vulnerable groups around the world.
Consensual same-sex sexual relations remain criminalized in dozens of countries. Violence based on gender identity and sexual orientation remains rampant in the U.S. and throughout the world.
Mixed reviews from transgender Republicans on Caitlyn Jenner's run
Remarks on kids in sport a sore point among LGBTQ advocacy groups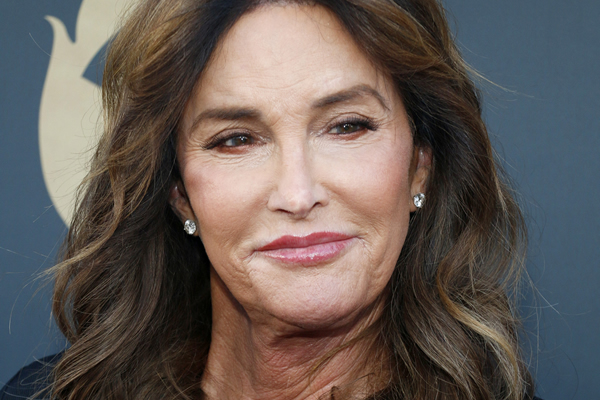 Caitlyn Jenner was quickly repudiated by LGBTQ advocates after she entered California's recall election as a gubernatorial candidate — and her fellow transgender Republicans are mixed over whether or not to back her up.
Transgender Republicans are few in number, but some are in high-profile positions and have been working with their party to change its approach and drop its attacks on transgender people, whether it be in the military, public bathrooms, or school sports.
Jordan Evans, a Charlton, Mass.-based transgender Republican who unsuccessfully last year ran to become a Massachusetts Republican State Committee Woman, told the Washington Blade she had high hopes for Jenner as a fellow transgender candidate, but they were quickly dashed after her campaign launched.
"My feelings changed quickly after Caitlyn made it clear that she was less interested in using this opportunity to present the Republican Party and conservative movements with an accessible and high-profile introduction to the trans community and simply wanted to be a trans woman who espoused the same destructive approaches that we just so happen to be seeing all over the country," Evans said.
Evans said the high hopes she had were based on the transgender advocacy she said Jenner was doing behind the scenes and the potential for two prominent LGBTQ Republicans to run for governor in California. After all, Jenner may soon be joined in the race by Richard Grenell, who was U.S. ambassador to Germany and acting director of national intelligence before becoming the face of LGBTQ outreach for Trump's failed re-election.
But Jenner's approach to the gubernatorial recall in California, Evans said, is "putting trans youth at risk for a campaign that isn't even transformative for Republicans during this volatile time."
"Even her current messaging is superficial and does nothing to help dispel claims that she's unqualified," Evans said. "The only positive thing that I've seen come from this is conservative mainstream media using her correct pronouns, but that is not worth the damage that she's inflicting."
Much of the disappointment over Jenner's campaign is the result of her essentially throwing transgender kids under the bus as part of her campaign at a time when state legislatures are advancing legislation against them, including the bills that would essentially bar transgender girls from participating in school sports.
Jenner, declining to push back on these measures and assert transgender kids have a place in sports, instead essentially endorsed the bills shortly after she announced her candidacy.
"If you're born as a biological boy, you shouldn't be allowed to compete in girls' sports," Jenner told TMZ, which asked her about the hot-button issue during a Sunday morning coffee run.
Jenner dug deeper into MAGA-world at the expense of solidarity with the transgender community. Last week, Jenner retweeted Jenna Ellis, who has a notoriously anti-LGBTQ background and was criticized just last year for refusing to use the personal pronouns of Rachel Levine, who's now assistant secretary of health and the first openly transgender presidential appointee to win Senate confirmation.
Jennifer Williams, a New Jersey-based transgender Republican who unsuccessfully ran for a seat in the New Jersey General Assembly last year, said via email Jenner "did much good for several years by educating millions of people around the world about transgender folks," but won't countenance the candidate's remarks on transgender kids in sports.
"In regard to her current run for California governor, her recent comments regarding transgender youth playing sports are confusing," Williams said. "Just last year, she said that she supported transgender female athletes. Caitlyn should consult with tennis great Billie Jean King, soccer star Megan Rapinoe or WNBA legend Candace Parker on the subject of transgender athletes in women's sports, as they are very well versed on the matter."
At a time when state legislatures are pushing through legislation targeting transgender youth, restricting their access to sports and transition-related care, Jenner's refusal to repudiate those measures has become a focal point for opposition to her candidacy from LGBTQ advocacy groups, who say she's "out of touch" (although none were supporting her even before she made those comments).
The LGBTQ Victory Fund, which supports LGBTQ political candidates and public officials, has signaled it wants nothing to do with Jenner.
Sean Meloy, vice president of political programs for LGBTQ Victory Fund, said Jenner hasn't applied for an endorsement from the Victory Fund "and she shouldn't bother to."
"Her opposition to full trans inclusion – particularly for trans kids in sports – makes her ineligible for the endorsement," Meloy said. "There are many great trans candidates running this cycle who are champions for equality."
To be sure, Jenner used her celebrity status as a former reality TV star and Olympic champion on behalf of transgender lobbyists, urging donations to groups like the National Center for Transgender Equality and going to Capitol Hill to lobby Republicans on transgender issues. Jenner has also given money for transgender kids to attend college, giving transgender advocate Blossom Brown a check for $20,000 on "The Ellen Show" in 2015.
Blaire White, a transgender conservative and YouTube personality, drew on these examples of Jenner helping transgender youth in a video earlier this month and said the two once had dinner together, but wasn't yet ready to make a endorsement.
"I will say that until she lays out all of her policy positions and until she's more on record in long form really talking about what she wants to do for the state of California, I can't say for sure I would vote for her and would not vote for her," White concluded in the video. "What I can say is: I'm interested. And also, being under Gavin Newson's governorship, I would literally vote for a triple-amputee frog over Gavin Newsom, so she already has that going for her."
Jenner's campaign couldn't be reached for comment for this article on the repudiation of her campaign from LGBTQ advocacy groups.
Gina Roberts, who's the first transgender Republican elected to public office in California and a member of the San Diego GOP Central Committee, said she's neutral for the time being as an elected Republican Party leader, but nonetheless had good things to say about Jenner's candidacy.
"I think it's awesome," Roberts said. "It's kind of indicative of how cool the Republican Party in California is because nobody really cares or it makes any difference. I mean, I was the first elected GOP transgender person in California and I think we're ready for No. 2."
Asked whether Jenner's comments about allowing transgender kids in sports was troubling, Roberts said that wasn't the case because she has her own reservations.
"I have pretty much the same opinion because … there's so many nuances in that," Roberts said. "If somebody transitions after they've gone through puberty, there is a big difference, especially in high school. If they transition beforehand, it's not a big deal."
A gun enthusiast and supporter of gun owner's rights, Roberts said she competes in women's events in shooting sports, but there's a difference because she doesn't "really have any advantages all those young, small ladies can pull a lot faster than I do and shoot faster than I do."
Roberts concluded she'll personally make a decision about whom she'll support in the California recall election after Grenell announces whether or not he'll enter the race, but can't say anything until the San Diego GOP Central Committee issues an endorsement.
"He's a good friend of mine, too," Roberts said. "I know both of them. I think they'd both be certainly better than Gavin Newsom, I have to stay neutral until the county party decides who they're going to endorse. I will support somebody or another in the endorsement process, but I can't publicly announce it."
Although LGBTQ groups want nothing to do with her campaign, Jenner's approach has garnered the attention of prominent conservatives, who are taking her seriously as a candidate. One of Jenner's first interviews was on Fox News' Sean Hannity, a Trump ally with considerable sway among his viewers. Hannity was able to find common ground with Jenner, including agreement on seeing California wildfires as a problem with forest management as opposed to climate change.
Kayleigh McEnany, who served as White House press secretary in Trump's final year in the White House and defended in the media his efforts to challenge his 2020 election loss in court, signaled her openness to Jenner's candidacy after the Hannity interview.
"I really enjoyed watching @Caitlyn_Jenner's interview with @seanhannity," McEnany tweeted. "I found Caitlyn to be well-informed, sincere, and laser-focused on undoing the socialist, radical, a-scientific policies of Biden & the left. Very good."
In theory, that support combined with Jenner's visibility might be enough to propel Jenner to victory. In the recall election, California will answer two questions, whether California Gov. Gavin Newsom should be recalled, and if so, which candidate should replace him. The contender with the plurality of votes would win the election, even if that's less than a majority vote, and become the next governor. There isn't a run-off if no candidate fails to obtain a majority.
With Jenner's name recognition as a celebrity, that achievement could be in her reach. After all, Arnold Schwarzenegger won the 2004 recall election in California as a Republican based on his celebrity status, and ended up becoming a popular governor.
But the modest inroads Jenner has made with the acceptance of conservatives and potential to win isn't enough for other transgender Republicans.
Evans, for example, said Jenner's candidacy is not only a disappointment, but threatening the potential candidacies of transgender hopefuls in the future.
"It's difficult to be in electoral politics, and that's even more true when you're a member of a marginalized community," Evans said. "Caitlyn's behavior is making it even more challenging for the trans community to be visible in a field where we desperately need to be seen. She's casting a tall shadow on our ability to have a voice and is giving credibility to lawmakers and local leaders simply unwilling to view us with decency and respect."
Williams said Jenner should avoid talking about transgender issues over the course of her gubernatorial run "and instead focus on the hard, critical policy issues facing California."
"It is a state in crisis and she has to run a very serious campaign and not rely on her celebrity or LGBTQ status to win over voters' hearts and minds — just like all other LGBTQ candidates around the country need to do when they run for public office," Williams said.
100th anniversary celebration of Dupont Circle fountain set for May 17
GWU student creates tribute video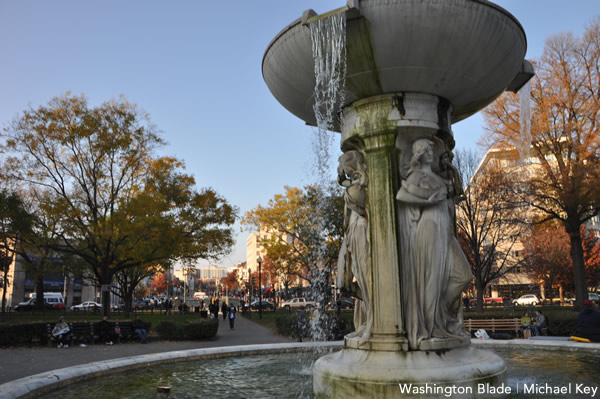 LGBTQ residents and longtime visitors to D.C.'s Dupont Circle neighborhood are expected to be among the participants in the 100th anniversary celebration of the installation of the Dupont Circle fountain scheduled to be held at the circle on Monday, May 17.
Aaron DeNu, president of Dupont Festival, a nonprofit arts and cultural programming group that's organizing the celebration, says it will take place from noon to at least sunset inside Dupont Circle.
The celebration will take place one week after the May 10 release of a YouTube video, "How Dupont Circle Evolved as a Hub for LGBTQ+ Life in the District," produced by George Washington University student Dante Schulz. Schulz is the video editor for the G.W. student newspaper The Hatchet.
Among those appearing in the documentary video are veteran LGBTQ rights activists Deacon Maccubbin and his husband Jim Bennett, who owned and operated the Dupont Circle LGBTQ bookstore Lambda Rising beginning in the 1970s, which is credited with contributing to Dupont Circle's reputation as the epicenter of D.C.'s LGBTQ community for many years.
Also appearing in the video is longtime D.C. gay activist and Dupont Circle area resident Craig Howell, a former president of the Gay and Lesbian Activists Alliance.
"At this point in time due to COVID restrictions we're not going to be doing any particular formal gathering of folks," DeNu told the Washington Blade in describing the May 17 celebration. "But we'll have a soundtrack that's playing throughout the day from that original ceremony – the same songs they used in the original dedication a hundred years ago," he said.
DeNu said the event will also feature "historic imagery" related to Dupont Circle and the people who have gathered there over the years.
"So, we're really just inviting people to come and have lunch, stop by the park after work, and just stop and reflect on 100 years of Dupont Circle fountain, take a look at the imagery and see some old friends and hopefully stop by and see the Dupont businesses that are around the area," DeNu said.
The LGBTQ video produced by Dante Schultz can be accessed here.