Comings & Goings
Timely new book tackles healing after hard times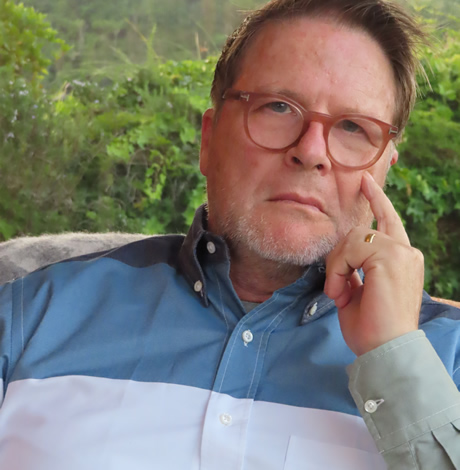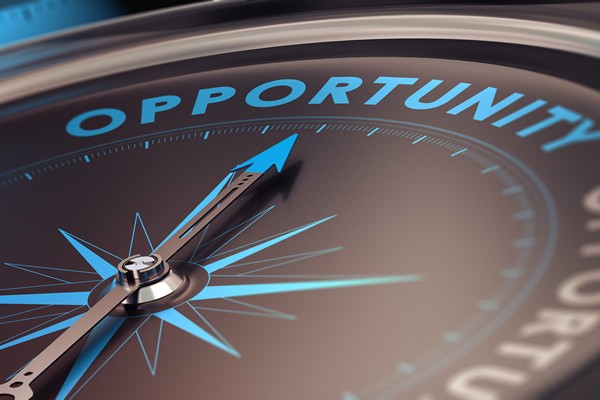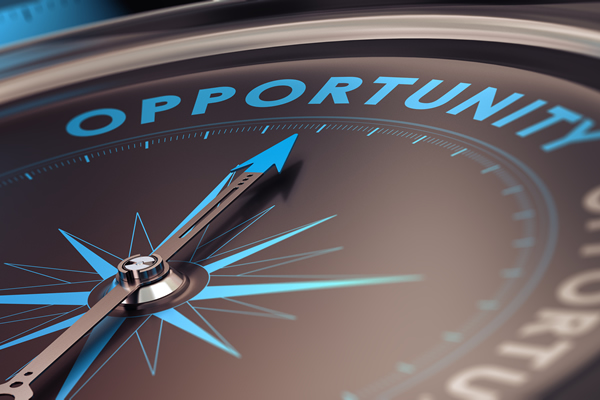 The Comings & Goings column is about sharing the professional successes of our community. We want to recognize those landing new jobs, new clients for their business, joining boards of organizations and other achievements. Please share your successes with us at [email protected].
Congratulations to the Rev. Earl E. Johnson on the publication of his new book, "Finding Comfort during Hard Times: A Guide to Healing after Disease, Violence and other Community Trauma."
Johnson is a Disaster Spiritual Care Manager and chaplain. For 10 years he was the national spiritual care manager for the American Red Cross. He recruited, screened, trained, and deployed highly credentialed healthcare chaplains to mass fatality events. Johnson was also part of a team that assessed and planned emotional and spiritual support for the victims and loved ones of such horrific unanticipated events. He coordinated professional spiritual care support after fatal domestic aviation incidents, massive Gulf hurricanes including Katrina, Rita, and Gus, the Virginia Tech shootings, and Orlando. He has made numerous TV appearances and lectured at universities including Michigan State, Michigan, and Radford/Virginia Tech at disaster preparedness conferences.
Johnson is an ordained Disciples minister, Yale Divinity graduate, and Board Certified Chaplain through the Association of Professional Chaplains. He served Disciples and UCC parishes in Missouri and New York before his chaplaincy training at Memorial Sloan Kettering/New York Presbyterian (Cornell), and New York Methodist Hospital in Brooklyn. He was the Protestant Staff Chaplain at Cabrini Medical Center when he moved from lower Manhattan to Arlington, Va., in 2001 to work as a chaplain educator at Washington Hospital Center. For 10 years he was an adjunct instructor at the Borough of Manhattan Community College (CUNY).
His book has received rave reviews including one from Tom Viola, executive director, Broadway Cares/Equity Fights AIDS who said, "'Finding Comfort during Hard Times' is an encyclopedic handbook on how to give care and offer comfort. An incredibly wise, gentle and thoughtful road map on how to survive the trauma, both anticipated and unexpected, of the deep emotional challenges of loss we face as individuals, a family or community so that we, in turn, can provide assistance, solace and hope either as a professional or volunteer. Oscar Wilde wrote, 'The smallest act of kindness is worth more than the grandest intention.' Earl Johnson successfully and gracefully provides us with both."
Congratulations also to Samuel Brinton the Trevor Project's new vice president of Advocacy and Government Affairs. Brinton said, "In a time when The Trevor Project is needed more than ever and serving more LGBTQ youth than ever before, it's exciting to be able to fight for LGBTQ youth in Congress, the courtroom, and in state capitals across the country. I am grateful to be named vice president and ready for the next great advocacy adventure." They has worked for The Trevor Project since 2017 as head of Advocacy and Government Affairs.
Prior to that, Brinton created a consulting firm specializing in government affairs contracts on advanced nuclear legislative proposal drafting, nuclear waste disposal regulatory research, and stakeholder communication engagement. They was a senior policy analyst for the Bipartisan Policy Center; and managed a million dollar think tank research project on the subject of nuclear waste with responsibilities for coordination of experts as well as press, policy research and Congress advising Third Way as a Clean Energy Fellow.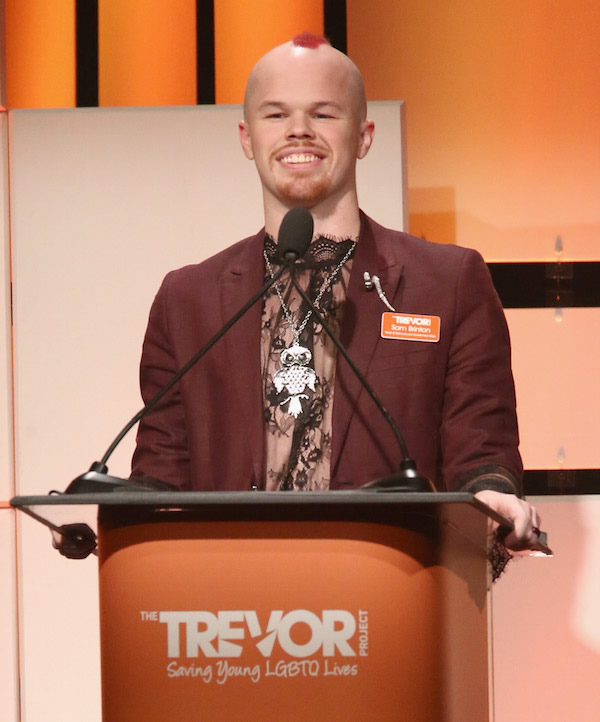 Elected officials turn out for annual Equality NoVa Ice Cream Social
Northern Virginia LGBTQ group stresses 'political awareness, education'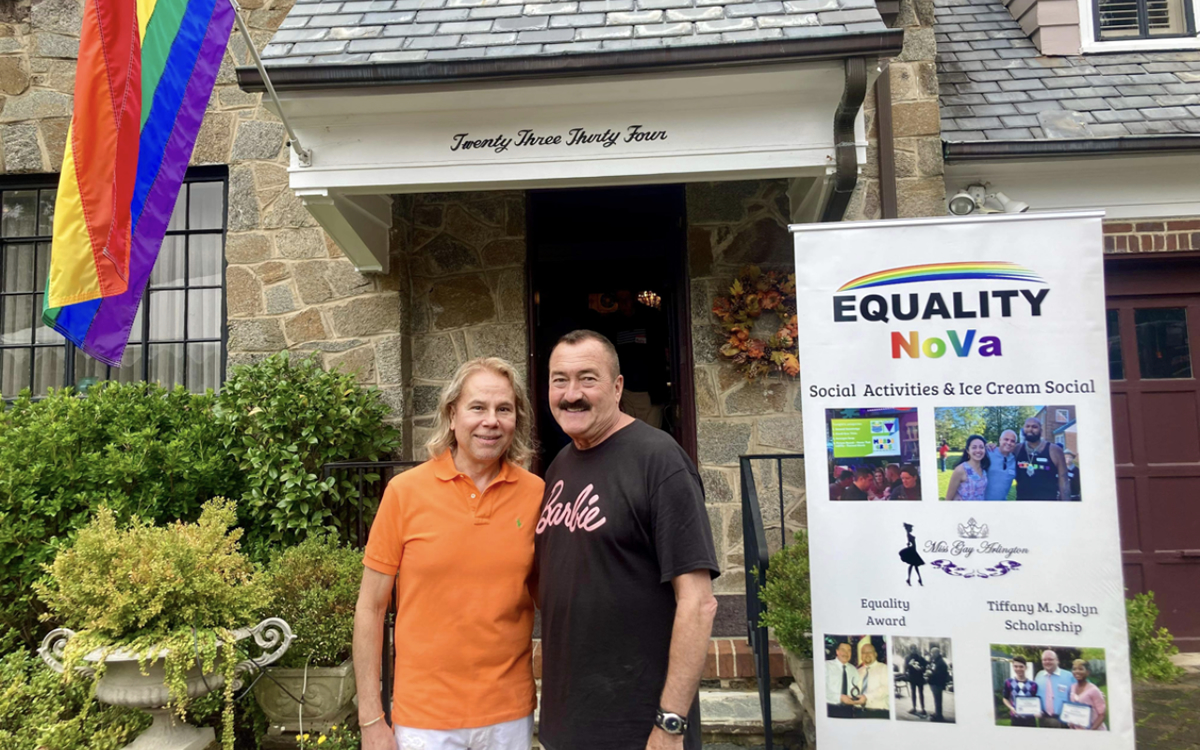 Four LGBTQ supportive members of the Virginia General Assembly and two candidates running for seats on the Arlington County Board were among more than 100 people who turned out on Sunday, Sept. 24, for the LGBTQ organization Equality NoVa's annual Ice Cream Social.
The event was held at the Arlington, Va. home of Freddie Lutz, owner of the Arlington gay bar and restaurant Freddie's Beach Bar, and Lutz's husband, Johnny Cervantes.
Daniel Hays, president of Equality NoVa, told those attending the event in introductory remarks that Equality NoVa, which recently changed its name from the Arlington Gay and Lesbian Alliance (AGLA), was founded in 1981 and is the oldest continuously operating LGBTQ organization in Virginia.
In an announcement in April the group said the name change came after it had taken on for some time the activities and representation of the now-defunct LGBTQ groups in Alexandria and Fairfax counties and had expanded its operations to cover most if not all the regions known as Northern Virginia.
Hays noted that the group is a nonpartisan organization that doesn't endorse candidates for public office but organizes educational and political awareness events and awareness campaigns on issues impacting LGBTQ people related to statewide and local government agencies and officials.
The elected officials attending the event were Virginia House of Delegates members Charniele Herring (D-Alexandria & Fairfax), Elizabeth Bennett-Parker (D-Alexandria & Arlington), and Vivian Watts (D-Fairfax).
Also attending was Virginia State Sen. Barbara Favola, a Democrat whose district includes parts of Arlington, Fairfax, and Loudoun Counties.
Joining the state lawmakers attending the Equality NoVa social were Arlington County Board candidates Maureen Coffey and Susan Cunningham and Arlington County School Board candidate Miranda Turner.
Many of those attending the event said they were rooting for the re-election of Herring, Bennett-Parker, Watts, and Favola in the upcoming Virginia elections in November. All members and candidates for the General Assembly will be on the ballot in an election that political observers say could decide which party controls both houses of the state legislature.
Currently, Democrats control the 40-member Virginia Senate by a margin of 22-18 seats. Republicans currently control the House of Delegates by a margin of 51 to 46 seats, with three vacancies in the 100-member House.
With Virginia Gov. Glenn Youngkin (R) putting in place through executive action public school policies that LGBTQ activists consider hostile and discriminatory for transgender students, LGBTQ activists are hopeful that a Democratic takeover of the House of Delegates would result in a reversal of Youngkin's school policy.
Some of the activists attending the Equality NoVa event said they were fearful that a Republican takeover of the state Senate and if Republicans retain control of the House of Delegates could result in the General Assembly approving the type of anti-LGBTQ legislation passed in Florida and other states.
Anti-transgender heckler interrupts Danica Roem during debate
Trans lawmaker is running for the Va. state Senate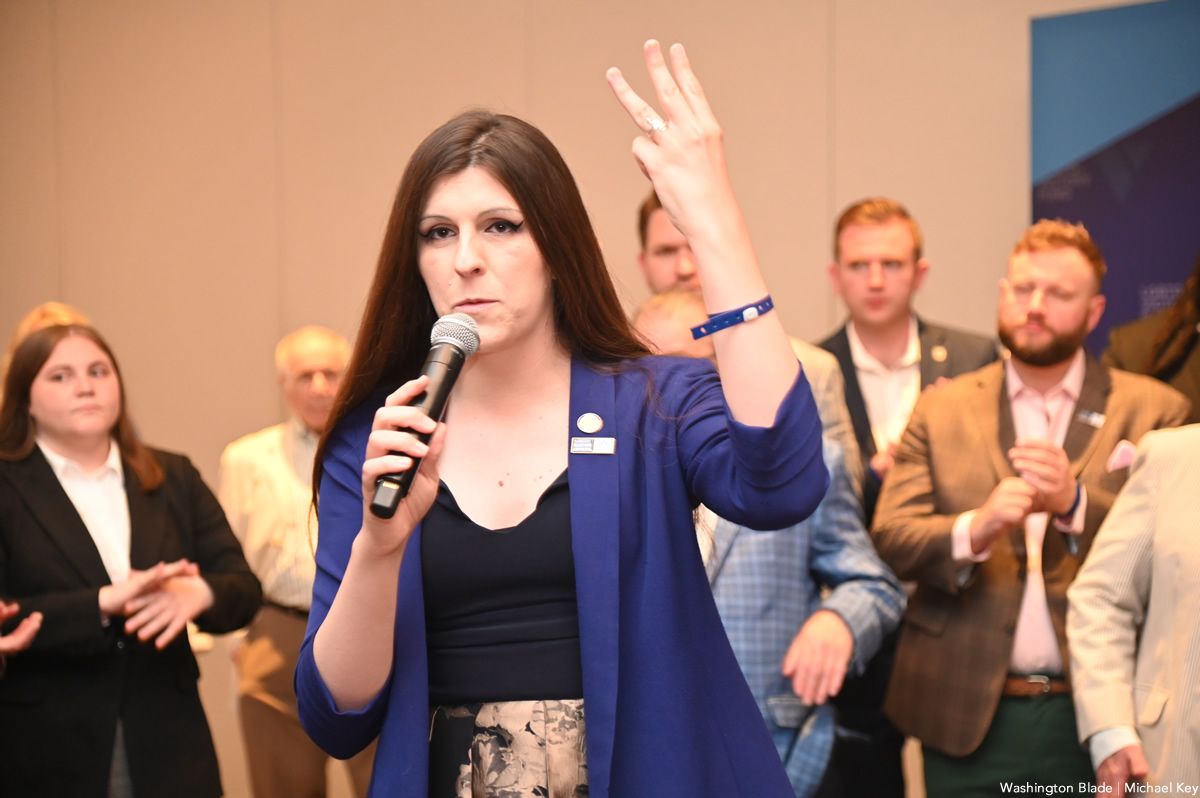 An anti-transgender heckler interrupted Virginia state Del. Danica Roem (D-Manassas) on Sept. 28 during a debate with her Republican opponent for the state Senate.
The woman heckled Roem during the Prince William Committee of 100-organized debate between her and Bill Woolf that took place at Metz Middle School in Manassas. 
"Thank you for reminding me why I won three elections in this district in Prince William County, which is the most diverse county in all of Virginia and the 10th most nationally where we welcome everyone because of who they are, not despite it, no matter what you look like, where you come from how you worship, if you do, or who you love because you should be able to thrive here because of who you are, never despite it," said Roem.
Audience members applauded Roem after she responded to the heckler who was eventually removed from the auditorium.
Roem in 2017 defeated then-state Del. Bob Marshall, a vocal LGBTQ rights opponent who co-wrote Virginia's constitutional amendment defining marriage as between a man and a woman that voters approved 11 years earlier. Roem subsequently became the first openly transgender person seated in a state legislature in the U.S.
Roem in 2019 became the first out trans state legislator to win re-election. Roem in May 2022 announced she is running to represent the newly redistricted Senate District 30, which includes western Prince William County and the cities of Manassas and Manassas Park.
Woolf during the Sept. 28 debate did not say whether he would support the repeal of the marriage amendment. Woolf also reiterated his support of a bill that would require school personnel to out trans students to their parents.
Virginia Beach high school students stage walkouts to support transgender rights
City's school board approved policy to out trans students to parents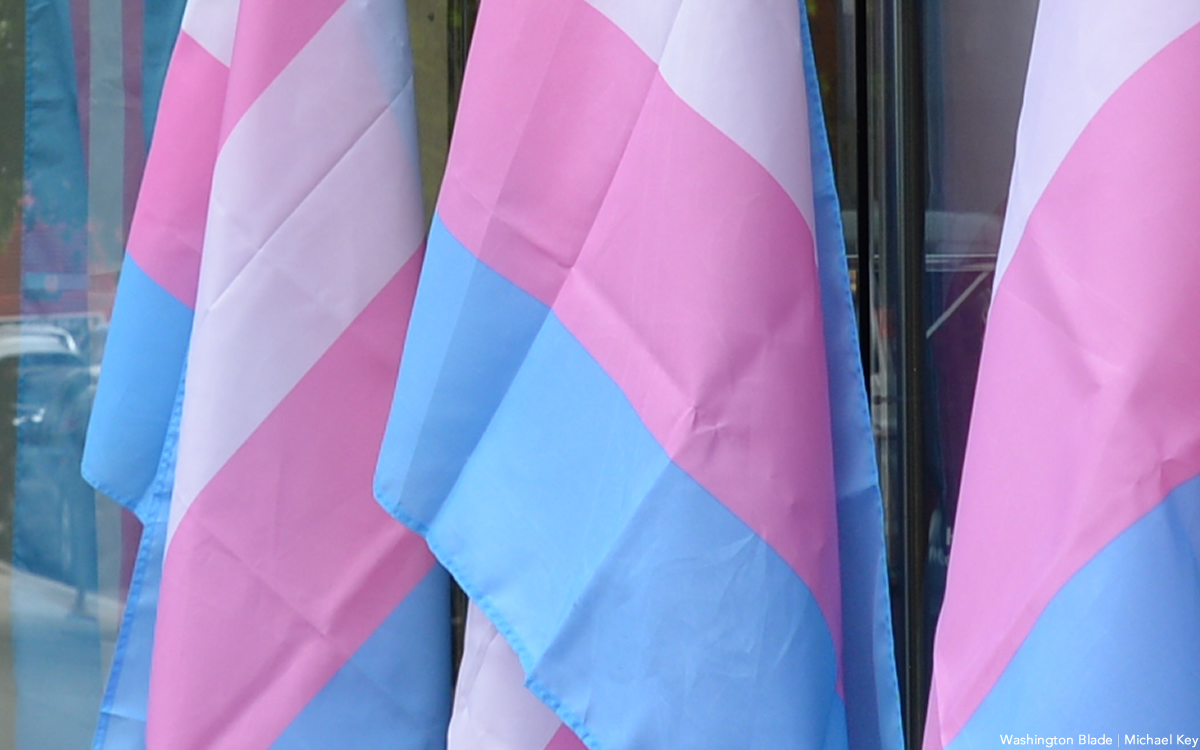 Students at five Virginia Beach high schools on Friday staged walkouts in support of transgender rights.
The walkout is in response to the Virginia Beach School Board potentially approving policy 5-31, which the Pride Liberation Project says will require schools to out trans students to their parents.
Students have been organizing walkouts across the state since Republican Gov. Glenn Youngkin earlier this year announced new guidelines for trans and nonbinary students.
"Students like me aren't going to be able to talk to our teachers if we're constantly worried about our school officials calling home to forcibly out us," AJ, a trans Kellam High School Student, told the Pride Liberation Project.