The Kinsey Sicks' COVID-era creations
'From a Distance' parody thrills fans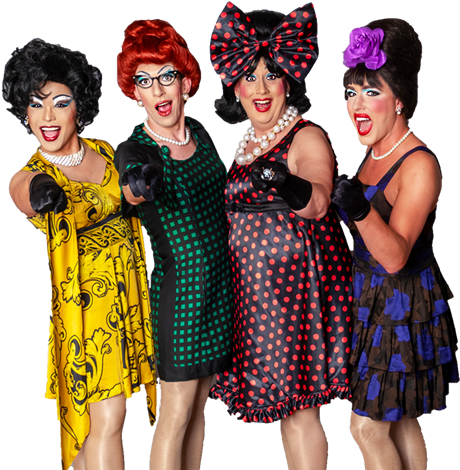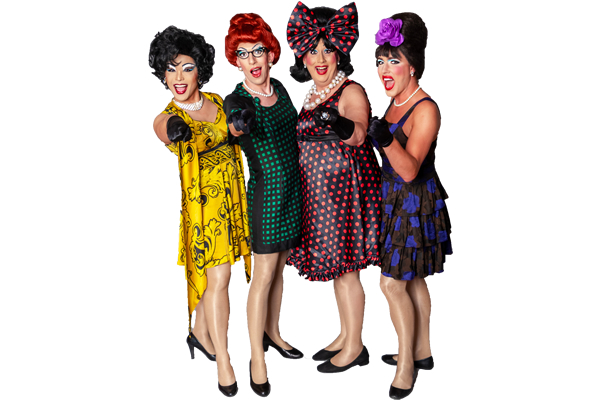 Sheltering in place but not standing still, veteran Dragapella Beautyshop Quartet-cum-satirical/political group The Kinsey Sicks (kinseysicks.com)—who would have been touring right now, were it not for shuttered venues—have amped up their online presence, with timely new music and a determination to get back on the boards just as soon as the all-clear is called. (The national tour of their "Electile Dysfunction" musical extravaganza has been postponed until further notice, although in the spirit of "subject to change," it's presently noted on their website.)
But if anything good can come out of this end-times scenario, count among that short list drag queens who've employed everything from gallows humor to heartfelt advice to score-keeping tales of woe to get them out of bed in the morning, in the hopes that one day soon, they'll be bed-hopping again.
Chief among those able alley cats, The Kinsey Sicks: Trixie (Jeff Manabat), Winnie (Nathan Marken), Angel (J.B. McLendon), and Trampolina (Spencer Brown).
The group, whose "Social Distance" parody of The Divine Miss M's "From a Distance" dropped at the tail end of March, finds our quarantined quartet biding their time indoors by playing Jenga-for-one, eating peanut butter straight from the jar, binging on Disney+, waiting for that stimulus check, and, sans a man, spooning toilet paper.
Early May's "Don't-cha Touch-a, Touch-a-Touch Me!" found our girls one month into self-isolation—feeling the strain of no human touch, and making due with suggestive cameo appearances by bananas and carrots. Still, their collective dry spell finds some solace in non-stop digs at Trump.
"I'll trade off satisfaction for strong leadership and action," goes the tune, based on a certain ditty from "The Rocky Horror Picture Show." And if you don't get the reference, you'd better hand in your Gay Club Membership Card.
But it was sunny skies ahead, when the bill came due for The Kinsey Sicks to answer our burning inquiries.
BLADE: How did "Social Distance" come about? How was it written/shot, and what sort of feedback has it gotten from fans?
SPENCER/TRAMPOLINA: Anyone familiar with The Kinsey Sicks already knows that the group's origins were inspired by attending a Bette Midler concert in the '90s. When her classic hit "From a Distance" got into my head, I immediately sat down and hammered out the lyrics. Then Jeff, one of our other members, whipped up the arrangement and sent the music file for all of us to learn and record. Within a short amount of time, those individual recordings were sent back to him for mixing, and the combined four-part harmony track was then sent out for us to sing along to for reference. Over the next few days, we each got in drag and shot our videos, which were then sent back to me for a few more days of editing. 
Finally, after a little more than a week since I was inspired to write "Social Distance," we released the finished video to our fans all over social media. Their feedback has been nothing but positive. Though we are devastated to cancel our spring tour (something we've never done in our 26 years of this group existing), this video is a gift for our fans, and lets them know we're still here fighting the good fight.
BLADE: Are there other group projects in the works?
SPENCER/TRAMPOLINA: This first video ("Social Distance") was an experiment. All four members of the group live in different states across the country (Kansas, Maryland, California, and Illinois, presently). Being able to write a parody, get it arranged, learn it, then record it (individually!), and edit/mix everything in a short amount of time is something we've never attempted, but having done that and seeing the reaction of fans both old and new, we're now inspired to create more.
BLADE: What impact did the realities of the HIV/AIDS epidemic have on the group's worldview, and what parallels, if any, do you draw to the current COVID-19 crisis?
JEFF/TRIXIE: By the time The Kinsey Sicks was formed in San Francisco in the early '90s, almost a quarter-million people, most of them gay and bi men, died from the epidemic, and San Francisco was one of the epicenters. Although thousands were dead and dying, mainstream American society still had a negative view of the community, and the American government had barely made any response to help. For several years, the LGBT community and its allies were almost entirely alone. And yet there was still a need to find some measure of joy amidst all the pain and tragedy, perhaps a creative yet politically charged way to respond to the incredible injustice from not just politicians, but our fellow Americans. Amid this atmosphere, a group of close friends was inspired to create The Kinsey Sicks.
To get a fuller picture of the beginnings of the group, and to trace its origins to the current political atmosphere, it's worth watching a remarkable monologue by Emeritus member Ben Schatz ("Rachel"), a Harvard-trained civil rights lawyer, former director of the National Gay and Lesbian Medical Association, and one-time presidential adviser on HIV issues, who created the first national AIDS legal project and authored Clinton's HIV policy during the 1992 presidential campaign. The video can be found on YouTube.
Our worldview is still heavily influenced by this genesis. It's embedded in our DNA. For decades, The Kinsey Sicks has produced works commenting on that nexus of politics, culture, and sexuality through drag and a cappella, and we will continue to be influenced by, comment on, and respond to the world around us that way.
There can be parallels made between the HIV/AIDS epidemic and the current crisis, such as the extreme measures by the GOP to use tragedy for their own political gain, and to pit communities against each other whilst hoarding more power. However, the swift response of the government on all levels—from federal to state to local—and the mobilization of the majority of Americans to support those in crisis is much different. Back then, it was several years before the federal government even acknowledged the existence of AIDS/HIV, let alone begin the search for treatment.
Today, the Coronavirus response has been a matter of weeks or months, and the search for a vaccine has become a national priority. However, for both times, higher powers have acted in ways that merit a critical response from artists—and for us, as it was then, it's a response of the musical variety.
BLADE: Has this forced time away from public performance impacted the group's output, and approach to using online/social media as an expression of your artistry?
SPENCER/TRAMPOLINA: Absolutely! When we're not on stage, the group is always working behind the scenes on how we can effectively produce new material, and the traction that this new video [Social Distance"] has gotten really inspires us to keep going. 
BLADE: Has the group had any notable virtual interactions with fans during this period of social distancing?
SPENCER/TRAMPOLINA: The Kinsey Sicks is no stranger to social distancing. Many, many, of our audiences have been avoiding us for years. So we keep our virtual interactions with fans to a minimum for their safety.
BLADE: This one is for every member of the group: The all-clear is called and we're allowed to gather in public again. What are the first things you're going to do?
NATHAN/WINNIE: As soon as we can go out in public, I look forward to getting back on the campaign trail with The Kinsey Sicks, sampling all the delectable vegetarian fare from coast-to-coast.
JEFF/TRIXIE: I can't wait to go back to modern life's basic public pleasures: dinner-and-a-movie dates with my favorite boyfriends, shopping sprees with my favorite sugar daddies, and multiple anonymous hookups via my favorite apps.
J.B./ANGEL: I'm planning a three-way with Mitch McConnell and social scientist Peter Navarro. It might not happen, but I'm trusting my intuition on this one.
SPENCER/TRAMPOLINA: Vote.
PHOTOS: Not Another Drag Show
'Blackout Edition' celebrates musical artists of the 1990s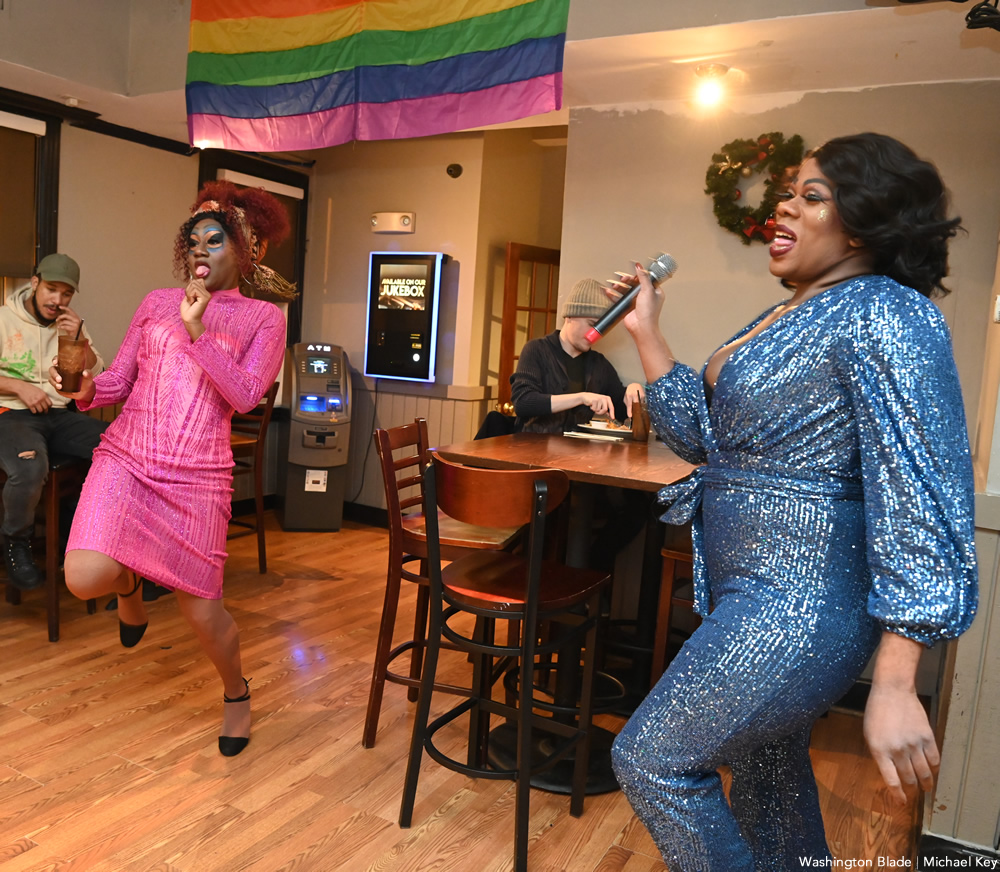 Drag performer Tiffany D. Carter hosted "Not Another Drag Show: Blackout Edition" at Dupont Italian Kitchen Bar on Monday. Performers included Carter, Nubia Love-Jackson, Uju Betta and Echinacea. The show featured the songs of Black artists popular in the 1990s.
(Washington Blade photos by Michael Key)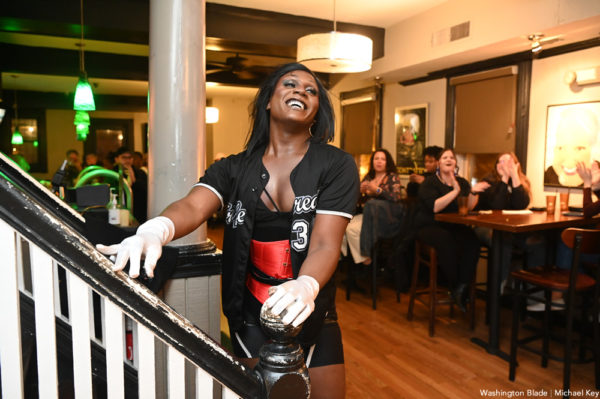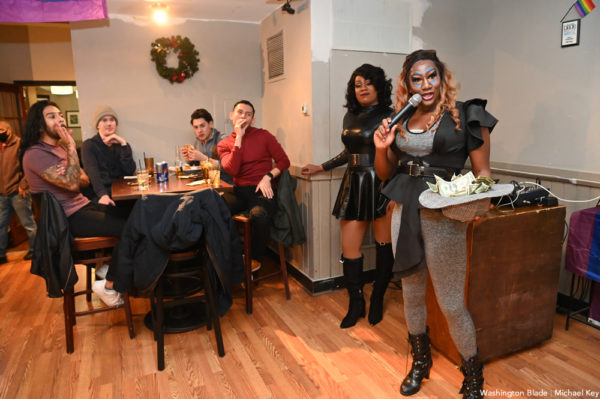 Janet Jackson doc premieres this weekend
Remembering 10 times iconic singer was there for LGBTQ community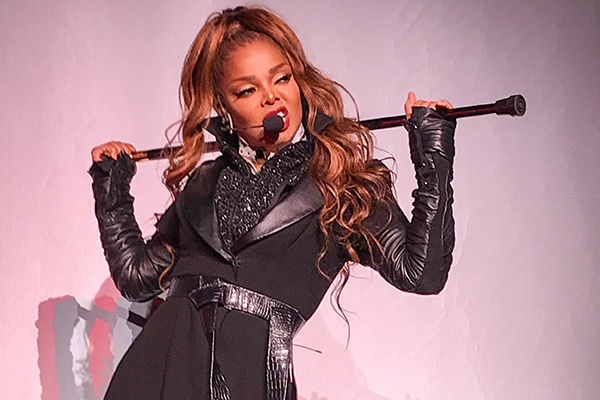 Iconic singer Janet Jackson, a longtime LGBTQ ally, unveils her long-awaited documentary simply titled "Janet" on Friday, Jan. 28. It concludes the following night; each installment is two hours long.
Jackson has said she spent five years compiling footage and creating the documentary, which airs at 8 p.m. both nights on A&E and Lifetime networks. It was produced by Jackson and her brother Randy Jackson and it's timed to commemorate the 40th anniversary of her 1982 debut album.
An extended trailer for the film reveals Jackson will talk candidly about her brother Michael and the 2004 Super Bowl incident, including the news that Justin Timberlake reached out and asked her to join him during his widely panned 2018 Super Bowl return performance.
Prior to the pandemic, Jackson announced a new studio album and tour titled "Black Diamond," but both were postponed due to COVID. No official word about the status of either, but speculation is rampant that she will finally release the new album once the documentary airs.
"Musically, what I've done, like doing 'Rhythm Nation' or doing 'New Agenda' or doing 'Skin Game,' creating those bodies of work with Jimmy and Terry, I feel like I've laid a certain foundation," Jackson tells Allure magazine in a new cover story this month. "I would hope that I'd be able to continue if I choose to. You know what I mean? But only time will tell."
As Jackson's legion of queer fans awaits this weekend's premiere, the Blade takes a look back at 10 times Janet was there for the LGBTQ community.
1. "The Velvet Rope" project. In 1997, Jackson released her critically acclaimed sixth studio album "The Velvet Rope," an introspective and deeply personal collection of songs that touched on her depression, but also tackled LGBTQ issues. On the track "Free Xone," she spoke out forcefully against anti-LGBT bias. She also covered Rod Stewart's "Tonight's the Night," without changing the pronouns in the love song, prompting speculation about her sexual orientation. But it was her international No. 1 hit "Together Again" that continues to resonate with LGBTQ fans. An upbeat, joyful dance song, it was conceived as a tribute to Jackson's friends who died of AIDS.
2. GLAAD award. In 2008, Ellen DeGeneres presented Jackson with the Vanguard Award at the 19th annual GLAAD Media Awards. GLAAD's president said, "We are delighted to honor Janet Jackson at the 19th annual GLAAD Media Awards in Los Angeles as such a visible, welcoming and inclusive ally of the lesbian, gay, bisexual and transgender community. Ms. Jackson has a tremendous following inside the LGBT community and out, and having her stand with us against the defamation that LGBT people still face in our country is extremely significant."
3. Ebony magazine interview about her sexuality. In 2001, Jackson gave an interview to Ebony magazine in which she was asked about her sexual orientation. "I don't mind people thinking that I'm gay or calling me gay," she said. "People are going to believe whatever they want. Yes, I hang out at gay clubs … I go where the music is good. I love people regardless of sexual preference, regardless of race. No, I am not bisexual. I have been linked with dancers in our group because we are so close. I grew up in a big family. I love being affectionate. I love intimacy and I am not afraid to show it."
4. Video support for It Gets Better, Trevor Project. In 2010, Jackson recorded a video for the Trevor Project and later appeared on CNN's "Larry King Live" to promote awareness of youth suicide. "If you're LGBT you're probably thinking you're all alone, but you're not," she said in the video. "I can relate because I was one of those kids who internalized everything."
5. "State of the World Tour." Jackson's LGBTQ support continued in 2017. Her tour's opening sequence highlighted a range of problems facing the world, from famine and war to police brutality and included a call for justice and for LGBTQ rights.
6. "The Kids." Jackson has always employed a diverse crew of professional dancers for her videos and tours. Some of her closest friends and collaborators over the years have been prominent out gay and lesbian choreographers, singers, dancers, makeup artists and designers. She lovingly refers to her backup dancers as "the Kids."
7. NYC Pride performance. In 2004, Jackson performed for a packed audience at Pride Dance NYC at Pier 54.
8. "Will & Grace" cameo. In 2004, Jackson made a memorable cameo on "Will & Grace," judging a dance-off between Jack and another dancer.
9. HRC, AIDS Project Los Angeles awards. In 2005, Jackson was honored by both the Human Rights Campaign and AIDS Project Los Angeles for her work raising money for AIDS charities.
10. Janet's Blade interview. In 2006, Jackson granted an exclusive interview to the Washington Blade. It was one of the rare times she touched on the Super Bowl controversy and her brother Michael's acquittal on child molestation charges, telling Blade Editor Kevin Naff, "I got all of that out of my system, that's not what I'm feeling right now. I wrote about [those controversies] but I didn't choose to put it out there on the album." In the interview, Jackson also reiterated her support for marriage equality, said she'd never had a sexual relationship with a woman and revealed that she'd never met Madonna.
International Women Club set for Jan. 24
Event at National Harbor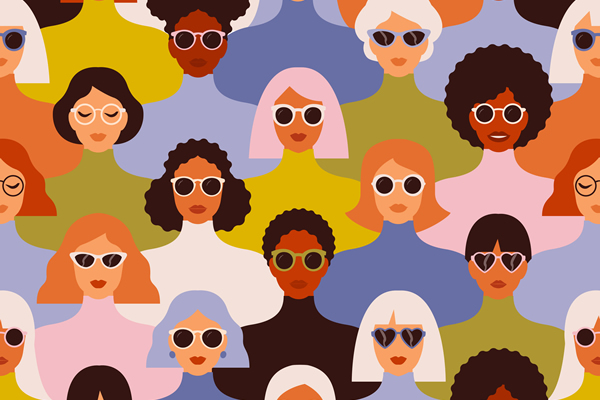 International Women United Organizer will host "Multicultural International Women Club" on Monday, Jan. 24 at 7 p.m. at National Harbor.
The goal of this event is to bring together women from different countries and cultures for friendship, support and community. Guests will get to share interesting facts about their country, talk about their culture, values, styles, and differences with others while learning from others and making friends from all over the globe. Those who speak English as a second language are welcome to attend.
This event is free and more details are available on Eventbrite.