Lady Bunny's comedy special slays sacred COVID-19 cows
4 wigs, 12 costume changes and new song parodies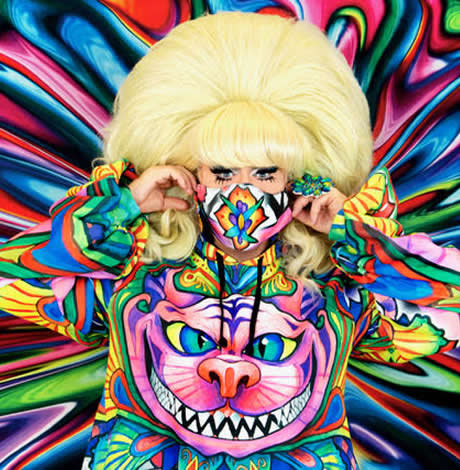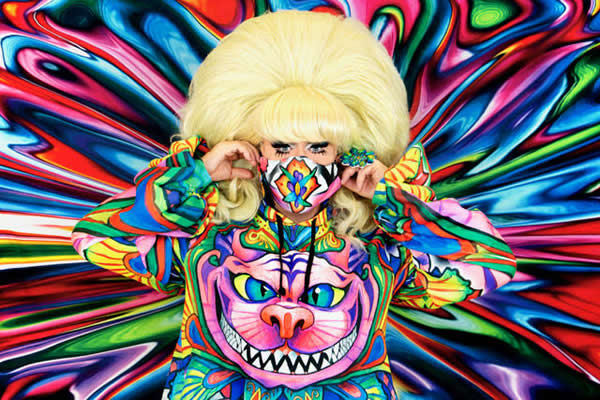 At a time where nothing seems certain, legendary drag queen Lady Bunny's ignorance is our bliss.
"Oh, I've never seen it," says Bunny, when the RuPaul Netflix vehicle "AJ and the Queen" came up as a topic during our interview.
Lack of first-hand knowledge didn't stop the NYC-based DJ, actress, singer/songwriter, upcoming comedy special star, and creator of Wigstock from skewering "AJ" mercilessly, while co-hosting two recent Voss Events-presented digital drag benefits that raised funds for queens out of work because of COVID-19.
"Listen," says Bunny, "I make jokes about 'Drag Race,' and I don't watch that either. Honey, I don't watch anything… I know Miss Vanjie said, 'Miss Vanjie, Miss Vanjie, Miss Vanjie' on her way out, in a way that was odd, but I don't really know what else happened in that episode, or why she was eliminated, or why she said that."
Bunny, whose television has not been hooked up for 10 months, admits, "Whenever you see me make a joke about pop culture, that is based on what I see other people talking about." To compensate for this lack of firsthand information, "I will run it by friends who are more keyed into that kind of thing."
With no boob tube at home and no burning desire to binge online (her flirtation with Netflix didn't last past the free trial period), Bunny says she's been spending her COVID-19 isolation period "trying to catch up on things I said I didn't have time for before the quarantine, like filing taxes; and exercising, and dieting, so I don't have that excuse, 'Oh, I have to run here or run there.' "
Bunny is also devoting some of her spare time to long-planned personal projects, including a book she's penning in partnership with her mother, and an autobiography. ("Just my life, before I forget it," she says.)
And in a moment in time when there's never been more spare time to sit around the house, hit a few keystrokes, press a button, and share your opinion on anything, everything, and often, nothing, with the world. That's part of why Bunny says she's "trying to stay off of social media a bit more, because I was hitting it hard during the first few months of COVID-19. But now, things seem to have turned sour, and it's disconcerting."
Known to those who follow her online as a steadfast supporter of Bernie Sanders (Bianca Del Rio often referred to Sanders as her "boyfriend" during the two Voss Events digital drag benefits they co-hosted), Bunny cited the trigger topics of social distancing and mask-wearing as among her reasons for dialing back on the sheer volume of postings and tweets. (She remains a presence on Facebook and Twitter—but these days, she's just as likely to be writing about work from fellow artists as she is the presumptive Democratic presidential nominee.
"I realize people are scared, and I realize people are broke," she says, of the COVID-19 tensions. "But I don't understand the desire to lash out at people that aren't observing the precautions that they decide to observe. It's almost like they're trying to prove they're a better Democrat, because they dip their vegetables in Clorox water, and they wear masks everywhere. It's just, like, I don't understand what it is about a frightening, deadly pandemic that makes people want to scold others. If I walk down to the [NYC West Side] piers, as I do, almost every day, and I see people who don't have masks on, and they're coughing? Well then, I walk away from them. I don't yell at them… At the end of the day, we are responsible for our own self-preservation. I mean, if someone who weighs 90 pounds and has a syringe sticking out of each eye tells me he wants to screw me without a condom, well, that situation may arise—but it's up to me to say, 'No,' to protect myself."
Asked how COVID-19 has impacted her creative output, Bunny noted, "All of my work involves dance floors and audiences—and we're not gonna have either of those for many, many months. So basically, my paychecks have stopped, but my bills have not. So I'm in the same position that, you know, most drag queens or club employees are in."
With little hope of audiences flocking to her bread and butter public gathering places any time soon, Bunny turned to what she does best: Parody songs, groovy dance segments, sketches, satire, insult humor, and raunchy jokes.
That brings us to the June 5 VossEvents.com debut of her downloadable ($9.99) comedy special, "C#ntagias," in which, press materials note, "Demented drag diva Lady Bunny shamelessly interrupts your isolation in an attempt to give what may be your last laugh before the apocalypse."
COVID-19-themed humor is front and center. Along with four signature sky-high wigs and 12 costume changes over the course of the 35-minute show, the press release further promises "brand new song parodies from artists as varied as Lizzo, Justin Bieber, and Madonna." Gender-blending provocateur Christeene christeenemusic.com duets with Bunny on a pandemically updated version of Peggy Lee's "Is That All There Is," and Bunny will perform her timely parody of the RuPaul song, "Sissy That Walk."
Currently available via Bunny's YouTube channel, the video for "Sissy That Cough" finds our quarantined gal noting:
If I forget to use Lysol

I'll end up in the hospital

I'm climbing up my fucking walls.
Those walls aren't a problem, at least not in the video, which sees Bunny singing and dancing around an empty white space that is occasionally populated by, right on cue when the lyric comes in, bats she's worried will:
Fly, fly, fly,

Uh-oh

From Wuhan Chi, Chi, Chi.
Bunny claims sole responsibility for crafting the lyrics to "Cough"—but overall writing credit for "C#ntagias" is shared with Beryl Mendelbaum, the Facebook drag persona of Bruce Jope, described by Bunny as "a fascinating character who hung out with everyone from Divine to Holly Woodlawn to Cher, back in the day."
There's a reason for that. Long before the character of Beryl burst onto the scene, Jope and his late partner, Francis Toohey founded the magazine Hit Parade (1978-1983, first based in Boston, then NYC). It chronicled, with gusto, the sort of culture and mind frame that drew people like RuPaul and Lady Bunny to NYC.
Mendelbaum, says Bunny, brings to their past collaborations (including stage shows "Clowns Syndrome" and "Trans-Jester!) an ability "to write as an older, Jewish retiree kleptomaniac, which is her online [Facebook] character. And I thought, if she can write in the voice of someone who she is not, maybe she can write for me, a potty-mouthed, southern, over-the-hill showgirl!"
Skits also play a part in "C#ntagias." One of them, notes, Bunny, "was inspired by three emails I got claiming they had activated my computer's camera when I was on a porn site, and I needed to send them $2,000 via Bitcoin or they were going to send this footage to all of my email contacts. So I started writing a reply, not that I even thought they were a real person, because I'm not the biggest porn fan, and so I came up with some stuff that was pretty funny. I sent it off to Beryl and we finished off the skit… She has a way of either pulling back or taking things in a different direction if I become too preachy, too vulgar, too whatever. She's kind of like half writer, half director."
For more information on Lady Bunny's comedy special, available for digital download as of June 5, visit vossevents.com/digital. For Bunny and Beryl, see ladybunny.net and @BERYLMENDELBAUMFANS, respectively.
Out Olympian Kenworthy & Paralympian Dunkin on Tokyo & LGBTQ Sports
"The fact that LGBTQ youth drop out of sports at twice the rate of their heterosexual & gender counterparts, it doesn't have to be that way."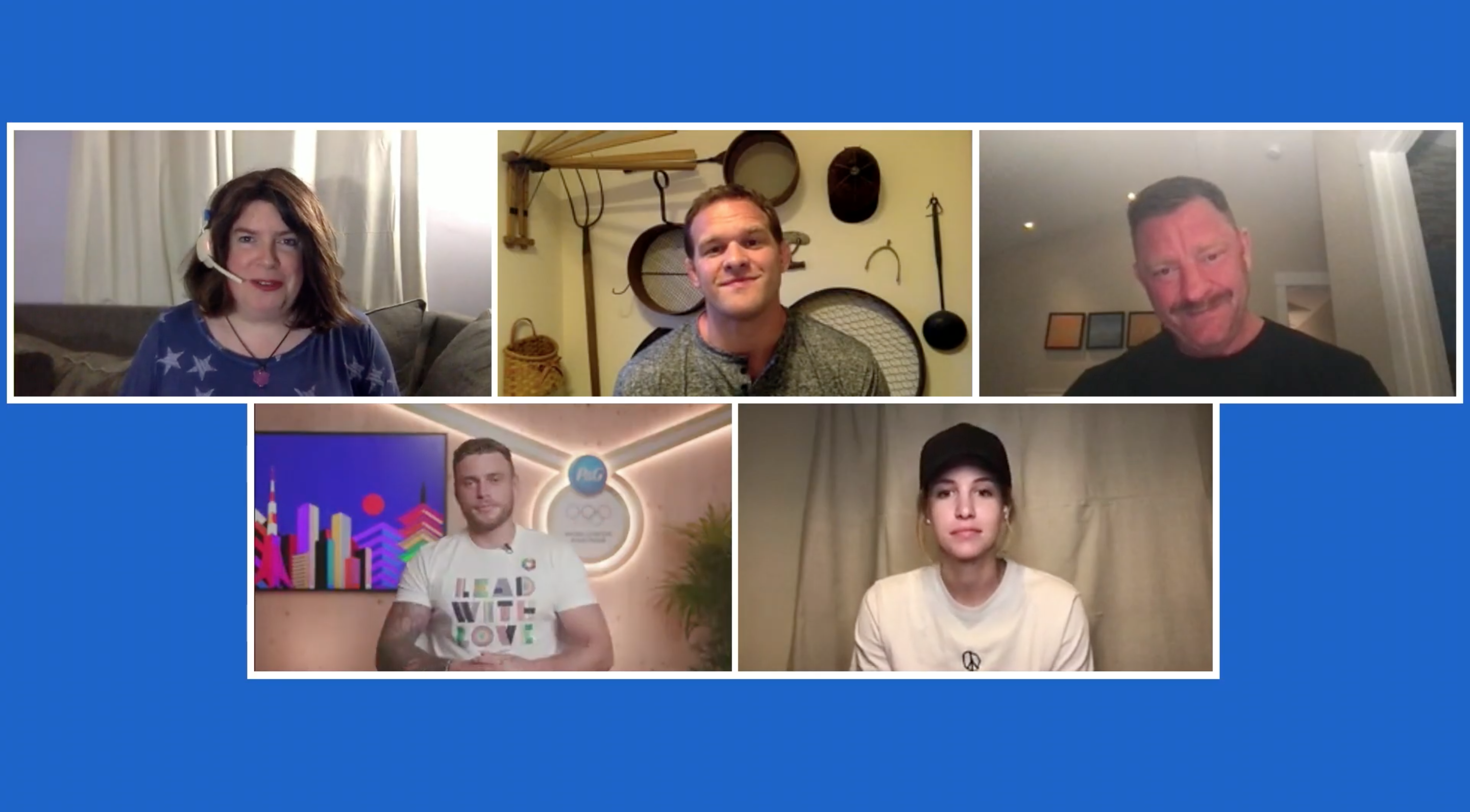 TOKYO – Gus Kenworthy is in Tokyo for the Summer Games, but not to compete. The Olympic Gold Medalist recently joined Paralympian Gold Medalist Abby Dunkin in a Zoom conversation with Athlete Ally founder and executive director Hudson Taylor and the head of LGBTQ+ equality and inclusion for Procter & Gamble, Brent Miller.
"I felt like I knew that if I came out, there must be someone else," Kenworthy said. "I was like, there's someone else in skiing or an action sports or another kid who is going to resonate with my story. And if I can even help one person, then it will be worth it."
This group of athletes and allies tackled the difficult issues of coming out in sports, fears of rejection, suicide attempts and competing authentically as well as the controversy over transgender inclusion in sports, both at the Olympics and in high schools and colleges across the U.S.
"Only 24% of LGBTQ youth participate in sports," noted Taylor. "The fact that LGBTQ youth drop out of sports at twice the rate of their heterosexual and gender counterparts, it doesn't have to be that way."
Dunkin credited Paralympian gold medalist Stephanie Wheeler as an inspiration both on the court and in everyday life as an out lesbian.
"Stephanie really creates such a great environment for me and other athletes and also our staff, too, that were out at the time," said Dunkin. "And that really impacted me to come out and be myself." Wheeler is also head coach of the Univ. of Illinois women's wheelchair basketball team.
As the Los Angeles Blade has reported, there are more than 142 out LGBTQ athletes competing in Tokyo, a record for any Olympic Games. And with trans nonbinary soccer player Quinn on their way to a potential gold medal, making history with out trans woman Laurel Hubbard and out trans BMX competitor Chelsea Wolfe in Tokyo, Miller says their first steps are inspiring to people all around the world, no matter what their gender identity or sexual orientation is.
"It's about bringing people together, supporting people, creating mutual understanding, and really celebrating all of humanity," Miller said. "And now for us, bringing those LGBTQ+ stories forward is critically important because we see the value of what sport can bring."
Watch their conversation with sports editor Dawn Ennis by clicking here.
Equal Representation in Sports: Why LGBTQ+ Visibility Matters
Rapper DaBaby pulled by Lollapalooza over homophobic comments
"Lollapalooza was founded on diversity, inclusivity, respect, and love. With that in mind, DaBaby will no longer be performing."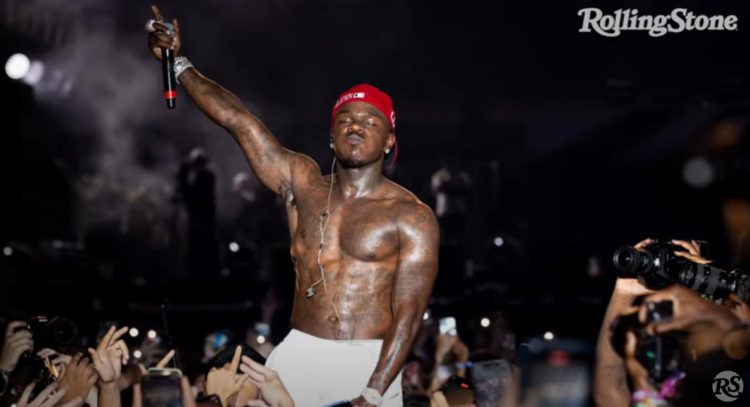 CHICAGO – In an announcement Sunday morning, the organizers of Chicago's Lollapalooza Music Festival said they had pulled artist DaBaby from tonight's closing show after a series of public homophobic remarks by the rapper last weekend in Miami at the Rolling Loud music festival.
On Twitter Lollapalooza officials wrote; "Lollapalooza was founded on diversity, inclusivity, respect, and love. With that in mind, DaBaby will no longer be performing at Grant Park tonight. Young Thug will now perform at 9:00pm on the Bud Light Seltzer Stage, and G Herbo will perform at 4:00pm on the T-Mobile Stage."
Lollapalooza was founded on diversity, inclusivity, respect, and love. With that in mind, DaBaby will no longer be performing at Grant Park tonight. Young Thug will now perform at 9:00pm on the Bud Light Seltzer Stage, and G Herbo will perform at 4:00pm on the T-Mobile Stage. pic.twitter.com/Mx4UiAi4FW

— Lollapalooza (@lollapalooza) August 1, 2021
The Grammy-nominated rapper's comments onstage at the Miami festival last weekend brought swift condemnation from other artists in the music industry including British Rockstar Elton John and Madonna among many others.
In the middle of his set last weekend in Miami the rapper told the crowd, "If you didn't show up today with HIV/AIDS, or any of them deadly sexually transmitted diseases, that'll make you die in two to three weeks, then put your cellphone lighter up! Ladies, if your pussy smell like water, put your cellphone lighter up! Fellas, if you ain't sucking dick in the parking lot, put your cellphone lighter up!"
DaBaby later issued an apology via Twitter that read, "Anybody who done ever been effected by AIDS/HIV y'all got the right to be upset, what I said was insensitive even though I have no intentions on offending anybody. So my apologies" However, the addendum in the same tweet of; "But the LGBT community… I ain't trippin on y'all, do you. y'all business is y'all business." was immediately decried as further proof of the rapper's intolerance of the LGBTQ community.
Anybody who done ever been effected by AIDS/HIV y'all got the right to be upset, what I said was insensitive even though I have no intentions on offending anybody. So my apologies 🙏🏾

But the LGBT community… I ain't trippin on y'all, do you. y'all business is y'all business.

— DaBaby (@DaBabyDaBaby) July 27, 2021
Michael J. Stern, a Los Angeles attorney and a former federal prosecutor who is now a noted featured columnist for USA Today blasted DaBaby's 'apology;'
Yeah, we've got the right to be upset.

We've also got the right to refuse to accept an apology that was prompted by public outcry and not a genuine understanding of, and remorse for, the horrific things you said.

— Michael J. Stern (@MichaelJStern1) July 28, 2021
In his response to Dababy's remarks Elton John, who founded the Elton John AIDS Foundation in 1992, a nonprofit organization which funds frontline partners to prevent infections, fight stigma and provide care for the most vulnerable groups affected by HIV, responded in a lengthy series of tweets:
(2/5)

👉 HIV has affected over 70 million people globally: men, women, children and the most vulnerable people in our communities.

— Elton John (@eltonofficial) July 28, 2021
(4/5)

👉 You can live a long and healthy life with HIV. Treatment is so advanced that with one pill a day, HIV can become undetectable in your body so you can't pass it onto other people.

— Elton John (@eltonofficial) July 28, 2021
(5/5)

👉 Homophobic and HIV mistruths have no place in our society and industry and as musicians, we must spread compassion and love for the most marginalised people in our communities.

A musician's job is to bring people together.

— Elton John (@eltonofficial) July 28, 2021
Madonna took to her Instagram telling the rapper to "know your facts," before spreading misinformation.
"AIDs is not transmitted by standing next to someone in a crowd," she wrote on Instagram. "I want to put my cellphone lighter up and pray for your ignorance, No one dies of AIDS in 2 or 3 weeks anymore. Thank God."
This year's Lollapalooza festival, which is one of the first major festivals to return in full force since the start of the coronavirus pandemic in the United States, concludes Sunday with headlining performances by musical acts Brockhampton, the Foo Fighters, and Modest Mouse.
Dua Lipa 'Horrified' at DaBaby's Homophobic Remarks at Rolling Loud | RS News 7/28/21
IOC: 'Trans Women Are Women' Laurel Hubbard set to make sports history
Laurel Hubbard is set to make sports history on Monday and the International Olympic Committee clearly has her back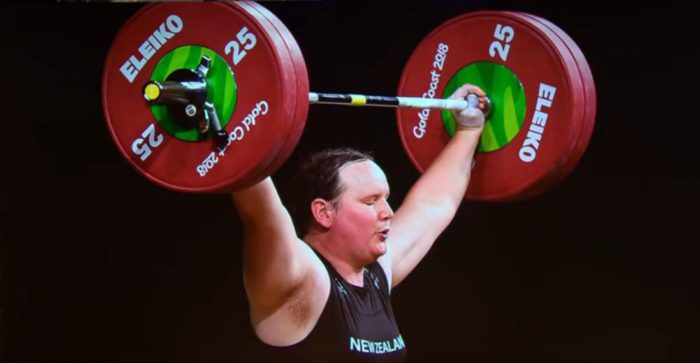 TOKYO – The director of medicine and science for the International Olympic Committee praised weightlifter Laurel Hubbard's "courage and tenacity" as she prepares for her upcoming competition as the world's first out transgender woman Olympian.
In speaking to reporters in Tokyo Thursday, Dr. Richard Budgett directly addressed those who have attacked and mocked the 43-year-old New Zealander and claimed she shouldn't be competing with cisgender women, saying "everyone agrees that trans women are women."
"To put it in a nutshell," he said, "the IOC had a scientific consensus back in 2015. There are no IOC rules or regulations around transgender participation. That depends on each international federation. So Laurel Hubbard is a woman, is competing under the rules of her federation and we have to pay tribute to her courage and tenacity in actually competing and qualifying for the Games."
Hubbard herself has not made any public comments except for a statement following her qualifying for the Summer Games, saying she was "humbled" by the support which had helped her "through the darkness" following a near career-ending injury in Australia in 2018.
Reports around the world have claimed Hubbard is the first trans Olympic athlete, which is actually not the case. As the Los Angeles Blade has reported, Quinn, a trans nonbinary soccer midfielder for Team Canada, last Wednesday became the first out trans athlete ever to complete in the Olympic Games. They posted about it on Instagram, saying, "I feel proud seeing 'Quinn' up on the lineup and on my accreditation. I feel sad knowing there were Olympians before me unable to live their truth because of the world."
The IOC is expected to review and likely revise its policies on transgender participation following Tokyo. Trans athlete and researcher Joanna Harper, who has advised the organization and other sports policy groups, told the Los Angeles Blade her recommendation will be for the IOC to continue to regulate trans athletes sport-by-sport. "There shouldn't be a one-size fits all policy," said Harper.
She also noted how the mainstream cisgender media is consumed with coverage of Hubbard and missing out on the bigger picture, and what it will mean for the next generation watching on TV and online.
"The lack of attention paid to Quinn and to Chelsea Wolfe has been interesting," said Harper.
"A few news outlets have commented on their presence in Tokyo and in Quinn's case the comments have been mostly favorable. On the other hand, the storm of mostly negative press heaped on Laurel Hubbard has been disappointing, although predictable. I hope that the negative press that Laurel has gotten won't dissuade young trans athletes from following their dreams. I think that the next trans woman to compete in the games will get less negative press, and eventually (although probably not in my life) there will come a time when trans women in sport generate little or no controversy."
Hubbard issued a statement Friday via the New Zealand Olympic Committee in which she said: "The Olympic Games are a global celebration of our hopes, our ideals and our values. I commend the IOC for its commitment to making sport inclusive and accessible."
According to a French news outlet, NZOC spokesperson Ashley Abbott told reporters the committee had seen a "particularly high level of interest" in Hubbard's Olympic debut, and much of it has been negative.
"Certainly we have seen a groundswell of comment about it and a lot of it is inappropriate," Abbott said. "Our view is that we've got a culture of manaaki (inclusion) and it's our role to support all eligible athletes on our team. In terms of social media, we won't be engaging in any kind of negative debate."
Abbott reminded the media that the NZOC's job was to support its athletes, including Hubbard. "We all need to remember that there's a person behind all these technical questions," she said. "As an organization we would look to shield our athlete, or any athlete, from anything negative in the social media space. We don't condone cyberbullying in any way."
RELATED: CBS This Morning from 22 Jun 2021