May 27, 2020 at 11:12 am EDT | by Scott Stiffler
Lady Bunny's comedy special slays sacred COVID-19 cows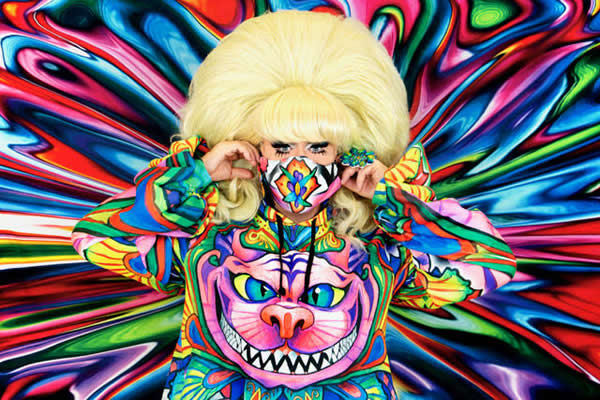 At a time where nothing seems certain, legendary drag queen Lady Bunny's ignorance is our bliss.
"Oh, I've never seen it," says Bunny, when the RuPaul Netflix vehicle "AJ and the Queen" came up as a topic during our interview.
Lack of first-hand knowledge didn't stop the NYC-based DJ, actress, singer/songwriter, upcoming comedy special star, and creator of Wigstock from skewering "AJ" mercilessly, while co-hosting two recent Voss Events-presented digital drag benefits that raised funds for queens out of work because of COVID-19.
"Listen," says Bunny, "I make jokes about 'Drag Race,' and I don't watch that either. Honey, I don't watch anything… I know Miss Vanjie said, 'Miss Vanjie, Miss Vanjie, Miss Vanjie' on her way out, in a way that was odd, but I don't really know what else happened in that episode, or why she was eliminated, or why she said that."
Bunny, whose television has not been hooked up for 10 months, admits, "Whenever you see me make a joke about pop culture, that is based on what I see other people talking about." To compensate for this lack of firsthand information, "I will run it by friends who are more keyed into that kind of thing."
With no boob tube at home and no burning desire to binge online (her flirtation with Netflix didn't last past the free trial period), Bunny says she's been spending her COVID-19 isolation period "trying to catch up on things I said I didn't have time for before the quarantine, like filing taxes; and exercising, and dieting, so I don't have that excuse, 'Oh, I have to run here or run there.' "
Bunny is also devoting some of her spare time to long-planned personal projects, including a book she's penning in partnership with her mother, and an autobiography. ("Just my life, before I forget it," she says.)
And in a moment in time when there's never been more spare time to sit around the house, hit a few keystrokes, press a button, and share your opinion on anything, everything, and often, nothing, with the world. That's part of why Bunny says she's "trying to stay off of social media a bit more, because I was hitting it hard during the first few months of COVID-19. But now, things seem to have turned sour, and it's disconcerting."
Known to those who follow her online as a steadfast supporter of Bernie Sanders (Bianca Del Rio often referred to Sanders as her "boyfriend" during the two Voss Events digital drag benefits they co-hosted), Bunny cited the trigger topics of social distancing and mask-wearing as among her reasons for dialing back on the sheer volume of postings and tweets. (She remains a presence on Facebook and Twitter—but these days, she's just as likely to be writing about work from fellow artists as she is the presumptive Democratic presidential nominee.
"I realize people are scared, and I realize people are broke," she says, of the COVID-19 tensions. "But I don't understand the desire to lash out at people that aren't observing the precautions that they decide to observe. It's almost like they're trying to prove they're a better Democrat, because they dip their vegetables in Clorox water, and they wear masks everywhere. It's just, like, I don't understand what it is about a frightening, deadly pandemic that makes people want to scold others. If I walk down to the [NYC West Side] piers, as I do, almost every day, and I see people who don't have masks on, and they're coughing? Well then, I walk away from them. I don't yell at them… At the end of the day, we are responsible for our own self-preservation. I mean, if someone who weighs 90 pounds and has a syringe sticking out of each eye tells me he wants to screw me without a condom, well, that situation may arise—but it's up to me to say, 'No,' to protect myself."
Asked how COVID-19 has impacted her creative output, Bunny noted, "All of my work involves dance floors and audiences—and we're not gonna have either of those for many, many months. So basically, my paychecks have stopped, but my bills have not. So I'm in the same position that, you know, most drag queens or club employees are in."
With little hope of audiences flocking to her bread and butter public gathering places any time soon, Bunny turned to what she does best: Parody songs, groovy dance segments, sketches, satire, insult humor, and raunchy jokes.
That brings us to the June 5 VossEvents.com debut of her downloadable ($9.99) comedy special, "C#ntagias," in which, press materials note, "Demented drag diva Lady Bunny shamelessly interrupts your isolation in an attempt to give what may be your last laugh before the apocalypse."
COVID-19-themed humor is front and center. Along with four signature sky-high wigs and 12 costume changes over the course of the 35-minute show, the press release further promises "brand new song parodies from artists as varied as Lizzo, Justin Bieber, and Madonna." Gender-blending provocateur Christeene christeenemusic.com duets with Bunny on a pandemically updated version of Peggy Lee's "Is That All There Is," and Bunny will perform her timely parody of the RuPaul song, "Sissy That Walk."
Currently available via Bunny's YouTube channel, the video for "Sissy That Cough" finds our quarantined gal noting:
If I forget to use Lysol

I'll end up in the hospital

I'm climbing up my fucking walls.
Those walls aren't a problem, at least not in the video, which sees Bunny singing and dancing around an empty white space that is occasionally populated by, right on cue when the lyric comes in, bats she's worried will:
Fly, fly, fly,

Uh-oh

From Wuhan Chi, Chi, Chi.
Bunny claims sole responsibility for crafting the lyrics to "Cough"—but overall writing credit for "C#ntagias" is shared with Beryl Mendelbaum, the Facebook drag persona of Bruce Jope, described by Bunny as "a fascinating character who hung out with everyone from Divine to Holly Woodlawn to Cher, back in the day."
There's a reason for that. Long before the character of Beryl burst onto the scene, Jope and his late partner, Francis Toohey founded the magazine Hit Parade (1978-1983, first based in Boston, then NYC). It chronicled, with gusto, the sort of culture and mind frame that drew people like RuPaul and Lady Bunny to NYC.
Mendelbaum, says Bunny, brings to their past collaborations (including stage shows "Clowns Syndrome" and "Trans-Jester!) an ability "to write as an older, Jewish retiree kleptomaniac, which is her online [Facebook] character. And I thought, if she can write in the voice of someone who she is not, maybe she can write for me, a potty-mouthed, southern, over-the-hill showgirl!"
Skits also play a part in "C#ntagias." One of them, notes, Bunny, "was inspired by three emails I got claiming they had activated my computer's camera when I was on a porn site, and I needed to send them $2,000 via Bitcoin or they were going to send this footage to all of my email contacts. So I started writing a reply, not that I even thought they were a real person, because I'm not the biggest porn fan, and so I came up with some stuff that was pretty funny. I sent it off to Beryl and we finished off the skit… She has a way of either pulling back or taking things in a different direction if I become too preachy, too vulgar, too whatever. She's kind of like half writer, half director."
For more information on Lady Bunny's comedy special, available for digital download as of June 5, visit vossevents.com/digital. For Bunny and Beryl, see ladybunny.net and @BERYLMENDELBAUMFANS, respectively.