Album roundup: Gaga just so-so on new album 'Chromatica'
Indigo Girls shine, Adam nails it and Perfume Genius — wtf?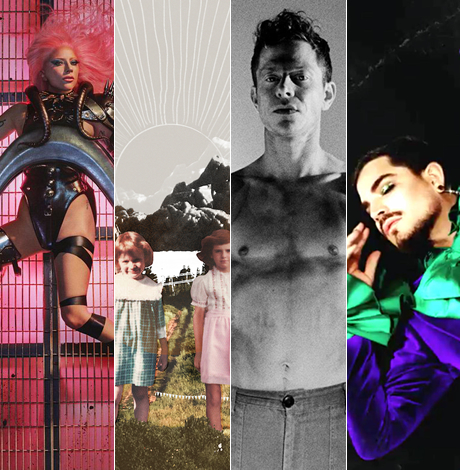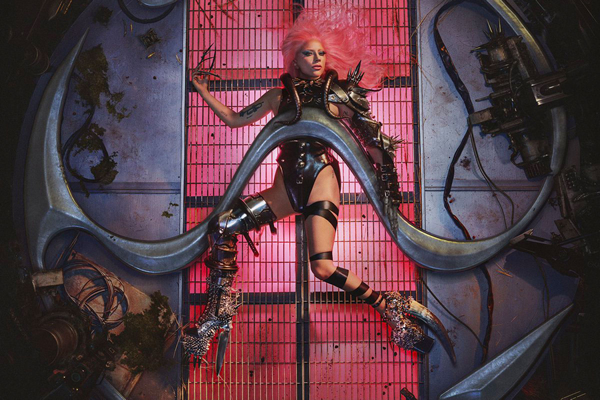 Lady Gaga
Chromatica (**1/2 out of four)
Streamline/Interscope
Although Lady Gaga has never had an out-and-out bomb, she lost her footing a bit with her 2013 album "Artpop."
Her fans point to its decent chart performance (it debuted at no. 1 and went platinum) and say that's more perception than reality, but she was starting to experience a law of diminishing returns. The danceclub hits and outrageous fashion upon which she built her brand didn't resonate the same way five years into her career.
She wisely recognized that and veered hard left making an album with Tony Bennett (of all people; 2014's "Cheek to Cheek"), recapturing the pop culture zeitgeist with movie debut "A Star is Born" (pleasantly, she actually can act) and go mellow and subdued with her last studio album, 2016's more singer/songwriter-oriented "Joanne."
"Chromatica" (out May 29) is her official return to form. It all goes down breezily enough — it's an easy, catchy listen — yet it's also not quite the reclaiming of the pop diva throne she clearly intended it to be. It's good, not great; her fans will love it and it will make a respectable chart dent but creatively she's painted herself into a corner. While some of her unexpected (at the time) career swerves served her well and were well received, you can't build a whole career on stunt casting — the meat dress! the Tony Bennett duets! "American Horror Story"! a "normal" album from kooky Gaga! Stuff like that only gets you so far then you're kinda back where you were five years prior (albeit with an Oscar in tow).
Eventually you have to return to the business of doing what it is you supposedly do and a decade in to her admittedly impressive career, it feels like she's reaching the bottom of her bag of creative tricks. "Chromatica" suggests to me we'll look back on her in 50 years more as a Petula Clark (the singer of a decent string of era-defining standards)-type figure rather than a Bette Midler or, heck, even a Kelly Clarkson.
Gaga takes the "Confessions on a Dancefloor" approach here — there's not a ballad in the batch. Track after track — first single "Stupid Love," "Plastic Doll," "Replay" and dozens more — are full of big, luscious, vaguely '80s-tinged club beats courtesy of producer BloodPop (Justin Bieber, Britney Spears, et. al.), and melodies that take advantage of her impressive set of lungs. The lady can sing — nobody is arguing otherwise. 
But it all gets a little samey sounding by the album's end and a trio of orchestral interludes (dubbed "Chromatica," "Chromatica II" and "Chromatica III") sound like they were yanked off some poor man's Ralph Vaughan Williams imitation attempt and tacked on for contrast and gravitas. They backfire though, sounding like ludicrous non sequiturs.
Lyrically there's nothing terribly interesting happening but the guest spots — Ariana Grande on second single "Rain on Me," K-pop girl group Blackpink on "Sour Candy" and Elton John on "Sine From Above" — work slightly better than you'd think. She doubles John's vocal an octave above to pleasant effect. Glammy, campy (but fun!) final song "Babylon" had me picturing the "Queer as Folk" cast on the dancefloor.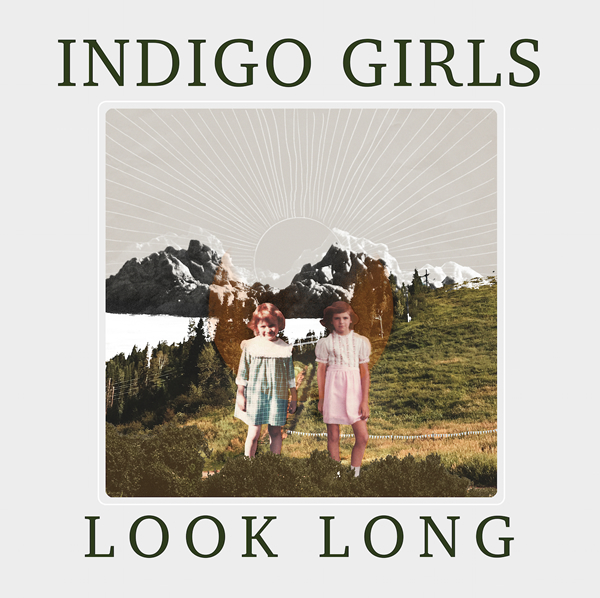 Indigo Girls
Look Long (***1/2)
Rounder Records
It's easy to take the Indigo Girls for granted. Although it's been five years since their last studio album (2015's "One Lost Day"), they keep busy with constant (pre-COVID-19) touring, regular solo outings from both members (Emily Saliers and Amy Ray, both lesbians) and even a live symphony album "Indigo Girls Live with the University of Colorado Symphony Orchestra" (2018).
Their new album "Long Look," (May 22) however, is a pleasant reminder that not only are they greater vocally than the sum of their parts — their harmonies are truly heavenly — their songwriting is so assured and mature, they're doing some of their best work now ages after aging (sadly) out of commercial relevance. John Reynolds, who also produced their 1999 album "Come On Now Social," is back at the reins.
Standout cuts are the groovey, swampy opener "Shit Kickin,'" dance-around-the-campfire-esque "Howl at the Moon," the plaintive title cut (in which they sound vocally as lovely as Emmylou Harris) and sonic curveball "Favorite Flavor." Musically overall, this is Americana.
Topics are lyrically varied. "Feel This Way Again" is an urge to teens to savor emotions, album closer "Sorrow and Joy" is a well-crafted examination of '80s-era politics and it varies outward from there. Only occasionally (the chorus of "Flavor" or the slightly cloying "Country Radio") do things feel a tad forced.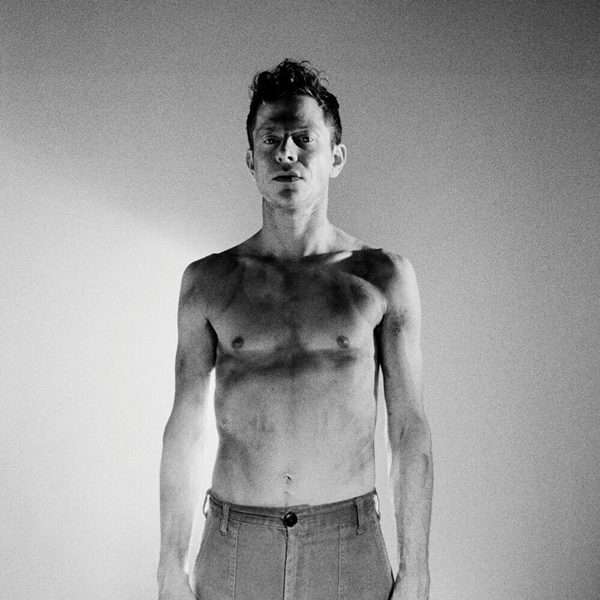 Perfume Genius
Set My Heart on Fire Immediately (*1/2)
Matador
Perfume Genius (aka Michael Hadreas) is back with his fifth album (it dropped mid-May) and while it's more accessible (which isn't saying much) than his previous efforts — some tracks actually feel like songs — it's still a tough listen and something you have to be in the mood for.
Atmospherically, there's a lot here to appreciate — the dreamy, ethereal "Whole Life," the gauzy, fuzzy rock guitars on "Describe," the retro organ underpinnings of "One More Try" and so on. One senses here that no instrumental choice or sonic effect was chosen haphazardly; Hadreas (38 and gay) and producer Blake Mills (who returns after 2017's "No Shape") took obvious care and mood and texture, to them, is everything (it certainly trumps melody and tempo).
The degree to which you like this album will be proportional to how much avant garde you can stomach. I tried to just close my eyes and savor it on its own terms but I also couldn't wait for it to be over. The too-precious-by-half, whispery falsetto vocals on "Jason," the plodding, uncategorizable "Your Body Changes Everything" and the sonic whiplash of "Some Dream," which sounds like silly nonsense, had me itching to go put on some Jonas Brothers.
In fairness, though, could this be one of those magical albums that just needs time to seep into your pores? An album you endure on the first listen but can't get enough of three months later? It's a fair question, but I'm going with no. Texture solely for the sake of texture — and that's what this feels like — just isn't enough for me.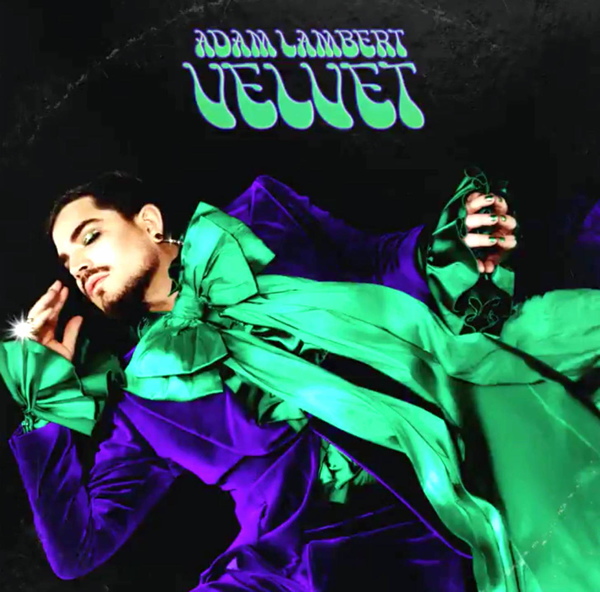 Adam Lambert
Velvet (***1/2)
Empire Distribution
An album you might have missed (somehow I did) that dropped in late March is the new Adam Lambert project "Velvet," the gay "American Idol" runner-up's fourth.
Lambert here manages to hit that sonic sweet spot where the production sounds both retro yet uber contemporary. There's a funky, groovy, '70s/Stax vibe here but also a 2020-kind of top coat on everything that sounds utterly of the moment.
Stylistically it's still varied. "Superpower" is slutty and all attitude, "Loverboy" is a neo-disco shuffle, "Comin' in Hot" is slinky and skanky and "Love Don't" is a gritty rocker. "Ready to Run" has rock swagger and gospel organ accents. First single "Roses," a duet with Nile Rodgers (of Chic) has lovely hooks and atmosphere to spare. It's a romantic kiss-off to a lover who offers gestures but little else.
There are only a handful of slow songs, a straightforward piano ballad ("Closer to You") and closer "Feel Something," the album's only pensive, moody moment.
Only occasionally and fleetingly does Lambert fumble — a weak chorus on "New Eyes," a couple spots where the hooks aren't quite enough to undergird the swagger and energy, but even then, Lambert's shimmering whale of a voice — his calling card — is enough to sustain pleasure throughout. This is my summer car album for sure.
Celebrating sports history: DC Gay Flag Football's 25th season
Head of District's premier league says it's 'groovin' to its silver anniversary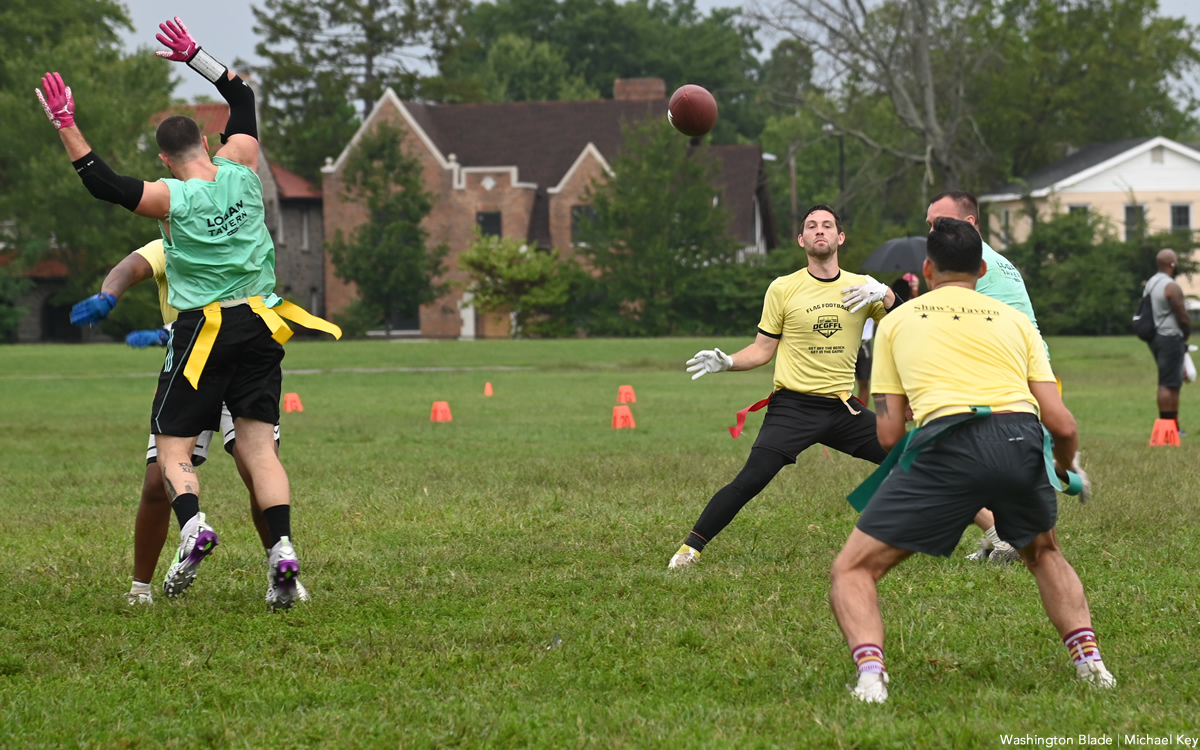 What started when gay football fans got together in the 1990s to play their favorite sport is now a D.C. institution with 270 players in 20 teams spread over three fields, playing in both fall and spring.
"Get off the bench," shouts the slogan on the league's website. "Get in the game!"
The D.C. Gay Flag Football League turns 25 years old this month and is considered not only the premier league of its kind in the District, but is recognized across the country for its players, organization, and spirit.
"The way we run our league and the way we compete make us stand out relative to the rest," DCGFFL Commissioner Logan Dawson told the Washington Blade.
For those who don't know flag football from any other kind, the difference is easy to spot: There's no contact allowed. As the rules say, "That includes tackling, diving, blocking, and screening. Instead, players wear flags that hang along their sides by a belt. To 'tackle' the person in possession of the ball, the opposing team needs to pull one or both of their flags off." There are a lot more rules, but that's the one that really sets it apart from tackle football.
The sport itself dates back to World War II and its origins have been traced to Fort Meade, Md.
What's the secret to the league's longevity? "I think we attract and hold on to great athletes who are highly competitive, not only on the field, but also, in our professional and personal lives," he said. Dawson, 32, plays flag football as well as manages the league. He's currently single, but says his first love is the weather.
"I knew in second grade that I wanted to be a meteorologist," said Dawson, who moved to the District to be a meteorologist with the National Weather Service.
A prolific swimmer since high school, he came out as he started grad school at Purdue University in Indiana in 2012. In an op-ed appearing in Outsports in 2014, Dawson wrote about competing in his first Gay Games in Cleveland along with a group of other gay swimmers from Colorado, and left that experience determined to join a gay sports league. 
He found it in the fall of 2018 in the DCGFFL, the same year the league's Generals team won Gay Games XVIII. The league supports up to five travel teams, which take part in annual tournaments nationwide. It also hosts a summer tournament each year in Rehoboth Beach, Del.
"There's a good amount of participation by people who played in the league from the very early days," Dawson said. "I think we're just in the sweet spot, where we have a lot of the original participants, a lot of new players, and we're just kind of grooving right now."
The first group gathered at Francis Field near Dupont Circle in 1994. Three years later, another group formed to play just steps from the Washington Monument Mall. They came together in 1998 to form what is now the DCGFFL.
"For the majority of those seasons, we mainly had one division that played that was co-ed," said Dawson. "This is our second season that we've had a Womens+ Division made up of [cisgender] women, trans and nonbinary individuals." The Womens+ teams are called the Senators.
Jayme Fuglesten is director of the Womens+ Division and has played in the league in most seasons since 2011.
"The DCGFFL has been a major part of my adult life," she says. "I came out while playing in the league in no small part because of the love and support of this community."
Why does she think the league has been such a success to have lasted 25 years?
"I think the league has been so successful because of its focus on inclusion and community," she says. "I remember being so surprised in my early years when JJ and so many others would just come right up to me, hug me, and welcome me. And that really hasn't changed in the 20+ seasons I've been around. It also continues to grow and respond to the needs and desires of our players. One example of that is the new Womens+ division, which gives an additional space for people who identify as womens+ to play and cultivate stronger relationships."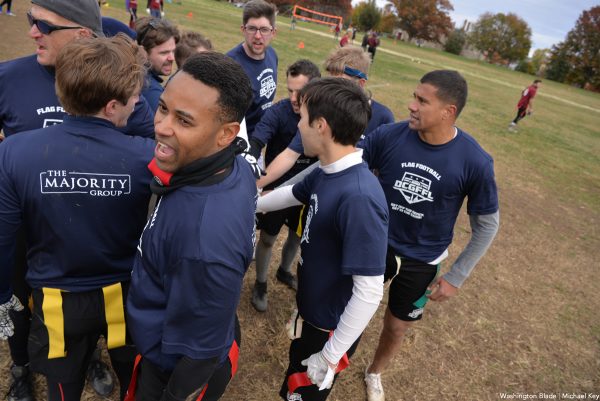 Next month, the DCGFF will send both Generals and Senators to Gay Bowl XXIII in Seattle. "That's going to be the first time we're going to have two Womens+ teams at the Gay Bowl," Dawson told the Blade. "It's reflective of the new generation of the league."
Earlier generations had trouble attracting new players. As the Blade reported in 2019, what had been a steady number of 20 to 22 teams dropped dramatically to 14, its lowest roster since 2011. The league's leadership turned it around with new recruiting events, new sponsors, changes in their social event locations, changes to their player draft and a change of venue for league play beyond Carter Barron fields in Rock Creek Park in Northwest Washington.
Brentwood Hamilton Park in Northeast Washington is now home to the recreation division and Randall Field south of the Capitol is the league's third venue.
Just like every facet of society, from coast to coast, what happened next hit the league hard. "COVID happened in spring of 2020," recalled Dawson. "Everything shut down, and we did not play for what amounted to three full seasons for a year and a half."
But once the world emerged from quarantine and lockdowns, flag football players started flocking to the DCGFFL. "We've had probably over 150 new players join our league in the last two years," he said.
One thing is certain, said Dawson: Despite the name, not everyone who plays in the gay flag football league is LGBTQ+.
"It's a really great community. There's a straight couple that's married and will be soon having a child in the next month or so," Dawson said. "They met playing in the league, just like we've had gay couples who meet in the league and eventually get married and have children."
Prominent among the league's many sponsors is the NFL hometown team, the Washington Commanders. "They are highly supportive of us, not just financially, but also publicly supporting what we are, and our mission," Dawson said.
This current NFL season is the first since 2021 without an out gay player on the gridiron. That's when Carl Nassib became the first active pro football player to come out as gay.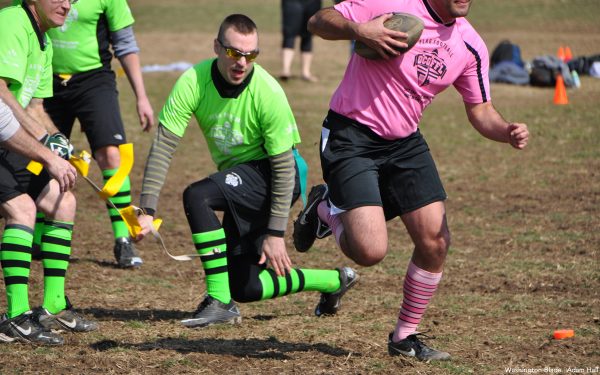 While Dawson said, "I'm sure there are more out there" who have not yet come out, Nassib's retirement makes this anniversary of the DCGFFL even more significant.
"It's unfortunate people still feel they cannot be out while they're playing and doing what they love, but that's the reason why something like the D.C. Gay Flag Football League is so important," he said. "To show that there are gay and trans athletes who exist and love playing sports."
The league plans to celebrate its 25th anniversary with a dance party and silent auction at Penn Social on Saturday, Sept. 23 starting at 8 p.m. Check the website for ticket information.
2023 Best of LGBTQ DC Readers' Choice Award Finalist Voting
Vote for your favorite finalists through October 2nd!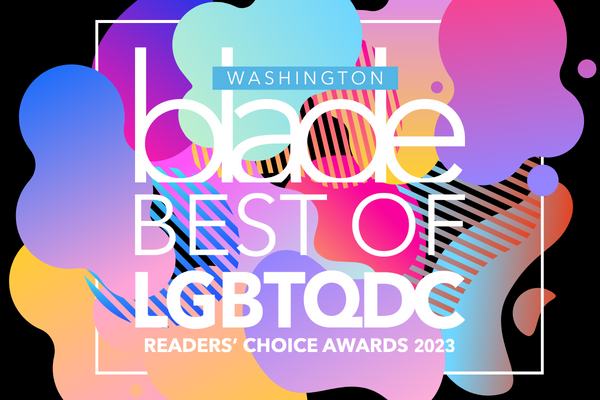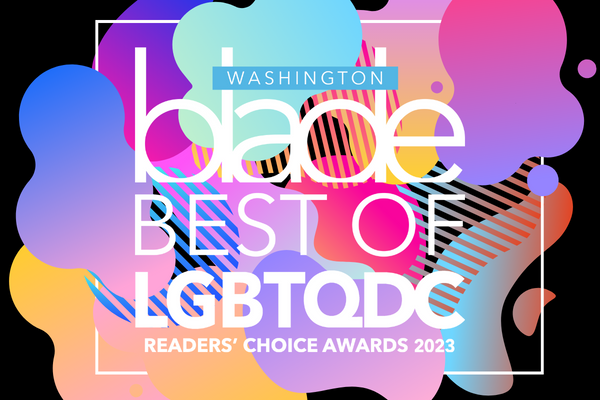 John Waters gets Hollywood Walk of Fame star
Baltimore native proclaimed 'here I am … closer to the gutter than ever'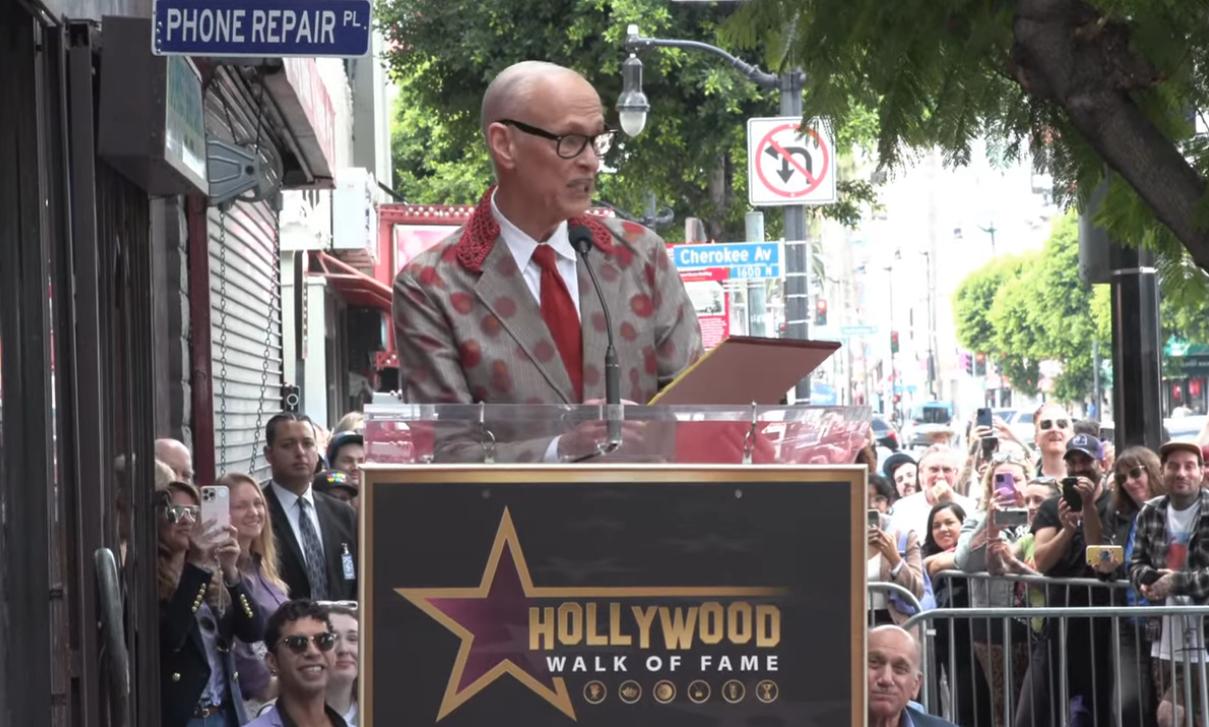 Today, the famed Hollywood Walk of Fame became a little more rainbow than it had been before. With gilded star etchings depicting icons on every corner, the powers that be dedicated September 18 to a man who arguably helped thrust LGBTQ visibility into a culture that was probably not ready at the time to receive it. The modern-day fascists amongst us might even call him a "groomer."
We call him John Waters.
Waters first arrived in Hollywood in 1970. He parked at Hollywood and Vine and received his first bit of Los Angeles recognition.
He got a jaywalking ticket.
Outspoken and brash, Waters introduced outsider culture and heralded gay and transgender visibility into American cinema when the Stonewall uprising was still a very recent memory. His 1972 film "Pink Flamingos" was brazenly trans affirming. It powerfully and glamorously flew in the faces of audiences while trans people only faced marginalization and were stigmatized in the Nixon Vietnam and Watergate era.
His film Hairspray was first a cult favorite and in later iterations, a hit Broadway musical, and a second mainstream hit movie. It featured LGBTQ characters and a leading character in drag. Waters has also written several LGBTQ themed books including "Shock Value" and "Role Models."
Part of the charm of John Waters is his knack for not taking himself, or any of us, too seriously. His first words as he ascended the podium for the Walk of Fame honor: "Here I am…closer to the gutter than ever!"
"I hope the most desperate showbiz rejects walk over me here and feel some sort of respect and strength," he said later paying tribute to his greatest inspirations: The underdogs.
Waters dedicated his star to his parents. Pat and John Waters, who had been horrified by his earliest films, but encouraged him to pursue Hollywood nonetheless. "What else could I do?" he mused.
All in all, Waters was "astonished" over the tribute. He thanked Outfest for sponsoring the event and for thinking he was "gay enough to receive it."
Ever the director, and thinking ahead, he took a moment to make a recommendation for whom he thinks should be Hollywood Boulevard's next star recipient:
Divine.
Film critic and historian Leonard Maltin summed up John Waters this way: "John Waters is a national treasure, a unique and original voice in American cinema. His films are subversive, hilarious, and thought-provoking, and they have helped to change the way we think about outsider culture and LGBTQ+ representation."
Now Waters has his day, and his star, immortalized forever on the famous Hollywood path. We can only hope his effect on American culture, where the "outsider" can stand tall, proves to be as solid.