May 22, 2020 at 8:57 am EDT | by DC Census 2020
It's Not Too Late, Get Counted Now!

Sponsored Content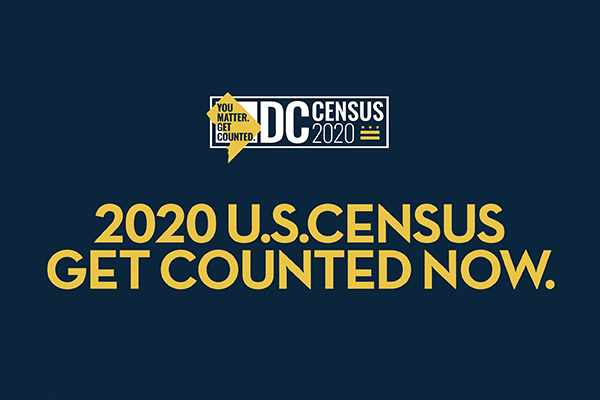 The U.S. Census Bureau considers the health and safety of the public one of its top priorities.  As we practice social distancing, many of us find ourselves working remotely while health officials and government leaders advise us to stay home and avoid gatherings to decrease the risk of spreading the coronavirus disease (COVID-19). While we stay home to keep each other safe, we have an opportunity to use this time to complete the 2020 census!
Census 2020 was designed to make the census accessible to every citizen and will ensure that the public remains vigilant about staying healthy while still fulfilling our constitutional obligation to conduct a complete count of U.S. residents. Every DC household should have already received their invitation to complete the census. With your invitation in-hand, keep in mind that:
The survey can be easily completed from the comfort of your home, without interacting with a U.S. Census taker in person:

online at

2020census.gov

over the phone by calling the U.S. Census Bureau at 844-330-2020

by mail.

The census is available in 13 languages. Residents interested in submitting a non-English response can complete

the census over the phone

and online.
Additional language support is available in

59 non-English languages.

If you misplaced your original invitation with the unique ID code, that's ok too. You can still complete your census right now by sharing your address using any the 3 response options.
Although this online format gives the public the ability to continue social distancing in the face of coronavirus, this online roll out was already planned as part of the U.S. Census Bureau's commitment to adapting to the needs of the public and making the census readily available to everyone.
An accurate count results in better DC Census data to inform priorities and spending plans for District agencies and ensures that billions of federal dollars are sent to DC to support healthcare, schools, seniors, affordable housing and other vital programs (including services that could provide future COVID-19 relief).
Follow @dccensus and #GetCountedDC on Instagram, Twitter, and Facebook, or visit our website dccensus2020.dc.gov for more information and updates.