May 22, 2020 at 9:14 am EDT | by Kathi Wolfe
Remembering the women-run WWI hospital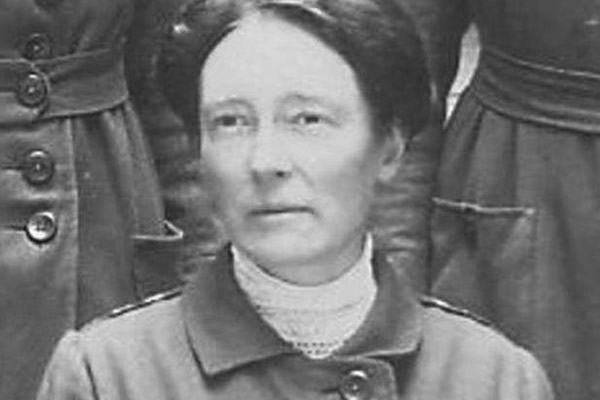 In the 1970s, my Dad, a veterinarian, hired a woman to be his associate. Many in our small southern New Jersey town were mystified – others were outraged. "Why would you want to work with a girl?" his friends and clients asked. "Will she be strong enough to lift big dogs? What if she faints at the sight of blood or can't stop crying when animals die?"
It'll turn out fine, my father told the naysayers. "When I was in veterinary school," he said, "the women were tougher than all of us. They had to work twice as hard and put up with insults from a lot of the guys."
Recently, I thought about my Dad's stand against sexism as I read a new book, "No Man's Land: The Trailblazing Women Who Ran Britain's Most Extraordinary Military Hospital During World War I," by Wendy Moore.
Like so many of us in the midst of the COVID-19 pandemic when so much feels hopeless, I've been searching for nuggets of inspiration.
A century ago, women in the United States got the right to vote. (The 19th Amendment to the Constitution granting women voting rights was ratified in August of 1920.) During the 100th anniversary year of this milestone, I've been seeking out stories of inspiring, resilient, brave women.
"No Man's Land," a page-turner about Endell Street Military Hospital, a London health care facility run by women during World War I, is a tale of inspiration and courage..
I don't mean "inspiration" or "courage" in a sappy sense. I'm talking about "inspiration" and "courage" in the midst of blood, mud, dirt, disease, death, shell shock (what we now call post-traumatic stress) and sexism.
Louisa Garrett Anderson, 41, a surgeon and Flora Murray, 45, an anesthesiologist, the directors of Endell Street Military Hospital, were also life partners. "Unlike male homosexuality, lesbian relationships were not illegal," Moore writes, "it was deemed perfectly respectable for two professional women to share a home without a hint of scandal."
They lived like a married couple, Moore adds.
At the outbreak of World War I, Anderson and Murray were experienced doctors. Yet, due to sexism, they hadn't been allowed to work in mainstream hospitals, in the military or to obtain high-level professional positions. Women physicians usually had to only with women and children. "They knew that war with Germany posed a terrifying threat to Britain, but it also offered women a once-in-a-lifetime chance," Moore writes.
At Endell Street, everyone from the radiologist to the ophthalmologist to the dentist to most of the orderlies was a woman. At that time, this was almost unthinkable. "Oh, God, women!" decried army brass at the idea of female docs in the military. Others feared that havoc would ensue if a group of "Amazons" were set loose on patients.
Anderson, Murray and their staff worked non-stop during World War I. Words fail to describe the suffering caused by the first World War. More than 20 million people were killed and 20 million wounded (often permanently disabled) in the war. There were no antibiotics or many of the other treatments available in medicine today.
The horror didn't end when peace was declared. At the request of the military, Anderson and Murray ran the hospital for a year after the war was over.
With peace, came more horror: the 1918 flu, which killed more than 50 million. As is the case with COVID-19 there was no treatment or vaccine. Many of the staff and patients at Endell Street Hospital got ill or died from the flu.
After the conflict ended, most of the women doctors who'd served in the war had to give up their positions. Yet, their legacy endures. Their work inspired future generations of women to enter medicine.
Living through our pandemic is hard. The story of Endell Street gives us hope that we'll get through it.
Kathi Wolfe, a writer and poet, is a regular contributor to the Blade.