June 1, 2020 at 11:55 am EDT | by Lou Chibbaro Jr.
Damage, looting as D.C. protesters ignore curfew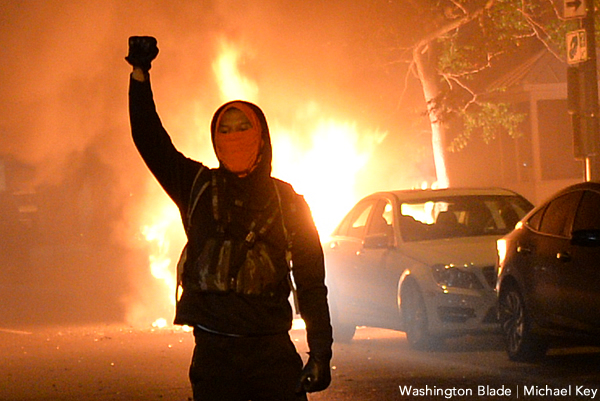 Dozens of storefront businesses and office buildings in D.C. were damaged Sunday night in incidents of looting, window smashing, and fires set by protesters in the third night of disturbances triggered by the killing of Minneapolis African-American resident George Floyd at the hands of a white police officer who has since been charged with murder.
The 14 bars and restaurants that openly cater to an LGBTQ clientele appear to have escaped damage by what D.C. police have listed as acts of rioting, vandalism, theft, and arson along multiple streets in downtown D.C. and Georgetown.
David Perruzza, owner of the gay bar and restaurant Pitcher's and its adjoining lesbian bar League of Her Own, told the Washington Blade he remained open for carryout service and for food and beverage service on his roof deck terrace on Saturday and Sunday.
Perruzza said he has been closing at 10 p.m. on Sundays during the COVID-19 restrictions, but said he stopped taking reservations for customers seeking to patronize his limited roof deck space on Sunday as soon as he learned of Mayor Muriel Bowser's order putting in place a curfew, The mayor's curfew prohibited all people from going outdoors in D.C. between 11 p.m. Sunday and 6 a.m. Monday, June 1.
Similar to the D.C. protests that unfolded on Friday, May 29, and Saturday, May 30, the Sunday protests joined by about 1,000 people began peacefully at the site of the White House and Lafayette Park earlier in the day.
But shortly after nightfall when police blocked access to the White House area the protesters scattered into smaller groups and marched through downtown streets. Some of them wielded metal baseball bats to smash windows and glass doors of stores and office buildings, according to media reports.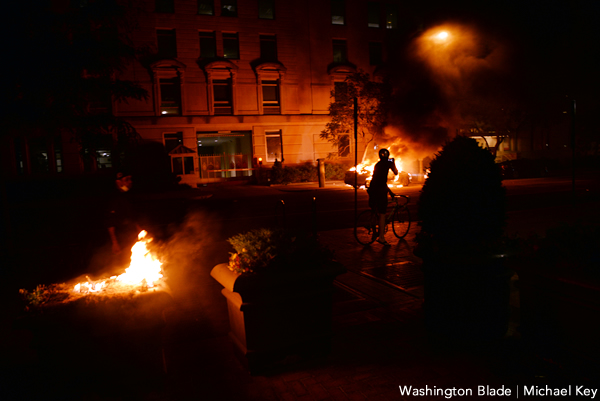 Some of those engaging in vandalism, whom D.C. police and Bowser have said appear to be radical agitators who do not share the goals of protesting the death in Minneapolis of George Floyd, set fires inside the buildings they broke into.
Among the buildings partially damaged by fire was the historic St. John's Episcopal Church located across the street from Lafayette Park near the White House known as the Church of the Presidents. Also set on fire was the lobby of the AFL-CIO building two blocks away at 815 16th Street, N.W.
According to local TV news reports, it took D.C. police and fire department personnel close to an hour to arrive on the scene to clear away protesters and begin putting out the fires at the church and the AFL-CIO building.
In an announcement on Sunday night, D.C. police released the names of 18 people they said police arrested for felony rioting related acts mostly on Saturday, May 30. TV news reporters on the scene of the disturbances on Sunday night reported additional arrests, but police didn't immediately disclose the number of arrests on Sunday and early Monday morning.
In the statement released Sunday night, police released photos obtained from video surveillance cameras of suspects wanted for rioting related offenses that took place Sunday night at eight specific locations.
"Investigators have obtained surveillance footage and seek the public's assistance in locating and identifying additional suspects who took part in these incidents," the statement says.
The locations, which show the multiple places where businesses, office buildings, or parked vehicles were damaged, include the 1500 block of H Street, N.W.; 1100 block of Vermont Avenue, N.W.; 1600 block of K Street, N.W.; 300 block of H Street, N.W.; 1200 block of K Street, N.W.; 400 block of 8th Street, N.W.; 800 block of H Street, N.W.; and 1300 block of Wisconsin Avenue, N.W.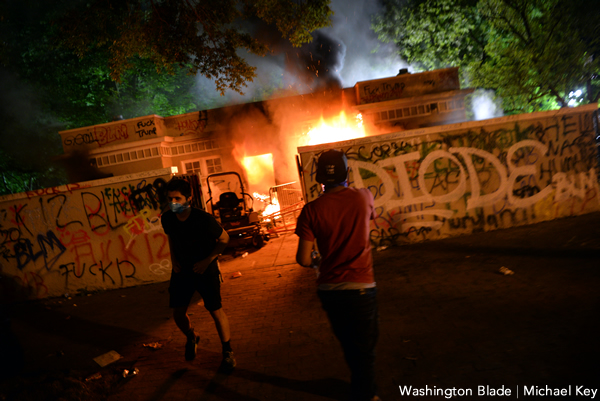 None of the city's LGBTQ bars or restaurants is on those listed blocks. However, gay Dupont Circle Advisory Neighborhood Commissioner Randy Downs posted on Facebook early on Monday that looters broke into the CVS store at 17th and P Streets, N.W. between 1:30 a.m. and around 4:30 a.m. on Monday, June 1.
"Residents called MPD many times but they didn't have the capacity to respond," Downs stated in his Facebook post.
The gay bars JR.'s and Windows and the LGBTQ friendly restaurants Annie's and Floriana are located within two blocks of the CVS at 17th and P Street, N.W., but there were no reports that they were damaged by looting on Monday morning.
Several national LGBTQ rights organizations issued a joint statement on Friday condemning the action by the white Minneapolis police officer that led to the death of George Floyd, which has triggered protests and in some cases rioting in cities across the country.