June 3, 2020 at 10:31 am EDT | by Lou Chibbaro Jr.
Evans, gay candidates far behind in D.C. primary early returns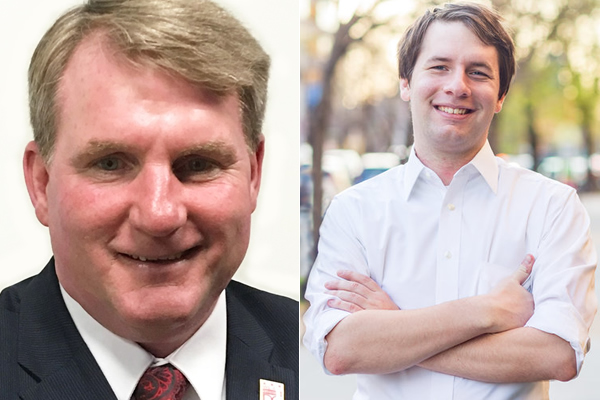 Former D.C. Council member Jack Evans (D-Ward 2), a longtime LGBTQ community ally who resigned from the Council in January following allegations of serious ethics violations and who asked Ward 2 voters to give him another chance to represent them, was in seventh place in an eight-candidate race with just 292 votes or 3.8 percent of the vote, according to a preliminary vote count released Wednesday morning by the D.C. Board of Elections for the city's June 2 Democratic primary.
Gay Logan Circle Advisory Neighborhood Commissioner John Fanning, who political observers say waged a credible campaign for the hotly contested Ward 2 Council seat, and gay Ward 7 ANC member Anthony Lorenzo Green, who received endorsements from the AFL-CIO and the Washington Teachers Union, were far behind with 6.8 percent and 11.7 percent of the vote respectively in the preliminary count.
In the Ward 2 contest, former Assistant D.C. Attorney General Brooke Pinto was in first place in the preliminary vote count with 2,150 votes or 27.7 percent, just ahead of Foggy Bottom Advisory Neighborhood Commissioner Patrick Kennedy, who received 2,048 votes or 26.4 percent.
Community activist Jordan Grossman was in third place with 1,562 votes or 20.1 percent as of early Wednesday morning.
With Pinto leading Kennedy by just 102 votes and with her lead over Grossman amounting to 588 votes, it couldn't immediately be determined whether the as-yet-to-be-counted mail-in ballots would change the outcome of the vote between Pinto, Kennedy, and Grossman.
The Board of Elections stated on its website that as of 2:42 a.m. Wednesday it had counted the ballots it has received so far from each of the city's 144 voter precincts. But the BOE did not disclose whether it knows how many absentee mail-in ballots it has yet to receive. The BOE said it would count all mail-in ballots postmarked before midnight on Tuesday, June 2.
Grossman released a statement Wednesday morning saying more than 4,400 mail-in ballots had not been returned or counted and the race was now a three-way contest between him, Pinto and Kennedy. But Grossman's statement didn't say where he obtained that information and a Board of Elections spokesperson couldn't immediately be reached to confirm the actual number of outstanding mail-in ballots.
Grossman spokesperson Morgan Finkelstein told the Blade in an email that the Grossman campaign based its 4,400 outstanding mail-in ballot figure on the election board's disclosure that a total of 10,583 mail-in ballots had been requested and that 6,110 mail-in ballots had been counted as of Wednesday morning.
In a statement released Wednesday afternoon, the Board of Elections said it would take at least a week or longer for the outstanding mail-in ballots to be received and counted. The statement says that if postmarked by June 2, the board would count the ballots that arrive by mail before or on June 12, indicating that the final outcome of the election in the Ward 2 race may not be known until at least June 12.
Evans, who has been the D.C. Council's longest serving member, told the Washington Post he had no regrets about running for the seat from which he had just resigned as his fellow Council members were about to expel him.
"I am glad I ran," the Post quoted him as saying on Wednesday. "I'm glad I gave voters in Ward 2 an opportunity, and I want to thank the voters and residents of Ward 2 for their support over the last 29 years and the opportunity to serve," he said.
Gay nightlife advocate and Washington Blade columnist Mark Lee, who was one of the few who endorsed Evans in the June 2 primary, has said Evans' support for the ward's and the city's small businesses, including bars and restaurants, has been beneficial to the city's large LGBTQ community.
"Fortunately for the ward and the city as a whole, the two leading candidates running neck-and-neck both campaigned as political moderates and hold centrist positions reflective of voters in the economically vibrant and commerce intensive district," Lee said. "Patrick Kennedy and Brooke Pinto are business-friendly candidates well equipped to best represent their potential constituencies, whichever candidate ultimately prevails as the remaining votes are counted and a winner is determined," Lee said.
Although Lee did not say so directly, the third candidate with a shot at winning the Ward 2 seat, Jordan Grossman, has positioned himself as a progressive, left-leaning candidate who has received support from the ward's progressive voters and organizations. In his own statement on Wednesday, Grossman said he and his campaign team are pleased with his status as one of the top three remaining contenders after more than a year of campaigning. He said he doesn't expect the outcome of the Ward 2 race to be known for at least several days.
"But we feel very good about where we are – and I couldn't be prouder of everything we've done together in this campaign to put us in this position," he said.
Vincent Gray, who nearly all political observers believe will go on to win re-election as the Ward 7 Council member in November, issued his own statement on Wednesday saying he will dedicate his efforts going forward to address the inequities and challenges brought on by the coronavirus pandemic and the strife related to the murder by a Minneapolis police officer of African American George Floyd.
"Today we celebrate our victory, but please also pray for calm," Gray said in his statement. "Tomorrow we continue with the work brought on by pandemic and the urgent need for change not only in the White House, but in the American psyche," he said. "We will heal, but we cannot rest. There is grave injustice in our country and we must end it once and for all."
In the midst of the coronavirus pandemic, the election board and most city officials, including Mayor Muriel Bowser, urged city residents to apply for absentee ballots to enable them to vote by mail. However, according to media reports on Tuesday, numerous residents waiting on long lines to vote at 20 special voting stations set up by the BOE said they never received the absentee ballots they applied for.
And although the polling stations were scheduled to close at 8 p.m. Tuesday, the city's social distancing requirements prevented more than 10 people from entering the voting stations at one time, resulting in the voting continuing until past midnight at several of the polling stations, according to media reports.
Similar to nearly all candidates on the ballot in the June 2 primary, each of the Ward 2 candidates, including Pinto and Kennedy, expressed strong support for LGBTQ rights, with Pinto, Kennedy, and especially Fanning pointing to actions they have taken in the past to support the LGBTQ community.
The final but preliminary vote count in the Ward 2 D.C. Council race for all eight Democratic candidates is as follows: Brooke Pinto, 27.7 percent; Patrick Kennedy, 26.4 percent; Jordan Grossman, 20.1 percent; Kishan Putta, 9.8 percent; John Fanning, 6.8 percent; Yilin Zhang, 4.1 percent; Jack Evans, 3.8 percent; and Daniel Hernandez, 1.3 percent.
Republican Ward 2 candidate Katherine Venice, who has expressed strong support for LGBTQ rights, ran unopposed in the D.C. Republican primary on June 2, ensuring that she will be on the ballot in the November general election in the Ward 2 contest.
Venice released a statement on Tuesday calling for President Donald Trump to resign from office because of what she called his mishandling of the civil unrest that has erupted across the country during the past week over the death of African American George Floyd at the hands of a white police officer in Minneapolis.
Surprise in Ward 4
In what most political observers will likely consider a surprise outcome, incumbent Ward 4 Council member Brandon Todd appears to have been defeated by community activist Janeese Lewis George by a margin of 54.1 percent to 43.6 percent in a three-candidate race. Ward 4 community activist Marlena Edwards finished third with 2.1 percent of the vote.
However, the final but preliminary unofficial vote count as of Wednesday morning shows George was leading Todd by 1,540 votes. If in fact more than 4,000 mail-in ballots remain uncounted, the outcome of the Ward 4 race could change, although it would be unlikely that many outstanding mail-in ballots were for Ward 4.
Todd and George have each expressed strong support for LGBTQ rights. George, who identifies herself as a Democratic socialist, received a rating of +6.5 out of a possible +10 on LGBTQ related issues from the D.C. Gay and Lesbian Activists Alliance. Todd received a +6 GLAA rating. Todd, a longtime ally of Mayor Bowser, received Bowser's strong endorsement in the Ward 4 race.
With George leading Todd by 1,540 votes it appears unlikely that the outcome would change after the remaining mail-in ballots are counted.
In the Ward 7 race, incumbent D.C. Council member and former D.C. Mayor Vincent Gray finished first in a six-candidate contest with 45.7 percent of the vote. Gray, who is considered one of the city's strongest LGBTQ community supporters, received the endorsement of the Gertrude Stein Democratic Club, the city's largest local LGBTQ political organization.
Gray received a +8 rating from GLAA compared to Gray's closest rival, Ward 7 community activist Veda Rasheed, who received 22.7 percent of the vote and a GLAA rating of "0." Rasheed expressed support for LGBTQ issues during the campaign, but GLAA said it assigned her and three of the other candidates in the race — Rebecca Morris, James Leroy Jennings, and Kelvin Brown — a "0" rating because they did not return a GLAA candidate questionnaire and the group wasn't aware of their records on LGBTQ issues.
Gay candidate Green, who has a record of support on LGBT issues and who has spoken out on those issues, received a +4 GLAA rating rather than a higher rating because he too failed to return the questionnaire, according to GLAA.
The final but preliminary outcome in the Ward 7 race is as follows: Vincent Gray, 45.7 percent; Veda Rasheed, 22.7 percent; Kelvin Brown, 17.8 percent; Anthony Lorenzo Green, 11.7 percent; Rebecca Morris, 1.4 percent; and James Leroy Jennings, 0.3 percent.
In the Ward 8 D.C. Council race, incumbent Democrat Trayon White finished a strong first with 58.7 percent of the vote in a four-candidate contest. White has expressed support for LGBTQ issues during his first term on the Council and has appeared at events hosted by the LGBTQ youth organization Check It Enterprises, which is based in Ward 8. White received a +4.5 rating from GLAA.
The final but preliminary vote count in the Ward 8 D.C. Council race is as follows: Trayon White, 58.8 percent; Mike Austin, 26.2 percent; Yaida Ford, 7.6 percent; and Stuart Anderson, 4.9 percent.
In the local city-wide races in the Democratic primary, D.C. Congressional Delegate Eleanor Holmes Norton (D) and D.C. Council member Robert White (D-At-Large) ran unopposed and are considered the strong favorites to win re-election in the November general election.
Also running unopposed in the primary were incumbent D.C. U.S. Shadow Senator Paul Strauss (D) and D.C. Shadow U.S. House candidate Oye Owolewa (D), who are also considered strong favorites to win in the general election.
Biden wins D.C. vote
In a component of the D.C. primary that has received little attention following former U.S. Vice President Joe Biden's status as the presumptive Democratic presidential nominee, Biden, as expected, was running far ahead in D.C.'s presidential preference primary as of Wednesday morning, with 74.5 percent of the vote.
Three of Biden's former rivals for the Democratic nomination were on the D.C. primary ballot even though they suspended their campaigns and announced they were endorsing Biden. They include U.S. Senator Elizabeth Warren (D-Mass.), who received 14.4 percent of the D.C. primary vote on Tuesday; U.S. Senator Bernie Sanders (D-Vt.), who received 9.4 percent of the D.C. vote; and U.S. Rep. Tulsi Gabbard (D-Hawaii), who received 0.7 percent of the D.C. vote.
With the outcome of the Ward 2 Council race still uncertain, the Washington Blade will provide updated information as it becomes available, including comments from some of the candidates.
The election returns released so far can be accessed at dcboe.org.