Youth reflect on their first Pride
Remember the roots of LGBT activism amid celebrations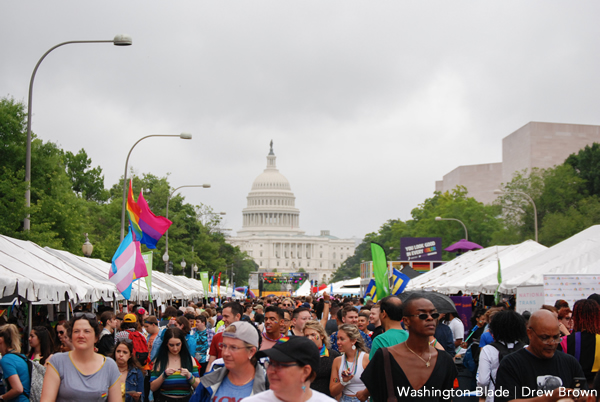 By KAELA ROEDER
LGBT rights are rooted in rebellion. But my Pride experience last June was filled with drinking, rainbow apparel, musical performances and parade floats. There was no rebellion and little advocacy to be seen, even though LGBT people of color, especially transgender individuals, are targeted, abused and murdered at skyrocketing rates.
I have a privileged life as a white, cisgender bisexual woman. I celebrated my first Pride month last year in Washington: I had recently come out to my friends and family and was eager to spend a weekend celebrating my identity, but this excitement was short-sighted. I expected to witness rallying for the needed expansion of LGBT rights, but instead it was a simple celebration of our progress thus far.
It does not matter what Pride means to me on an individual level. My experience in coming out was relatively smooth, and I have never struggled with violence or systemic inequalities that countless transgender individuals and LGBT people of color endure every day.
We cannot rejoice this June in our privileged identities while so many in our same community suffer.
Aimee Stephens was fired from her job for being transgender. Monika Diamond was murdered. Marsha P. Johnson and Sylvia Rivera were pushed out of the LGBT rights movement, even though they were leaders of the Stonewall rebellion.
For white LGBT people, being an ally means remembering and spreading the history of our movement. Transgender women of color were the leaders at Stonewall, and the uprising was rooted in anguish and the rejection of institutional norms.
I urge white LGBT allies to take an honest look at the present. We can no longer sit quietly while transgender people are violently murdered and fired from their jobs for being themselves while myself and many others enjoy the same freedoms with little repercussions.
While celebrating identities is freeing, we cannot ignore the violence that many still endure. This Pride month, let's work to lift marginalized individuals among us. Let's remember where Pride month stemmed from.
Kaela Roeder is a Blade intern and journalism student at American University.
My picket-fenced first Pride
By JOSHUA KELLER
"I'm just like you," said my newly out and proud self to my formerly ashamed self as I reflected on my first Pride.
Seeing all these happy people dressed in rainbow colors proved to me that being gay is nothing to be scared of. In fact, all the good things I've been watching on TV all these years must be true. I can have a boyfriend, just like Kurt and Blaine. Maybe I'll even get married one day and have a baby, just like Mitch and Cam. I can have a normal life, whew.
Seeing Time make its cover a picture of a nice young mayor and his husband posing in front of a white picket fence added to my relief at knowing that being gay doesn't prevent me from living a perfectly respectable, assimilated life.
If only I could find a way to be just gay enough to prove that I'm proud of it, then I could still be "the best little boy in the world" who just happens to like boys.
My first Pride was about proving to myself that being gay did not make me a fundamentally different person. I now know that being gay is not an isolated part of me that I can take out for a parade each June, it informs everything I do. Pride for me is now a time to celebrate being a part of what Ned Weeks in "The Normal Heart" described as a culture that includes some of history's greatest leaders, artists and thinkers.
This month, I'll take Larry Kramer over "Love, Simon" as a guide for how to show my pride.
Joshua Keller is a Blade fellow and journalism student at Washington University in St. Louis.
Bisexual activists cautiously excited after White House meeting
Sept. 20 gathering took place during Bisexual Visibility Week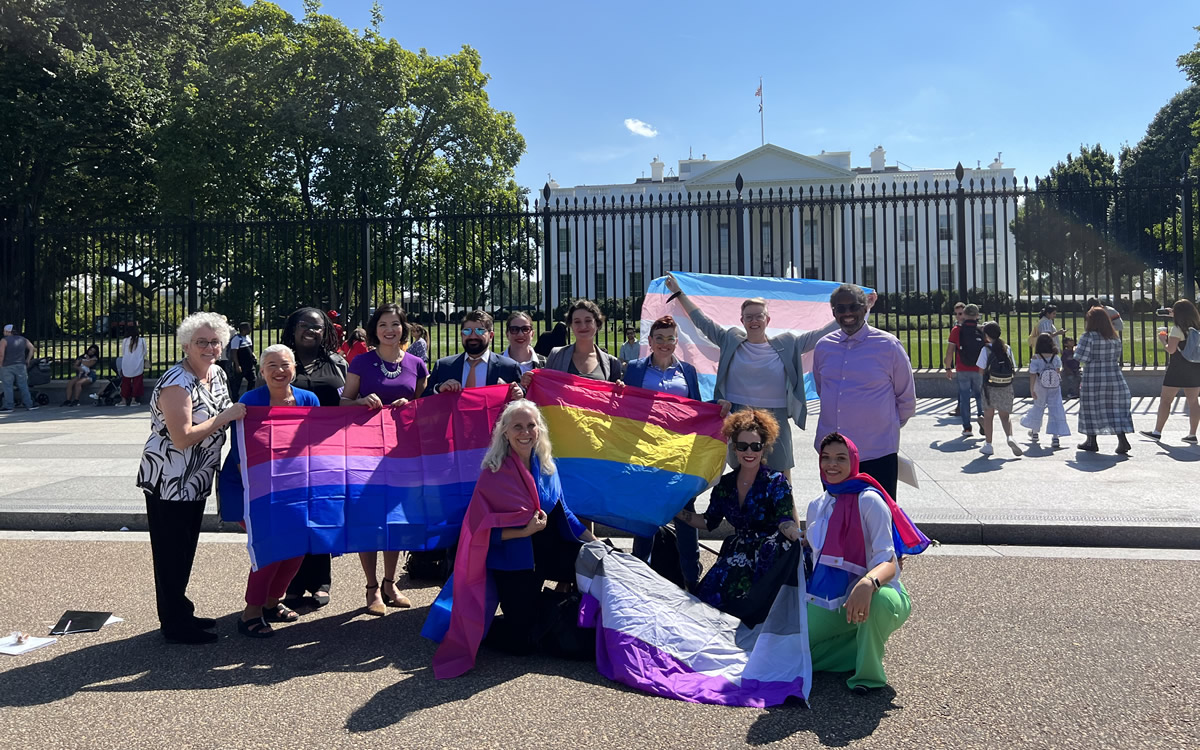 On Tuesday, Sept. 20, just in time for Bisexual Visibility Week, a diverse group of 15 bisexual and pansexual activists met with officials from the White House and the Department of Health and Human Services (HHS), including Melanie Fontes Rainer, the director of the Office of Civil Rights at HHS.
The 15 advocates comprised a wide cross-section of the bisexual community, including nonbinary, transgender, female, young, older, Black, Asian and Muslim advocates, people with disabilities and parents. We came from many walks of life: Academia, education, research, health care, advocacy, law, media and community activism. This isn't unusual: Bisexual people comprise more than half of all LGBT people, totally approximately 12.5 million bisexual adults in the U.S. Strikingly, 15 percent of all GenZ adults — nearly 1 in 6 — identify as bisexual. People of color are more likely to identify as bisexual, as are cisegender women and transgender people in general. 
It has been a painful six years since the Executive Branch last met with bisexual activists (you do the math.) Those meetings, like this one, were the product of tireless advocacy from a population with zero paid organizational staff and less than one percent of all philanthropic dollars earmarked for the LGBT community. It was these stats and others that we shared at HHS on Sept. 20.
Bisexual and pansexual people face specific disparities in mental and physical health, intimate partner violence and monkeypox prevention, treatment and care. Did you know, for example, that nearly half of bisexual women report having been raped? And did you know that federal reporting on monkeypox doesn't disaggregate between gay and bisexual men and men who have sex with men, despite evidence that bisexual men are uniquely vulnerable to MPX and other infectious diseases.
Khafre Abif is a Black bisexual educator, father and person living with HIV. At the meeting with agency officials, Abif shared the story of how staff at his HIV-care clinic initially denied him the monkeypox vaccine, despite Abif being bisexual and thus in a population of special focus for the vaccine.
"This meeting has been a long time coming for the bi+ community," said Abif. "I'm looking forward to a dialogue with federal officials about solving some of the health issues we face."
In order to begin remedying these disparities and more, we presented the administration with a set of benchmarks, including the creation of a Federal Interagency Bisexual Liaison and a Federal Interagency Bisexual Working Group. Other benchmarks included training for HHS staff on bisexual disparities and remedies thereof, funding streams for bisexual-specific funding and interventions, and the disaggregation of data on specific health disparities.
Robyn Ochs is a pillar of bisexual and pansexual community organizing. At HHS, Ochs shared more about her specific expertise. "Research has made clear our health disparities and invisibility. It's time for federal interventions to catch up with what we already know through research and lived experience."
Frustrated by years of inaction by the federal government to release bisexual-specific data, target the bisexual and pansexual community with tailored interventions, or recognize the importance of bi+ health in general, we are cautiously excited by this opportunity to share critical data and remedies.
Heron Greenesmith is the Senior Research Analyst for LGBTQI+ Justice at Political Research Associates, and the co-founder of BiLaw and the Polyamory Legal Advocacy Coalition. Find Greenesmith on Twitter @herong.
Turkey Pride crackdowns only strengthen LGBTQ resistance
Hundreds arrested in Istanbul on Sunday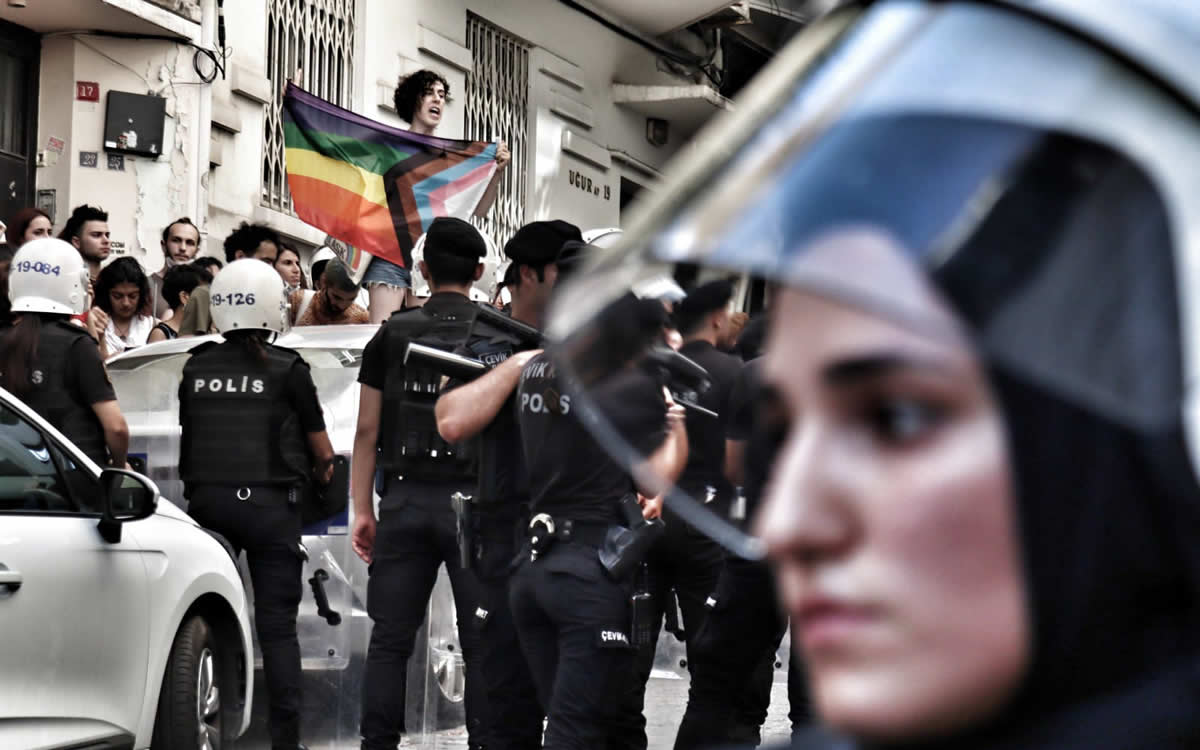 The waving colors of the thousand shades inside of a rainbow,
The sparkling joy from the pride and honor of self-declaration,
The echoing sounds of the steps for solidarity in the cobblestone streets of İstanbul, 
To unite for equality, for justice, for solely our right to be.
This was our goal, our expectation and our hope for Pride Turkey 2022. It has, however, been overshadowed by the government's vicious attempts to repress the colors of the LGBTQI+ community.
First, it started with the ban of Pride speeches and panels that many district governors and other local authorities across Turkey announced. Local police officers raided the many event venues as if "illegal" activities were being conducted.
As in the last couple of years, it was already expected the government would ban the Pride marches in many cities. It was, however, the first time the government officially tried to prevent even face-to-face community gatherings of LGBTQI+ organizations. It was a type of intervention reflecting the level of fear and intolerance of the government regarding the growing connection, solidarity and public visibility of LGBTQI+ community.
Nevertheless, oppression often brings out the most creative means. As such, Pride committees have carried all the activities on digital platforms. Many activists and civil society representatives have shown support by participating in live broadcasts from event venues, and the voice of LGBTQI+ solidarity still reached a wide audience.
Subsequently, the most drastic pressure by the government has manifested itself during the Pride marches. The police violently intervened and used unproportionate force against marchers in many cities, which resulted in a radical number of unwarranted detentions.
While 530 LGBTQI+ activists were taken into custody over the last 37 days across Turkey, 373 of them were arrested during the Istanbul Pride march on June 26. This constitutes a first, since the Istanbul Pride arrests constituted the largest number of people taken into custody during a street march since the Gezi protests.
Will these enormous efforts to pressure win the day? The answer is "definitely no." On the contrary, it sparked a backlash by triggering strong solidarity among Turkey's queer community. The outstanding resistance of LGBTQI+ marchers gained public recognition on social media, while persistent legal support of LGBTQI+ initiatives canceled all the detentions. In the end, the exhaustive pressures of the government could not manage to fade the multicolor of LGBTQI+ identity. In fact, it helped our rainbow flag to shine even more glamorous and visible.
We, as members of the LGBTQI+ community, have once again proved through this entire experience that solidarity, togetherness and collective resistance are the most powerful facilitators in our fight to exist equally.
In honor of the unbreakable resistance of Turkey Pride 2022 supporters,
Thanks to you, the cobblestones of Istanbul and every street in Turkey echoed with the steps of LGBTQI+ solidarity.
Dilek İçten is a journalist, researcher and civil society expert with a demonstrated history of working in interdisciplinary and investigative research projects examining the socio-cultural dynamics of media, gender and migration. The focus of her work varies from freedom of expression, media censorship and journalistic independence to gender based-discrimination and hate speech against disadvantaged groups and minorities.
As Israel readies for new elections, the LGBTQ community is at risk
U.S.-based groups attacking transgender Israelis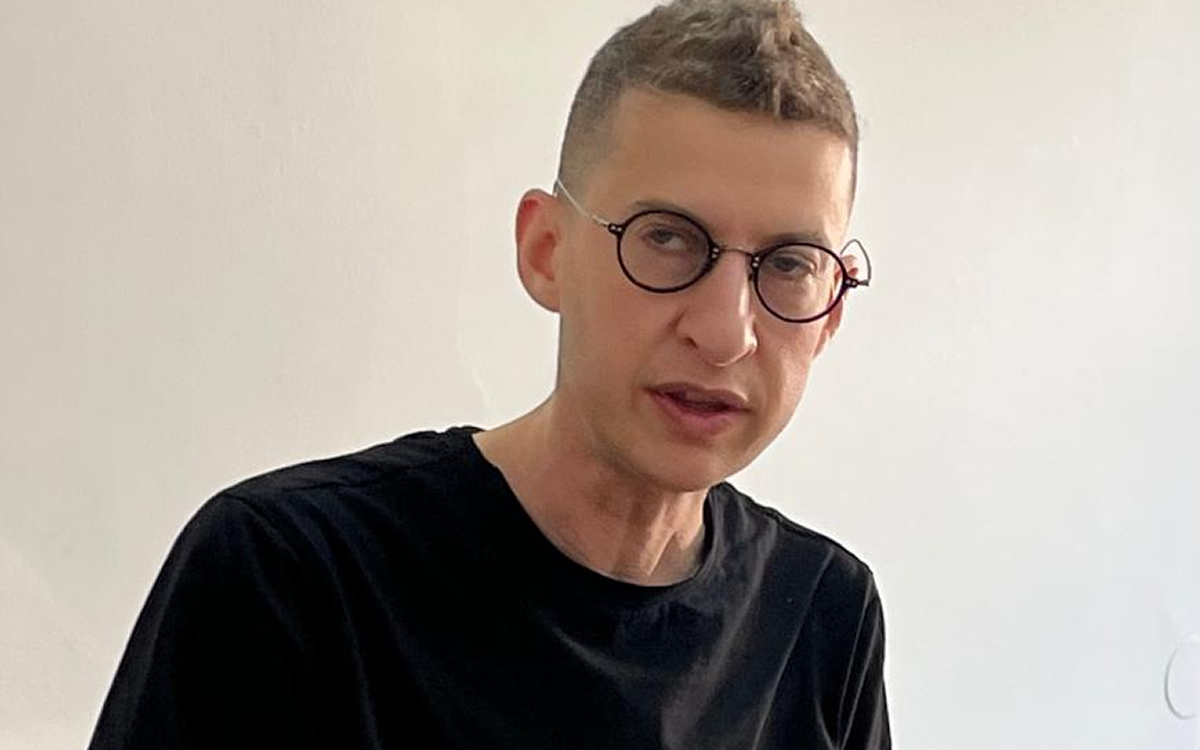 Israel's government has collapsed — and the county is headed to new elections for the fifth time in three years. In this renewed period of uncertainty, Israel's LGBTQ community has cause for particular concern. Any new coalition would likely welcome parties that oppose LGBTQ inclusion back into government, posing a clear and imminent threat to their human rights.
But amidst this trepidation, there is still much to celebrate: 30 LGBTQ leaders from the U.S. met with their counterparts in Israel this month. The backdrop was Tel Aviv Pride, one of the largest in the world. The leaders were there for more than celebrations. They came to learn. As with past A Wider Bridge trips, North Americans travelling to Israel and Israelis travelling to North America shared strategies for building LGBTQ inclusion, fighting conversion therapy, protecting young people needing shelter, and building vibrant pride centers. Pride celebrations got their start in the U.S. and will take place in more than 60 Israeli cities this month. Over the years, both of our countries have imported many successful approaches from one another. But one American import to Israel is less than welcome: Political transphobia. Let's not let it become something that unites our nations.
As leaders of groups in Israel and the U.S., we've watched with sadness as trans kids in America have been put in harm's way through legislation making their medical care less available and prohibiting their teachers and school counselors from providing the lifesaving support they need. And it turns out that the same retrograde forces fighting trans inclusion in the U.S. are backing similar efforts in Israel. There have always been opposition to LGBTQ rights, including trans inclusion in both countries and around the globe. What's new is a vastly well-funded campaign — with plenty of American backing — directed at attacking the Israeli trans community. While the fight for LGBTQ equality in Israel hasn't been easy, historically the community hasn't been used as a political cudgel. That's changing, and we're ringing the alarm bell.
Groups like the Kohelet Forum, which is largely American-funded, are trying to take their American brand of anti-trans hate to Israel. While think tanks and policy shops aren't a new phenomenon in Israel, Kohelet has adopted the broader American model of political change-making. They've launched a constellation of organizations working informally together to usher in transformational policy change. With the support of Kohelet and others, the anti-trans movement has exploded in Israel.
Their orchestrated effort comes at a very unfortunate moment. Ma'avarim, Israel's most prominent trans organization, and the entire Israeli trans community have worked tirelessly for years, building careful relationships, educating important allies — and is making tremendous advances due to an Israeli government that was willing to embrace many key goals. There are historic opportunities to implement new life-saving policies including access to healthcare, legal recognition of gender identity, and diversity in the education system. All of this is now in jeopardy. Just as these successes are coming to fruition, the anti-trans movement is using social media and other tactics to spread disinformation and false accusations such as "men in dresses raping women in bathrooms." These fabrications are felt by many in the trans community to be like anti-Semitic blood libels — made-up stories that lead to fear, hatred, and even violence. They help fuel anti-trans advocacy and lobbying to advance exclusionary policies and legislation to deny Israeli transgender persons their dignity and rights.
The new anti-trans movement has several distinctive features that require new responses. Firstly, unlike the traditional opposition for LGBTQ rights that springs from religious and social conservatives, anti-trans advocacy is now often fronted by self-styled "progressive" women. They bring with them established connections within liberal circles. Secondly, the central arena of the "progressive" anti-trans campaign is both traditional and social media — drawing on existing networks with hundreds of thousands of followers, while trans community organizations have minimal presence in social media beyond the trans community. Thirdly, the funding being poured into anti-trans campaigns eclipses the budgets of LGBTQ organizations. In Israel alone, the groups waging battle against the trans community have budgets in the tens of millions with hundreds of paid staff, many of whom work on anti-trans campaigns.
None of us should sit idly by while these attacks on the trans community take place. As in other countries, this anti-trans hate movement poses an immediate threat to the safety and wellbeing of transgender and gender non-conforming persons. We cannot allow them to have their very existence denied.
But it doesn't stop there. While transgender persons are the immediate targets of hate and violence, anti-trans campaigns have far-reaching political aims: dividing the liberal bloc of women's, LGBTQ and minority rights, instilling hate, and turning liberal democratic societies against a newly created enemy from within. Anti-trans propaganda has proved instrumental in spreading disinformation and conspiracy theories that further undermine democratic values in society.
The eyes of the world often look to Israel on LGBTQ rights. Dana International, a trans woman from Tel Aviv, won the Eurovision music contest, became an international hero, and played a role in ushering greater acceptance of the trans community.
The world will be watching after Israel's new elections: Will they continue to make progress in affording rights and protections to LGBTQ people? Or will they turn back the clock? Now more than ever, fighting the anti-trans movement must be a top priority not only for the transgender community but for LGBTQ people, feminists, and the wider progressive community in Israel- and in the United States.
Ethan Felson is the executive director of A Wider Bridge, an organization that fights for LGBTQ inclusion, counters anti-Semitism, and strengthens relationships between the LGBTQ community in Israel and North America. Elisha Alexander is the founding director of Ma'avarim, Israel's leading NGO advocating for the transgender community.