June 4, 2020 at 6:09 am EDT | by Staff reports
Youth reflect on their first Pride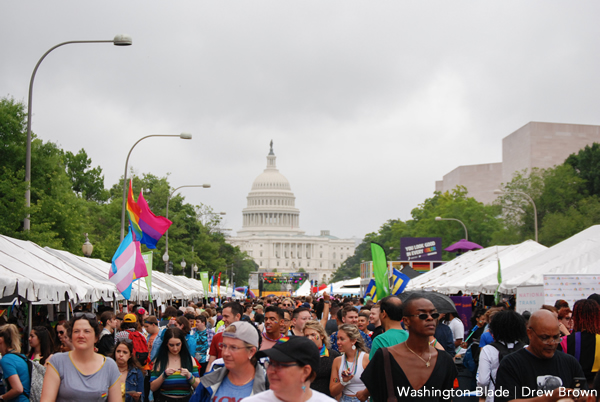 By KAELA ROEDER
LGBT rights are rooted in rebellion. But my Pride experience last June was filled with drinking, rainbow apparel, musical performances and parade floats. There was no rebellion and little advocacy to be seen, even though LGBT people of color, especially transgender individuals, are targeted, abused and murdered at skyrocketing rates.
I have a privileged life as a white, cisgender bisexual woman. I celebrated my first Pride month last year in Washington: I had recently come out to my friends and family and was eager to spend a weekend celebrating my identity, but this excitement was short-sighted. I expected to witness rallying for the needed expansion of LGBT rights, but instead it was a simple celebration of our progress thus far.
It does not matter what Pride means to me on an individual level. My experience in coming out was relatively smooth, and I have never struggled with violence or systemic inequalities that countless transgender individuals and LGBT people of color endure every day.
We cannot rejoice this June in our privileged identities while so many in our same community suffer.
Aimee Stephens was fired from her job for being transgender. Monika Diamond was murdered. Marsha P. Johnson and Sylvia Rivera were pushed out of the LGBT rights movement, even though they were leaders of the Stonewall rebellion.
For white LGBT people, being an ally means remembering and spreading the history of our movement. Transgender women of color were the leaders at Stonewall, and the uprising was rooted in anguish and the rejection of institutional norms.
I urge white LGBT allies to take an honest look at the present. We can no longer sit quietly while transgender people are violently murdered and fired from their jobs for being themselves while myself and many others enjoy the same freedoms with little repercussions.
While celebrating identities is freeing, we cannot ignore the violence that many still endure. This Pride month, let's work to lift marginalized individuals among us. Let's remember where Pride month stemmed from.
Kaela Roeder is a Blade intern and journalism student at American University.
My picket-fenced first Pride
By JOSHUA KELLER
"I'm just like you," said my newly out and proud self to my formerly ashamed self as I reflected on my first Pride.
Seeing all these happy people dressed in rainbow colors proved to me that being gay is nothing to be scared of. In fact, all the good things I've been watching on TV all these years must be true. I can have a boyfriend, just like Kurt and Blaine. Maybe I'll even get married one day and have a baby, just like Mitch and Cam. I can have a normal life, whew.
Seeing Time make its cover a picture of a nice young mayor and his husband posing in front of a white picket fence added to my relief at knowing that being gay doesn't prevent me from living a perfectly respectable, assimilated life.
If only I could find a way to be just gay enough to prove that I'm proud of it, then I could still be "the best little boy in the world" who just happens to like boys.
My first Pride was about proving to myself that being gay did not make me a fundamentally different person. I now know that being gay is not an isolated part of me that I can take out for a parade each June, it informs everything I do. Pride for me is now a time to celebrate being a part of what Ned Weeks in "The Normal Heart" described as a culture that includes some of history's greatest leaders, artists and thinkers.
This month, I'll take Larry Kramer over "Love, Simon" as a guide for how to show my pride.
Joshua Keller is a Blade fellow and journalism student at Washington University in St. Louis.