June 6, 2020 at 10:48 am EDT | by Kaela Roeder
U.S. cities think outside the box for Pride 2020 amidst pandemic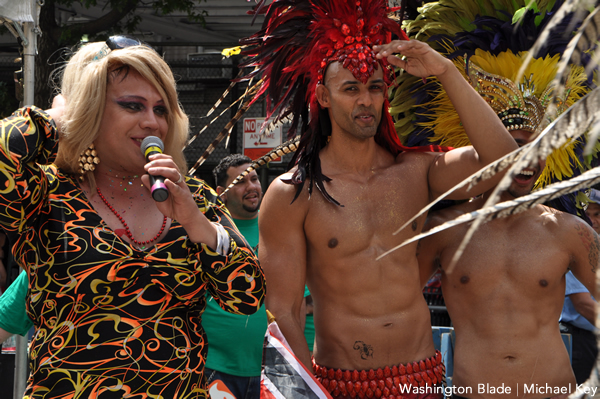 Pride festivals around the U.S. have been moved to virtual platforms, postponed or canceled altogether due to the coronavirus and social distancing requirements. Because many events are being moved online, LGBT people and allies now have the option to attend Pride events all over the country.
Some organizations have opted for an extensive list of events for the entire month of June — such as Houston, Seattle and Los Angeles — while others have postponed the festivities or completely canceled events for the year, like Phoenix and Philadelphia.
New York City: The "NYC Pride Special Broadcast Event" is Sunday, June 28, from noon-2 p.m. EST. This broadcast on ABC7 will feature performances by Janelle Monáe, Deborah Cox, Billy Porter, Luísa Sonza and others. The grand marshals of this year's NYC Pride include writer and producer Dan Levy, The Ali Forney Center and LGBT activists Yanzi Peng and Victoria Cruz. This year, NYC Pride "is committed to saluting front-line workers." For more information, visit nycpride.org.
Los Angeles: The "L.A. Pride 50th Anniversary Celebration" is Saturday, June 13, from 7:30-9 p.m. PST to be broadcast on ABC7, iHeartRadio social platforms and local radio stations. iHeart Radio will also broadcast daily episodes throughout June featuring LGBT artists and activists and other Pride-related programming.
iHeartRadio Los Angeles and the L.A. Pride association will also launch the "L.A. Pridecast" podcast in June, which will cover LGBT topics and feature a different member of the Los Angeles LGBT community each episode. Learn more about L.A. Pride at lapride.org.
San Francisco: The "S.F. Pride 2020 Online Celebration" will be held on Saturday, June 27 from 1-9 p.m., and Sunday, June 28 from 2-7 p.m. PST. The virtual event will include performances from celebrities, speeches from LGBT activists, DJ sets and drag performances. Learn more at sfpride.org.
Phoenix: The "40th Annual Phoenix Pride Festival" has been delayed to be celebrated in-person on Nov. 7-8. The festival is expected to have 150 entertainment performances and over 300 exhibitors displaying food, shopping and community resources. Learn more at phoenixpride.org.
Dallas: The "Dallas Pride 2020" board of directors has announced the event is going virtual and programming and dates are to be determined. Learn more at dallaspride.org.
Houston: The "2020 Houston LGBT+ Pride Celebration" in-person events have been moved to fall with dates to be announced. But there are several virtual events throughout the month of June, such as a Pride film festival on June 20 at noon, the "Rights of Human" conference with breakout sessions and presentations focused on transgender rights, immigration rights and more, "Pride Stars," an LGBT talent competition and many other digital functions. Learn more at pridehouston.org.
Philadelphia: "Philly Pride" organizers have canceled the PrideDay Parade and Festival, and no virtual events have been scheduled. "OutFest," an LGBT film festival scheduled for Sunday, Oct. 11, is still tentative. Learn more at phillygaypride.org.
Chicago: The Northalsted Business Alliance will host "Boystown's Virtual Chicago Pride Fest" on June 20-21 from 7-9 p.m. CST streaming on the platform Twitch. The event will feature a lineup of entertainment and speeches from LGBT activists. The event is free but will be accepting donations benefitting the Center on Halsted, an LGBT community center, and Howard Brown Health, and LGBT health services center. Learn more at northalsted.com/pridefest.
Seattle: Seattle Pride has a series of events planned throughout June, like Pride book clubs in partnership with the Museum of Pop Culture and "Sans Bar Where You Are" hosted by DRY Soda & Sans Bar on June 19 at 5 p.m. PST on Facebook Live featuring drag queen karaoke and a panel discussion on the issues of sobriety in the LGBT community. There are also events for a younger crowd: "Youth Pink Prom & Pride 2020" hosted by Lambert House on Saturday, June 27 from 5-11 p.m. is specifically for ages 13-22 on the gaming platforms Minecraft Java Edition and Discord. Learn more at seattlepride.org.
"Trans Pride Seattle" organizers have scheduled virtual events for June 26-28, featuring live performances, workshops and film screenings with more details to be announced. Learn more at transprideseattle.org.
Portland: Portland Pride has scheduled virtual events throughout June. The Portland Pride Virtual Festival will take place on Saturday, June 13 from 4-6:30 p.m, featuring performances from local artists, speeches from elected officials and local LGBT organizations. Organizers will stream a recording of the 1999 Portland Pride Parade on Sunday, June 14 from 11 a.m.-1 p.m in "Parade Like it's 1999!" Other events include karaoke events and performances from local drag queens. Learn more at portlandpride.org.