June 8, 2020 at 11:04 am EDT | by Lou Chibbaro Jr.
Pinto considered winner in Ward 2 D.C. primary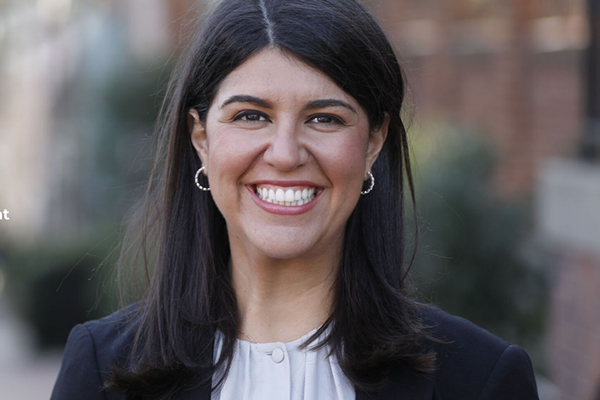 Although the D.C. Board of Elections has yet to certify the outcome, it became clear on Friday that former Assistant D.C. Attorney General Brooke Pinto would emerge as the winner of the city's June 2 Democratic primary in the hotly contested Ward 2 D.C. Council race.
At 4:15 p.m. on June 5 the Board of Elections released an updated vote count showing Pinto had 2,967 votes, or 28.36 percent of the vote in an eight-candidate race, with a lead of 347 votes over her closest rival, Foggy Bottom Advisory Neighborhood Commissioner Patrick Kennedy, who had 2,620 votes or 25.04 percent.
The June 5 vote count shows that Pinto had a 701 vote lead over former Obama administration official Jordan Grossman, who had 2,266 votes or 21.66 percent, putting him in third place and far ahead of the remaining five candidates.
Like all of the Ward 2 candidates running in the Democratic primary, Pinto, 28, has expressed strong support for LGBTQ rights. She has pointed to her work in advancing the rights of LGBTQ people in her role as an assistant to D.C. Attorney General Karl Racine, who endorsed her for the Council seat.
Gay Logan Circle Advisory Neighborhood Commissioner John Fanning, whose supporters said he would have played an important role as the Council's only LGBTQ member, finished in fifth place with 666 votes or 6.37 percent of the vote, according to the June 5 election returns.
Fanning, Grossman, and Kennedy have announced they have suspended their respective campaigns for a June 16 Ward 2 special election and have endorsed Pinto in the special election.
The special election was called after longtime Ward 2 Council member Jack Evans (D) resigned from the Council in January upon learning his Council colleagues were about to expel him for multiple ethics violations related to his private consulting work. Evans, one of the Council's strongest supporters of LGBTQ rights, angered many of his former constituents when he announced he was running in the primary for the seat from which he resigned 10 days earlier.
The June 5 vote count released by the Board of Elections shows Evans was in seventh place in the primary with 344 votes or 3.29 percent.
The election board has not stated on its website how many mail-in ballots it expected to receive between its vote count of June 5 and June 12, the deadline it set for accepting ballots received in the mail that were postmarked on June 2, the day of the primary.
However, Kennedy told the Washington Blade on Sunday that he received information indicating there were a little over 1,500 mail-in ballots outstanding in the Ward 2 race. He said he and his campaign team did not believe, based on the breakdown of the vote in earlier returns, that enough of the votes in those ballots would go to him to enable him to overtake Pinto's lead.
"I will not be campaigning in the special election, and since Brooke will be the Democratic nominee in the fall and therefore, almost assuredly will be the winner of the next four-year term, I support her in both the special and general elections so she can get a head start representing the ward," Kennedy told the Blade.
"To the people of Ward 2, thank you for considering my candidacy and thanks especially to the thousands of you who have engaged with us over the past 14 months," he said. "I will always treasure the experience."
Kennedy was referring to the city's registered voters, who are overwhelmingly Democratic and have almost always, since D.C.'s home rule local government was created in the early 1970s, elected Democratic candidates in the city's general election.
Fanning said based on his observations of Pinto on the campaign trail, he believes she is well qualified to address the pressing issues facing the city, including the coronavirus epidemic and the local impact of the murder of George Floyd by a white police officer in Minneapolis that has triggered ongoing protests in D.C.
"It is for all these reasons that I am endorsing Brooke and will be encouraging all my friends, neighbors, and supporters to vote for Brooke Pinto in the June 16 special election," Fanning said.
Fanning, 57, said he attributes his fifth place finish in the primary at least in part to a "generational gap" between him and all of the other candidates except Evans, who are in their 20s and 30s, considerably younger than Fanning.
"I think folks tied me into politics of the past," Fanning said. With many voters turned off by Evans, who had held the Ward 2 Council seat for nearly 29 years, Fanning said voters may have associated him with the same generation of politicians as Evans, even though Fanning's years of past work for the city government at the office of several mayors were far removed from the ethics scandals linked to Evans.
Fanning said he also agrees with others who believe Pinto benefited from the endorsement she received from the Washington Post, which gave her visibility as a political newcomer.
Republican Ward 2 candidate Katherine Venice ran unopposed in the D.C. Republican primary, also held on June 2. Venice, who expressed strong support for LGBTQ rights and said she strongly opposes Donald Trump's re-election, will be on the ballot in the November general election for the Ward 2 Council seat.
In other primary races, D.C. Council member and former D.C. mayor Vincent Gray (D-Ward 7), a longtime supporter of LGBTQ rights, and incumbent Council member Trayon White (D-Ward 8) won their respective primary races by wide margins.
Incumbent Council member Brandon Todd (D-Ward 4) lost his re-election bid in the primary to community activist Janeese Lewis George by a margin of 54.97 percent to 42.89 percent, according to the election board's June 5 vote count. Todd has a record of support for LGBTQ rights, and George expressed support for LGBTQ issues during the campaign.
In the Ward 2 race, the June 5 updated vote count showed these results for the eight candidates who ran in the Democratic primary:

Brooke Pinto—28.36%
Patrick Kennedy—25.04%
Jordan Grossman—21.66%
Kishan Putta—9.85%
John Fanning—6.37%
Yilin Zhang—4.19%
Jack Evans—3.29%
Daniel Hernandez—1.18%