June 15, 2020 at 1:45 pm EDT | by Michael K. Lavers
Republican Va. congressman who officiated gay couple's wedding loses seat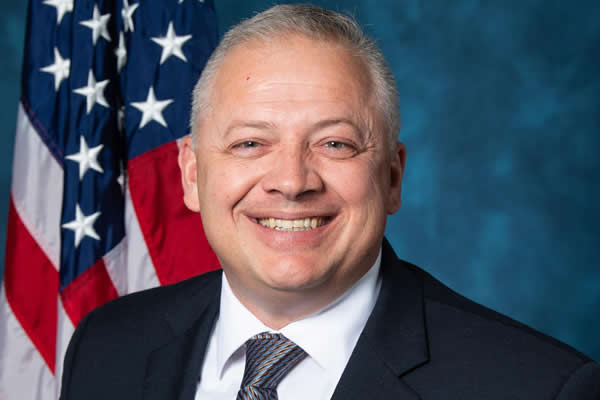 A Republican congressman from Virginia who officiated a same-sex couple's wedding lost his seat on Saturday.
Denver Riggleman faced a challenge from Bob Good, who was previously Liberty University's athletic director. The Roanoke Times reported Good received 58 percent of the vote in a Republican drive-through convention for Virginia's 5th congressional district that took place at a Lynchburg church.
The district includes large swaths of Central Virginia from Fauquier County to the North Carolina border. Riggleman has represented it in the U.S. House of Representatives since 2019.
The Rappahannock County Republican Committee last summer censured Riggleman after he officiated a gay couple's wedding.
The Roanoke Times reported Good said after Saturday's convention results were announced that he looks "forward to making the district bright red again." Riggleman, who President Trump and Jerry Falwell, Jr. endorsed, has challenged the convention results.
"Voting irregularities and ballot stuffing has been reported in multiple counties in the (5th congressional district)," tweeted Riggleman late Saturday. "Voter fraud has been a hallmark of this nomination process and I will not stand for it."
Riggleman also said the Republican Party of Virginia "needs to reevaluate their priorities."
"We are evaluating all our options at this time," he said.
The Democratic primary in the district will take place on June 23.
"After throwing a fit when their own congressman officiated a same-sex wedding, Republicans in Virginia's 5th congressional district successfully ousted Rep. Denver Riggleman and replaced him with an even more extreme Republican at a chaotic nominating convention rife with confusion and allegations of corruption," said the Democratic Party of Virginia in a statement.
The statement added "Virginia Republicans have completely lost touch with reality."
"Every year they nominate unpopular candidates with extreme positions, and every year they lose more and more races," said the Democratic Party of Virginia. "They're a party defined by incompetence and bigotry, and Bob Good has plenty of both."
The Roanoke Times reported political observers have determined Good's victory could benefit the winner of the Democratic primary heading into the general election, but the district remains majority Republican.