June 19, 2020 at 7:01 pm EDT | by Chris Johnson
Biden opposes same-sex marriage in 2006 clip blasted out by Trump campaign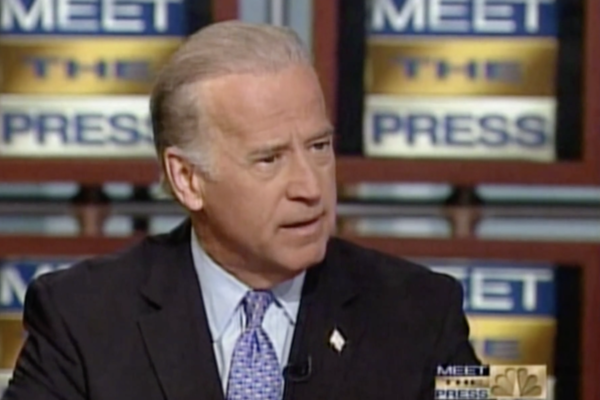 As the election season continues to heat up, President Trump's campaign distributed on Friday evening a video of Joseph Biden defending the anti-gay Defense of Marriage Act — and saying "marriage is between a man and a woman and states must respect that" — as evidence the candidate "flip-flops."
In the 2006 clip, then-host of "Meet the Press" Tim Russert asked Biden about then-President George W. Bush's repeated calls for Congress to pass a Federal Marriage Amendment, which would have banned same-sex marriage under the U.S. Constitution. The measure ultimately failed in Congress.
Biden, who voted against the Federal Marriage Amendment in 2004 as a U.S. senator from Delaware and would ultimately vote against it again in 2006, said the measure was not worth Congress' time.
Although Biden cited other pressing issues — such as the avian flu and an insufficient number of police officers — as reasons why a vote on the amendment was unnecessary, Biden also referenced DOMA, a measure he voted for in 1996 barring federal recognition of same-sex marriage, and asserted is between a man and a woman.
"We already have a law, the Defense of Marriage Act," Biden said. "We've all voted — not, where I've voted, and others have said, look, marriage is between a man and a woman and states must respect that. Nobody's violated that law, there's been no challenge to that law. Why do we need a constitutional amendment? Marriage is between a man and a woman."
The U.S. Supreme Court would later rule DOMA is unconstitutional in 2013 as a result of a lawsuit brought by lesbian widow Edith Windsor, who after her passing was dubbed the "mother of marriage equality." Two years later, the Supreme Court would rule for same-sex marriage nationwide.
Biden's remarks in 2006 stand in contrast to comments Biden made as vice president in 2012, when he was applauded for coming out in favor of same-sex marriage. His words were credited with leading to early marriage victories at the ballot that year in Maryland, Maine, Washington State and Minnesota.
"I am absolutely comfortable with the fact that men marrying men, women marrying women and heterosexual men and women marrying one another are entitled to the same exact rights, all the civil rights, all the civil liberties," Biden said in 2012. "And quite frankly, I don't see much of a distinction — beyond that."
The Trump campaign news blast linking to the 2006 Biden video cites it as an example of Biden "flip-flopping," a pejorative for a person changing their views, over the course of his long political career as a U.S. senator, vice president and now the 2020 presumptive Democratic presidential nominee.
Designating June 19 — the same day as Juneteenth — as "National Flip-Flop Day," the Trump campaign cites no fewer than 36 issues on which the candidate has expressed different views, including a U.S.-Mexico border fence, the Iraq war, deportations, charter schools and federal funding for abortions.
Jamal Brown, national press secretary for the Biden campaign, said any suggestion Biden isn't an champion of LGBTQ rights is utter nonsense.
"Joe Biden's legacy of advancing LGBTQ civil rights and acceptance is unmatched, and his historic support for marriage equality created a watershed moment in moving our country closer to its full promise of equality," Brown said.
Brown also cited Trump's mentor Roy Cohn — a New York attorney who opposed LGBTQ rights, but was secretly closeted and died of AIDS-related illness in 1986 — in denouncing Trump attacking Biden's record on LGBTQ issues.
"Donald Trump knows this, and he's clearly grasping at (rainbow) straws," Brown said. "He spent his entire term undermining the rights, protections, and physical well-being of LGBTQ people, and built his own unmatched record on LGBTQ rights like that of Roy Cohn's."
Trump himself is known for expressing different views on political issues — including same-sex marriage, but also DREAMers, the Iraq War and gun control.
On the issue same-sex marriage, CNN's Jake Tapper in 2015 posed a question about the then-days old U.S. Supreme Court ruling for same-sex marriage nationwide to Trump, who in response said he's for "traditional marriage."
Asked by Tapper what he would say to a lesbian who's married or a gay man who's married who would point out Trump was married three times, Trump replied, "I don't say anything. I'm just for traditional marriage."
Later during the 2016 presidential campaign, Trump said he was "surprised" by the ruling for same-sex marriage and would "strongly consider" appointing judges who'd reverse it.
White House officials now say Trump supports same-sex marriage, which seemed based on comments in 2016 when Trump said he's "fine" with the decision and considers the matter "settled." However, Trump has appointed federal judges with hostility toward marriage rights for gay couples.
Trump also expressed different views on another LGBTQ issue: Federal non-discrimination protections. In 2000, Trump told The Advocates he liked the idea of adding sexual orientation to the Civil Rights Act, but later as president in 2019 came out against the Equality Act, which would accomplish that goal.
The Justice Department argued against LGBTQ protections under the Civil Rights Act in case of Bostock v. Clayton County. When the ruling came down the other way in favor of LGBTQ rights, Trump was vague in response, but called it a "very powerful decision."