June 19, 2020 at 8:07 am EDT | by Brian T. Carney
'Love, Victor' is wobbly spinoff series of hit gay rom-com 'Love, Simon'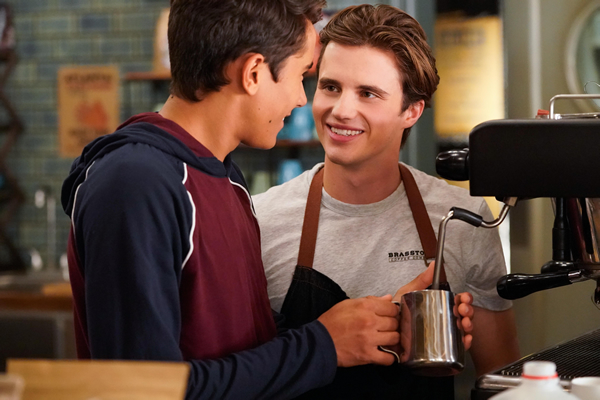 Two years ago, openly gay media tycoon Greg Berlanti (director of "The Broken Hearts Club" and creator of over a dozen LGBT-friendly DC Comic Multiverse series on the CW) hit it big at the multiplex with "Love, Simon," the first mainstream big-screen rom-com about gay teens.
This year, Berlanti's screenwriters, Isaac Aptaker and Elizabeth Berger, try to recreate the magic with a small-screen reboot called "Love, Victor."
The new series, now streaming on Hulu, is pleasant but bland.
"Love, Simon" is centered on Simon Spier (Nick Robinson), a senior at Creekwood High School outside of Atlanta. He knows he's gay, but he's afraid to come out. He gets caught up in a blackmail scheme and his own selfish behavior, but everything works out when he finally comes out of the closet and kisses the boy of his dreams on the Ferris Wheel at the Winter Carnival.
The movie was a popular and critical success. Despite an awkward tone-deafness about class, "Love, Simon" was an important milestone in LGBT cinema. In addition to Robinson's charming lead performance, the movie featured a great supporting cast (especially Josh Duhamel as Simon's goofy dad, Talitha Bateman as his little sister and Natasha Rothwell as a frazzled drama teacher) and a well-deserved feel-good ending.
"Love, Victor" picks up a year later. Victor Salazar (Michael Cimino) has transferred to Creekwood High in the middle of his sophomore year; his family has reluctantly relocated from Texas to Georgia when his father starts a new job. He quickly hears about the legendary Simon Spier and the two start to message each other.
Victor also meets his geeky neighbor Felix who shows Victor around school and takes him to the Winter Carnival. Everyone is there: Victor's parents Armando and Isabel, whose relationship is going through a rough patch; Victor's flamboyant younger brother Adrian; and his sullen sister Pilar, who misses her boyfriend back in Texas; the smart and sensitive Mia, who shares a Ferris Wheel ride with Victor; the popular Lake, whom Felix has a secret crush on; the bully Andrew; and the adorable Benji, whom Victor is instantly attracted to.
Their stories unfold over the course of 10 half-hour episodes. Even though Aptaker and Berger have centered the show on the middle-class Catholic Salazar family, the material seems familiar, sticking closely to the movie and to similar teen dramas — and running into some serious roadblocks.
One of the biggest problems is the continued presence of Simon (straight actor Nick Robinson recreates his Simon role as narrator and also produced the series). Victor's messages to Simon overexplain everything and turn Victor into a much less interesting and appealing character. Simon's responses become boring and start to sound like empty platitudes. Cimino gets lost in the shuffle.
More seriously, Victor lacks much Simon's charm and sense of humor. He is also a much more manipulative character than Simon. He purposefully lies to Mia, to Benji and to his parents. It's not a pleasant trait.
A lot of guest stars (Ali Wong, Natasha Rothwell, Andy Richter, Mekhi Phifer) are wasted in badly written cameo roles, but overall, the supporting cast turn in fine performances. Ana Ortiz ("Ugly Betty") and James Martinez ("One Day at a Time") are excellent as Victor's parents. They are dealing with interesting issues in their relationship, but it's difficult to believe that they would ever turn their backs on one of their children. Mateo Fernandez is delightful as Victor's little brother Adrian, although the character needs much more screen time. Isabella Ferreira is good as Victor's sister Pilar even if her role gets a little monotonous.
Anthony Turpel and Bebe Wood nearly steal the show every time they're onscreen. They're funny, quirky and energetic and have a wonderful chemistry together. George Sear is endearing as Benji and Mason Gooding ("Booksmart") is surprisingly appealing as a bully with a heart of gold.
"Love, Victor" is a satisfying if somewhat predictable series. Along with some fine performances, the show has slick production values and solid pacing and the writers have a great ear for authentic-sounding dialogue. There are some serious problems with the writing, but these may be the result of transferring the material from the big screen to episodic television. ("Dear White People," for example, had similar problems during its first season.)
Hopefully, the show will have a more successful sophomore year. It will be fun to see these characters move in new directions.