Editorial: 'El Orgullo LGBTI+ y la lucha por el matrimonio igualitario en Cuba'
Activistas han llegado a este mes del Orgullo más organizados que nunca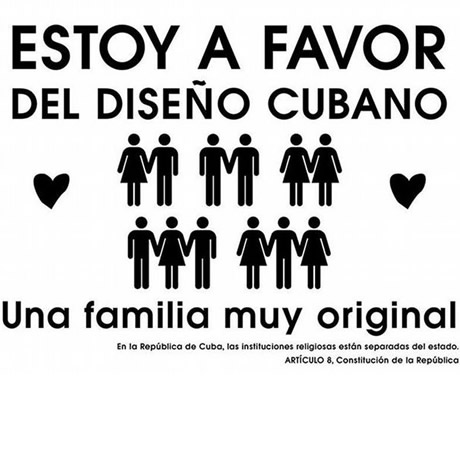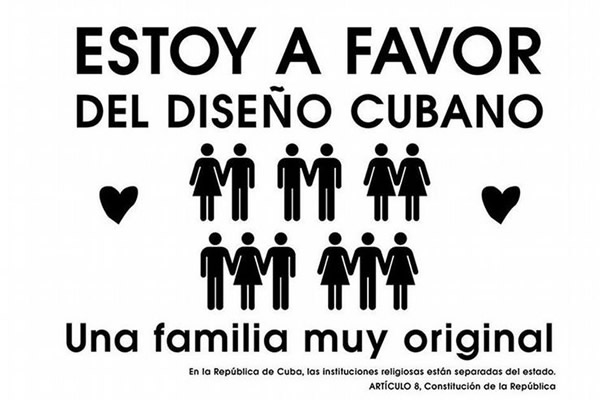 Nota del editor: Tremenda Nota es el medio socio del Washington Blade en Cuba. Este editorial salió en su sitio web el 29 de julio.
Los colectivos LGBTI+ de Cuba han llegado a este 28 de junio más organizados que nunca antes. 
La Plataforma 11M, que es el grupo más activo, hizo gala de fuerza este mes con una besada virtual y un tuitazo a favor del matrimonio igualitario que se reeditará el 11 de cada mes, en referencia al 11 de mayo de 2019, cuando cientos de activistas y sus aliados marcharon en La Habana sin autorización.
El Orgullo que los movimientos LGBTI+ del mundo entero celebraron este domingo es una celebración de la rebeldía, a diferencia de otras conmemoraciones, como la del Día Internacional contra la Homofobia, la Transfobia y la Bifobia ―el 17 de mayo―, que se originó en un gesto institucional de la Organización Mundial de la Salud.
Mientras el 17 de mayo es una fecha que recuerda el triunfo del sentido común sobre los prejuicios culturales del discurso médico, el 28 de junio significa la rebeldía LGBTI+ sin concesiones. El acto de desobedecer.
Ninguna institución, ni siquiera los Estados, tiene derecho a enfermarnos o sanarnos, a igualarnos a todos o rebajarnos a una ciudadanía de segunda clase, según determine la voluntad política.
Las instituciones cubanas, que siguen patologizando los cuerpos trans y discriminando el acceso a la fertilización, por hablar solo de dos gestos reguladores, llevan años retardando la implementación en las leyes de matrimonios LGBTI+ que, no obstante, existen.
En la tradición patriarcal, existir más allá del Estado es un gran atrevimiento. En el mundo heterosexual, es el Estado quien decide qué eres. Se ocupa de reglamentarlo y registrarlo minuciosamente, siempre con el afán controlador y empobrecedor que es consustancial al origen y la práctica de los Estados.
Los maricones y tortilleras y travestis y trans nacimos en esa tradición. Vivimos en la paradoja de negar ese orden y a la vez, como forzosamente, sin más opción, querer asimilarnos a él.
Nosotras no tenemos patria.
Las patrias no son esencias, sino discursos. Y siempre, hasta ahora, ha sido el discurso de un grupo, de una clase o de una ideología que pretende prevalecer.
Ningún ideal de ciudadanía concebido desde los presupuestos nacionalistas tradicionales ha aportado siquiera un trato respetuoso para las comunidades LGBTI+ en Cuba ni en ninguna parte.
No obstante, como fuimos asimiladas a esos Estados sin que nos consultaran y recibimos de ellos, como una asignación incuestionable, un género y una orientación sexual, tenemos derecho a exigirles a estas alturas, al menos, un trato igualitario.
El matrimonio civil es un derecho alcanzado en la mayor parte del mundo desde el siglo XIX por las personas heterosexuales y afiliadas en general a las normas patriarcales.
Es, también, una institución reguladora que establece solamente una relación de esas parejas con el poder efectivo e implica una sumisión. Otras opciones de relacionarse o de constituir familias, por suerte, siguen funcionando al margen del sistema.
Pelear por el matrimonio igualitario, como ha hecho en Cuba la comunidad LGBTI+ con más empeño desde 2018, ha sido, sin embargo, la oportunidad más viable para desmantelar la vieja patria donde hemos vivido como inquilinos hasta ahora.
Los intentos de activismo sustentados por una sensibilidad "oficial", como el emprendido por Mariela Castro y el Centro Nacional de Educación Sexual durante la última década, fracasaron precisamente por haber nacido sujetos al deseo de asimilarnos a un orden que nos excluye, sin comprender la naturaleza histórica de esa relación opresiva.
Sin revisar y cuestionar abiertamente la homofobia y transfobia de Estado, no solo cultural sino política, ejercida en Cuba hasta el presente, las comunidades LGBTI+ no tienen ninguna oportunidad de conseguir ni siquiera la igualdad sometida que pudiéramos obligar al poder a otorgarnos.
El Orgullo LGBTI+ debería ser la fiesta de quienes ya superaron la tentación de asimilarse y, si van a pelear en el terreno del Estado, fingirán que aspiran a incluirse en las reglas para ganar pequeñas victorias.
El matrimonio igualitario es la meta de ahora. Y hay que lograrlo sin referendo, a pesar de la norma establecida por el parlamento cubano con el propósito de buscar un consenso injusto, por razones no solo prácticas.
El matrimonio igualitario no nos dará una patria, pero hará más habitable la patria que nos impusieron. Con esa certeza hay que ir por él.
US ambassador to UN calls for repeal of criminalization laws
Linda Thomas-Greenfield spoke at U.N. LGBTI Core Group event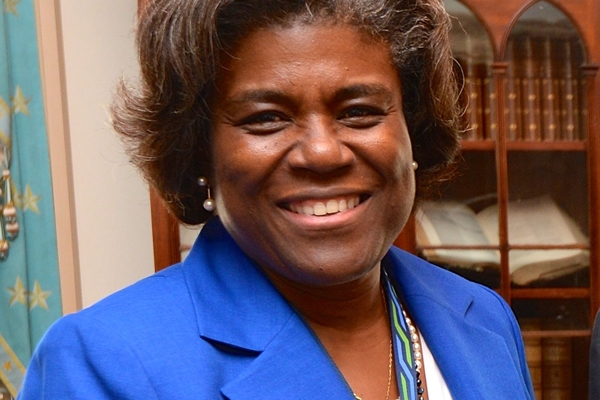 United States Ambassador to the U.N. Linda Thomas-Greenfield is among those who participated in a Wednesday event on the sidelines of the U.N. General Assembly that highlighted efforts to decriminalize consensual same-sex sexual relations.
Thomas-Greenfield in her remarks during the largely virtual U.N. LGBTI Core Group event noted consensual same-sex sexual relations remain criminalized in more than 70 countries.
"For millions of people it is illegal for them to be who they are, to love who they love. We need to repeal and eliminate these laws," she said. "For our part, the United States is using our diplomacy, our foreign assistance and every tool we have to protect human rights, empower civil society and support local LGBTQI movements."
The U.S. is one of 35 countries that are members of the Core Group.
Wednesday's event also highlighted efforts to decriminalize transgender people and repeal laws that specifically target them.
"We need more countries to join this committed group," said Thomas-Greenfield. "Together, let's do everything we can to protect human rights and promote equality for all."
Belgian Prime Minister Alexander De Croo; Nepalese Ambassador to the U.N. Amrit Bahadur Rai; New Zealand Ambassador to the U.N. Craig Hawke; Australian Permanent U.N. Representative Mitch Fifield; Brazilian Ambassador to the U.N. Rolando Costa Filho; Canadian Ambassador to the U.N. Robert Keith Rae; Assistant U.N. Secretary General for Strategic Coordination Volker Türk; Argentine Foreign Affairs Minister Santiago Cafiero; Dutch Foreign Affairs Minister Tom de Bruijn; Japanese Foreign Minister Jun Shimmi; Norwegian Foreign Affairs Minister Ine Eriksen Soreide; Salvadoran Foreign Affairs Minister Alexandra Hill Tinoco; Costa Rican Vice Multicultural Affairs Minister Christian Guillermet-Fernández; Finnish Foreign Affairs Ministry Johanna Sumuvuori; Nick Herbert of the British House of Lords; European Union Equality Commissioner Helena Dalli; Swedish Foreign Affairs Minister Ann Linde; Icelandic Foreign Affairs Minister Gudlaugur Thór Thórdarson; Maltese Equality, Research, Innovation and the Coordination of Post COVID-19 Strategy Minister Owen Bonnici; Mexican Multilateral Affairs and Human Rights Undersecretary Martha Delgado; Italian Foreign Affairs Undersecretary Benedetto Della Vedova; Chilean Foreign Affairs Undersecretary Carolina Valdivia; German MP Michael Roth; Irish State for Overseas Development Aid and Diaspora Minister Colm Brophy and Danish Development and Nordic Cooperation Minister Flemming Møller Mortensen participated in the event that Reuters U.N. Bureau Chief Michelle Nichols emceed.
Acting OutRight Action International Executive Director Maria Sjödin and activists from Bhutan, Botswana, Guyana, Mozambique, Angola, Panamá and India took part. Victor Madrigal-Borloz, the independent U.N. expert on LGBTQ issues, and Nikkie de Jager, a Dutch U.N. goodwill ambassador known as NikkieTutorials who is trans, also participated.
"Decriminalization is a very basic demand," said Sjödin. "Given how many countries have these laws on the books, it is still a priority."
Herbert, who is British Prime Minister Boris Johnson's LGBTQ envoy, noted consensual same-sex sexual relations remain criminalized in 35 of the Commonwealth's 54 countries. Herbert also announced the U.K. will give an additional $2.75 million to "support LGBT+ individuals in Commonwealth countries, including to those seeking to address outdated legislation that discriminates against women, girls and LGBT+ individuals."
"We are clear that tackling discrimination is only one part of the issue," said Herbert. "We must encourage countries as well to put in place laws that protect their LGBTI citizens going forward."
President Biden in February signed a memorandum that committed the U.S. to promote LGBTQ rights abroad. The decriminalization of consensual same-sex sexual relation is one of the White House's five global LGBTQ rights priorities.
Capital Pride bids for D.C. to host World Pride 2025
International event draws thousands of visitors
The Capital Pride Alliance, the group that organizes D.C.'s annual LGBTQ Pride events, announced on Sept. 21 that it has submitted a bid to host 2025 World Pride, the international Pride event that draws thousands of participants from throughout the world to the host city.
The announcement by Capital Pride says its bid to host the event in D.C. notes that the event, among other things, would commemorate the 50th anniversary of D.C.'s first LGBTQ Pride event in 1975, which began as a block party near Dupont Circle.
World Pride is licensed and administered by the international LGBTQ organization InterPride. The World Pride events themselves, which usually take place every other year, are organized by InterPride's member organizations such as Capital Pride Alliance.
The Capital Pride announcement notes that World Pride "promotes visibility and awareness of lesbian, gay, bisexual, transgender, intersex and queer (LGBTIQ+) issues on a global level." The announcement adds, "World Pride events include parades, marches, festivals and other cultural activities often enjoyed at Pride celebrations, along with other components such as a human rights conference and large-scale opening and closing ceremonies."
The InterPride website says the deadline for submitting a bid for the 2025 World Pride has passed. It says D.C.'s Capital Pride and Kaohsiung Pride, located in the large Taiwan port city of Kaohsiung, are the only two remaining cities in competition for hosting the 2025 World Pride.
Ryan Bos, Capital Pride's executive director, said InterPride was expected to make its decision on which of the two cities to select sometime in November of this year.
"A recent study conducted by Booz Allen Hamilton revealed that the annual Capital Pride Celebrations, during normal years, result in approximately $371 million in positive economic impacts to the region, a number that may be doubled if the organization is awarded the prestigious event," the Capital Pride statement says.
The 2021 World Pride took place earlier this year in Copenhagen, Denmark. The 2019 World Pride was held in New York City to commemorate the 50th anniversary of New York's Stonewall riots, which many activists consider the start of the modern LGBTQ rights movement.
InterPride says the 2023 World Pride will take place in Sydney, Australia.
Roundup of cities hosting Pride events next month — and those that cancelled
Annapolis, Richmond among postponements in mid-Atlantic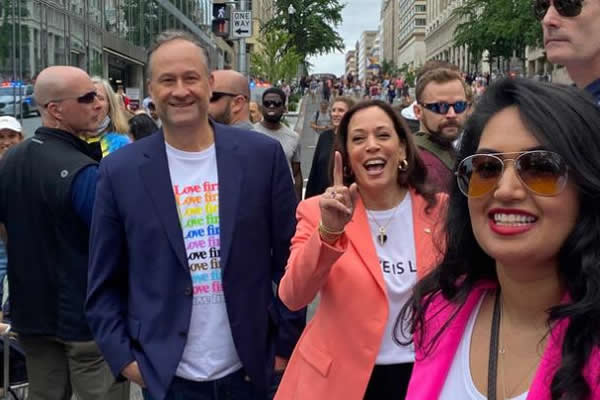 Although organizers are closely watching COVID-19 related developments in their states, at least 15 outdoor, in-person LGBTQ Pride events were scheduled to take place across the U.S. in the fall of 2021, according to the international LGBTQ group InterPride and online announcements by organizers of the Pride events.
Cities in which the fall Pride events are scheduled to take place include D.C.; Fort Lauderdale; Palm Springs, Calif.; Las Vegas; Dover, Del.; and three small cities in Maryland.
The decision to move ahead with those events came shortly after Pride organizers in at least five cities announced they were cancelling their events for this fall due to concern over the COVID pandemic. Among them are Richmond, Va.; Annapolis, Md.; Atlanta; Louisville, Ky.; and San Francisco.
Organizers of a fall Pride event in Philadelphia also cancelled that event, originally set for Sept. 4. But the Philadelphia Gay News reports that the cancellation was not due to COVID but instead was due to objections by members of the community to the policies of the event's organizers and a controversial public statement by one of the organizers considered by some to be derogatory to transgender people.
A statement announcing the cancellation of a San Francisco LGBTQ Pride Freedom Day Fest scheduled for Oct. 20 by its organizers appears to capture the sentiment of organizers of the other fall Pride events that were also cancelled.
"[W]e've determined that to produce a street fair with the safety and health of our communities at top priority, at the quality expected of SF Pride, is just not feasible this fall," the statement says. "We are not cancelling – we're merely postponing. Over the coming months, in addition to some new and returning fundraising events, we're going to focus our energy on Pride 2022," the statement continues.
"We remain as excited as we ever were to capture that spirit of wonder and look forward to bringing Freedom Day Fest to all of you in October 2022," it says.
San Francisco Pride organizers noted that the fall Freedom Day Fest event was to be an addition to the city's regularly scheduled Pride parade and festival that has taken place in June prior to the COVID outbreak but that were cancelled this year and last year.
The Richmond Pride event, known as Virginia Pridefest, was scheduled to take place Sept. 25. The event, which was also cancelled last year due to COVID, has attracted tens of thousands of participants in previous years.
"After consulting with our many corporate sponsors, organizational partners and volunteers we have decided it is in the best interest of the health and safety off our community to postpone VA Pridefest 2021," organizers said in an Aug. 27 statement. "Our preparation puts us on solid footing as we postpone the festival to 2022 when we hope to hold it in June as part of the national observation of LGBTQ Pride Month," the statement says. "This has long been a goal of ours, and this just may give us that opportunity," it says.
Although organizers of Annapolis Pride cited COVID concerns as their reason for cancelling that event, which was scheduled for Oct. 30, activists in three smaller Maryland cities have chosen not to cancel their Pride events.
They include the Howard County Pride Festival scheduled for Oct. 9 in Columbia, Md.; the Upper Chesapeake Bay Pride Festival, also set for Oct. 9 in Havre De Grace, Md.; and Southern Maryland Pride scheduled for Oct. 16 in Solomons, Md.
Like D.C.'s Capital Pride Alliance, Pride organizers in Baltimore cancelled their traditional June Pride parade and festival for the second year in a row and instead held more than a dozen smaller events in June of this year, both in-person and virtual.
In Los Angeles, Christopher Street West, the group that organizes that city's Pride events, including its annual Pride Parade which in pre-COVID years has attracted hundreds of thousands of participants, also cancelled this year's parade for the second year in a row. Like other cities, the group held several virtual Pride events in June.
Los Angeles Blade Publisher Troy Masters organized a Pride Walk in June that attracted a few hundred participants in an effort, Masters said, to hold at least one in-person event to celebrate Pride during the traditional Pride Month in June.
A larger outdoor Pride event did take place in LA Aug. 27-29, called the DTLA Proud Festival, with "DT" referring to downtown LA.
Capital Pride Alliance, which organizes D.C.'s annual Pride parade and street festival that have attracted over 200,000 participants in pre-COVID times, held a scaled back Pride Walk and Pride celebration at D.C.'s Freedom Plaza in June. The group has scheduled an Oct. 17 Pride Street Fair and Block Party on 15th Street, N.W. between P and Q Streets that it's calling Colorful Fest.
On its website, Capital Pride says those entering the block party, which will be in a fenced in area where alcohol will be served, will be required to show proof of COVID vaccination.
"The Capital Pride Alliance is committed to finding opportunities for the LGBTQ+ community to gather together safely, especially as the fall and winter seasons will soon make it more difficult to hold outdoor events and pandemic guidelines will make indoor events challenging," Capital Pride Executive Director Ryan Bos told the Blade. "To that end, we are working closely with the DC Government and following all current COVID-19 guidelines to have a safe outdoor event," Bos said.
The Louisville, Ky., Pride, which had been scheduled for Sept. 18, is among the Pride events cancelled this fall due to COVID concerns, according to its organizers. But a second Pride event held in Louisville each year called Kentuckiana Pride, will take place as planned on Oct. 8-9 with a parade and festival.
Chad Eddings, the Kentuckiana Pride co-director, told the Blade the event would take place in an enclosed outdoor area and participants must show proof of vaccination or a recent negative COVID test as a requirement for admission. He said the event usually draws about 15,000 people.
Cities in which fall Pride events are still scheduled to take place or have already taken place include Burlington, Vt. (Sept. 5); Miami Beach, Fla. (Sept. 18-19); Columbus, Ind. (Sept. 18); North Texas Pride Festival in Plano, Tex. (Sept. 25); Delaware Pride in Dover (Oct. 2); South Florida Afro Pride Parade & Music Festival in Ft. Lauderdale (Oct. 7-11); Las Vegas Pride Parade & Festival (Oct. 8-9); D.C Pride Street Fair & Block Party (Oct. 17) Pacific Northwest Black Pride in Seattle, Wash. (Oct. 29-31); Phoenix Pride Festival & Parade in Phoenix, Ariz. (Nov. 6-7); Palm Springs, Calif., Pride (Nov. 1-7); and Fort Lauderdale, Fla., Pride Parade & Festival (Nov. 20).
InterPride, the LGBTQ organization that keeps track of Pride events "all over the world," released the results of a survey it conducted of 201 worldwide Pride organizations to find out the type of Pride events they were planning for this year. The findings show that the largest number – 40.8 percent – reported they would be holding both in-person and virtual Pride events.
The findings show that 35.3 percent of the Pride organizations planned just in-person events this year; 19.9 percent planned only online or virtual events; and 4 percent either were not planning any events this year or had canceled their events.
The survey results released by InterPride did not breakdown the findings by specific countries.