Editorial: 'El Orgullo LGBTI+ y la lucha por el matrimonio igualitario en Cuba'
Activistas han llegado a este mes del Orgullo más organizados que nunca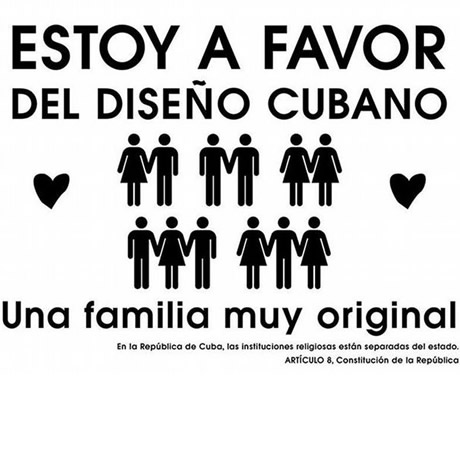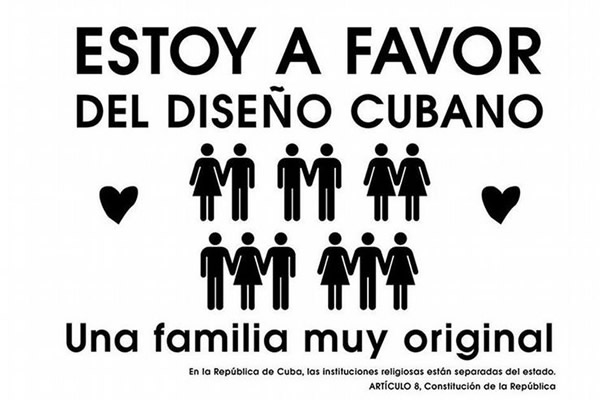 Nota del editor: Tremenda Nota es el medio socio del Washington Blade en Cuba. Este editorial salió en su sitio web el 29 de julio.
Los colectivos LGBTI+ de Cuba han llegado a este 28 de junio más organizados que nunca antes. 
La Plataforma 11M, que es el grupo más activo, hizo gala de fuerza este mes con una besada virtual y un tuitazo a favor del matrimonio igualitario que se reeditará el 11 de cada mes, en referencia al 11 de mayo de 2019, cuando cientos de activistas y sus aliados marcharon en La Habana sin autorización.
El Orgullo que los movimientos LGBTI+ del mundo entero celebraron este domingo es una celebración de la rebeldía, a diferencia de otras conmemoraciones, como la del Día Internacional contra la Homofobia, la Transfobia y la Bifobia ―el 17 de mayo―, que se originó en un gesto institucional de la Organización Mundial de la Salud.
Mientras el 17 de mayo es una fecha que recuerda el triunfo del sentido común sobre los prejuicios culturales del discurso médico, el 28 de junio significa la rebeldía LGBTI+ sin concesiones. El acto de desobedecer.
Ninguna institución, ni siquiera los Estados, tiene derecho a enfermarnos o sanarnos, a igualarnos a todos o rebajarnos a una ciudadanía de segunda clase, según determine la voluntad política.
Las instituciones cubanas, que siguen patologizando los cuerpos trans y discriminando el acceso a la fertilización, por hablar solo de dos gestos reguladores, llevan años retardando la implementación en las leyes de matrimonios LGBTI+ que, no obstante, existen.
En la tradición patriarcal, existir más allá del Estado es un gran atrevimiento. En el mundo heterosexual, es el Estado quien decide qué eres. Se ocupa de reglamentarlo y registrarlo minuciosamente, siempre con el afán controlador y empobrecedor que es consustancial al origen y la práctica de los Estados.
Los maricones y tortilleras y travestis y trans nacimos en esa tradición. Vivimos en la paradoja de negar ese orden y a la vez, como forzosamente, sin más opción, querer asimilarnos a él.
Nosotras no tenemos patria.
Las patrias no son esencias, sino discursos. Y siempre, hasta ahora, ha sido el discurso de un grupo, de una clase o de una ideología que pretende prevalecer.
Ningún ideal de ciudadanía concebido desde los presupuestos nacionalistas tradicionales ha aportado siquiera un trato respetuoso para las comunidades LGBTI+ en Cuba ni en ninguna parte.
No obstante, como fuimos asimiladas a esos Estados sin que nos consultaran y recibimos de ellos, como una asignación incuestionable, un género y una orientación sexual, tenemos derecho a exigirles a estas alturas, al menos, un trato igualitario.
El matrimonio civil es un derecho alcanzado en la mayor parte del mundo desde el siglo XIX por las personas heterosexuales y afiliadas en general a las normas patriarcales.
Es, también, una institución reguladora que establece solamente una relación de esas parejas con el poder efectivo e implica una sumisión. Otras opciones de relacionarse o de constituir familias, por suerte, siguen funcionando al margen del sistema.
Pelear por el matrimonio igualitario, como ha hecho en Cuba la comunidad LGBTI+ con más empeño desde 2018, ha sido, sin embargo, la oportunidad más viable para desmantelar la vieja patria donde hemos vivido como inquilinos hasta ahora.
Los intentos de activismo sustentados por una sensibilidad "oficial", como el emprendido por Mariela Castro y el Centro Nacional de Educación Sexual durante la última década, fracasaron precisamente por haber nacido sujetos al deseo de asimilarnos a un orden que nos excluye, sin comprender la naturaleza histórica de esa relación opresiva.
Sin revisar y cuestionar abiertamente la homofobia y transfobia de Estado, no solo cultural sino política, ejercida en Cuba hasta el presente, las comunidades LGBTI+ no tienen ninguna oportunidad de conseguir ni siquiera la igualdad sometida que pudiéramos obligar al poder a otorgarnos.
El Orgullo LGBTI+ debería ser la fiesta de quienes ya superaron la tentación de asimilarse y, si van a pelear en el terreno del Estado, fingirán que aspiran a incluirse en las reglas para ganar pequeñas victorias.
El matrimonio igualitario es la meta de ahora. Y hay que lograrlo sin referendo, a pesar de la norma establecida por el parlamento cubano con el propósito de buscar un consenso injusto, por razones no solo prácticas.
El matrimonio igualitario no nos dará una patria, pero hará más habitable la patria que nos impusieron. Con esa certeza hay que ir por él.
LGBTQ rights group sues Kenya police chief over anti-gay protests
Mombasa demonstrations began after ruling allowed NGO to register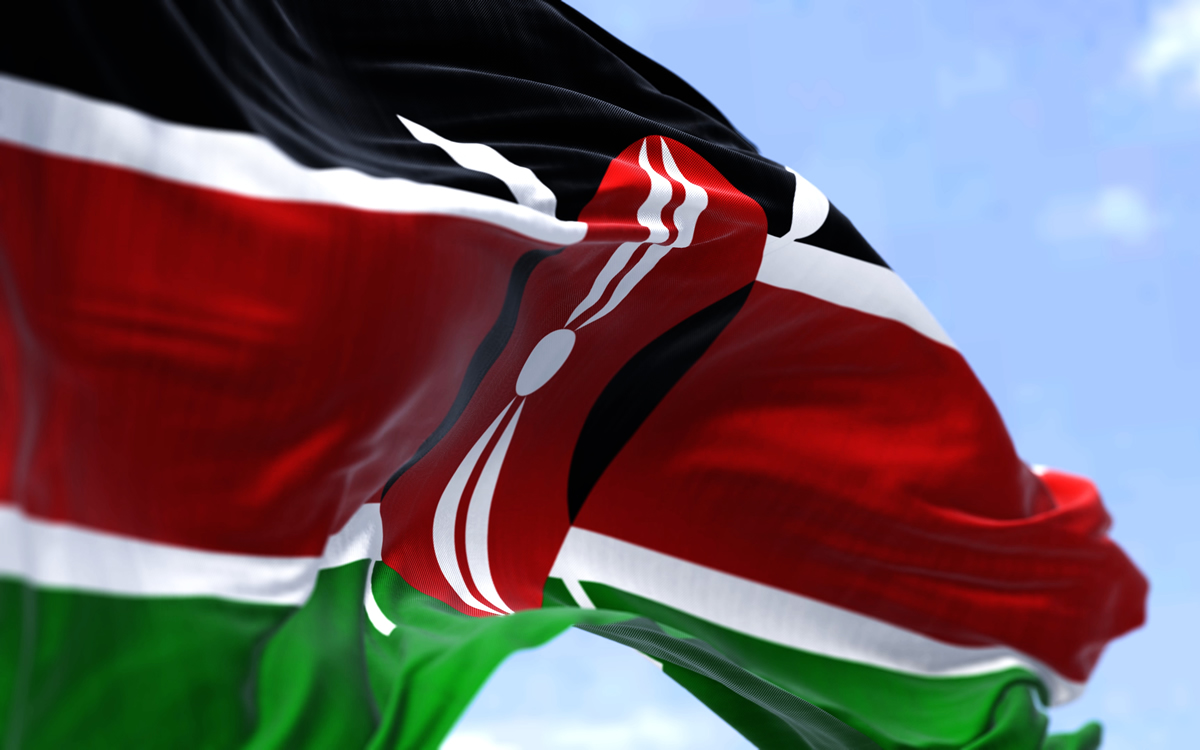 An advocacy group in Kenya has sued Police Inspector General Japhet Koome for allowing religious leaders and lobby organizations to hold homophobic protests whenever court rulings favor the LGBTQ community.
Two petitioners — Mr. JM and the Center for Minority Rights and Strategic Litigation — have sued Koome in the High Court in Mombasa, the country's second largest city, and demanded a "ban on anti-LGBTQ protests in the country."
The petitioners' move is in response to recent anti-LGBTQ protests, particularly in Mombasa after last month's Supreme Court ruling that affirmed its February decision in support of the National Gay and Lesbian Rights Commission and its ability to register as an NGO.
The controversial ruling sparked criticism from clerics, politicians and the general public. Demonstrations the two petitioners have described as gross human rights violations against the LGBTQ community followed.
An MP from the ruling party and Mohamed Ali — a celebrated investigative journalist whose anti-gay motion for the government to ban public discussion, reporting and distribution of LGBTQ content in the country passed overwhelmingly in Parliament — are among those behind the homophobic Mombasa protests.
Six LGBTQ lobby groups applauded the rulings as a "crucial shot in the arm towards LGBTQ rights" and condemned protest organizers for "mobilizing towards hatred and marginalizing others."
Mr. JM and CMRSL have also sued two anti-LGBTQ activists and a national lobby group dubbed the "Anti-LGBTQ Movement" that organized the demonstrations, in addition to the police official whose office authorizes street marches by issuing permits to protesters.  
"The petitioners have sought to include new amendments to the petition filed last week via the court's online filing system and they have until Oct. 11 when the court will give directions to the hearing of the case," a source familiar with the petition told the Washington Blade.
To stop any future homophobic protests, the petitioners want the court to declare the LGBTQ community is also entitled to constitutional rights and freedoms without hate or discrimination just like their opposite-sex counterparts.
They argue the anti-LGBTQ protests, characterized by incitement to violence in March and last month in response to the Supreme Court's rulings, have led to increased cases of homophobia and threats to the lives of the queer community across the country.
The petitioners claim the "Anti-LGBTQ Movement" group has been propagating "violence, elimination and expulsion" of the queer community from the country in its relentless homophobic campaign. They further allege that organizations working with LGBTQ people have recorded "more than 100 cases of violence, forced evictions and denial of services" by landlords, employers and the public as a result of these protests. 
The petitioners also claim the protests have led to the shutting down of "more than 20 organizations and medical facilities" that provide essential HIV and STI treatment services to LGBTQ people because of security concerns.   
Mr. MJ and CMRSL in their case have included the Kenya National Commission on Human Rights, a state-funded watchdog organization, as an interested party, although it always distances itself from defending LGBTQ rights.
The Kenyan Constitution, which only recognizes consensual opposite-sex relations, directs the KNCHR. Section 162 of the penal code criminalizes consensual same-sex sexual relations. 
This sidelining has forced the LGBTQ community to demand a representative to the KNCHR to represent their interests, such as intersex people who are represented after a landmark law that recognizes them as Kenya's third sex, took effect in July 2022. The petitioners did not engage KNCHR before listing it as an interested party.
The state-funded National Cohesion and Integration Commission, Amnesty International Kenya and the Kenya Human Rights Commission are among the other institutions the two petitioners have included in the case as interested parties.
Amnesty International Kenya with Irungu Houghton as its executive director on Sept. 30 held the "State of Freedoms and Rights in 2023" conference in partnership with United States International University Africa in Nairobi, the Kenyan capital. Participants demanded respect for the rights of every person, including members of the LGBTQ community.
The rights organization vowed to fight any infringement of the rights of any person or group, regardless of their gender or sexual orientation, in line with its newly launched 4-year strategic framework for 2024-2028 that will guide its human rights advocacy.
Meanwhile, some parents in one of Kenya's all female high schools are angry after administrators suspended 18 students who allegedly engaged in what they described as lesbianism.
The students' suspension from Cardinal Otunga Girls' High School in the western part of the country last week has caused fury among their parents, because they are set to start taking their final high school national exams on Oct. 10. This action comes amid the government's plans to consider a recommendation from a presidential task force on education reforms to hire imams and chaplains in schools to guide students against what they feel is the infiltration of LGBTQ practices.
Kevin McCarthy ousted as House speaker
Matt Gaetz led effort against Calif. Republican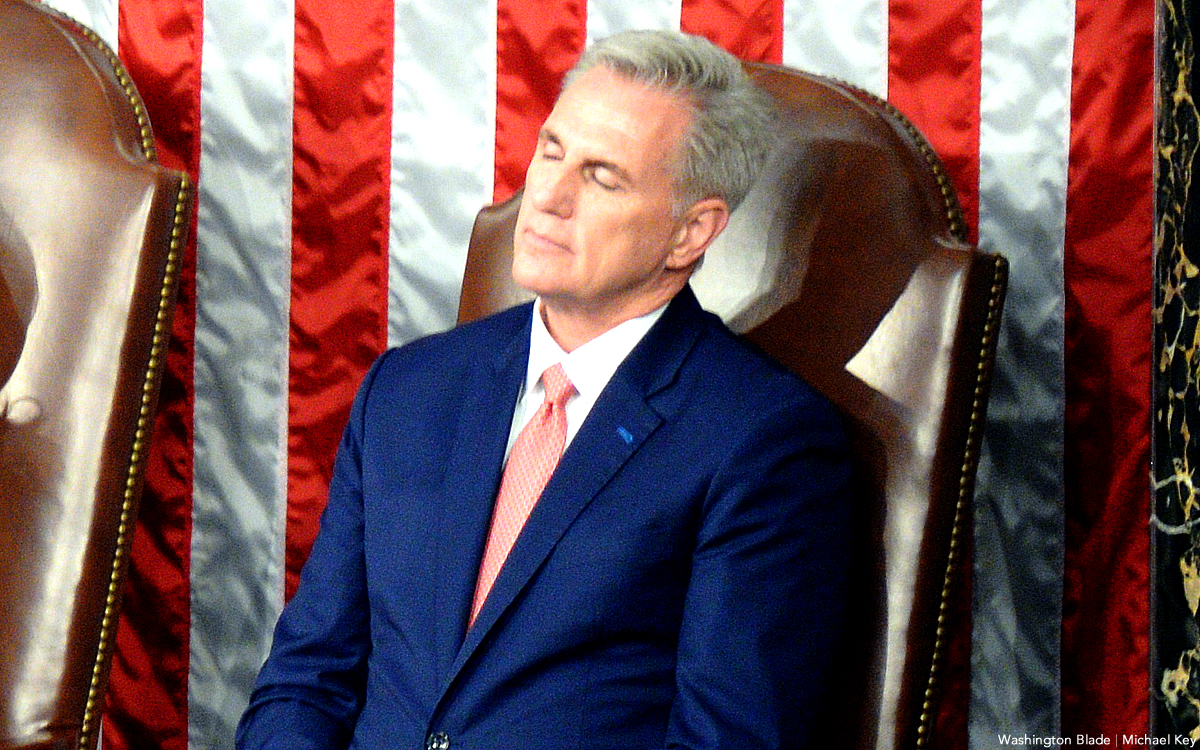 A motion to declare the chair vacant submitted by U.S. Rep. Matt Gaetz (R-Fla.) to oust House Speaker Kevin McCarthy (R-Calif.) succeeded on a 216-210 vote Tuesday after an at times contentious debate between House Republicans on the floor.
The last to vote in the full order of the roll call was McCarthy, who voted against the motion to remove him from his post. U.S. Rep. Steve Womack (R-Ark.), who chaired the proceedings, declared the speaker vacant after the House chamber went silent, after it had asked if anyone wishes to change their vote, then read off the tally submitted by the clerk.
U.S. Rep. Patrick McHenry (R-N.C.), a close McCarthy ally, will serve as speaker pro tem, or as temporary acting speaker.
With a sharp bang of the gavel, he declared the chamber in recess.
This is a historic action by the House as never before has a House speaker successfully been voted out of the chair. The last time the House had a vote to oust the speaker was in 1910.
The vote that year stemmed from angst among progressive Republicans that the speaker at the time, Joseph Cannon, a conservative known as "Uncle Joe," refused to bring progressive legislation to the floor for a vote.
The House Cannon Office Building, which was completed in 1908 and is the oldest congressional office building — a significant example of the Beaux Arts style of architecture is named for Cannon, who had served as House speaker. 
Earlier Tuesday afternoon the chamber voted 208-218 with Democrats supporting a motion to table Gaetz's resolution to oust McCarthy, setting the stage for a vote on whether McCarthy should remain in the top spot. Democratic leadership had told reporters earlier that their conference would be united in an effort to remove the House speaker.
Laphonza Butler sworn in as California's newest senator
Former vice president advisor will succeed Dianne Feinstein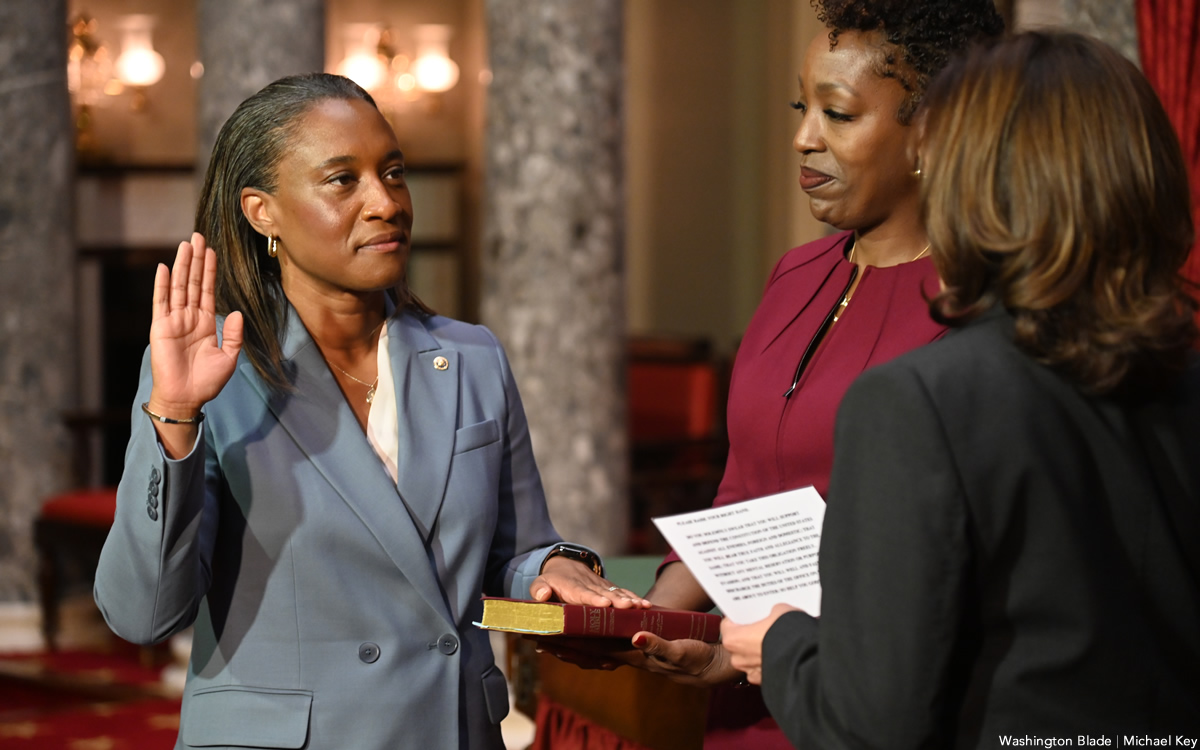 Vice President Kamala Harris on Tuesday swore in Democrat Laphonza Butler as California's newest U.S. senator during a ceremony at the U.S. Capitol.
The first Black lesbian to serve in the Senate, Butler was president of the nation's largest organization dedicated to electing women to public office, EMILY's List, and previously was a senior advisor to the vice president during her 2020 bid for the Oval Office.
Harris, the country's first woman vice president as well as the first Black and South Asian person to serve in that role, also made history with her tenure as attorney general and then senator for California.
Democratic California Gov. Gavin Newsom appointed Butler to fill the vacancy caused by the death, on Friday, of U.S. Sen. Dianne Feinstein, who had represented the state in the upper chamber since 1992.
Per the terms of her appointment, Butler will be eligible to run for the seat during next year's elections, in which case she would face competition from three high profile Democrats now representing California in the House: U.S. Reps. Barbara Lee, Katie Porter and Adam Schiff.
Newsom in 2021 pledged that he would appoint a Black woman to Feinstein's seat. Lee, so far the only Black woman among the declared candidates, congratulated Butler in a statement in which the congresswoman said she is "singularly focused on winning" her Senate campaign.
California "deserves an experienced senator who will deliver on progressive priorities," she said. "That's exactly what I'm running to do."
Consistent with her work in progressive politics, Butler was previously a labor leader with Service Employees International Union, SEIU, the powerful union where her wife, Neneki Lee, serves as director of the Public Services division.
Human Rights Campaign President Kelley Robinson and Claire Lucas and Judy Dlugacz were among those who attended the swearing in alongside Butler's wife.
Senate Majority Leader Chuck Schumer (D-N.Y.) and U.S. Sen. Alex Padilla (D-Calif.) escorted Butler into the chamber. Lee and Schiff were among those who attended the ceremony.
"It's a good day," Lucas told the Washington Blade as she left the chamber.
Michael K. Lavers contributed to this story.