August 7, 2020 at 3:49 pm EDT | by Kathi Wolfe
Forget the pandemic, immerse yourself in de Havilland!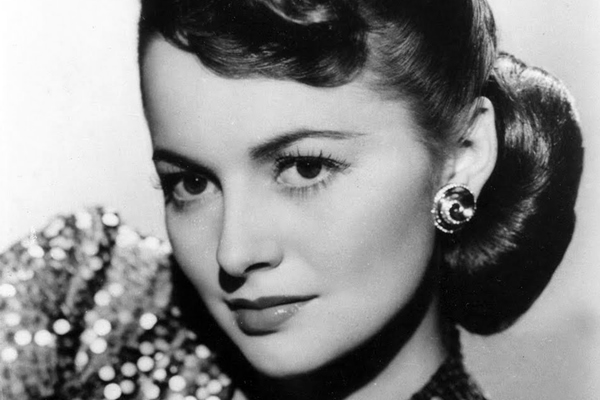 "The life of the love interest is really pretty boring," Academy Award-winning actress Olivia de Havilland told the Academy of Achievement in 2006.
That may have been true for the beloved silver screen star. But, life with de Havilland as your love interest would never have been boring!
De Havilland, a gay icon and one of Old Hollywood's last surviving stars, died on July 26 at age 104 at her home in Paris.
It's hard to believe that de Havilland is no longer with us. We know movie stars, no matter how stellar, will fade away. But, somehow, we expected de Havilland to always be there.
Like many of her aficionados, I first knew de Havilland as Melanie Hamilton in "Gone with the Wind." I saw the 1939 Civil War epic when I was 10. I had no clue about the racism in the film. But, I loved Melanie's gentleness.
"Gone with the Wind" is streaming now on HBO Max with an introduction saying that the movie represents life in the Confederate South as "a world of grace and beauty, without acknowledging the brutalities of the system of chattel slavery upon which this world is based."
In its day, every actress on earth wanted to be in "Gone with the Wind." De Havilland fought to play Melanie. Though petite (she was just 5 feet, three inches tall) and beautiful, de Havilland had an iron will.
De Havilland then was under contract to Warner Bros. "Gone with the Wind" was an MGM production. When Jack Warner wouldn't agree to lend her to MGM, she went over his head. After she had lunch with his wife, Warner agreed to lend her to MGM. De Havilland was nominated for an Oscar for best supporting actress for her performance as Melanie. But the Oscar went to Hattie McDaniel who played the slave Mammy in the film. (McDaniel was the first African-American to be awarded an Oscar.)
After her success with "Gone with the Wind," de Havilland successfully sued Warner Bros. for the right to perform more challenging roles. The case, unofficially known as the "de Havilland law," helped to end the Hollywood studio system's power over actors and writers.
I had no idea of de Havilland's talent until I, entranced, binge-watched her movies. If you want to blissfully forget the pandemic, immerse yourself in de Havilland! Thankfully, many of her films from "The Dark Mirror" to "The Snake Pit" to "To Each His Own" (for which she received an Oscar) are streaming.
De Havilland was born in 1916 to British parents in Tokyo. After her parents divorced, her mother moved de Havilland and her sister, the actress Joan Fontaine (who died in 2013), to California.
The acting bug bit de Havilland early on. Her mother had been an actress. One day when she was five, de Havilland put on her mother's stage make-up, which she found in a box. Her mother told her not to do that again. But that didn't diminish de Havilland's acting ambitions. She was discovered by Hollywood when, as a teenager, de Havilland appeared as Hermia in a Hollywood Bowl production of "A Midsummer Night's Dream." In 1935, she made her film debut in the film of the Shakespeare play.
Over her career, de Havilland's roles ranged from Maid Marion in "The Adventures of Robin Hood" to (her real life friend) Bette Davis's character's cousin in the camp classic "Hush…Hush, Sweet Charlotte." Her Academy Award-winning portrayal of Catherine Sloper, a young woman with an uncaring father who's bedazzled by a fortune hunter, will knock your socks off!
"I'm not at all sure if you know that I'm alive," de Havilland wrote in "Every Frenchman Has One," her book about living in Paris (where she moved to in the 1950s).
Not to worry, Olivia, you'll always be alive to us.
Kathi Wolfe, a writer and a poet, is a regular contributor to the Blade.