August 12, 2020 at 8:24 am EDT | by John Paul King
Queens of 'Drive 'N Drag' roaring into town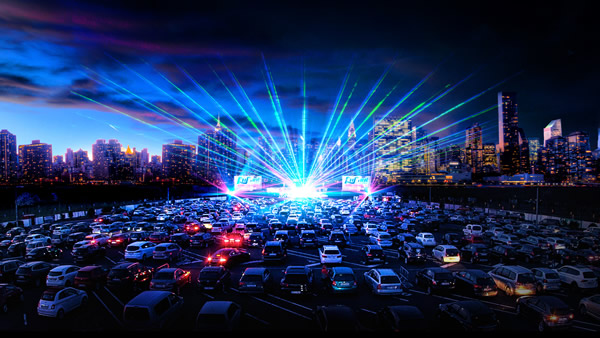 Even in a pandemic, any drag fan will tell you that you can't keep a good queen down.
If any proof of that statement were needed (it's not), you can surely find it at Westfield Annapolis next weekend. That's where a gallery of gorgeous fan favorites from "RuPaul's Drag Race" will converge for a three-day, socially distant extravaganza, aptly titled "Drive 'N Drag!" and described in press materials as "a brand-new experience for drag fans."
It's the latest installment of the outdoor summer concert series, following an opening weekend at New Jersey's Westfield Garden State Plaza that featured five sold-out shows as well as shows in Los Angeles. The concept is as much retro as it is timely in the here and now of the Summer of COVID; essentially, it's a drive-in, only instead of a movie, it's a live theatrical experience. Complete with concert-style stage and lighting, Jumbotron screens, and sound being pumped from the stage both outside and via FM transmitters, it allows attendees to enjoy the show from the safety of their vehicle – either inside or on top of it – at multiple performances happening all weekend long. And as if all that weren't enough of a lure, there's food and drink involved, too.
The tour comes from Voss Events, famous for its "Drag Brunch" events as well as "RuPaul's Drag Race Live" at Las Vegas' Flamingo Hotel and the "Werq the World" tour (postponed due to coronavirus until 2021), and is conceived to bring the people an essential need (drag, of course) during an unprecedented time.
"Our 'Werq the World' Tour typically plays inside large theaters and arenas," says producer Brandon Voss, "but we've moved the show outside to continue providing much needed entertainment during these crazy times. A pandemic won't keep our queens from ruling the stage. The drag show must go on!"
Voss tells the Blade that he had no problem getting queens to commit to going on the road in the middle of the coronavirus crisis. "I ran the idea by a lot of them before fully bringing it to fruition," he says. "Once I reviewed all safety precautions, everyone was ready to get out of the house and perform."
Among the queens he enlisted to star in "Drag 'N Drive" are "RuPaul's Drag Race" winners Jaida Essence Hall, Yvie Oddly and Aquaria. They are joined by fan favorites Asia O'Hara, Acid Betty, Gigi Goode, Monet X' Change, Kameron Michaels, Naomi Smalls, Plastique, Vanessa Vanjie and Violet Chachki.
Aquaria tells us she's thrilled to be a part of it.
"The opening weekend was honestly so exciting," she gushes. "As practically the first drag concert of its kind, there were certainly a few bumps in the road and some kinks we worked out over the weekend, however, just as we have always done as queer artists and event producers, we quickly adapted to the learning curve.
"Drag artists are always some of the first to adapt to any circumstance or hardship, and we have proved our place as essential entertainment over the past few months by constantly working to bring a smile to people's faces against any and all odds. It's special today that we now are presented with this opportunity to entertain in a format other than digitally and we absolutely can still feel the love the fans are telepathically sending us on stage."
Though she says it's a bit "surreal" performing under such unusual conditions, Aquaria thinks they succeed in creating "a memorable experience for fans," and gives shared kudos to the whole team responsible for "Drive 'N Drag." "It takes a group of real professionals not only to put together an event this unique and safe," she tells us, "but to do it flawlessly in all the same costumes, wigs, pads, makeup, etc. as we regularly do… and then doing it in muggy 90+ degree weather?!?!? Both the fans and the queens are true champions."
Fellow queen Plastique told the Blade to tell fans to expect "one amazing show."
"Be ready to be entertained," she tells us, quickly adding, "and to remain socially distant and wear the mask!"
"Be inspired by the gorgeous Valentina and keep it on."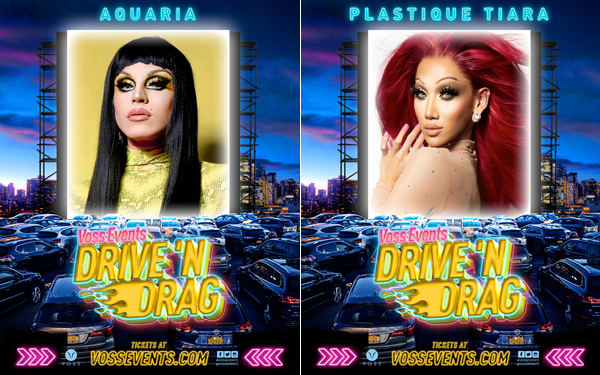 Multiple shows will run all weekend long, starting at 7 p.m. and 9:30 p.m. on Friday, Aug. 21 and continuing Saturday, Aug. 22 (at 4:30, 7 and 9:30 p.m.) and Sunday, Aug. 23 (at 4:30, 7 and 9:30 p.m.). Tickets are $69 per car for two people; some VIP spots are also available for $139 per spot, but check availability online as some times have already sold out). Whichever option you choose, additional passengers are $25 each.
Voss assures fans they can expect a great time.
"I think there are lots of fun surprises in store for everyone attending – and what will be best about it is getting out of the house to enjoy a show!"
To purchase tickets or for more information, you can head to the Voss Events website any time – but hurry, because these performances are likely to sell out fast.